PS Vita is one of the most popular gaming consoles developed by PlayStation. It is a handheld gaming console that is quite popular for its advanced and high-quality gaming. For a better gaming experience, we will introduce the best PS Vita Emulator For Windows. What about Console? The console has inbuilt buttons and joysticks, which makes it one of the best consoles in its category. It is an eight-generation console which was released firstly in 2011.
However, the console got discontinues worldwide in 2019. But, it is still so much popular among gamers because of its popular games and great playing capabilities. But, as the console is not available for sales in the markets, people have started searching for its emulators. Also, various developers have launched several emulators, and lots of them are still working to develop a good console for the people.
So, in this article, we are going to discuss the best emulator, which admits itself as the top emulator in the category.
PS Vita Emulator: How to run PS Vita Games in Windows Using Vita 3K?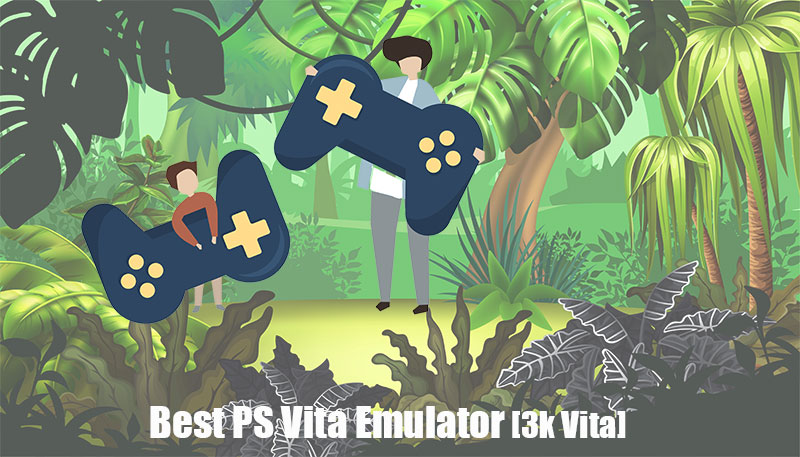 As we discussed earlier, Vita 3K is the best emulator available these days. The emulator can run perfectly on most of windows systems. However, the emulator is capable of running very few of the PS Vita games.
As per its developers, the emulator is still in its initial development stage, so we may not demand much more from it. But, the emulator can properly run Downwell, Undertale, Spellspire, and some other popular but small-sized games and games like skribbl.io.
So, in this article, we are going to know how you can easily use this Vita 3K emulator and start running your desired PS Vita games on your PC. Let's start the process below.
Steps to run your favorite PS Vita Games on your PC?
1. Install Vita 3K emulator on your PC
You can easily get the emulator from AppVeyor for free. The emulator is small in size by capable of running effectively on your PC.
So, get the emulator from here and install it on your PC to proceed further.
2. Install the FirmWare
Now, you have to download the firmware from the official PlayStation website. Then you have to install it by going to File>>Install Firmware.
3. Run the Games
After you have successfully installed your emulator, you just have to run your games. Make sure to purchase the games from their official websites and then dump them manually.
It is the best way to keep our gaming community safe. So, just to the main emulator folder and then drag and drop your game file to the emulator app.
NOTE: It will start to run automatically in seconds.
The emulator runs perfectly on any type of system. However, your PC must have a minimum of 4 GB RAM.
Also, having a good processor and graphics card will be good to have the maximum fun while playing the games.
Features of  PS Vita Emulator [Vita 3K]
The emulator offers lots of advances over other competitors in several ways. It is known as one of the best emulators because it can smoothly run most of the games on it.
Along with this, various other features are there that make it the best emulator for the Vita emulator till time.
1. Free and Open-Source
When it comes to downloading, it is fully free to download. However, you can also contribute to its Appveyor page.
The developers have suggested it to run some of the available games in its compatibility lists. But, it is still free to use, and we can't demand much more than this.
2. Fewer Configuration Requirements
This emulator can properly run on very low-end PCs without hassles. Also, the size of the software is very small, and this is the reason why it can work well on any system.
So, when it comes to its usability, the emulator is great for having fun while playing the games on any computer system.
3. Easy to Use
Although running games on the emulator is a little bit complex, still, when it comes to usability, the emulator works well for beginners too.
It can perfectly be used for any purpose, such as doing settings, graphics, and overall gaming emulation. So, when it comes to the user interface, it is at a good position being an under-development software.
4. Great Performance
As compared to most of its competitors, the emulator has an amazing performance while running vita games on windows systems.
If we look at its release date, the developers have done amazing work by creating this piece of software. The emulator can run with minimum processor requirements.
However, we have to see its performance on large games once it becomes capable of running them.
Other emulators to emulator PS vita console on your PC
VitaQuake
It is another amazing software you can easily use to emulator any of the available PS vita games. The emulator can offer a great framerate of about 20 to 25 fps.
The emulator is also free and easy to use. But, the game compatibility list is still small in this emulator. So, when it comes to running the vita games on your PC, it can work well, but make sure to perform all the settings properly to get the most out of it.
RetroArch
With its huge list of gaming consoles, RetroArch can properly run most of the PS vita games inside it. The emulator is one of the highly-rated software developed till the time.
But, with its amazing user-interface and great performance, it can easily be used as a good vita emulation software. But, the thing that keeps it behind is its short game compatibility list as per the other emulators.
It can run very few games inside it as compared to the Vita 3K. This is the reason why it is on our alternate list.
The best PC gaming controllers for ps4
DualShock 4 Wireless Controller for PlayStation 4 - Fortnite Jet Black

Brand: PlayStation
Connections: Bluetooth, Micro USB terminal
Color: Black
Features: Like the touch pad, integrated light bar, and built in speaker


Magma Red Wireless Controller for PlayStation 4

Brand: PlayStation
Connections: Bluetooth, Micro USB terminal
Color: Magma Red
Charger Type: Standard Charger using a USB cable


Bluetooth Gamepad (Red Edition)

Brand: 8Bitdo Sn30 Pro+
Wide Compatibility -Compatible with Android 4.0 & above, Windows 7 & above, Mac OS etc.
Support Turbo Function - Customize turbo


- D Pad button layout
- 4 Multi Function triggers
-Quick Control Panel


Wireless Controller White + Black

- Adaptive triggers
- Built-in microphone or by connecting a headset to the 3.5mm jack

---
Wrapping Up
We hope you are now able to run any ps vita game on your windows pc using the ps vita emulator. Make sure to comment below and share your feedback about the article. Also, do not forget to share the article with others who may need it.