Are you looking to run your Windows software in your Android device? Well, if you talk about vice-versa, we have a lot of options to choose from. In other words, as compared to the number of Windows emulator for Android, we can easily find a lot of Android emulators for Windows. But, it is not impossible to run your desired Windows software on Android devices such as smartphones or tablets.
To get the most out of these emulators, it is crucial to have an Android device with good configurations. We all know most of the Windows programs are heavy, and some of our low-end Android devices may not be able to run them.
Whatever here, we are going to know about the best android apps that will allow you to run Windows software on Android devices.
A very few windows emulators are available for the Android users in the market. But, some reliable packages are there which we are going to discuss here in this article.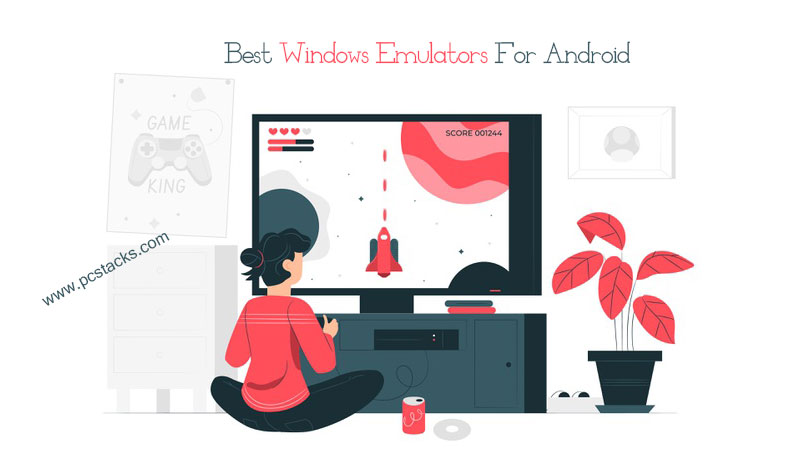 With us, you will be able to know all the features of these emulators. Alongside this, the emulators are free and easy to install. However, it is your duty to have .exe files of your desired software along with you.
The loading and running process may vary in different emulators. But, the core motto is the same. And, that is to run your Windows software on Android devices. So, without further discussions, let's know about the most popular Android apps in which you can use Windows emulators.
Is it possible to run Windows software on Android?
A lot of people want to do it. But, no Android device will allow you to do it officially. However, various third-party apps are there, which will surely allow you to do it properly.
These apps are going to work as an external operating system over your Android OS. In this way, installing your Windows software and running them for anything will become easy.
It can include the software for testing, development, entertainment, and various other purposes. So, Yes, it is possible to run Windows software on Android devices. And this is what we are going to discuss below.
Best Windows Emulator For Android
Below, we are going to discuss the top-rated and highly recognized emulators in this field. All these are free, and we will give you the process of installing and using them along with the official sites. So, let's start with the firm Android Windows emulator.
Wine 3.0 Windows software
Wine is perhaps the most advanced and effective emulator which you can use on Android devices to run windows files. The latest version i.e., 3.0, comes along with numerous features that are great to have enough performance and a great user-interface. The software is suitable for testing purposes too.
Also, you can use it for normal usages on your Android devices. The software has various unique features, and you can use it with a device with low configurations.
The software will work great with your Android device with any processor configuration. But, if your plan is to run top-notch Windows software, make sure to have enough RAM, good graphic card, and processor in it. Let's know more about the installation process.
App Size: 150 MB
Supported Architecture- X86 and ARM
Required Android version- 5.0 or later
Pricing – Free
How to install and use Wine 3.0 in Android?
As we discussed earlier, using Wine 3.0 for any sort of Windows emulation task is pretty easy. The software will allow you to create a cross-compatible layer inside Windows to emulate under a safe environment.
The emulator is not available on Google Play Store, but you can install and use it by going to the official site itself. So, let's know how you can actually use it on your Android devices.
Go to the official website and install the latest version of Wine HQ on your device
Make sure to download the Wine x86 version if you are going to use it in Intel x86 based device. For any other sort of Android device, you can proceed with Wine 3.0 arm versions.
To install this app, you will have to enable installation from the Unknown Sources.
Once the app is installed, make sure to move it to the local storage if it is not.
Now, open the Wine app
To run any of your Windows files, you will have to move its .exe file to the location where your Wine Android app data is saved i.e., in the local storage.
Once you did that, a shortcut will be created inside the Windows interface, and you can run it simply.
Note:
The above process may not work for some devices, whether it is an ARM-based device. So, you can do this process once again to check or go for the next emulator.
Limbo PC Emulator
Limbo PC is another highly popular Windows Emulator for Android. This android app comes with great compatibility and various amazing features to allow the users to easily run most of the Windows software.
Just like Wine, Limbo PC is also pretty easy to use and configure. Also, you will be able to run Windows software in it without hassles in a smooth manner. Limbo PC is completely free to use.
Also, it was available earlier on Play Store, not now. So, let's know more about it below and understand how you can use it for an easy Windows emulation work.
App Size- 6.3 MB
Supported Architectures- ARM and x86
Pricing- Free
Required Android version 4.0 or later
How to use Limbo PC Emulator?
The installation process of the Limbo PC emulator is pretty simple. By following the process which is given below, you will be able to get the most out of this emulator for free.
But, to use this emulator, you must have a Windows image file with you. So, let's start discussing everything briefly.
Limbo is available on various websites; you can install it through Softonic easily.
Move your Windows image file to the folder where Limbo is located
Now, open the Limbo app and make necessary changes as per your preference and device configurations.
Now, click on Hard Disk A and select your Image file from the same folder
Set VGA display to std
Set User Interface to VNC and orientation to Auto
At last, in the Advanced Tab, mark the Fullscreen option
Once you did these settings, your Windows emulator For Android is ready to use. Now, you just have to move your Windows exe files to the Limbo Folder and run it by opening the app again.
Is Exagear similar to the Limbo PC emulator?
Exagear is another one of the most popular Windows emulator apps for Android. This app has a little bit smoother user-interface as compared to the previously discussed emulator. Exagear also has good compatibility and abilities to work even on low-end Android devices.
This app is completely free to use however, the official website is not there. But, various third-party platforms are there from where you can install these software.
So, without further discussions, let's know how you can use this amazing android app for any sort of emulation task. Also, let's know the steps which you will have to perform in order to use this app for your good.
App Size- 47.7 MB
Supported Architecture- ARM and x86
Pricing- Paid with Free Trial
Required Android version- 4.0 or later
Install and use Exagear?
The installation of Exagear is similar to the Limbo PC emulator. But, it comes with increased usability and ease for the users. So, the process of installation for Exagear is as follows.
Install the Exagear app by getting it from Apkpure.
Now, install the app on your Android device
Once the app is installed, go to your device storage and locate the Exagear folder
Now, move your .exe (Windows File) to this folder
Now, open the Exagear app, and it will show all the Windows software you have moved to that folder.
Click on your desired software and will get opened instantly.
Exagear is the most amazing app with great performance. Even on a low-end android device with a small processor, you can have the most out of this emulator without any hassle.
It also allows you to change visual elements and different other settings to enhance the user experience. So, if you are looking for a popular and free Windows emulator for Android, make sure to give it a try.
All these emulators have enough capabilities to run popular Windows apps on Android, such as VLC Player, Notepad++, Paint, etc.
But, you will not be able to run top-notch Windows games and software because ultimately, the hardware is the primary thing that is going to support the performance.
As per your Android device's capabilities, you can have good results if you are running the suitable software in your device.
---
Final Verdict
There is various other Windows emulator for Android available on the internet. But, these were some of the most popular packages you can use for free. So, try any of them and you will able to do the things you wanted to do.
We hope you will get the required help from this article. If you liked it, make sure to leave your feedback in the comment section. You can give me ideas for new topics there too. Also, do not forget to share this article with others and help them with the same too.
We keep coming with various articles like this one. So, stay connected and stay informed.