Marketing your products on social media platforms is probably one of the effective ways to do so. It is popular, right in the face, and not too expensive. And for a good reason, there are over 3 billion users across all platforms, and the number keeps getting bigger and bigger each day.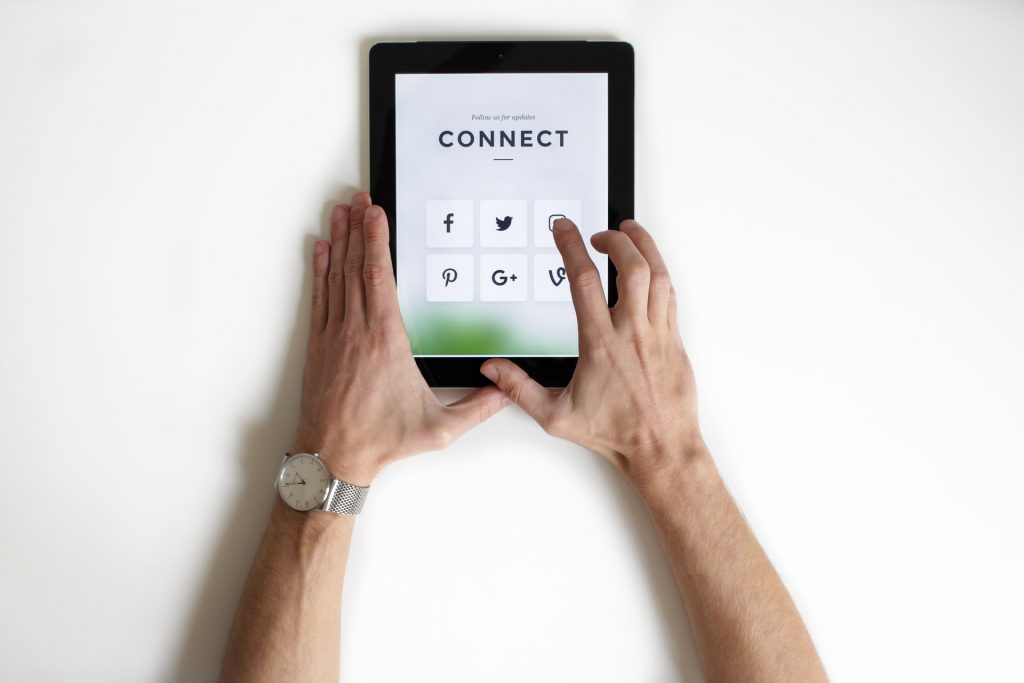 Professional marketers already know that you must have a solid social media game with advertisements to succeed in any business. Especially nowadays, without a good online presence, you are doomed to fail.  However, managing all the accounts across all platforms can be challenging, especially with the ads.
That's why having a tool that will help you with all of that is such a gift. So, without further ado, let's jump in.
1. ADYOUNEED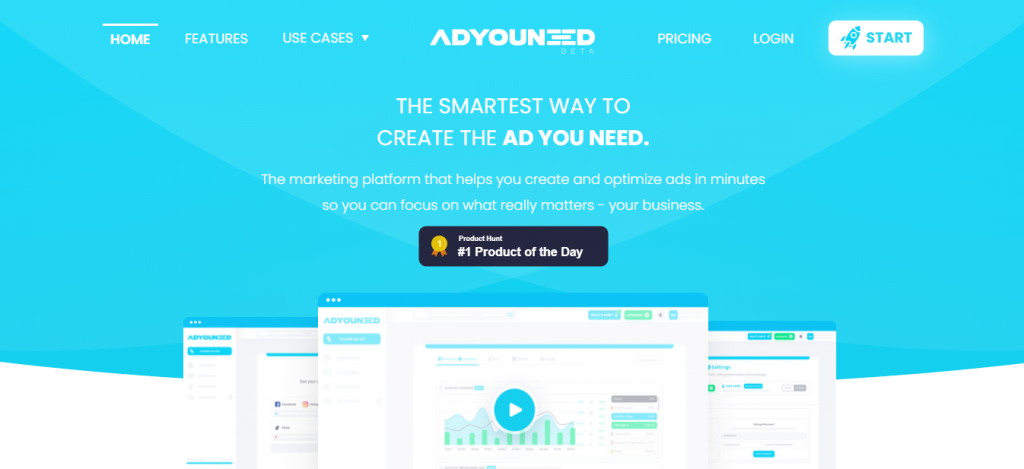 The first tool that will help you manage all your advertisements is ADYOUNEED. With this helper, you will create your ads for all platforms right there in one place. No switching between tabs, tools, and websites, all you need on one dashboard.
Moreover, it has a straightforward interface where you can, in the beginning, choose the platform you want to make your ad for it. After selecting the platform, the tool will present you with a few options on what ad you want to create. Yes, there are a few different ones that serve other purposes.
Purposes range from advertisements that will allow lead conversion to your website to ads with many likes and comments. And, of course, you need to give it a name.  Once you have done that, it is time to choose the audience for your campaign.
Again, you can do it manually by filling up the boxes about location, age range, gender, and detailed targeting where you choose a specific interest. However, there is an even more excellent option – the AI audience finder. You do the usual target place, age-range and add two interests of your audience, and ADYOUNEED will do the research and give you the best-performing ones.
All that is left is to choose what type of ad you want to publish, image/video, carousel, story, or existing post. Then, you need to give it a headline, text, put your website, chose an image right there on the platform, review it, and your ad is ready to save the day!
Also, even creating Google Ads is no big deal with this one. It is so simplified that you will be a pro in like a day. Besides, you can also check the click rate, reach, and similar things beneficial for your campaign.
2. WordStream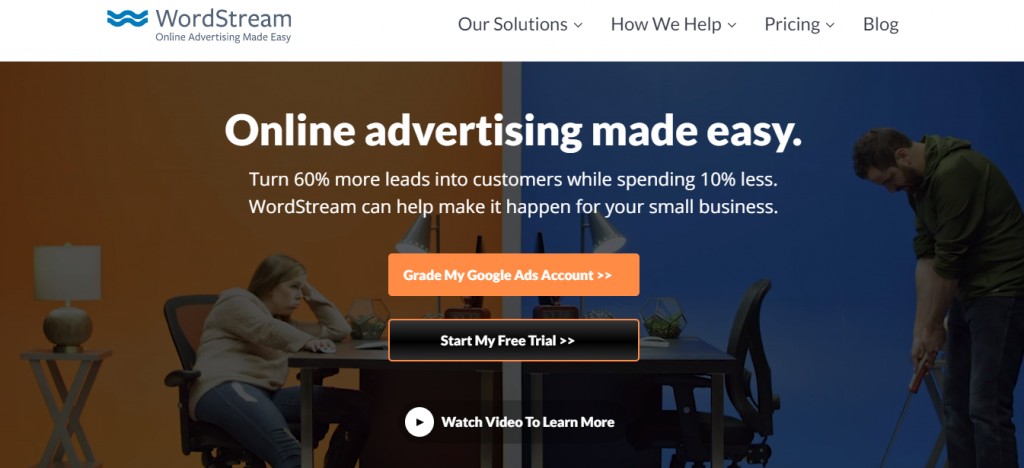 The second spot goes to WordStream. It is an online advertising management software that will help you manage your Facebook, Bing, and Google Ads campaign like a pro.
It has features that will benefit your campaigns, such as geotargeting, dynamic keyword implementation, conversion tracking, call tracking, landing pages, and performance reporting. These things are sometimes crucial for your campaign to succeed and get the message across to your customers.
Besides, you can also get some free tools such as AdWord Performance Grader, an excellent tool for marketers. With it, you can see your strengths, weaknesses, insight into competitors' advertisers with similar budgets, and so on.
3. Smartly.io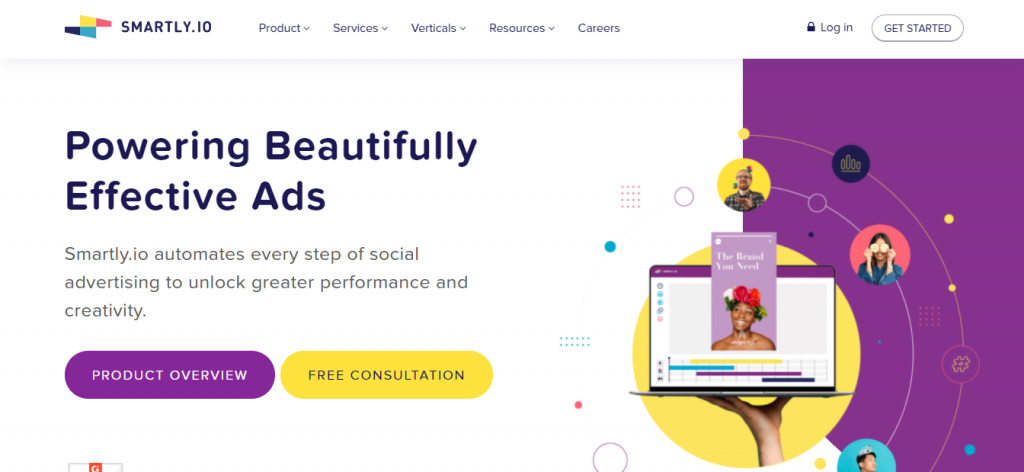 Smartly.io is our third pick of the day. It is a tool that will automate everything of your social advertising that will lead you to great success and boost your creativity. You can create thousands of different personalized ads in a matter of minutes. Also, your customers will quickly love them, and you will stay true to your brand, but with a new level of professionalism.
Furthermore, the tool has some beautiful dynamic templates that will instantly allow you to create and manage thousands of videos or images. It has it all from dynamic image and video templates to modular creative testing to feed or catalog-based innovative automation.
In addition, it also has automated budget and creative optimization, cross-platform campaign creation, and cross-platform bulk bid and budget adjustments.
And, what would a tool be if you couldn't see the data after publishing your ads? You can see first and third-party data as well as cross insights for accounts and platforms. Plus, you can create custom KPIs in no time!
4. AdEspresso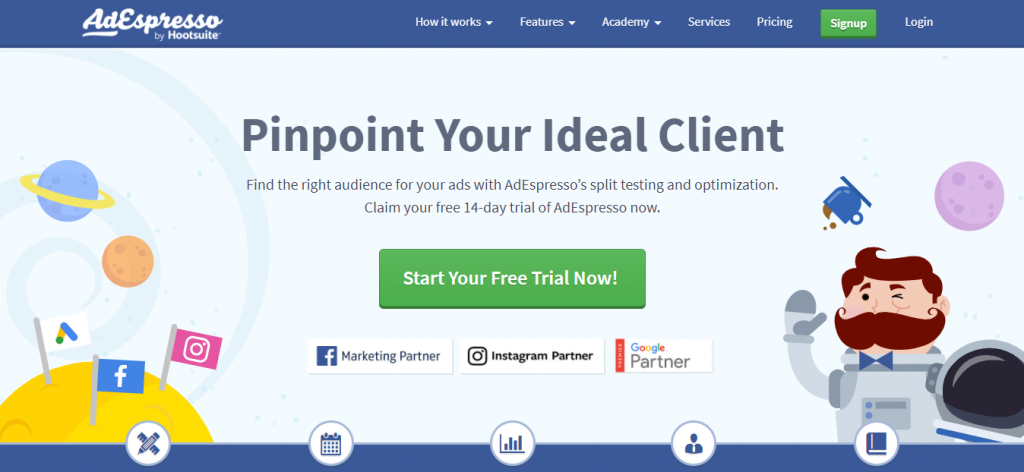 The fourth spot on this list goes to AdEspresso. It is a tool that will help you find your ideal clients like a pro. You can create ads for Google, Instagram, and Facebook right there from one dashboard. It is a user-friendly interface that allows you to manage and build your social media campaigns in a matter of minutes.
Moreover, AdEspresso can save all the elements that you choose, like targeting options, so the next time you want to create an ad, you do not have to waste time editing it. In addition, you can test out everything that you wish to, from headlines, images, creative elements to audience segments.
Besides, boosting a post that is already doing some number and has potential is a great option. You never know when a post will blow up, social media is crazy. With this tool, you can set parameters, and they will boost your post as soon as it reaches them.
5. Buffer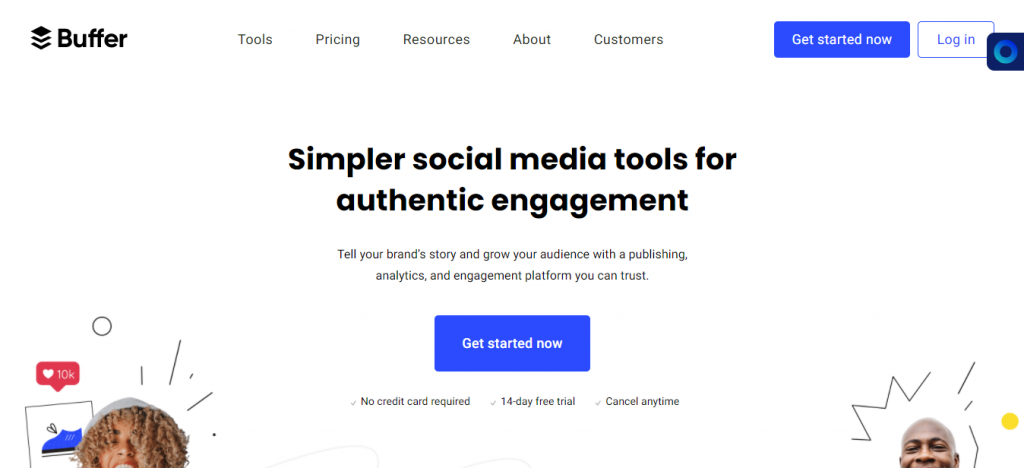 The fifth and last tool on this list is Buffer. This one started as a tool that helped people schedule posts for Twitter. Nowadays, it supports all the big platforms from Facebook, Pinterest, Linkedin to Instagram, and Google+.
Firstly, it is worth mentioning that you can add team members so collaborating can be more accessible than ever with this one. It also offers a chrome extension so you can add content from the web right into your dashboard.
If you share something from the dashboard to your social accounts, it can automatically shorten the links, and nobody likes to see a long link as a post.
Finally, you can access some great analytics to track how your content performs and create a posting schedule. Sit down in the morning, make a posting schedule, save it, and enjoy the rest of the working day.
Conclusion
In the end, social media advertising should be your number one priority to market your brand. Having tools for this purpose will take that hard work out of your hands and give you a significant leap over your competitors.
So, please do not shy away from using them. The only thing that you will gain is engagement, click rate, and an impressive social media presence.
Are you looking for proxies for ad verification? For ad verification, it is essential to ensure anonymity. Otherwise, ad fraudsters are able to track down the traffic that is verifying ads and fight back by blocking IP addresses.