As the world begins to open up more and more after the COVID-19 pandemic, markets become more competitive. This means your business will need to do everything it can to stand out and earn your customers' trust. So, rather than just telling people you're great at what you do, you need to show them!
In this article, we're going to break down how you can do just that. Read on to find out more.
1. Publish Detailed Case Studies on Your Website
Prospective customers will often want to know that you've already helped other people get the results they're looking for. You can demonstrate this by publishing high-quality case studies on a variety of topics. You can highlight different situations that your business handled well, offering facts and figures to show how you helped customers or outlining the benefits of your work.
Let's look at a few examples for inspiration.
Marketing Insider Group, a content marketing agency, publishes case studies on their website that show their results with their past clients. This case study outlines how its content marketing strategy helped improve its organic traffic by over 450% over a year!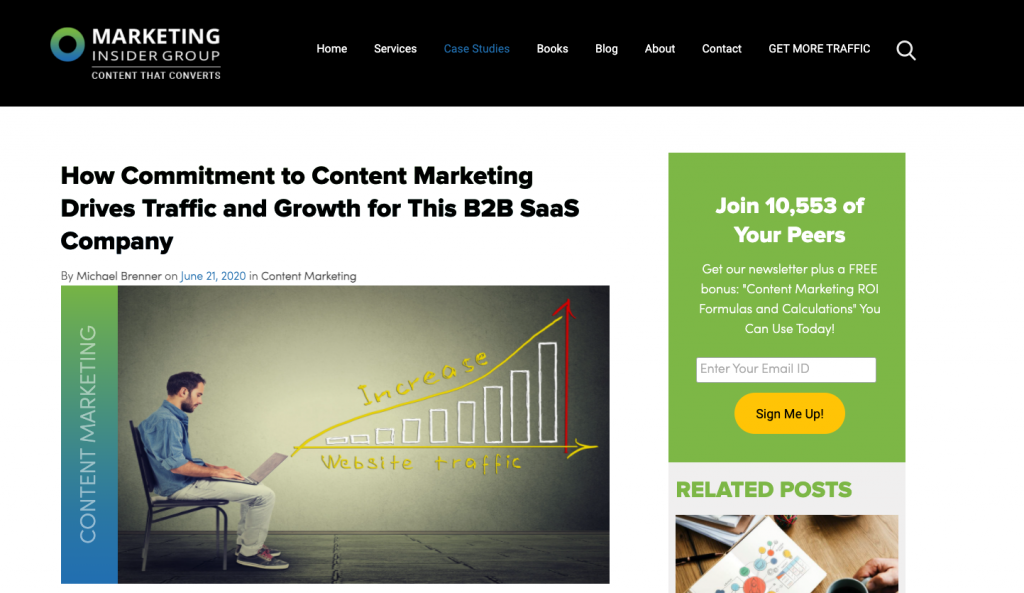 As Marketing Insider Group has done, publishing this information in a case study gives website visitors encouraging data that shows they're a great company to work with. If your business is service-based, this is a great way to show that you know your stuff!
To compile a case study, you could send a survey to your customers asking about their working experiences. This is an excellent form of primary research that can show how happy your customers are; you can ask them how they benefited from your work, what improvements you can make, and more.
2. Create Content That Demonstrates Your Knowledge
Need topic ideas? Try conducting some keyword research. Think of a few words or phrases that relate well to your business and then type them into a keyword research tool like AnswerThePublic. By publishing high-quality and informative content on your website, you can show your prospective customers that you know what you're talking about.
They'll outline some of the most popular and relevant questions your target audience are typing into search engines so you can answer them. Doing so will allow you to show that you know your area of expertise inside and out. Let's look at a few examples of businesses that do this well.
For instance, Robbie Richards, a content marketing expert, shows off some of his expertise in his guide to marketing with Google Maps.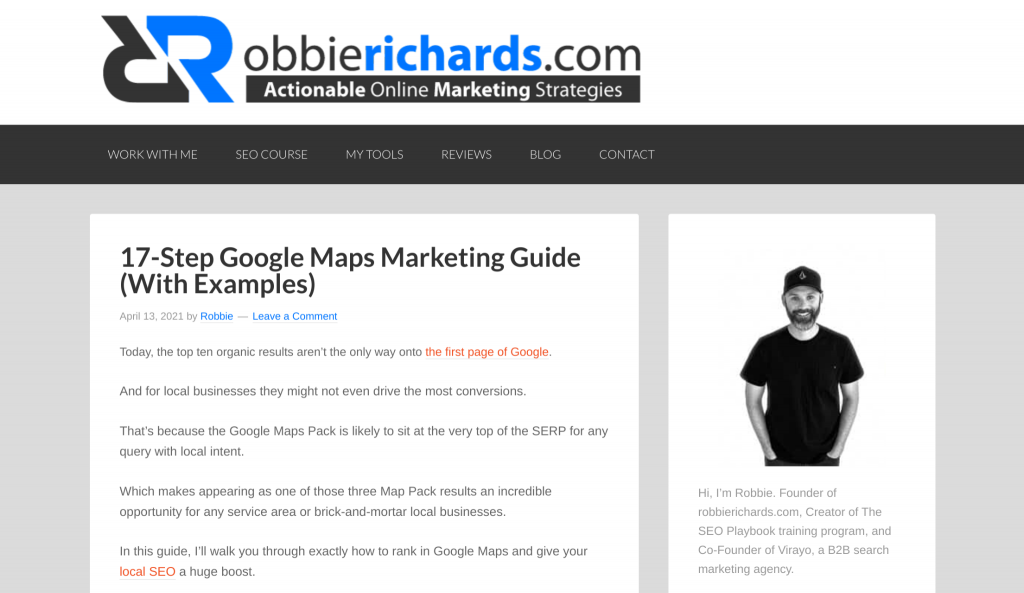 This is valuable content for marketers and business owners looking to get the most out of the platform. Richards goes into detail about how to use both Google My Business and Google Maps to ensure your company is as visible as possible on the search engine results pages so that readers can direct more high-quality traffic to their sites. It clarifies that he has a lot of knowledge in this area, and prospective customers can certainly trust him and his services.
Utires does something very similar with their guide to how tires are mounted. The company is a used tire retailer, so this content is incredibly relevant for their customer base. Plus, it goes a long way towards establishing the business as an authority and expert in its field.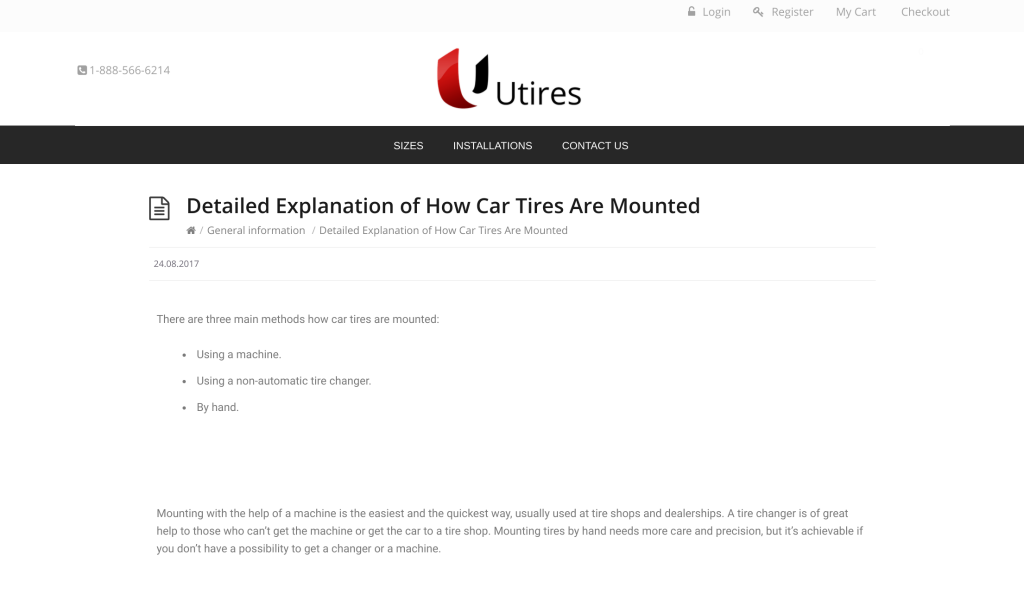 They outline three different ways tires can be mounted to a car and include a detailed explanation of how the reader can do it by hand. Not only will this increase the chances of search engines promoting the business because it proves that the company knows what it's talking about, but it will also help to build trust with prospective customers and lead to more sales.
Lastly, Best Nursing Programs is a website that aims to help aspiring healthcare professionals pursue the education that will suit them best. And they show they're experts in this field with content such as their list of the best second-degree nursing programs.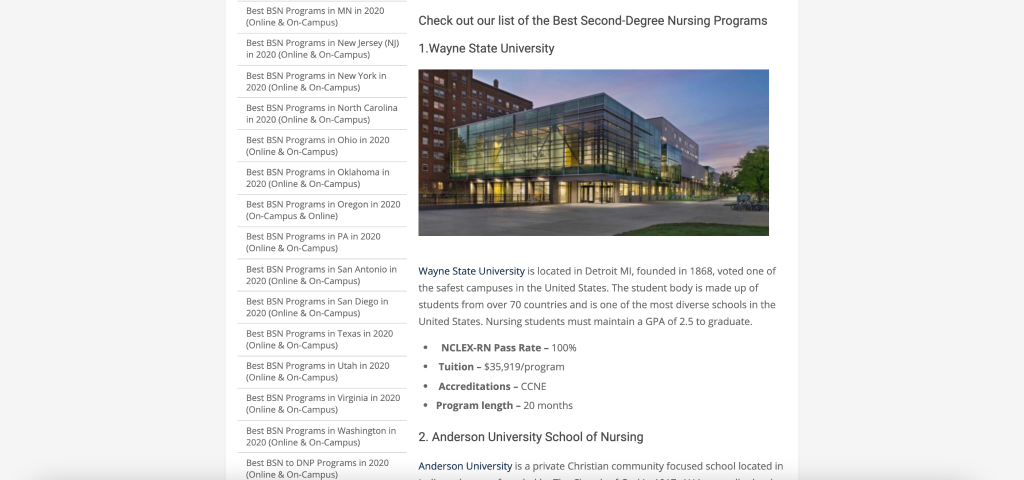 They've done their research — they outline 25 of the best programs and display their pass rates, tuition costs, program lengths, and more. It shows they know this area of education inside and out and want the best for their readers.
If you want to create content that shows off your expertise and builds trust with your customers, explores topics that you already know a great deal about. Provide information your website visitors might not be able to find elsewhere, and show precisely why they should trust you over your competitors.
3. Include Client Reviews on Your Service Pages
While it's nice to have customer reviews on a dedicated page or even third-party sites, they'll be a lot more effective at boosting conversions if they're on your product or service pages. Different reviews can work well for other businesses — star ratings work well for product-based companies, while longer testimonials tend to be better for service-based companies.
Let's look at a few examples of companies that have done a great job of incorporating reviews into their product or service pages to give you some inspiration. For example, check out the case study section on Loganix's service page for local citation building. This review explains why this service is so important and how helpful the client found it.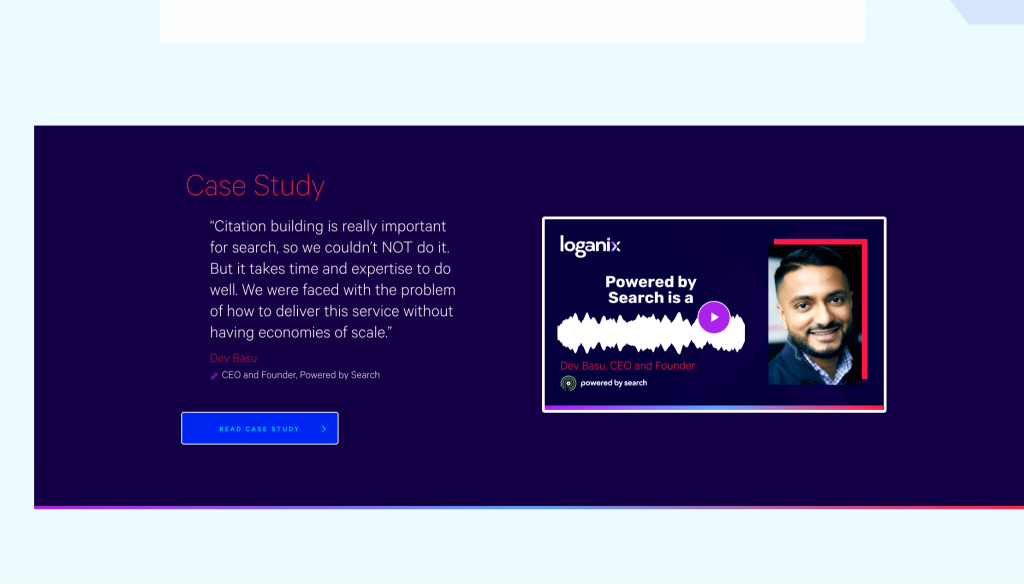 These kinds of testimonials are great for showing customers just how great you are at your job. And it provides some social proof, as it's not just you shouting about how excellent your services are. Here, there's even an audio clip from the person who provided the testimonial, which makes it seem even more legitimate.
When you're looking to include reviews and testimonials on your product or service pages, look for new and exciting ways you can ensure they make a statement and seem trustworthy. Next, let's take a look at how Florin Roebig, a law firm based out of Florida, incorporates reviews into their motorcycle accident attorney page.

Positive testimonials are essential for law firms, as the court and legal system can be particularly intimidating to navigate. So, prospective clients will want to know that they will be in safe hands when they hire someone to support them in a case. A simple but powerful testimonial like this, which sings the company's praises and even comes with a 5-star rating, will do a great job of showing prospective customers that this firm's lawyers are great at what they do.
Lastly, Bay Property Management Group incorporates a carousel of reviews from Google into each of its location pages. This example, in particular, is from their Northern Virginia page. If your business has multiple locations, showing off local reviews like this is incredibly important.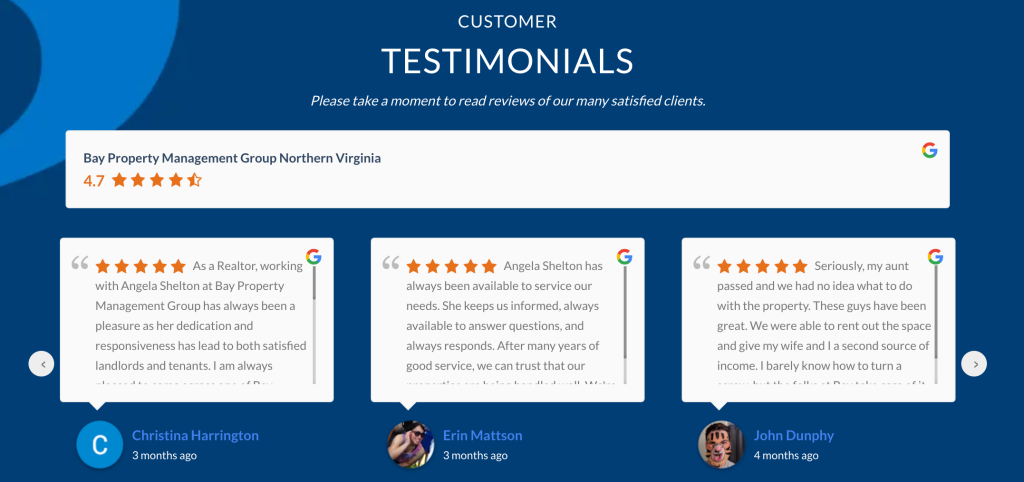 People looking to manage their rental property will want to know that Bay Property Management Group is capable and responsive. These reviews highlight that this particular location has top-notch staff who provide a fantastic service, which is likely enough to convince people to trust the company.
4. Shout About Your Qualifications and Accolades
Showing off your qualifications and accolades can serve as proof that you're great at what you do! So, shout about them on your website. You should be highlighting your training and qualifications, industry awards, and media mentions across your website wherever appropriate. Think about where they would supplement your work the most.
If you want to show your media mentions, put these front and center on your homepage. And any qualifications or results you have can be placed on your homepage and your about page to give customers a better idea of what you do. Here are a few examples of businesses that have showcased their qualifications well.
Miracle, a bedding and towel retailer, shows off their media mentions to prove their worth. They have positive quotes from The Today Show, Bustle, Yahoo!, and People on their homepage.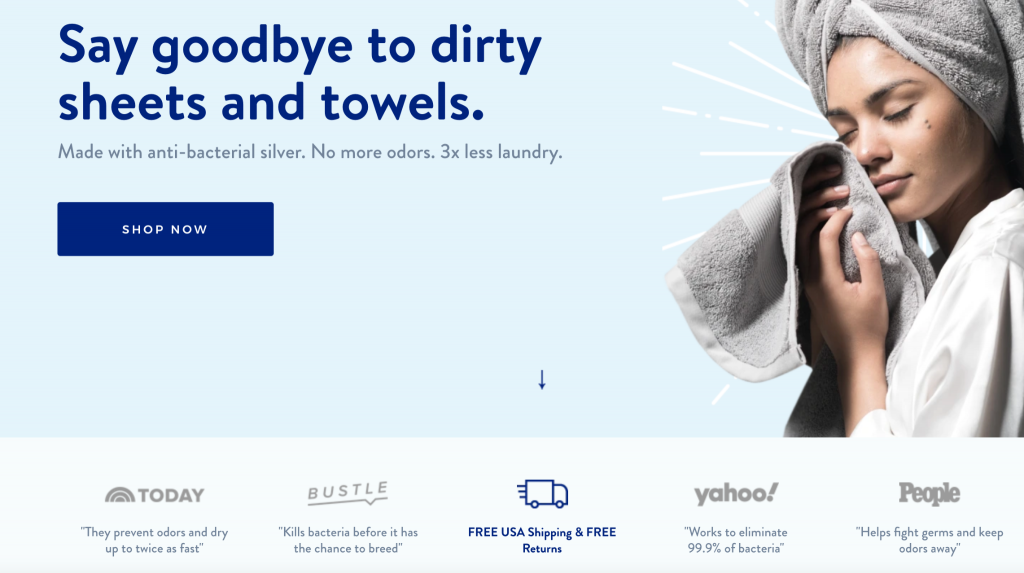 These are all well-known brands — viewers of The Today Show, for instance, will be excited to hear that Miracle's claims of cleaner sheets and towels have credibility. Providing proof that well-known companies or people endorse your products can go a long way towards showing you know what you're doing and deserve prospective customers' trust.
Alternatively, Cushion, an AI-powered financial assistant, shows its worth on the company's about us page by outlining some of the outstanding results they've gotten for their clients. The business specializes in helping its users to get refunds from their bank and any fees waived, so this information is bound to prove attractive to their target customers.

New AI software programs can be confusing and, initially, people might be a bit unclear about how Cushion works. By offering up these statistics, the company can ensure viewers better understand what the program can do for them.
5. Share Any Praise You Receive on Social Media
Roughly 90% of customers read reviews before making a purchase (Testimonial Engine). This means that word-of-mouth recommendations are one of the most powerful marketing tools that you can use. So, if you receive any praise on social media, you'll want to share it with your followers. This can help nudge people in the direction of purchasing if they've been sitting on the fence.
When responding to your customers on social media, be thankful first and foremost! Thank them for complimenting you, and don't be afraid to be conversational in your response — social media is the best way to humanize your business. Let's look at some companies that share their social media praise well.
Burt's Bees, a natural skincare and cosmetics company, shares social media praise through their Instagram posts. Skincare products tend to work differently on different people so that user-generated content can be beneficial for this kind of business.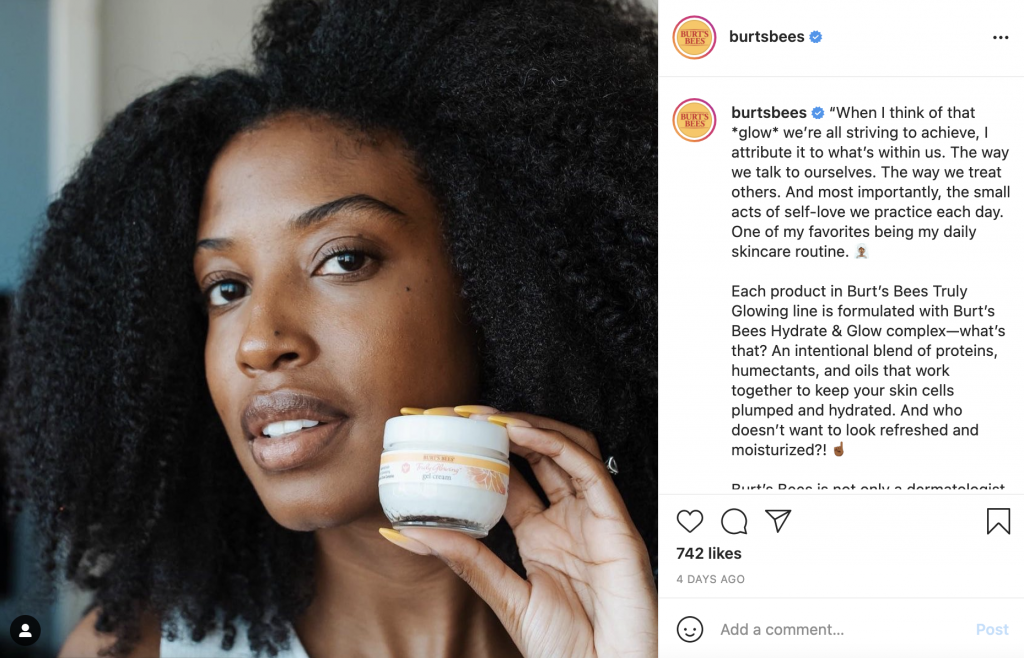 This particular post features an image and post from one of their customers praising its moisturizing cream. Shouting about social media praise in this way not only shows that they have good products but will also encourage their followers to imagine themselves using Burt's Bees skin care.
On the other hand, BarkBox, a dog toy subscription company, replies to their Twitter callouts playfully and charmingly. In this interaction, a Twitter user shows off how cute their pup looks in a BarkBox bathrobe. Instead of just a simple "Thank you," BarkBox showcases their personality a bit in their reply, which shows BarkBox is fun, cheerful, and loves your dog! Plus, this reply increases the chance of BarkBox's followers seeing this praise, leading to more sales for the company.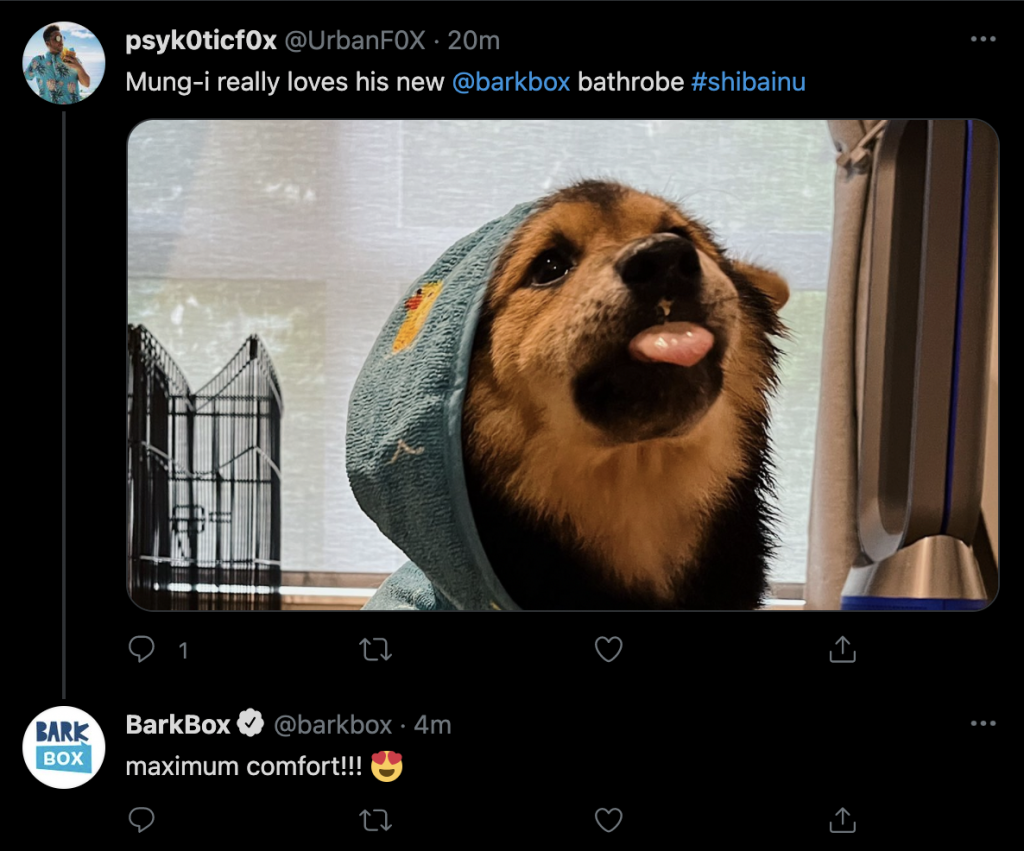 6. Highlight Your Well-Known Clients
Do your clients have star power? Don't be shy — let everyone know! If you've worked with big names in your industry, highlight this on your website. Potential clients will think: "If it's good enough for them, it's good enough for me!" This can lead to you making a lot of sales.
But don't forget to always ask permission before publicizing a business relationship. It's always better to ensure that the person is happy with you shouting out the fact you're working together, rather than getting yourself into trouble.
Here are a few examples of businesses that have highlighted well-known clients well. Hopefully, this will give you some inspiration about how you can use this tactic in your marketing.
For example, HelloFresh, a meal kit subscription service, highlights their well-known client, Antoni Porowski, on their homepage. Porowski, a chef and food expert on the Netflix show Queer Eye, is a great person to highlight. If he likes HelloFresh, they must be selling great products! This could go a long way towards encouraging his fans to take a chance on HelloFresh if they've been thinking about it.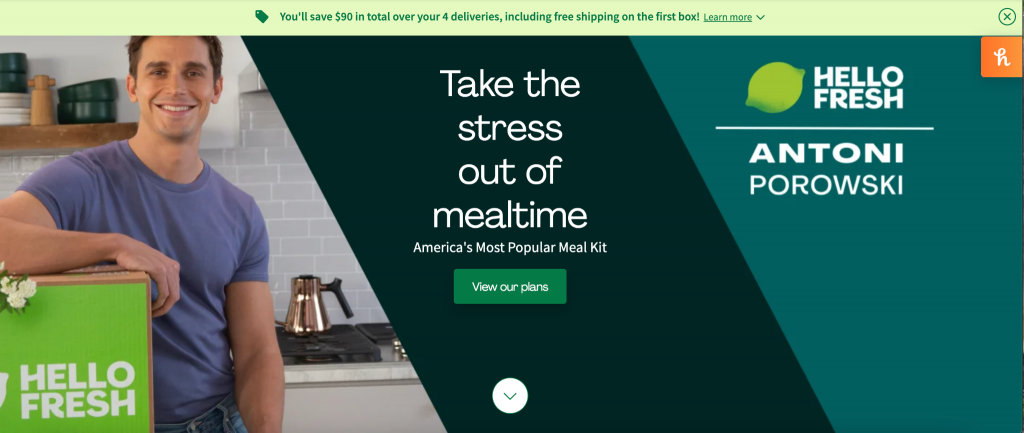 On the other hand, Backlinko, another digital marketing company, has added a powerful testimonial to their homepage from the founder of the well-known company Wordstream.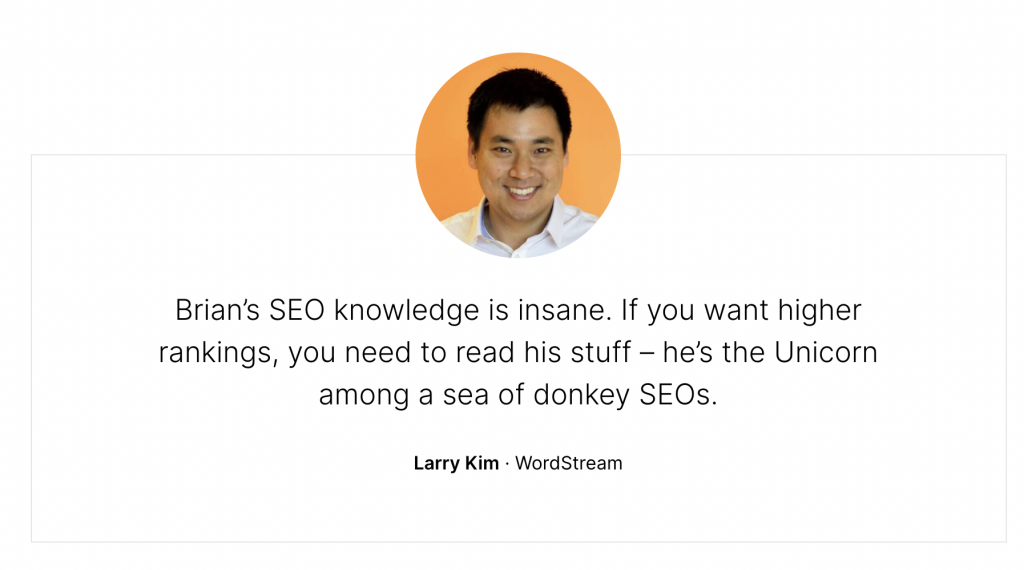 He's a respected figure in the online world so, showing that other industry leaders trust Backlinko with their marketing could build trust with prospective customers and encourage them to make a purchase. It's clear from this testimonial that Backlinko knows their stuff, and the fact it comes from Larry Kim makes it even more convincing.
Summary
Don't just tell your customers you know what you're doing — prove it! Take a look at your current strategy and see if any improvements could be made! His article covered several different ways you can show your customers that you're an expert in your field and get results, from sharing praise on social media to publishing reviews and case studies, and more.
—
Author bio:
 Adam Steele is COO and co-founder of Loganix, an SEO fulfillment partner for digital marketing agencies and professionals. The company provides the SEO services that businesses need to grow and achieve their goals. If you enjoyed this article, you could find more SEO guides and templates on the Loganix blog.