The Secure Sockets Layer (SSL) protocol is used to create an encrypted connection, which is necessary if you want to provide a dependable environment that makes your clients feel entirely protected when browsing your website. Your prospective customers are constantly on the watch for unscrupulous websites, and by installing an SSL, you essentially obtain a seal of assurance that the business site is entirely safe.
Green padlocks and branded URL bars are two techniques to determine whether a website may be trusted. Pages that do not have this credential are seriously damaging since any data submitted on them might be the subject of a cyberattack. When users browse your website and read the not-safe message, you will lose precious traffic and potential clients.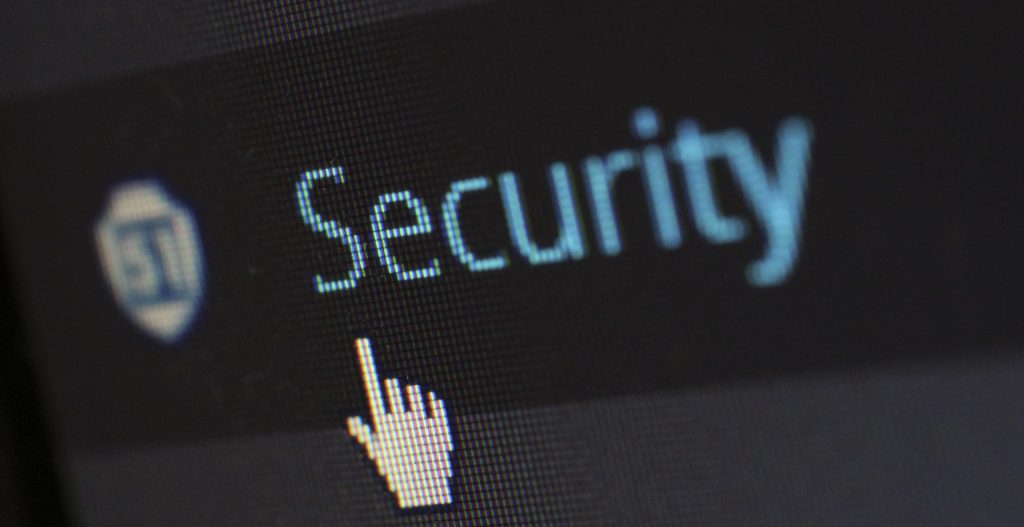 If customers continue to visit your website, there is a chance that their data may be stolen, and they will most likely quit. Considering the easy accessibility and volume of knowledge available on the Internet, this is not difficult. Site owners must obtain a digital SSL certificate to demonstrate that the connection is safe and protected.
These certificates are typically granted by third parties and help authenticate the cybersecurity of a website, safeguard the communication between the website and the server, and confirm the authenticity of a website. This accreditation is required for any business that obtains confidential material through its website.
WP Force SSL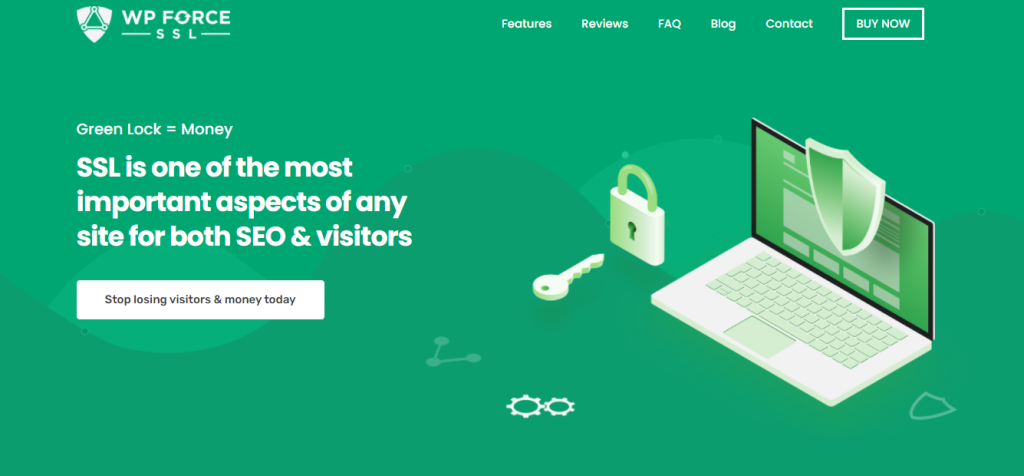 An SSL certificate is required to run a successful and secure website. You should take as many safeguards as possible to ensure that the security of your WordPress website is adequate. Only in this manner will you safeguard sensitive material on it. The WP Force SSL plugin is the simplest and quickest way to accomplish this.
WP Force SSL will be introduced to you in today's article regarding the importance of the SSL certificate. We'll go through the major aspects and how you can use this plugin to your advantage. By ensuring that your SSL is on pace with a more safe site on the Internet, the software will save you a lot of time, cash, stress, and clients.
So, if you obtain this plugin, you and your site's viewers can quit thinking about the site's security and get on with your business. The plugin's goal is to redirect unsecured Internet traffic to encrypted HTTPS. Furthermore, using WP Force SSL, you will be able to repair issues without undertaking any tiresome code.
All you have to do is download and enable the WP Force SLL plugin, and the plugin will do the other, ensuring that SSL is activated. The procedure is converting the page to HTTPS utilizing your SSL certificate, and don't panic, this plugin will function with any SSL certificate.
WP Force SSL allows you to redirect unsecured HTTP traffic to safe HTTPS and repair SSL problems without modifying a single line of code. Everything is configured when you activate Force SSL, and SSL is enabled. Your SSL certificate will be used to convert the entire site to HTTPS. It is compatible with any SSL certificate. It might be a Let's Encrypt free SSL certificate or a premium SSL certificate.
SSL Monitoring

Turning text documents into cipher messages is referred to as SSL. That content can only be accessed by those who have the decryption key. WP Force SSL allows you to improve your Internet security. WP Force SSL enables secure communication across computer networks, required for all websites.
In other terms, anybody intending to acquire information from a website will be impossible to do so if it is SSL-protected. The reason for this is that without a key, they cannot comprehend the sense of the information.
With real-time SSL monitoring, you may search for SSL certificates and receive email notifications of any issues discovered. You won't have to visit the dashboard frequently to see the results because any problems will be forwarded directly to you.
SSL monitoring prevents you from forgetting to update an SSL certificate and checks for roughly 50 potential issues your website may encounter.
Content Scanner

To provide total security, everything must have the HTTPS prefix. In contrast to scanning, the plugin may automatically remedy these mistakes or indicate faults and offer you the option of manually fixing them.
The term 'content scanner' refers to a feature that enables you to scan the whole website for problems on every page. The scanner may either automatically correct any faults it finds, or you can do it manually. If you do not disable this option in Settings, the program will automatically address the issues.
The content scanner accomplishes it in minutes and delivers a full report, allowing you to prevent mixed content problems. It is significant since it will take a few minutes to ensure that your website is secure. All data sent over an SSL link is encrypted to the greatest possible extent, making private details inaccessible by attackers.
Whenever you access an SSL-secured website, your browser establishes a connection with the server, displays the SSL certificate, and then tries to connect your browser and server. This bonded link is private, so no one else can see or read what you enter in your browser except you and the site to which you enter data.
Installing SSL Certificates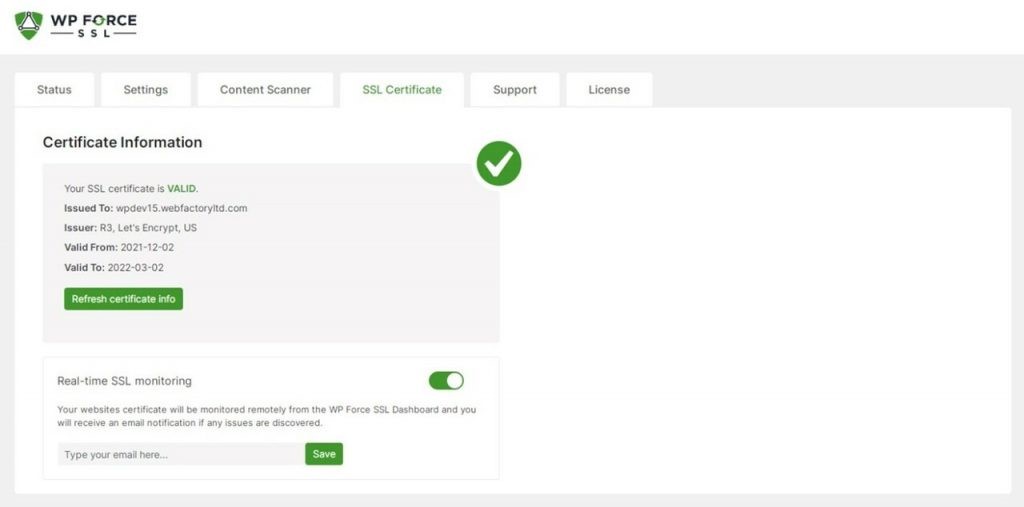 How do you get an SSL certificate if you don't already have one? You may effortlessly accomplish this by clicking on the "Generate SSL certificate" button and providing your email address.
Then, accept the Let's Encrypt Subscriber Agreements by clicking the button, and you're done. It is incredibly beneficial for newcomers who would struggle much if they tried to set it up correctly.
The plugin also contains all necessary data about your SSL certificate, including certification of its present authenticity, whose site it was issued to, who issued it, and, of course, from which date it is active. Installing an SSL certificate can assist in boosting user confidence and is a wise business move with additional benefits.
Centralized Dashboard
The Dashboard is where you can manage all of your purchases, licenses, sites, and SSL monitors. Reduce time by consolidating all of your customer sites into one location.
It also supplies the licenses that every website requires to run smoothly. SSL monitors without requiring users to check in to each site individually, ideal for everyone.
Free Version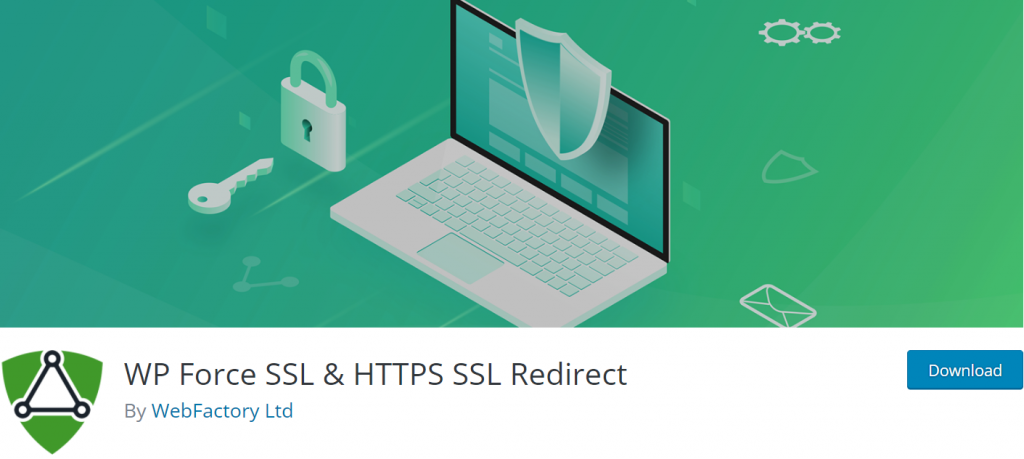 The plugin is also available for free. The plugin creates a free SSL certificate for your site every 90 days in the premium edition. It supports you in your aim to resolve SSL issues, just as the premium version, and the greatest part is that it does not modify any of the code.
It redirects HTTP traffic, which might be dangerous while securing the HTTPS protocol. The SSL certificate converts your entire site to HTTPS. It applies with any SSL certificate, whether it's a free one from the already stated Let's Encrypt site or a paid one.
Furthermore, the plugin is extremely simple to use, and the user experience is sleek and accessible. Nevertheless, if you have any troubles while using the addon, you may obtain the finest available help to solve your difficulties in a heartbeat.
The support staff comprises many of the developers that designed the plugin, so you won't have to think about your complaint being answered by someone who doesn't know what they're talking about.
Final Thoughts
The security of your site is what establishes confidence with your customers. They must be confident that they can approach you on their most confidential material, particularly if they want to do business with you. If the site continues displaying alerts, no one will provide their payment information. Furthermore, a good SSL certificate boosts your SEO. Google is much more likely to display a site that has been determined to be trustworthy.
Whether free or premium, installing an SSL certificate on your website is a requirement, particularly in 2022. You should buy one for yourself if you operate an online marketplace, weblog, or any other type of internet company. Obtaining an SSL certificate, however, is not the only problem. When deciding whether to get one, consider how simple it is to put it up to track.
As a result, if you're searching for a very inexpensive and economical tool to assist you with establishing an SSL certificate, resolving mixed content difficulties, and checking your website's SSL condition in actuality, we strongly recommend WP Force SSL.
The free edition of the WP Force SSL plugin offers all of the functionality you need to help you secure your site or many sites in the most effective manner possible. The paid version offers far more functions for you to employ. It operates swiftly, and the UI is as basic as it looks while still offering a plethora of benefits to select from. There is a week money-back assurance policy, so you can't go wrong by at least checking out the pro version and seeing whether you're content with the outcomes.