Do you already have a website created, but some details still haven't been worked out? Do you want to update your website? If that is the case, you should utilize the help of an under-construction page plugin.
WordPress offers many under-construction page or coming soon page plugins, which you can use immediately. Under-construction/coming soon pages are used to inform other users that your website is being built, refined, or completely overhauled. Creating them is simple and easy.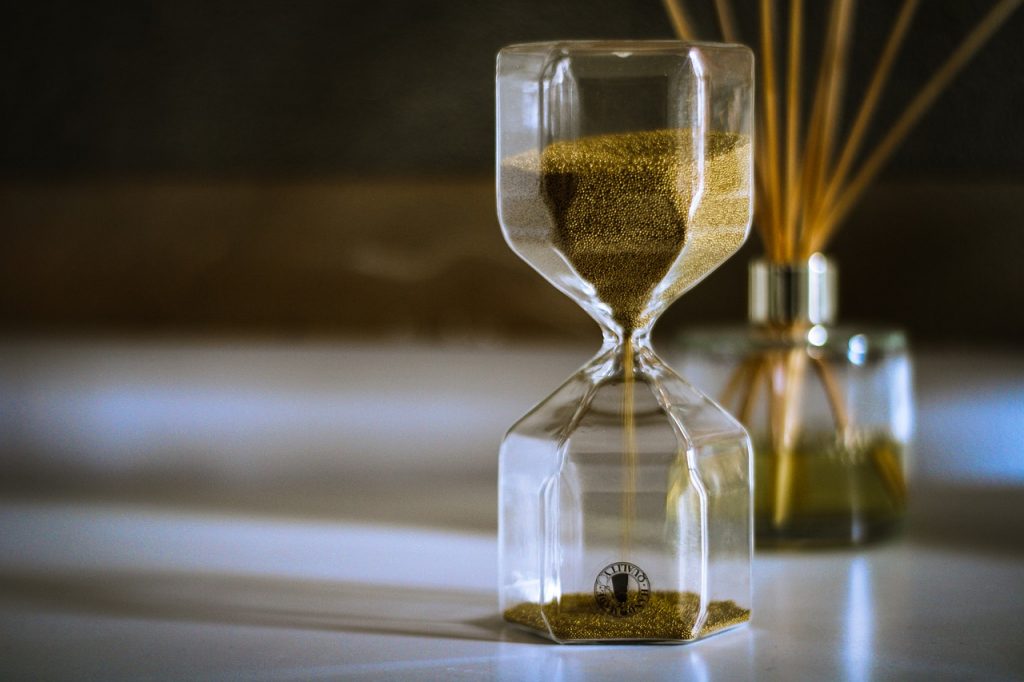 The benefits of using an under construction or a coming soon page are plentiful. Among other things, they can be a great and powerful tool for attracting potential customers, even before the launch process.
When you decide to use one of these WordPress plugins, you encourage better overall SEO and ranking on Google with additional keywords, page titles, etc. However, it's crucial to know the difference between an under-construction page plugin and a maintenance plugin.
With the help of an under-construction page plugin, you can inform potential users that your site is being refined. You will improve the user experience and ultimately expand your email list even before the day of the official publication of the website. On the other hand, a maintenance plugin takes care of your website behind the scenes.
We present you with a list of the best and most used under construction page plugins for WordPress.
1. UnderConstructionPage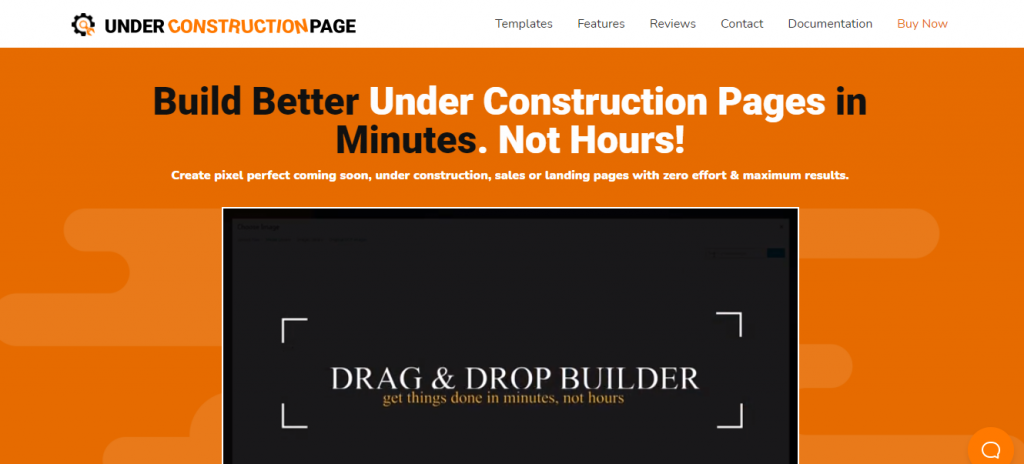 UnderConstructionPage is at the top of our list. It is a plugin available for WordPress and ideal for business owners, bloggers, and even photographers and freelancers.
The plugin has been carefully created using the best available practices and standards to provide users with the best possible effect when using them. An under-construction page, a coming soon page, or in maintenance mode page – all in one place.
There are more than 100 different topics, page titles, and descriptions to choose from. You can run analytics of all data, automate page execution and set up social media icons. It is effortless to use and adapted to all users without the additional necessary knowledge of coding or programming.
UnderConstructionPage comes in both a free and a PRO version. The PRO version offers over 100 features, including the ability to search for photos in high resolution and integration with additional applications and add-ons (e.g., MailChimp, Zapier, etc.).
Note, when you disable a page under construction, your website will work as smoothly as before (if it is an existing page) – so do not worry.
2. Coming Soon & Maintenance Mode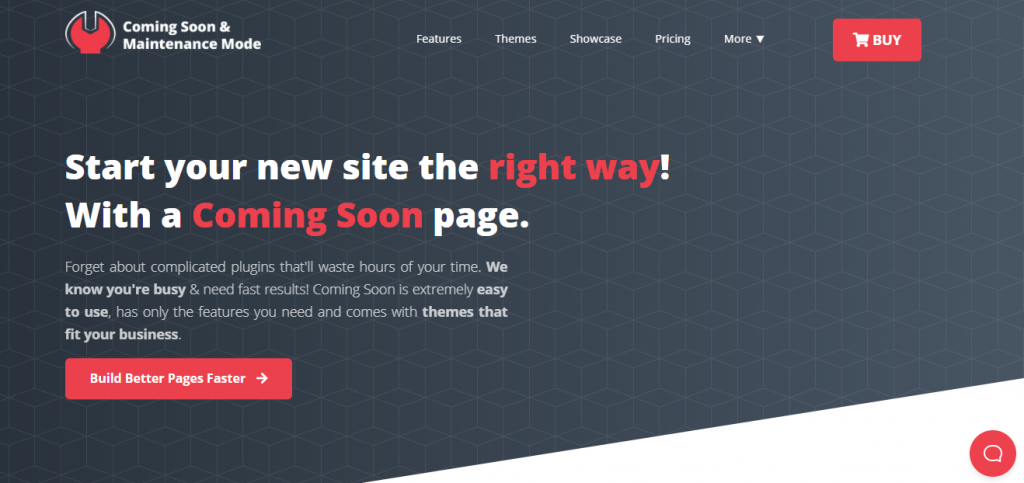 Coming Soon & Maintenance Mode is a plugin with an upcoming site or maintenance mode function, as the name suggests. This plugin offers countless features.
It can work with all WordPress themes and plugins; you can configure each element separately and rearrange the position of elements on your page. In the PRO version, there are over 150 themes that you can set up.
Coming Soon & Maintenance Mode offers choices to suit your business niche, and each of the professional themes featured comes with an array of elements that you can tailor to the needs of your business. As a tool, it is effortless to use, flexible and adaptable.
You will have remote access to licenses and manage client licenses for each website you manage at that time. You can track the statistical movements of each page at any time directly from the dashboard with additional insight into user visits.
From now on, the personalization of colors, images, fonts, content, and other elements of your site will be completely redesigned and under control – all with this fantastic plugin.
3. Maintenance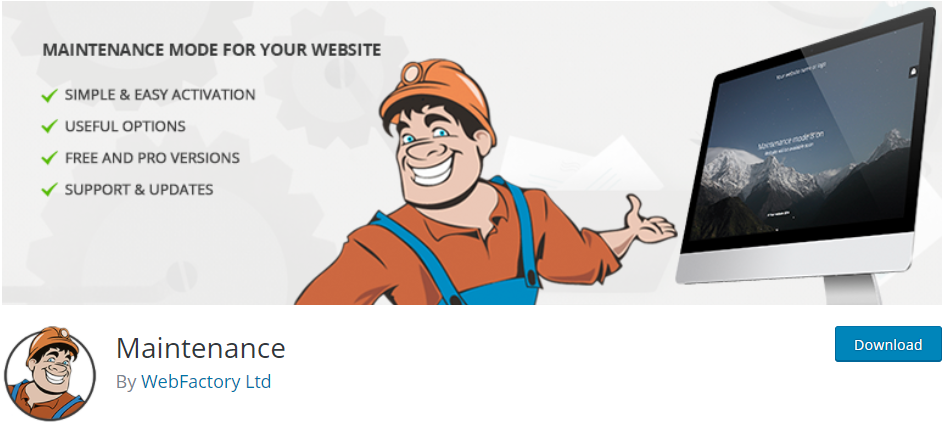 Another tool in a series of free plugins, numbering over 300,000 users, is the Maintenance plugin. It allows you to configure every part of the page.
The plugin offers the administrator the ability to close an existing or a new page temporarily. Its primary function is to maintain the page and to create a page that is under maintenance. While the page is being updated, you can add images, logos, blur effects, and many other features to make your site visually appealing to potential new users.
Maintenance's free version is rich in many parts, customizing the page with colors, fonts, and text backgrounds. Everything is simple, customizable, and organized, making it perfect for website owners not so experienced in the world of websites.
4. Coming Soon & Maintenance Mode by Colorlib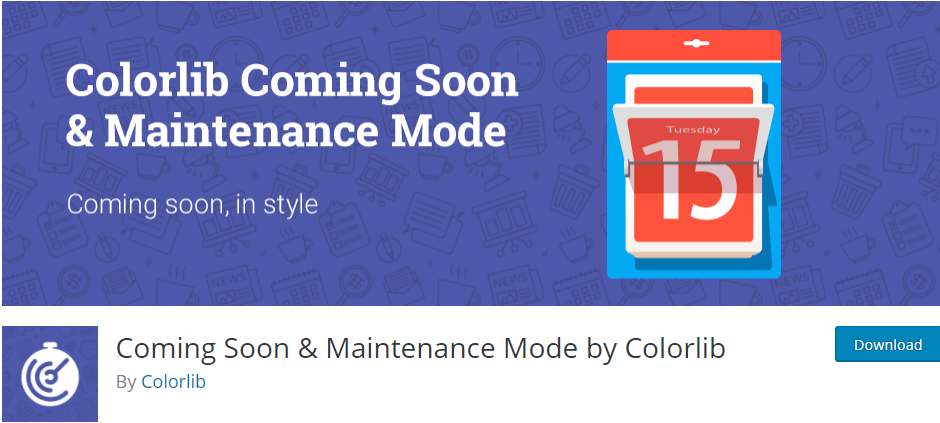 Coming Soon & Maintenance Mode by Colorlib is a plugin that allows you to create a coming soon and under maintenance page while collecting emails from your users and visitors.
You will have complete control over the coming soon site, with ease of use – all with no extra charges. Once you install the plugin, one click is enough to activate your upcoming page and work on it without visitors seeing it.
Coming Soon & Maintenance Mode by Colorlib comes with over ten templates and works with all WordPress themes. You can easily integrate it with MailChimp, and create a button for social platforms (Facebook, Twitter, Pinterest, YouTube, Instagram).
The plugin also allows you to customize and add text for the header and footer, and many other options.
5. Coming Soon and Maintenance mode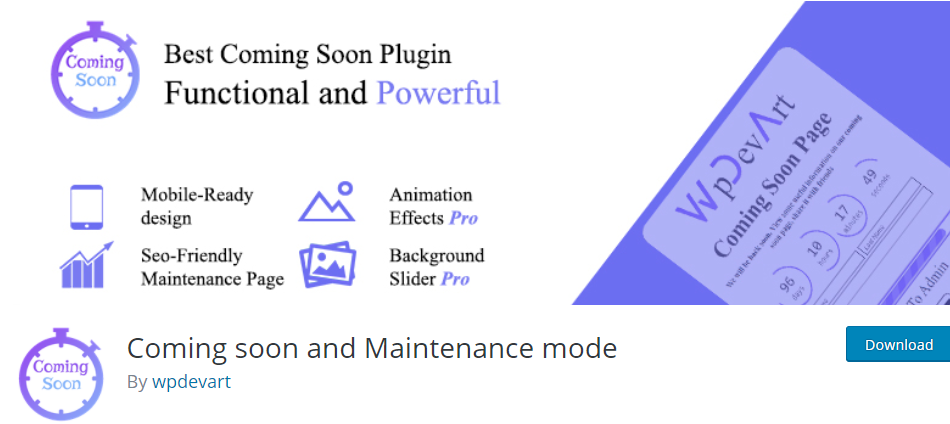 The widely used plugin, with many satisfied users, is also on our list of suggestions. Coming soon and Maintenance mode has the same or similar function as the previously mentioned plugins intended for creating a coming soon page.
What sets this plugin apart from others is its functionality and excellent support for mobile devices. One of the many features available in the PRO version is the fantastic ability to customize the background image, colors, and elements.
There is also an option to set up a countdown with three designs available and integrate it with social media platforms. On the page under construction, you can modify and customize everything, down to the last element.
The basic version is free and flexible; it is compatible with all versions of WordPress and supports custom branding.
Frequently Asked Questions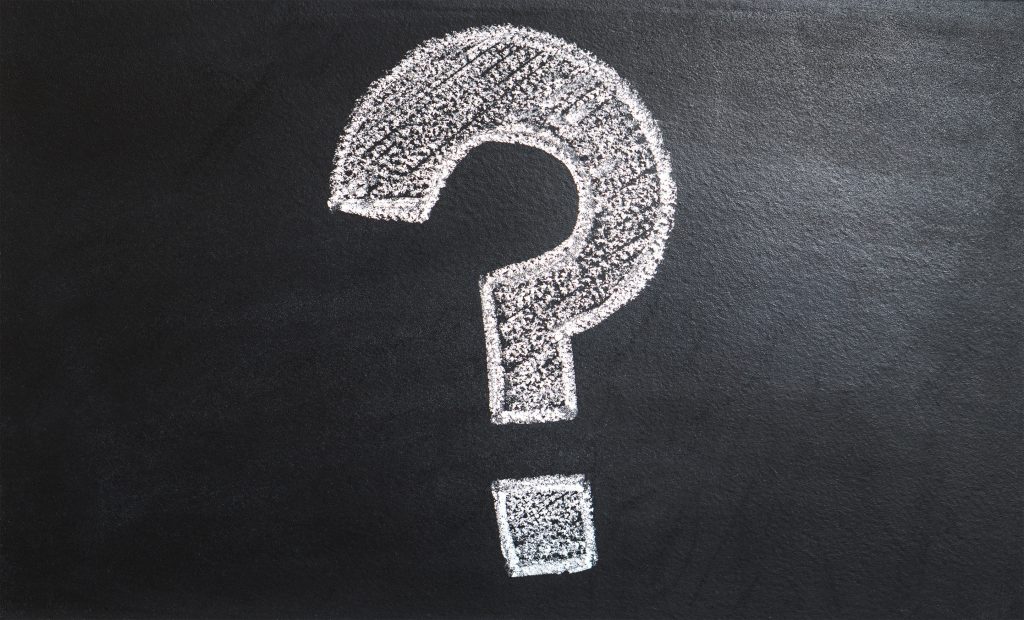 1. How can I use an under-construction page plugin in WordPress?
In the plugins section, look for the area where all the plugins are contained on your website. Once you type in the plugin's name, it will appear on the screen, and all you have to do is install it and activate it.
2. What will happen to a website when we add/activate an under-construction page plugin?
When you decide to update your site or start its creation and have not finished it yet, this plugin can save you. Your users will have the information that the page is a work in progress, and you will be able to publish that message without disrupting the work that is happening "behind the scenes."
3. How can I disable an under-construction page plugin?
Removing the plugin is very simple. All you have to do is turn off the "enable" option and save your decision. At any time, when you decide that your website is ready to see the light of day, you can remove the under-construction page in one click!
Conclusion
Each page is unique in its way and requires different treatment, from its creation to its maintenance. When designing coming soon/under construction pages, you need to pay attention to three key elements. Tell your users that you are solving the problem, brand your page, and let each user and visitor know what they can do without accessing your website.
With a list of our suggestions and paying attention to these three specific elements, you are ready to go. After comparing the mentioned plugins, the first two ones (UnderConstructionPage Plugin and Coming Soon & Maintenance Mode Plugin) are dominant than the others, and we hope you will use them wisely.
The best part of this story is – you do not need to have any coding knowledge. Before you decide to activate a plugin, we want to mention that you always read in detail what it offers and a few reviews to make sure that your choice is good.