Are you finding the best Grammarly Alternatives to use for grammar correction? Well, you are numerous options to choose from. The internet is full of options that you can select for any sort of grammar correction. Being one of the most popular platforms in this domain, you can expect effective solutions from Grammarly.
If you want, you can use various other platforms that will help you to get the best results in an effective manner. Although they may not be able to get similar results, you can still correct most of the grammar mistakes from your paragraphs.
Because of its impressive interface and great offerings, Grammarly has gained huge recognition in the field of grammar correction and online publishing.
But, there are various things that you should consider that may help you to choose another software or online tool for effective grammar correction.
So, when it comes to choosing the best Grammarly competitors, you are going to receive highly impressive services from different other platforms too.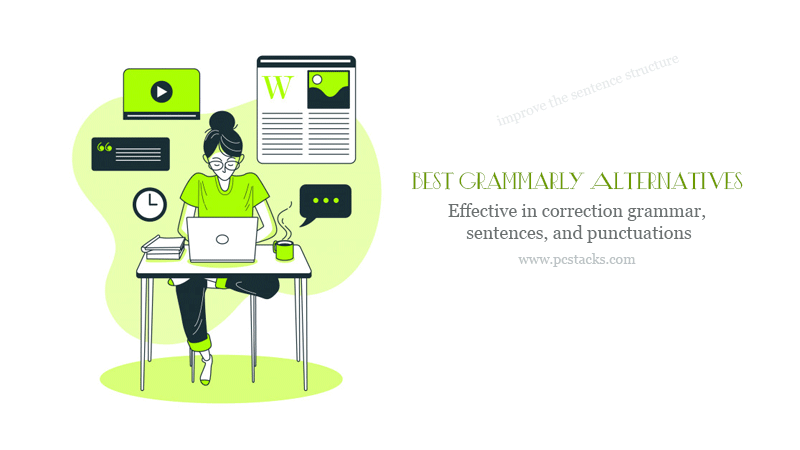 So, here in this article, we are going to discuss all those programs which you may use at the place of Grammarly.
All these tools are great when it comes to choosing a perfect solution for effective grammar correction. Some of them are paid whereas you may use the free tools too for correcting your grammar.
We all want to write well. But, it is never easy to take care of each sentence and grammar every time you are writing an article or blog.
What are the primary advantages of Grammarly?
Grammarly is equipped with highly impressive features that are helpful for most of the type of grammar corrections. Below are some of the main features of this effective grammar tool.
Effective in correction grammar, sentences, and punctuations.
You can also use it for checking plagiarism
Helps to improve the sentence structure
Easy to use with Chrome Extension
Grammarly is recognized as a great grammar correction tool by numerous professionals all over the world. However, you may find it lacking in various things.
So, when it comes to the features and overall user-satisfaction rate, it is a great tool. But, you can't make the most out of it when you are writing professional level essays.
Most importantly, the free version may not be able to help you in a way the paid version will do.
Why should you use a Grammarly Alternative?
Because Grammarly is a popular grammar correction tool, you are free to use it for numerous purposes. However, it has some disadvantages like wrong error correction, etc. Also, the most important thing to consider while going to Grammarly is it paid plan.
For its monthly plan, you will have to pay 19.98$ per month. Although the free plan is capable to provide you with basic grammar correction features, you may not be able to get the best results with a free plan.
There are various other things why you may require a good Grammar error checker.
So, below, there are some of the most popular alternatives to Grammarly which you can effectively utilize for easy and effective grammar correction.
You can start using them for both personal or enterprise uses.
5 best Grammarly Alternatives and Similar Online Tools
WhiteSmoke
Whether you want to write a professional mail, article, or any other essay, WhiteSmoke can help you effectively to correct most of your grammatical errors without issues.
It is basically an advanced proofreading software that will allow you to make your writeups free from any sort of grammatical mistakes. The software can easily be integrated with Outlook and Microsoft Excel.
Also, just like Grammarly, you can use it for grammar, spelling, and punctuation corrections. The software can work great for different types of grammar corrections regardless of your purpose in writing it.
You can use its browser-based version on Chrome, Edge, Firefox, Opera, or Safari browsers. Along with that, it can also help you to check the plagiarism inside your articles.
Spelling checker, grammar checker, style checker, punctuation checker, and various other advanced tools are available in this effective tool.
You can easily know more about this software on its official website. This tool comes in both free and paid plans. So, you can check whether it can work for you or not.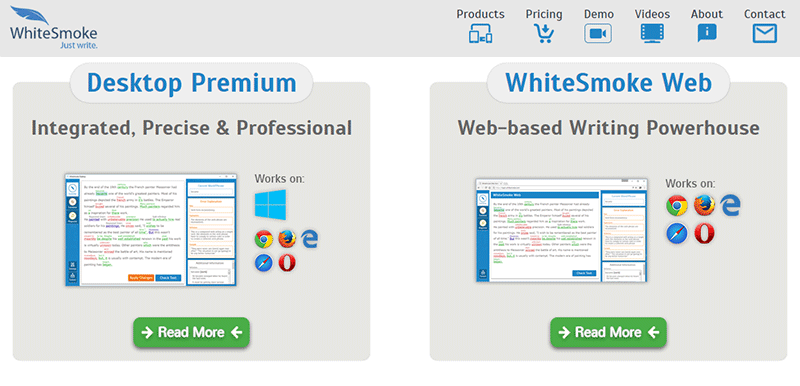 Ginger
Ginger is another impressive tool to effectively check your articles, writeups, mails, and other things for any sort of grammar errors. This tool is an impressive solution for any sort of grammar and spelling checking.
Because of its advanced features, it can also be used as a good Grammarly Alternative. The tool is effective in providing you the most suitable suggestions and grammar correction features.
It is fully suitable for Microsoft Word, Office, Firefox, and Internet explorer. In other words, you can easily use this platform to easily have the desired outputs when it comes to grammar.
With its easy to use offerings along with advanced testing strategies, you can expect it to correct all your basic and advanced grammar mistakes.
Ginger supports more than 40 languages. So, you do not have to worry about anything when it comes to correcting your errors.
The free version is enough to correct your basic grammar errors whereas the premium version has some additional offerings to help you in a much more professional manner.
This platform is recognized in different industries. So, you can try it for any purpose.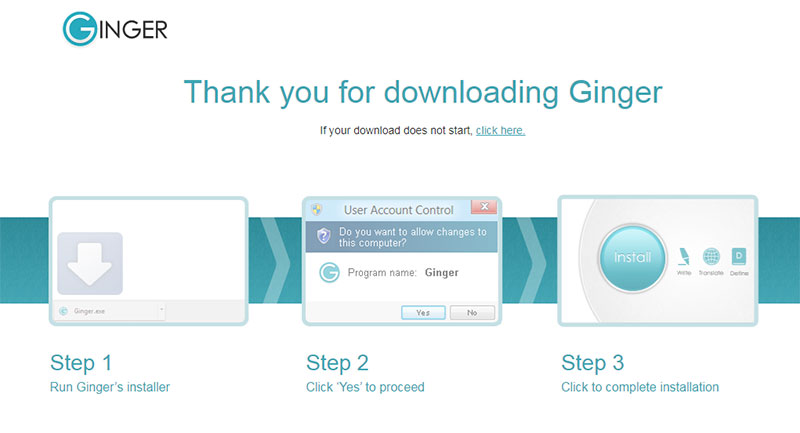 PaperRater
PaperRater is another impressive option to choose as a Grammarly tool alternative. The tool can help you with not only simple grammar but also to correct sentences and punctuations.
It offers online proofreading features with its great user-interface. Most importantly, the platform is completely free with its online web-based operations.
You can easily copy and paste any of your desired content in its easy to use interface and get everything corrected in seconds.
The tool will give you brief details about everything including simple and advanced errors. It becomes pretty easy to analyze your content in real-time and get live suggestions. You are always free to correct or ignore the suggestions as per your needs.
The platform is developed for any sort of use. Also, it is completely free to use regardless of your purpose. There are various other reasons to choose the PaperChecker platform at the place of Grammarly.
So, make sure to test it once by going to its official site.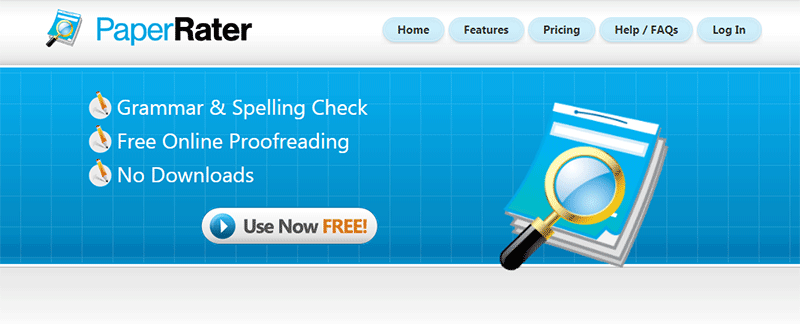 Slick Write
Slick Write is another highly impressive and advanced alternative to Grammarly. It works much more like an editor helping the users to easily find the best grammar suggestions and correction opportunities.
It will help you to identify any mistakes with grammar, punctuations, passive voice, adverbs, and various other aspects. The software is equipped with additional features to integrate Wikipedia and Google pages to have the most suitable and effective results.
As compared to most of the other Grammar correction platforms, this one has the most advanced features along with a pretty stylish user-interface. You just have to copy and paste your desired content and the system will check for all the available errors.
It will also suggest things like sentence length, structural flow, word length, and numerous other aspects. Along with that, it is pretty fast and responsive.
There are various other reasons why you should use it as your grammarly alternative. You can know more about its features and pricing plans on the home page.
Also, use its proofreading features and check if they work well for you.

1Checker
This is another highly advanced and effective plagiarism checker, proofreading and smart grammar correction tool. The software is equipped with all the required features to make your grammar mistakes solved in an advanced manner.
It will allow you to easily correct your essays, emails, and other things without any hassle. Also, when it comes to choosing the right software with unique offerings, it will make things easy for you.
Most impressively, it is completely free which gives a great edge as an effective Grammarly alternative. The software has a high-level performance on any Windows system.
Not only that, but Progressive advancement, professional error explanation, and smart spelling checker are also some of the other main features of this software.
You can expect various other advanced features from this software because it is equipped with an advanced correction system.
The developers have done a great job by giving it an impressive user-interface along with highly effective performance and other additional offerings for the users.
With that said, you can say that it is one of the best Grammarly alternative that have the most advanced features you may need in your grammar checking software.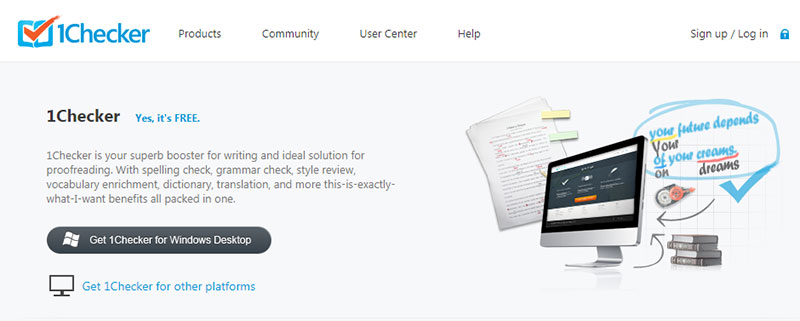 Read More:
---
Final Verdict
These are some of the best software and online platforms you can easily use to correct your grammar online. However, there are numerous other tools you can consider.
The internet is the place where you will find various solutions to this thing. But, make sure to visit the official sites of these platforms and check all their features and other things thoroughly.
We hope this article will help you to choose the right Grammarly Alternative for you. If you found this article helpful, make sure to share it with others too.
Also, do not forget to share your feedback in the comment section. We would like to hear from your side. Also, stay connected with us to read regular articles on different technology-related topics.