Are you looking to use procreate for Windows? Well, Procreate is not available for Windows operating systems till now. So, you can utilize some procreate alternative to get similar benefits for you. Procreate is known for its unique and innovative features, but its alternates will also help you to do the same tasks with relative proficiency.
So, let's know more about it in this article. Procreate is one of the most popular and widely used digital illustration app developed for iPad. It is basically a raster graphic editing tool having amazing capabilities for drawing and other works on iOS devices.
It is a free drawing app with numerous advanced features that will surely allow you to have amazing results for illustration works. In other words, Procreate will allow you to create awesome graphics and drawings with its amazing user-interface.
Because of its huge popularity, Windows users keep trying to use it's using different methods. Some prefer using an emulator, whereas some choose the best alternatives to Procreate for windows.
Exclusive: Best alternatives to Procreate for windows 10/8.1/8/7/XP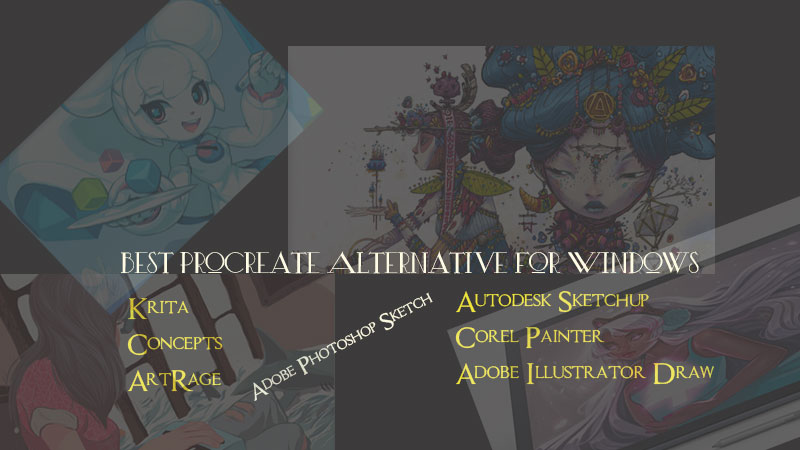 We are going to give you a list of the best software that will surely help you to get everything done in an effective method.
These software will allow you to have good drawing experience on your monitor as you get on the iOS devices. So, let's start discussing these software one by one.
Autodesk Sketchup: Best Procreate Alternative
Developed by a popular firm Autodesk, Sketchup has identical features to the Procreate. For Windows computer systems, this tool is great to have an amazing drawing and graphic designing features.
Using its pen option, different effects, and sketch features, you can easily create impressive designs and graphics as per your choice.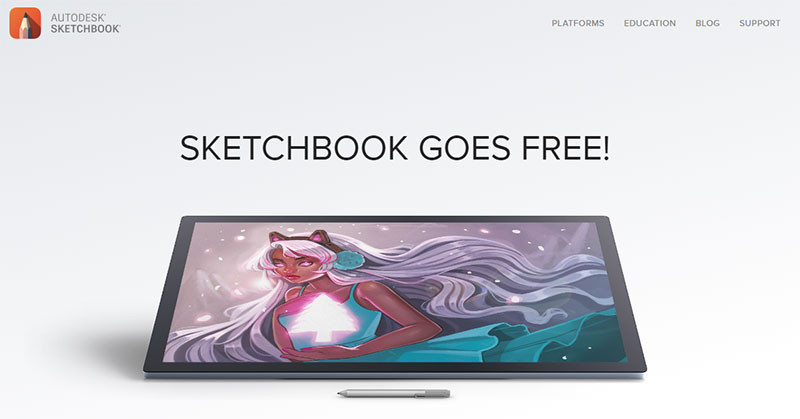 Different color options, image editing features, and brushes make your editing tasks pretty simple and easy. Along with this, the software offers an easy to use dashboard where you can easily edit your desired tools like sketches, pens, colors, etc.
Autodesk SketchUp is easy to understand, and even a beginner can start working on it without hassles. Lots of settings and editing features are there to provide a unique drawing experience to the users.
So, if you want to use procreate for Windows, this software can be the best substitute for you.
---
Krita: Best For graphic designers
Krita is another impressive graphic design and drawing software available for Windows operating systems. With its drawing features and tools, it can become a good procreate alternative for Windows.
The software is most suitable for digital painting, graphic editing, and illustration works.

For comic designing, game art, and various other things, it can become a good option for Windows operating systems. But, for its identical features like Procreate, it is widely popular in the field of illustration.
It is a tool specially developed for artists to offer them impressive features for free. Yes, Krita is completely free and open-source. But, when we look at its features, it can beat lots of its competitors in different things.
So, you can freely choose it at the place of procreate for Windows.
It will allow you to do numerous amazing drawing works easily and fast using its amazing features.
Krita is a highly recognized tool for all sorts of drawing works. So, you should also try it for any sort of work as you want. Being free software, you can use it if you like otherwise go for the next one.
---
 Best drawing tool: Adobe Photoshop Sketch
If you are a fan of Adobe Photoshop, you will also love Photoshop sketch. This amazing software is dedicated to the people who loved digital painting and illustration works on their computers and mobile devices.
In this way, it becomes another great alternative if you want to procreate for Windows.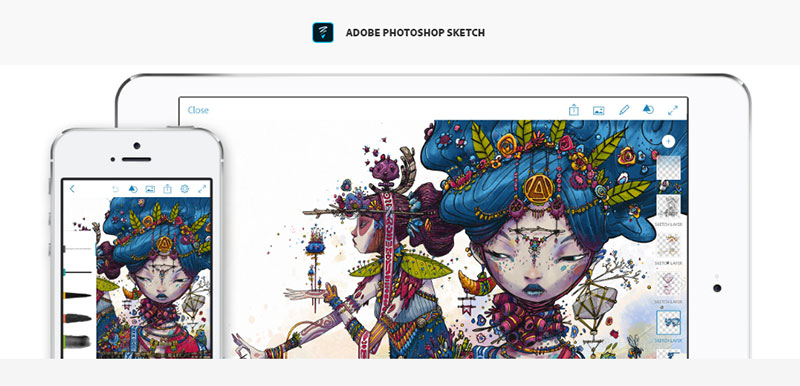 This software is highly impressive and equipped with unique features such as numerous brushes, effects, pens, gradients, etc. Along with this, learning to use Adobe Photoshop Sketch is pretty simple and easy.
It will surely allow you to utilize its amazing features in an impressive manner on your computer. The software is suitable for touch devices too.
So, with the use of Adobe Photoshop Sketch, you are free to make your designing and drawings work easy and simple for you. Using its amazing drag-and-drop features, you are going to make all your desired drawing works easy and simple.
The sketch is going to provide you with impressive features that you may not get in any other tool discussed here. You will get more than 14 brushes to use with this tool.
This is the reason why it becomes a great alternative to procreate in Windows. Along with this, you can use it for free.
---
Concepts
At the place of Procreate, you can also use concepts tool on your Windows systems because of its amazing features. Concepts are equipped with amazing features as one of the most popular vector drawing apps out there.
This software is highly impressive when we look at its amazing sketches, brushes, and other drawing options.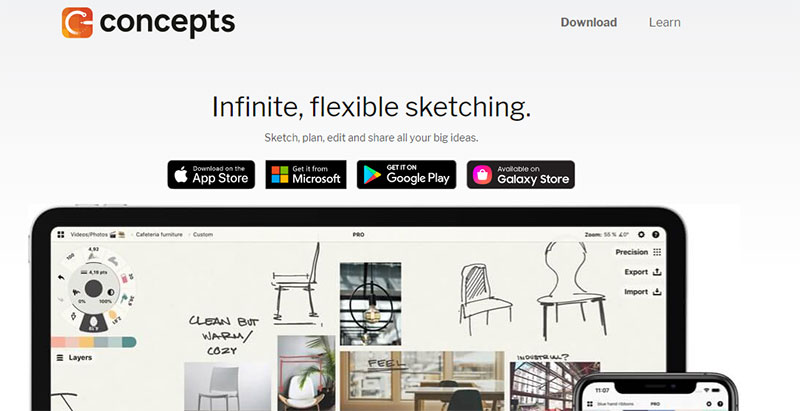 Using the layering options, it becomes pretty easy to use this tool for complex designing tasks. Concepts are available for Windows operating systems with lots of upgrade options.
So, you can use this tool too in the place of Procreated for Windows.
Although concepts is a paid tool, you can expect amazing features with a very short pricing plan. The infinite canvas and lots of add-on plugins make it suitable for professionals.
Also, if you are a beginner, you can find great support to learn its functioning and features easily. In this way, it becomes a great tool if you want to impress your creativity in the form of amazing drawings and illustrations.
---
ArtRage
ArtRage is another great software dedicated to artists. For illustration and drawing works, ArtRage offers numerous advantages that you may not get with any other drawing tool.
Using its unique drawing style and lots of tools, you can have great benefits, which will surely allow you to groom your skills in this field.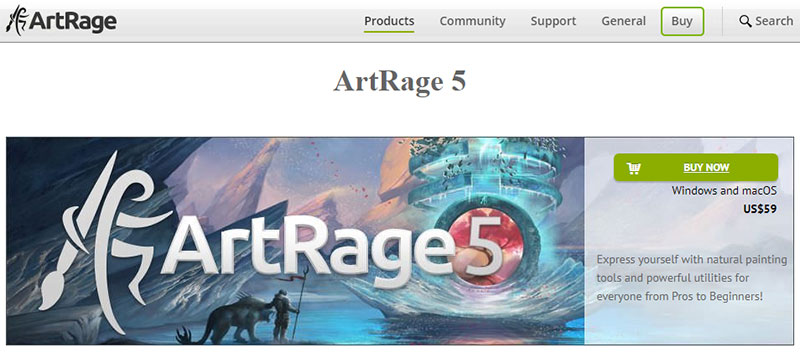 Also, if you are a beginner, lots of easy-to-use tools are always there for you. With its realistic effects, you get an amazing drawing experience as you get in the real world.
So, using ArtRage will offer you a great experience if you want to Procreate for Windows. ArtRage has lots of unique features that allow users to have natural drawing experience.
As compared to the procreate, you get some additional features combined with its impressive user-interface. Along with this, you have access to the customizable features that make drawing tasks effective for you.
Along with Windows, ArtRage is also available for macOS, Android, iPad, and iOS devices. So, you can try this tool, too if you have enough budgets to purchase it. The price of this software is $79.
---
Corel Painter
Corel Painter is another highly recognized and rewarded tool suitable for both beginner and advanced painters. For digital drawing tasks and illustration tasks, it can offer amazing features because of its impressive user-interface and availability of advanced features.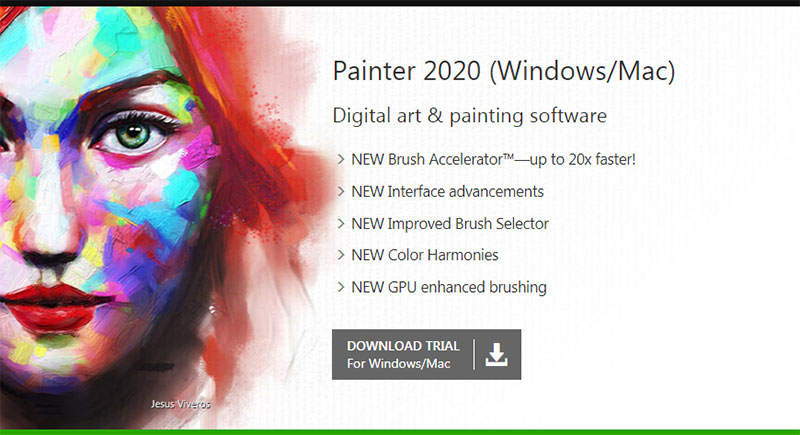 Oil Painting, brushes, pens, water paints, and lots of other tools are always ready for the users. With these features, Corel Painter becomes the choice for amazing artworks.
Offering amazing features to create shiny and dull textures, you can use it for any sort of painting works.
Corel Painter is used by professionals because of its big library of brushes. You get more than 100 different brushes in its dashboard. The user interface is customizable, so you can add anything to it as per your preferences.
Lots of options are there to use for painting styles and brushes. In other words, Corel painter is one of the best options to choose from as procreate for Windows.With its unique features, you are going to receive impeccable benefits.
---
Is Adobe Illustrator Draw better than SketchBook?
Adobe Illustrator Draw is another amazing drawing software developed by Adobe. The software is full of amazing features that will make your drawing works easy and effective.
Along with that, it has numerous features to facilitate you with everything when it comes to illustration and digital painting.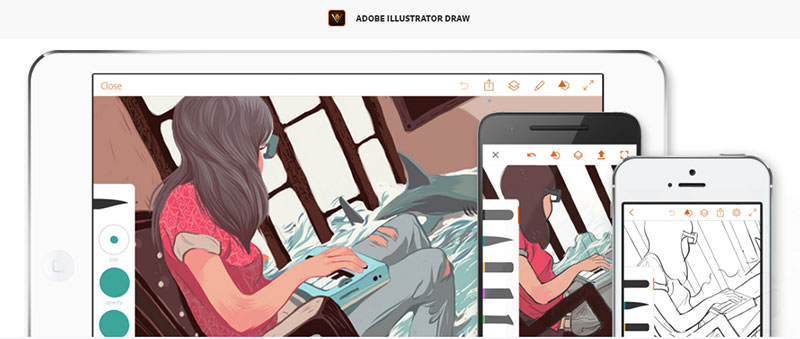 Just choose the desired painting tool and start designing the things you want. Along with the Windows systems, this software works great in mobile devices.
Vector brushes, lots of tools, and customizable toolbar are some other unique features of this software.
So, if you are finding the right tool to use as procreate alternative, Adobe illustrator draw can become the best one for you. This software is used by both professional and beginners in this field.
Creative cloud, layer options, and connection with other tools like Photoshop and lightroom some other reasons for its continuously increasing popularity.
Along with this, using it for complex drawing works is easy because you have lots of things to use here. This software has great things that you will find along with its great interface. So, try it once for any sort of drawing work and get satisfying results.
---
Final Words
We hope you will now be able to find the right options as procreate for Windows. All these drawing and illustration software are great for any sort of drawing, and graphic editing works.
Some of them are paid, but you will get an additional trial period for testing.
But, before picking anyone for you, make sure to visit their official websites and get more information about the pros and cons.
This will allow you to make a wise selection for you. All these software requires fewer computer configurations too.
We hope you will now be able to pick the best software for you to do all your drawing works easily. If you liked this article, share it with others too. Also, share your feedback in the comment sections.
Stay connected with us to get more information about this type of more article. We keep publishing helpful things for you. So, stay tuned and get facilitated with regular and helpful information.