Getting good sound output is crucial when you want to have the most out of your headsets. Also, when you have a headset with an inbuilt microphone, you may also be required to have the best audio input results. So, for that, you may need to know how to use headset mic on PC with one jack. This will be applicable for you when you have a headphone with a single input wire or a monitor with a single 3.5 mm audio output jack.
Different configurations could also be there to stop your headset from getting features for audio input with a microphone. But, there are various solutions available to get this thing corrected in an effective manner.
Especially when you do not have a computer with an inbuilt port for the mic, you can use these methods to get the best solutions for you.
In this article, we will discuss everything about using headset mic on windows PC with a single jack, which is mostly allocated for headset working.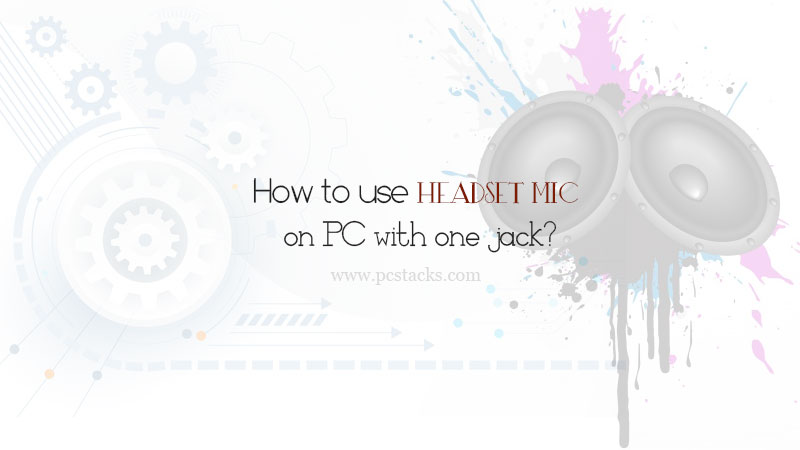 You may have a different sort of headset with different functions but the settings to connect it to input audio will remain the same most of the time. So, we are going to know here that what are those ways to enable audio input through your headset mic using only one jack.
You can try taking various steps to get the best possible results from your headset with an inbuilt microphone. But, the most impressive way to do it by using reliable methods.
So, below are some of the most tried and tested methods to use headset mic on PC with one jack.
How does a headphone with mic works?
With emerging technology, we are able to see different types of headphones with numerous features. You can now get headsets with buttons, inbuilt radio, card readers, and various other features. But, a basic and widely seen configuration of headphones is headphone speakers along with a microphone.
In this setup, small speakers and utilized to produce sound outputs whereas the microphone is there with its separate function to capture the voice and then send it to your system. For both commercial and personal uses, this sort of headphones is utilized in an impressive manner.
But, when you purchase the old headset models, you may get a single input aux wire instead of two separate connections.
So, if you are stuck in a problem where you want to know how to use headset mic on pc with one jack, this article will surely help you.
Is it possible to use a headset mic on PC without Splitter?
It all depends upon the type of headset you are using. If your headset supports dual audio configurations, you may be able to get a proper sound output without two separate wires.
Also, if your headset has one single input wire that supports both mic and headset function, but your PC isn't, this could become tough for you.
Best ways to use headset mic on PC with one jack?
If you want to how you can use headset mic on your PC using only one jack, below are some things you can try to do.
Buy a Bluetooth Headset
As we discussed earlier if your headset does not support dual audio connections such as headset and mic with one wire, it may become difficult for you to get this thing done properly.
However, the latest headsets with Bluetooth connectivity will be able to help you at that time. When you have a Bluetooth headset in your hands, you just have to establish a wireless connection which will be able to transmit the audio from and to your headphone.
Then, you do not have to use any sort of wired connection to have the most out of your headphone.
Although the Bluetooth headphones are often expensive, you will get numerous features which are missing in wired headsets. Also, you will get a freedom to roam around whenever you play games or enjoying music.
Most of these headsets also have inbuilt ports to connect aux cables. So, you can use them as multipurpose headphones which will be able to give you perfect outputs for any sort of task.
So, the first method to use headphone mic on PC is by using a wireless headset.
Using A Y-Adapter
A Y-Adapter is another impressive method to easily use your headphone mic on PC. This adapter will help you to easily split a single audio signal to multiple in an effective manner. So, when your PC has only a single audio output port, you can use this adapter and connect your headset's male ports with its female ports.
This will allow you to send multiple signals to your device driver. However, you will have to change settings to your desired function in some computers.
For example, you may have to turn on the microphone or speakers at a time. But, not each computer or headphone will let you face this problem.
So, with good quality Y-adapter, you will surely be able to get rid of this problem in an impressive manner. You can purchase an audio Y-adapter online or from your nearest electronic store.
Along with that, make sure to connect it properly on your computer. If it isn't working properly, your PC may not be supporting this configuration.
Using a headset with a single input and output wire
Various headset brands are there which will allow you to have both audio input and output offerings without using two multiple wires. So, if you can purchase this sort of headphone, it will be the best way to get rid of this problem.
In that way, you will be able to get proper results without spending a lot on a Y-cable or a Bluetooth enabled headset. Along with that, these headsets are more compact and easy to use for any type of configuration.
The audio outputs are excellent and you may be able to record your voice your stream through these headsets in an impressive manner.
These headphones are perfect to connect not only with your computer or laptop but other devices like headphones or tablets.
Also, when you manage to buy quality headset in this category, you will surely be able to receive immersive audio outputs in your ears.
Why should you use a headphone with a microphone?
An inbuilt microphone in your headset is a great way to enable a two-directional audio connection. For various purposes, you may use these headphones and receive great results for you.
In the corporate world i.e. BPO services and tech support, you may see extensive applications of these headsets. But, you may require them for any purpose.
Some of those reasons are as follows.
Gaming
These headsets are highly impressive when it comes to playing online multiplayer games. Not only that, but you may also need these headphones for various other gaming purposes too.
But, when you have to talk to your friends or co-players during a game, you should definitely need a headphone with an inbuilt microphone.
Corporate
In the businesses where you have to consult with your costumers, investors, and other potential people, you will need good quality systems to ensure a proper voice connection.
So, when you have a good quality headset with an inbuilt headphone, you can rely upon it and make sure you get the most out of your time.
Communication
These headphones are effective when it comes to video calling, business conferencing, and various other communication things.
When it comes to two-way communication, a headphone with an inbuilt mic and a single audio input wire will be a good option for you.
Entertainment
A headset with a single wire will be a good option for you when you want to receive great offerings for entertainment.
As compared to a headphone with multiple wires, you will be able to have great results and easy usability with your single-wired connection.
A good sound output
When you buy good quality headsets with only single wire connection, you will be able to have a quality sound output through it.
Whether you want to use them for any purpose, you can receive immersive sound which will fascinate you for sure.
When if my headphones are not connecting to my computer?
If you are using a wired headphones, the problem could be caused by various reasons. It could be your computer's driver, aux wire, or your headphone itself.
So, in order to troubleshoot this issue, make sure to connect your headphone with any other mobile device or computer. It is working well with the second monitor PC, it is a problem with your headphone.
Whereas, if it is not working with any of your devices, you may have to get it checked or replaced.
While buying a new headset, make sure to consider purchasing a product with enough guarantee period along with its features.
---
Conclusion
We hope you will now be able to use your headphone mic on your PC with one audio jack. We have tried to cover each possible aspect of this topic to help you in an effective manner.
So, make sure to share this article with others too. Also, share your feedback regarding the same in the comment section.
You can also share new ideas and article topics with us. We will try to help you in every possible way here. We keep publishing regular articles on different topics here on this blog.
So, stay connected with us and keep reading article which are written to help you.