Adobe After Effects is one of the most impressive video editing and 3D modeling software for both Windows and Mac computers. If you are looking for the best After Effects alternatives to edit your video in an impressive manner. Well, you have numerous options to choose from. In today's world of the internet, you can easily get any software package to match all your video editing requirements. However, choosing the best one is not easy work.
There are numerous competitors to this software that you can easily try in your system. After Effects is known for its impressive offerings for YouTube Video editing. Adding impressive transitions, creating intros/outros, and various other things become very easy when you have After Effects installed on your computer.
Having things video editing software means you have a leading software actively offering in this industry for years. In other words, After Effects is the most suitable software whether you want to use it as a beginner or professional
Because this software is developed by Adobe, which is a leading company in the field of digital creativity, you can expect some impressive advantages from this software package.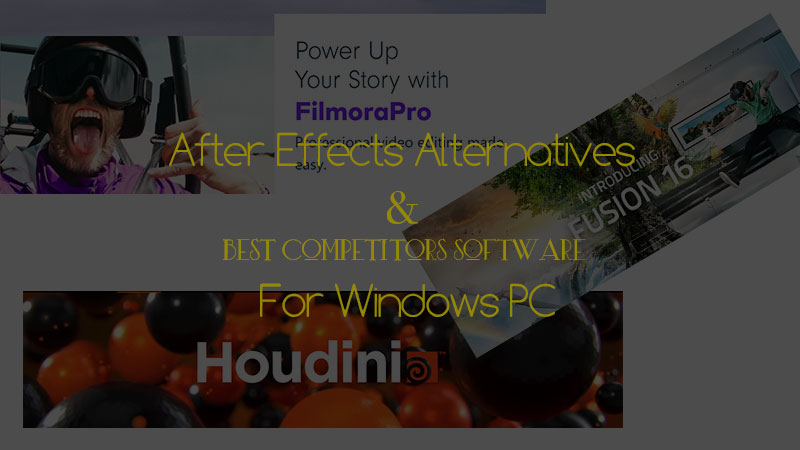 Also, learning this software can help you to grow professionally because its video editing services are highly demanded in different industries.
This video editor becomes handy when you use it on a powerful computer. Having good computer configurations is crucial to get the most out of this tool.
So, without further discussions, let's know which are those popular After Effects Alternatives, which you can try for any sort of editing task.
Why should you look for an After Effects Alternative?
After Effects is considered a highly popular and effective editing software for both Windows and Mac computers, but there are numerous drawbacks that you should consider before making a purchase. Although the software comes with a free trial package with some limited features, you may find it hard to afford its monthly paid plan if you have limited budgets.
Especially when you are a student, you can't afford to pay monthly 29.99 dollars for this software.
Another drawback of Adobe After Effects is that it consumes a lot of RAM when you are using it. So, if you have a computer with less than 16GB RAM, this software is not the best pick for you.
The software requires many more specifications when you want to use it for any purpose. You can check its system requirements on this page.
For most people, Adobe After Effects may be tough to learn. As a beginner, you can't start doing everything in an impressive manner without good knowledge.
So, learning this software could be tough because of its steep learning curve. There are various other reasons why you should try to find an After Effects Alternative for you.
So, some of the most effective options are as follows.
Best Adobe After Effects Alternatives to using for video editing in 2020
When you compare After Effects with all its competitors, you may see that it has various drawbacks, which you can determine, and this is the main reason why you should try to find another software that can suit all your needs.
So, some of the best and most popular After Effects Alternatives are as follows.
Hitfilm Express
If you are looking for a free video editing program, Hitfilm Express can help you with that. This software is equipped with its finest video editing and compositing features for the users. Most amazingly, this software has most of the features you will find in Adobe After Effects.
The software has all the advantages which are great to see in a free software package. Also, it can work perfectly in any computer system without hassles with minimum system requirements.
So, choosing this software for your video editing works will provide you with various benefits.
Key Features of Hitfilm Express:
Best for beginners and professionals
Easy to learn as compared to After Effects
VFX support using plugins
Fast and high performance
In the field of videography, Hitfil express has got a huge appraise of its users. So, you are free to use it for any sort of video editing task in any Windows PC. These are some of the reasons why Hitfilm express is known as the best After Effects Alternative.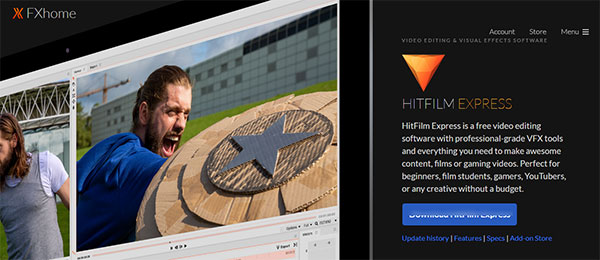 Houdini
Houdini may not work well as a video editor, but it competes with the After effects when it comes to the 3D modeling and VFX work. This software is equipped with numerous excellent features to create impressive 3D artwork, which most of the other software will never be able to do.
Ranging from modeling, sculpting, animation, and motion capture, you will get all the required features from this software along with a great performance. The software is suitable for both professionals and beginners because of its interactive interface.
Houdini is preferred by various professionals all over the world for creating 3D animations. So, if your goal is to choose the best software for animation tasks, it can help you a lot with that.
For normal video editing and effect insertion, it can help you with that too.
Key Features of Houdini:
SideFX Solaris
Procedural content creation
Easy to understand and use for beginners.
Use Houdini Engine with Unity
When it comes to pricing, Houdini is available for free only for learning purposes. However, different pricing plans are available for its various software editions.
But, all of those come with perpetual licenses, so you do not have to worry about monthly packages in any way. The software is equipped with numerous advanced features, so you will have to pay some price in order to use them all.

Blackmagic Design Fusion
Blackmagic Design Fusion is another impressive software that directly competes with Adobe's After Effect. This package has various advantages for visual artists, 3D animators, video producers, and other professionals.
So, you can start using it anytime at the place of AE on your computer. It will surely allow you to have amazing results using its advanced offerings.
For digital compositing your movies and creating visual effects, this software is widely preferred by the users.
In other words, you are free to pick this as the best After Effects Alternative and start getting amazing results.
Key Features of Blackmagic Design Fusion:
Supports Windows, Linux, and macOS
3D animation and motion graphics
VFX and VR support
Motion tracking
When you start using this software, you will find various other features that After Effects will also not be able to offer you.
So, you can easily pick this software with its free package to limit its capabilities with some limited features. However, the one-time price of this software is $299.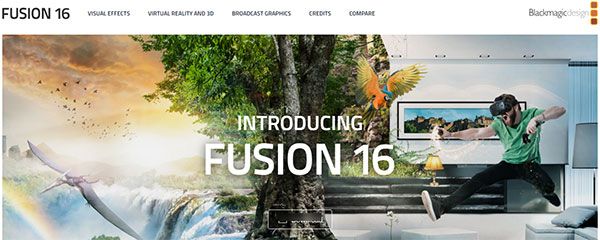 Camtasia Studio
Camtasia Studio may not provide you features for 3D rendering and VFX, but you can expect some amazing features for video editing tasks. This software is fully packed with various advanced solutions where you can easily edit your videos without any hassle.
The software is available for Windows, Mac, and Linux operating systems. So, you can easily pick it for you and edit your videos in the way you want. The software will allow you to add amazing effects and transitions to your videos with a couple of clicks on your videos. Also, exporting videos in high quality is possible with this too.
You can easily import various effects and other things from the internet. The software also allows you to record your screen or take screenshots easily. This software is highly impressive if you look at its advanced offerings. However, it may lack some features.
Camtasia is one of the best software which is suited best for beginners. The users can find various study solutions on the internet for free and paid.
However, if you have a little bit of earlier knowledge about this software, Camtasia will be a good option to choose for you. The software is equipped with great advantages along with its pretty minimal price range.
Key Features of Camtasia Studio:
Amazing typography
A large collection of music and effects
Annotations and callouts
Suitable for both professionals and beginners
Easy to learn and use with great UI.
You will be able to see various advantages after installing this software on your computer. It will make your toughest editing tasks easy. You can try it and check its abilities with its Free to use version. Also, its paid package is available for Approx 250 dollars.

Filmora9
Filmora9 is another great option to choose as your After Effects alternative. This software has all the required features which you may need while editing any type of video for you.
Although it may not allow you to edit videos in a highly professional manner, you can expect amazing results for simple and basic editing. The software has an excellent audio compressor feature.
Also, you will receive a great option to add an amazing auto-sync feature. The software has a clean and user-friendly UI, which makes things pretty easy and simple for you. In other words, Filmora9 is going to help you with any sort of video editing task.
Noise reduction and noise transition features are included in this software for the users. Adding texts, lights, masks, and other effects to your videos take seconds when you have Filmora9 to help you.
Key Features of Filmora9:
Auto-correction and color wheel
Control settings and scope
Easy to learn and use for editing
Best for professional tasks too
The software is highly professional if we look at its amazing features as compared to other competitors. After Effects may be a suitable package for advanced editing but this one has amazing advantages that make it the best After Effects Alternative.

Read More:
---
Final Verdict:
After Effects is an industry pioneer if we see its amazing features for video editing and animations. But, you will surely have to get a good experience in order to get the most out of it.
So, you can try its alternatives. But, make sure to visit the official sites before making any decision. It will surely allow you to pick the right After Effects Alternative for you.
We hope this article will help you to pick the right video editing or 3D modeling software for you. These are highly tested and trusted software for users. So, you will be able to receive amazing advantages.
Make sure to share your feedback regarding this article in the comment section. Also, we suggest you share this article with others too. Stay connected with us to read regular articles on this sort of article.