A password manager app stores your passwords on your computer, tablet, or phone so you don't have to remember them. The password manager will generate and remember your passwords for all of your online accounts once you log in using a "master" password. Password managers offer strong encryption, acting as a powerful deterrent to online criminals. There are numerous password managers available, many of which are free to use if you agree to certain restrictions.
The following list consists of iPhone password managers offering the best industry encryption standards along with other security features, such as biometric logins and multi-factor authentication.
1Password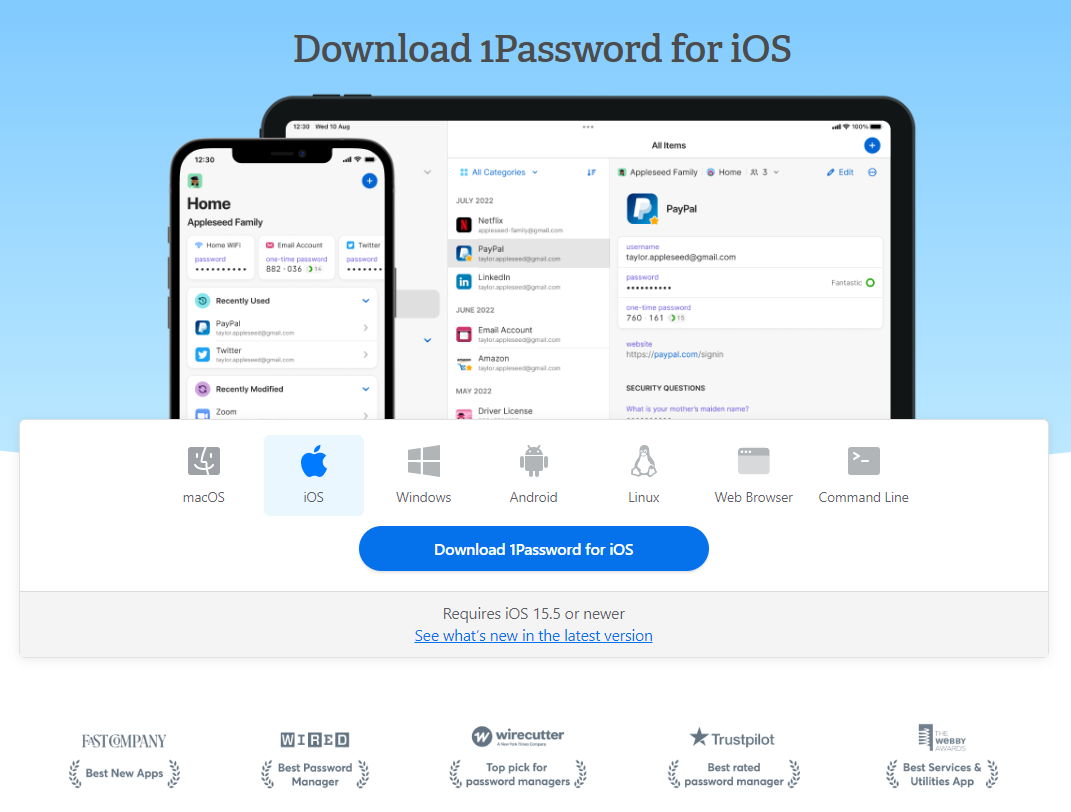 1Password has a user-friendly interface, a large range of intuitive features, and exceptional security for iOS. With iOS's Touch ID and Face ID, as well as 1Password's ability to access passwords and unlock your vault using an Apple Watch, biometric logins are also quite simple to set up. The ability to establish numerous vaults within the 1Password iOS app is one of its finest features. 2FA, password auditing, breach monitoring, shared dashboards, local storage, and other services are also available.
LastPass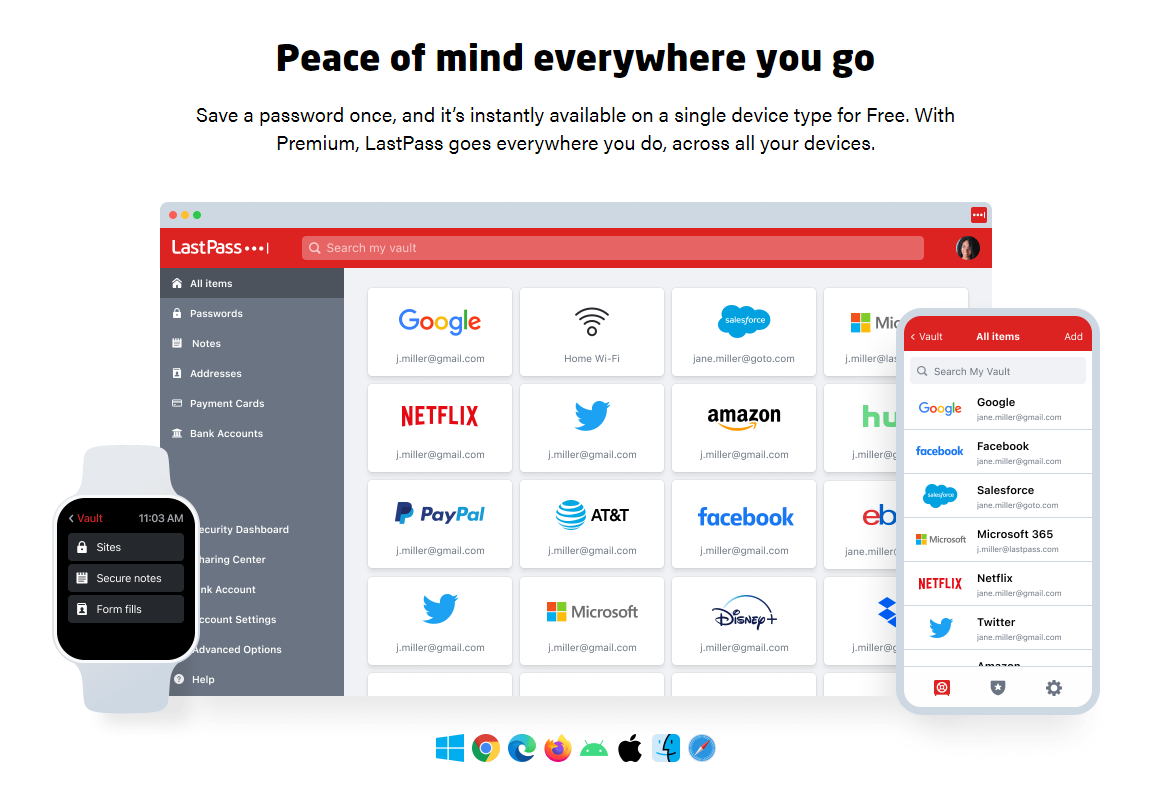 LastPass is one of the few popular password managers that has a free version available that doesn't have any restrictions on the number of passwords you can store or the number of devices you can sync. A number of features are included in the $3/monthly Premium edition, including limitless shared folders, sophisticated multi-factor settings, and 1 GB of encrypted file storage. On the majority of devices, including iPhones and Androids, you may download applications and browser extensions.
Kaspersky Password Manager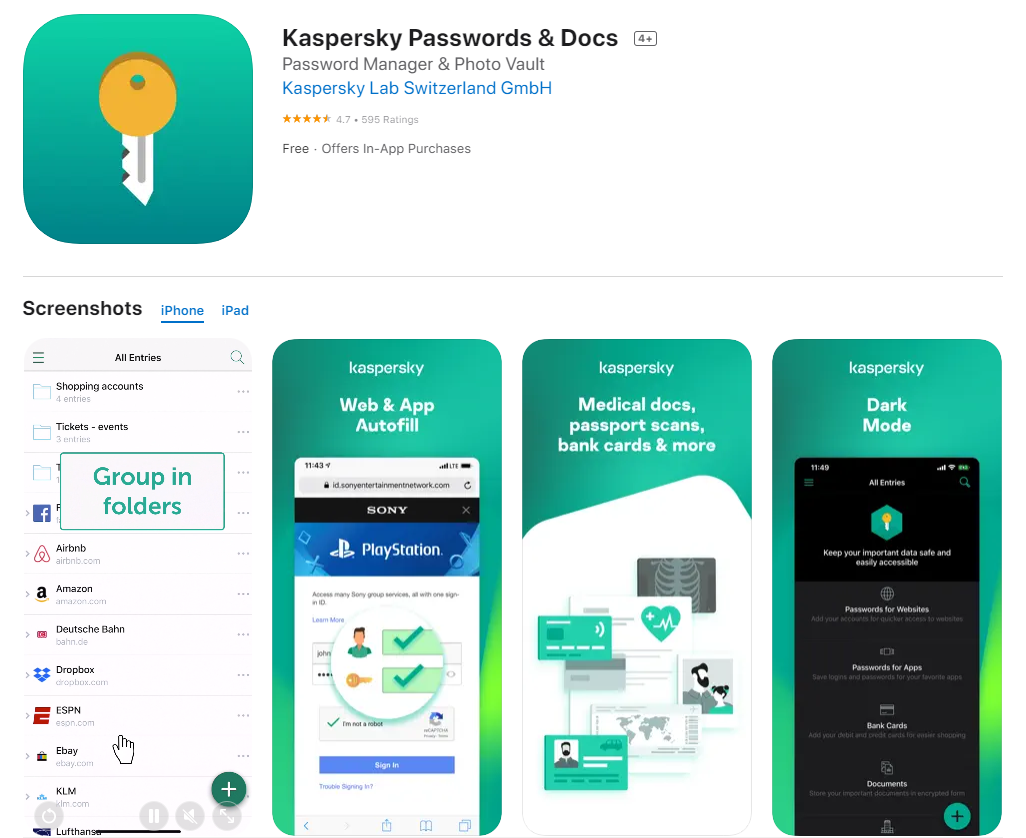 The free edition of the Kaspersky Password Manager only allows you to store a maximum of 15 passwords and documents, which is the sole distinction between it and the Premium version. The $14.99/year Premium edition, which offers unlimited password storage and synced devices, is preferable for the majority of customers. It can also be used to store important documents like your bank cards, passport, and driver's license.
Keeper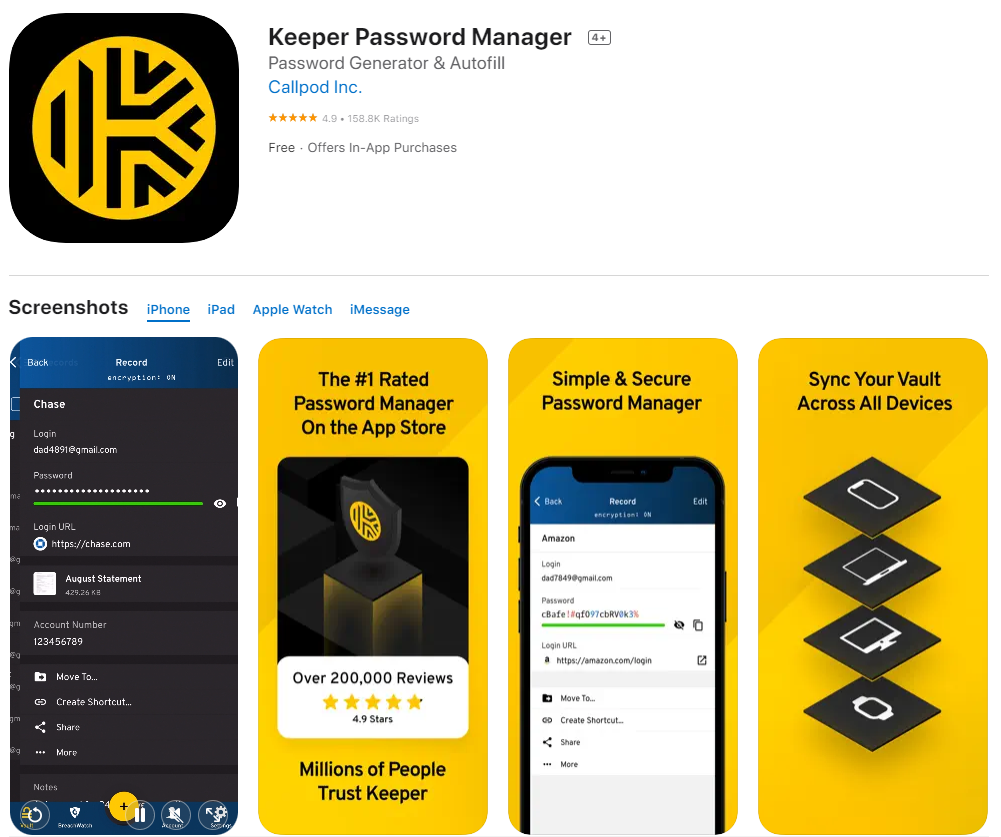 Keeper offers more sophisticated security measures than the majority of rival products. Additionally, Keeper provides a variety of two-factor authentication solutions. Between iOS devices, PCs, and Android devices, KeeperChat offers rapidly encrypted messaging as well as image and video sharing. Users of Keeper can transmit secure links or temporarily exchange passwords, files, payment card information, and other information through the iOS app without the recipient also has a Keeper account. Other features include an encrypted messenger, dark web monitoring, cloud storage, password sharing, password auditing, emergency access, etc.
Dashlane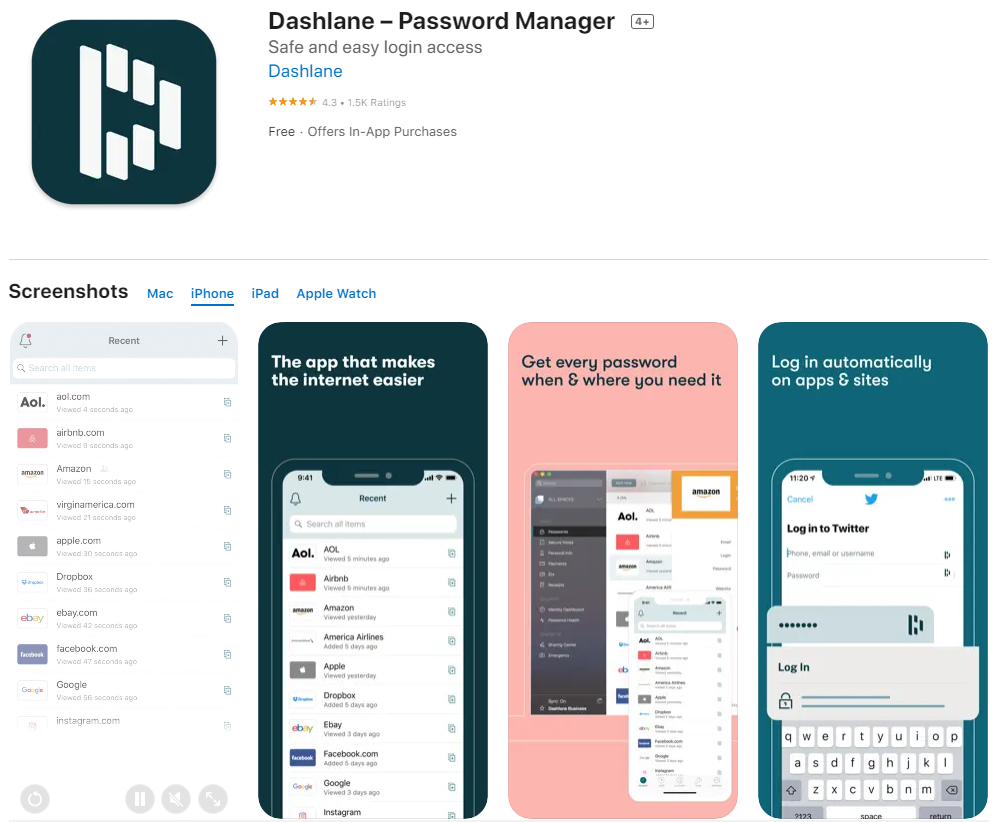 Dashlane boasts some of the most cutting-edge features available right now, is extremely secure, and works flawlessly with iOS. Users may directly sign into accounts and even change their passwords using the Dashlane Apple Watch app. The only iOS password management app combining voice control, biometric authentication, and a VPN is Dashlane. Some of the other features are unlimited password sharing, 2FA login, dark web monitoring, identity theft protection, etc.
iCloud Keychain
A straightforward password manager, iCloud Keychain, is included with all iOS devices and has industry-recognized security features like 256-bit AES encryption, two-factor authentication, and a zero-knowledge policy. You may input and save passwords, credit card numbers, and other personal information, and it keeps an eye out for compromised and duplicate passwords in your password vault. In addition to having a straightforward password generator, the iCloud Keychain lets you securely share passwords using Airdrop. It synchronizes data between Apple devices as well, but not as well with Windows or Android.
Conclusion
Whether you choose to use the iCloud Keychain or any other third-party password manager, do your research. Having strong encryption and good features with the possibility to sync across all your devices is a must when choosing a password manager.