Since videos are so popular now, we need simple, inexpensive methods and tools for making videos online. With so many platforms available, it can be challenging to determine which ones are genuinely worthy of consideration.
Whether you intend to start a video blog, promote your products, or become a micro-influencer, you need to create videos.
There is an online video-making tool for you if you want to market your items or up your social media game. You just have to find the right one. In this post, we've handpicked a few of our favorites, and you're bound to find something that suits you. 
1. Motion Array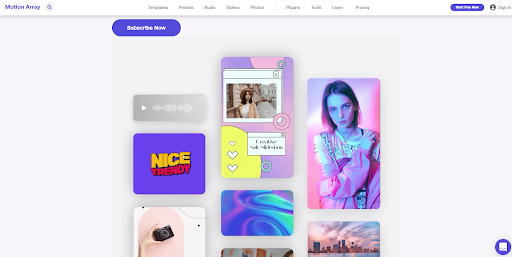 MotionArray offers an endless supply of templates, presets, and royalty-free audio-visual components to help you create stunning short videos. For Adobe users, they provide a ton of video integrations and assets. Plugins for your preferred Adobe program let you access the Motion Array components in Premiere Pro, After Effects, and Photoshop.
You can also use it to create an online video portfolio, which is a unique feature. You can immediately start with a variety of templates and launch a website with a polished appearance without writing any code. Plus, it's worth mentioning that MotionArray is a subscription-based service. So, even if you unsubscribe and stop paying, whatever you've downloaded will still be yours.
2. Moovly
 
You can make online videos using Moovly's adaptable platform in a variety of ways. It allows you to add your own images, videos, and sounds to your content and offers a sizable collection of royalty-free resources.
The drag-and-drop interface of this solution makes it simple to mix parts and create whatever you want, even with little to no prior experience. So, if you're looking to create simple videos, Moovly might be your best choice. If you can use it to create more complicated videos and even short films, be prepared for the learning curve. 
3. Powtoon
 
Powtoon is the best option for those wanting to create animated shorts. Since you can easily access and add premade templates and layouts and add text overlays and music as necessary, it just takes rudimentary design expertise. Additionally, character and prop libraries can be easily combined and matched to create a video that's fully on-brand. 
Its interface is comparable to PowerPoint and allows you to create videos in a similar manner. Add and edit slides, and you have your video. Additionally, Powtoon offers a wealth of material to assist you in becoming familiar with its functions. 
4. Fastreel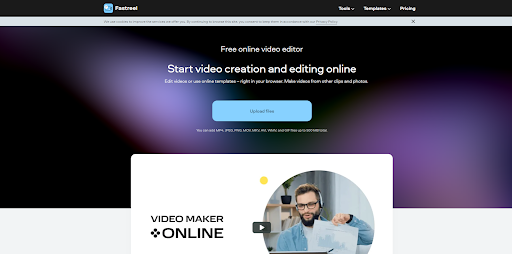 Fastreel by Movavi is a powerful collection of tools for improving videos and formatting them for social media. The video creator comes with over 30 pre-made templates that can be used to create any kind of movie, including introductions, trailers, adverts, and much more.
While the Fastreel video editor boasts some very sophisticated capabilities, you can use them in only a few clicks to reverse or loop films, create stop-motion animations, or even display numerous clips at once. 
5. Visme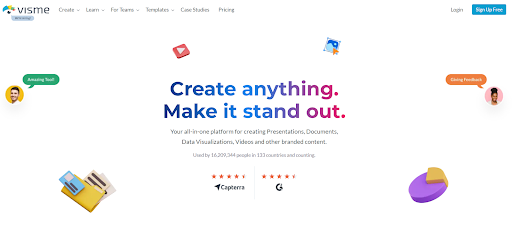 Visme is a drag-and-drop visual content creator that can also be used to make short animations. One of its best features is that you can create custom characters and use them in every single promo video in the future.
This tool's number of backgrounds, elements, and animation effects makes it a great choice for those that like versatility. The program is easy to use even if you have no prior knowledge. If you need help with design and layout, the Visme Blog has a ton of tutorials and articles. The only thing you require is imagination.
6. Biteable
 
Marketers can now rest assured knowing that the promo clips they make will drive engagement thanks to Biteable. First, use the drag-and-drop video editor to upload or choose clips for your video from their content library.
Almost every element of the animation can easily be changed, including the colors, so that it matches the specific color scheme of your company.
Using Biteable's wide selection of video themes greatly simplifies the entire creation process. The platform is extremely user-friendly and has a very low learning curve, so you anyone can use it right off the bat without ever having watched a single tutorial. 
7. Renderforest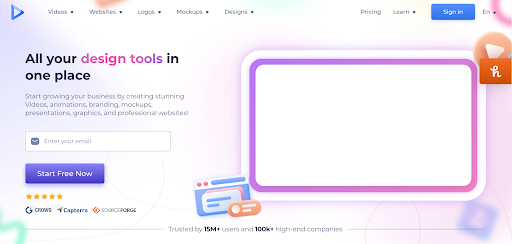 Unlike our previous recommendation, RenderForest does have a learning curve. But it also offers a full step-by-step tutorial, so mastering the program is simpler than you think. RenderForest offers a wide variety of templates and easy ways to create videos even with minimum effort. It's also quite a scalable tool.
There are a few different pricing plans, so you can only pay for what you need. The free plan allows an unlimited number of 360p video downloads. Any videos larger than that will result in poor quality. However, it will work for GIFs and short banner animations.
8. Vyond
With the aid of their pre-built templates and resources, Vyond enables you to produce entertaining animated videos. Now that animated videos are so popular. Practically every business chooses them over more conventional live broadcasts because they present an engaging scene that viewers find difficult to avoid.
The good news is that very pre-made elements can be completely customized and made to fit your own style. It's also quite affordable, with plans starting at as low as $25 per month. 
9. Clipchamp

Clipchamp does a good job of balancing user-friendliness with sophisticated editing tools. Clipchamp offers plenty of options for creating videos, but it's probably best for social media.
It includes video formatting tools for Facebook, Instagram, Tik Tok, and YouTube. It also contains a library of stock audio and video assets every user has access to completely free of change. 
Wrapping Up 
Now is an excellent moment to start using videos in your business if you aren't already.
I believe the abovementioned pointers and the resources will enable you to produce aesthetically amazing videos quickly.