Do you want to learn a new language? Or are you interested in learning a programming language? Maybe you are not satisfied with your temporary job, and you want to change it or advance in your career? You have found a course for you, the price is acceptable, and you want to start as soon as possible. However, the schedule of the classes doesn't fit your schedule.
Not fitting in your classes can be one of the main reasons to choose an online course. Online courses have become more popular, especially lately. With those courses, you can learn while you are sitting in your home after you finish all your obligations. You will get video material, and you can watch it whenever you want.
Moreover, online learning is popular and valuable in today's time. However, if you want to be on the other end and have a website to develop online learning, keep reading this article.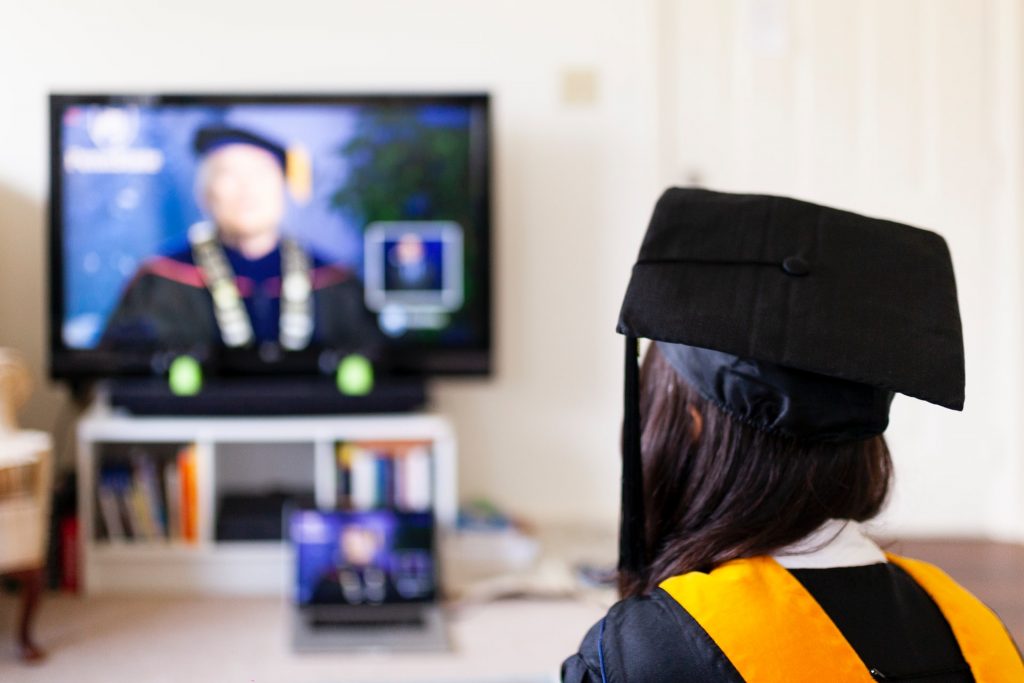 So, it would help if you had an LMS, a learning management system with many features for online learning. Its wide range of options allows you to organize your classes without having students in a classroom, making it easy to create a virtual classroom and stream lessons.
Luckily, WordPress has a category of LMS plugins that allows you to create online classes and make your classroom virtual. Let's talk more about some of them!
1. LifterLMS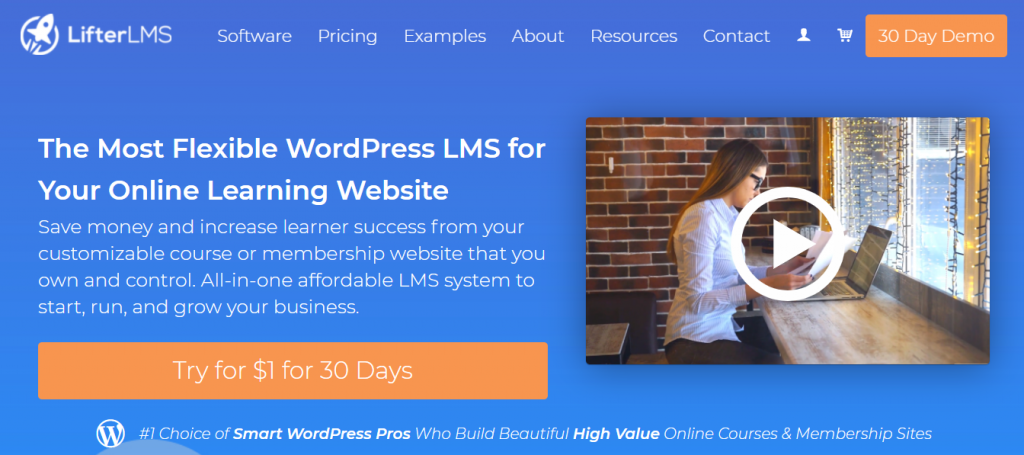 Do you have an audio, video, or text-based online course? No matter what type of class it is, this plugin allows you to create all of them. LifterLMS comes with a builder that helps you create a great web page design online.
Furthermore,  you can engage your students, interact with them, and test their knowledge. When people choose an online course, they expect something interesting to keep their attention besides classic learning. So, questions are the best way to check knowledge and realize what is more and what is less critical. You can create quizzes and set a timer to test your students.
Student dashboard is another feature that helps you to see their profiles and gain insight into their activity. Also, this plugin allows you to complete homework assignments, so your students will have everything necessary to achieve quality knowledge. In addition, this plugin will enable you to put pdf files for downloads.
2. LearnDash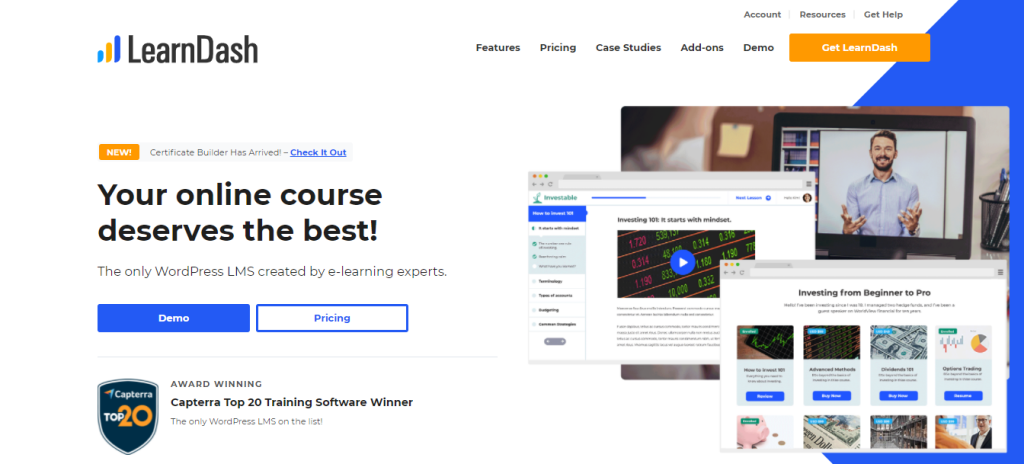 Design and organize your online course with LearnDash. This plugin is used by many universities because it provides a lot of exciting and useful features for learning. You also don't have to worry about your lessons because with LearnDash, you can set unlimited numbers of them.
Moreover, the design of classes is adjusted to provide the best user experience. With the drag and drop course builder, you will want to spend a lot of time creating and design a great layout with different colors, arrows, and different features for easy learning and a better experience.
Also, there is an option for creating questions, assignments, and quiz with the different question types, such as 8 Question Types, Question Banks, Flexible Question Display, Limit Atemtps, and others.
In addition, LearnDash has multiple monetization options. What does that mean? The plugin provides you with set up one-time purchases, membership, or course bundles. The course bundles can be a great solution for multiple courses so your customers can get access to more of them, but with only purchase.
For example, you have courses about HTML, CSS, and JavaScript. You can offer all three courses in one package called "Web development course."  You can even add a shopping cart and integrate it with WooComerce.
3. WP Courseware for WooCommerce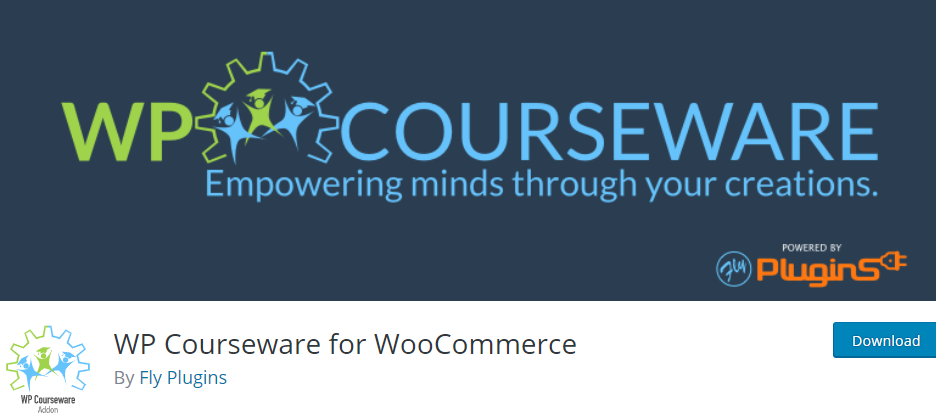 With the WPCourseware for WooCommerce plugin, you can customize your design and set up many additional features that the plugin allows.
This plugin is used by some of the top universities globally and provides many features, such as integration with other plugins, design customization, flexible payments options, etc. Creating video courses is available, too, so you can set up classes and engage with your students in a few easy steps. Also, you don't have to know anything about code to customize the look of your website.
Memberpress, Premise, MagicMembers, and a lot of eLearning WordPress plugins integrate with WP Courseware for WooCommerce. Furthermore, automation of many processes is another tremendous advantage. For example, you can automatize your notification, emails, and quizzes. The plugin also provides hundreds of training resources with many videos that cover all your doubts and give you advice on how to arrange your online course website.
Finally, different payment options allow you to leave a choice for your customers. One-time payments, subscriptions, bundles, all of them are available to your customers.
4. MasterStudy LMS – WordPress LMS Plugin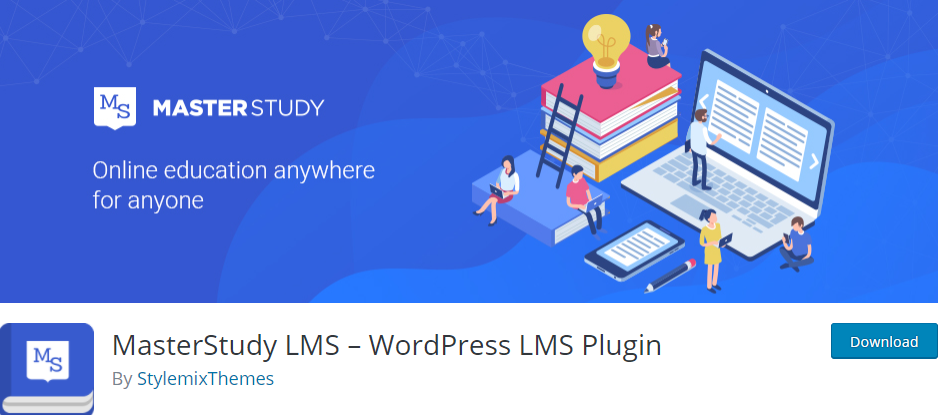 As the last LMS plugin in this article, let's present MasterStudy LMS – WordPress LMS Plugin. This plugin is built with Vue.js, a JavaScript framework for building user interfaces. With MasterStudy LMS – WordPress LMS Plugin, you can create different types of unlimited lessons: video, slides, images, etc. You can complete it all with various types of quizzes for your students. When your learners complete the course, there is also an option to generate certification for them.
Moreover, this plugin is easy to use, and it's helpful for everyone who needs to create an online education website. When you install the plugin, you will get the course builder to create different lessons and separate them into sections.
With the MasterStudy LMS – WordPress LMS Plugin, creating online interactive learning and tutoring services is quick and easy. When visitors visit your website, they won't lose their time looking for answers to basic questions such as a price or other course details. In only a few clicks, they can add an appropriate course to the cart and purchase it.
In addition, the plugin is not available only in the English language. French, Turkish, German, Dutch, Russian, Italian, Portuguese, and Spanish are possible.
Conclusion
If you want to develop an online courses website, using some of the LMS plugins is inevitable. We hope our guide helped you chose one of the mentioned plugins. All of them are made to provide creating a suitable environment for online courses.
The differences are in some features and layout. Find the right for your website because the final decision is yours and start creating awesome online course websites.