If your Windows computer is coming up with a Blue Death Screen with an error driver corrupted expool, you definitely have an issue with your drivers. This error mostly appears in Windows 10 computers. This happens when either one or more of your drivers gets corrupted. There could be numerous other things which can contribute to this problem. So, if you are seeing this error on your computer, this article is going to help you with the same.
This is one of the most common errors you may see along with a blue screen on your computer. The system may crash immediately after this error or you may see this problem while starting up your system.
This error is going to cause various issues for you if you are not fixing it right away. Most of the time, you can see this error while you are working on something and you may end up losing your work history because you have no option remained in your hand except a restart.
This error can be seen in different forms. Not only DRIVER_CORRUPTED_EXPOOL, but you also can see it in the forms given below.
DRIVER_CORRUPTED_EXPOOL_RAM
DRIVER_CORRUPTED_EXPOOL CISCO ANYCONNECT
DRIVER_CORRUPTED_EXPOOL_RDYBOOST.SYS
DRIVER_CORRUPTED_AVAST
All these errors are most common when you have this blue screen issue on your Windows computer. This could harm your system, files, and other software in various ways. The most common impact of this problem is when you are unable to restart your computer.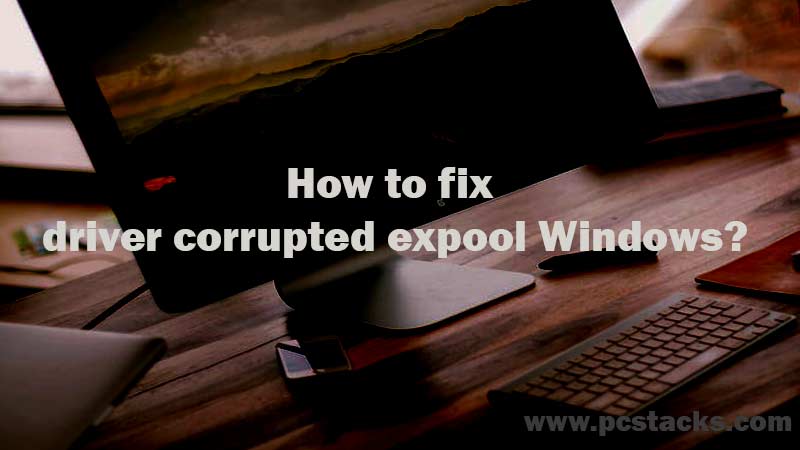 This loop of errors may run over and over again and that is the time when things get serious. But, most of the time, you are able to get your system restarted and back into its normal state.
If you are also seeing this kind of problem on your PC, we are going to give you the working methods to get it fixed. Solutions are pretty easy to follow. However, you are advised to follow them with proper care.
Also, try to do so in a systematic manner as we are going to discuss. Because this is a simple problem related to your faulty drivers, we are going to do various things with your driver troubleshooting. Various other things are also going to be covered here.
So, without any further discussions, let's see how you can get the error driver corrupted expool solved in your PC.
Why does the Driver Corrupted error occur?
As the name suggests, this error is caused when your computer has a driver with a corrupted system pool. This could be any driver relating to any hardware on your system. But, most of the time, it happens when either your sound or display adapters are having some issues.
Along with this error, you may see some other things. Various times, you get the name of hardware or external software which is causing those issues.
So, there is nothing you can do about fixing these errors by getting into the codes without technical knowledge. However, you can try to follow various procedures which will be helpful for you to get this problem solved.
What to do when this error happens?
As we have discussed, your computer will restart automatically once this error occurs on your PC. If things get back to normal, you do not have to do anything. But, if the error is coming back again and again, you can follow some troubleshooting and fixing steps. This is what we are going to cover here.
Most of the methods are fully tried and tested. You would definitely be able to solve this issue if you follow these steps with proper care.
Besides that, if these methods are not able to do this for you, it will be good to get in touch with an expert. We will get to that at the end of this article.
But, before that, let's see which things you are going to do further.
6 Tested ways to fix Driver Corrupted Expool Error in Windows?
We have researched a lot to find the best ways to get this issue fixed. However, here you are going to know the best and most effective ways to do it. So, let's start revealing those methods one by one.
Uninstall all the Problematic Drivers
Inside most of the computer systems, you will see various faulty drivers for sure. Finding this kind of drivers is pretty easy inside Windows computers. In the Device Manager, you just have to find the drivers with the Yellow signs.
These drivers are not of any use in your computer. But, they can definitely cause various issues for you.
The error driver corrupted expool is one of the main problems you computer can have due to this issue. The aim is to remove all these problematic drivers from your computer.
There are several ways to do it. You can either choose the automatic method using a third-party software. Or, you can choose the manual method which we are going to discuss here. Also, this is the recommended way to do that.
Press Windows+X button and then choose the Device Manager option
Now, double click on all the driver options and then check each driver one by one.
Make sure to right-click on all those drivers and then uninstall them using the Uninstall option.
After doing this process, make sure to restart your computer and see if the issue if fixed. If not, just go to the next step.
Update the Drivers
This could be a long process to do because you have to update all the drivers one by one using the manual method. So, for this, we suggest using a third-party software like DriverEasy, Driver Reviver, or DriverFinder.
However, if you have enough time to do it, you can choose the manual method. The process of manual update is as follows.
Use the above method to reach the Device Manager
Now, instead of clicking on Uninstall option, click on Update option for all the drivers.
Restart your computer after doing it.
Make sure to choose the automatic update option for all these drivers. It will help you to make this process fast and effective for you. However, if you are using a third-party software, you just have to click on the Update button and the software will do everything for you.
These is another method to update your driver which is to download the latest versions from the manufaturer's website and then install them.
But, when it comes to updating all the drivers one by one, you must have a good time frame in your hand.
So, in our opinion, it is best to updater software and try to fix driver corrupted Expool Windows error without any hassle.
Remove your Antivirus software
You just have to do this temporarily. Make sure to check if your antivirus software is causing this issue. It could be done only by uninstalling that software. You will get two types of outputs.
Either you will be able to fix this issue using this thing or not. If the issue gets solved, you have to get in touch with the software customer support. But, if the issue is not solved even after doing it. You can install your software again.
Because the antivirus software will have all the permissions to change your system settings and other parameters, it can cause hassles for the drivers too.
It is possible that this issue is caused by that software. So, in order to uninstall this software from your computer, just follow the procedure given below.
Click on the Windows button and search for Control Panel.
In the control panel, find Program and Features option
Inside this menu, find the antivirus software and right click on it.
Click on Uninstall and restart your PC.
If you are not facing this issue after doing it, the software is responsible for this problem. If you still have this problem, just go to the next method.
Update your BIOS
If is advised to get this thing done from an expert. Because it is an advanced troubleshooting process, you may cause various hassles for your computer if you do not do it properly.
However, this is another great thing to do when you see this and various other issues. You can either get in touch with your computer customer support or directly go to a computer expert.
We are going to discuss the process of updating your BIOS but make sure to do it only on your responsibility. You can end up damaging your computer if do not handle this feature properly.
But, if you are ready to do it, the process is given below.
Click on the Windows button and click on the Power button on the bottom left corner.
Now, hold the Shift Key and click on Restart.
Now, choose the Troubleshoot option and you will reach the Troubleshooting menu.
Click on Advanced Option and then UEFI Firmware Settings.
Now, click on Restart option and your computer will get into the BIOS mode.
Find the option for Updating BIOS and connect the BIOS Update file.
Most of the computer manufacturers will allow you to create these Flash Drives with all the necessary files. Also, the whole process could be different as per your computer model and the motherboard specifically.
So, you may see different options inside this menu. We suggest you do not click on any option which you know nothing about. This could fix your driver expool problem. If now, go to the next step.
Update your Windows
Updating your Windows OS could also fix your problem. Because the Windows update will come along with new driver updates and bug fixes, you should definitely see helpful results from this update.
If your issue is caused by a driver, Windows update could be a helpful solution for the same. Doing Windows update is pretty easy.
But, make sure to have a high-speed internet with enough free time in hand. Windows update can take a good amount of time depending on its size. The process of updating Windows is very easy.
Just follow the procedure given below.
Click on Windows Icon in the bottom left corner.
Now, click on the Settings option.
After that, choose the Update and Security option.
Click on Check for updates option and see if any pending update is there.
Give your computer some time to finish and install the update.
The computer will restart on its own several times during this update. So, it will be good if you do not do anything during that time. If this issue is not working for you, the next one will definitely do.
Reset your Windows
Resetting Windows means deleting all the files. It will be like a fresh Windows installation. So, before doing this thing, you will have to create a proper backup of your computer data.
Once Windows reset is done, you data will never be back. The Windows will be there in your computer. You do not have to install it again. But, the data, settings, personal data, software, will be delete after it.
You have to make sure that you are doing it only when you know there is nothing important or non-backed data is there in your computer. Once, you are ready, you can follow the given procedure.
Click on the Windows logo.
Choose the settings option.
Now, choose the Update and Security option
After that, Click on Recovery option.
Choose the option "Remove everything and reinstall Windows" and then "Get Started".
Follow the instructions and proceed further.
Once the reset is done, you can start adding your desired software. The issue will not come back again in your computer. This is the final fix you should be doing.
What if I still have this problem in my computer?
It is possible that you didn't followed these steps properly. Also, there is another possibility that your computer is having another deep issue which could not be fixed using these method.
So, we suggest you to reach a computer expert or the nearest service station in that case. If your computer is coming up with this error driver corrupted in Windows after doing these methods, only a professional computer repair person will be able to fix it.
We have tried to elaborate all the methods as deeply as possible. Also, all the methods are fully tried and trusted. Most of the Windows users were able to fix this Windows Driver Expool Error using these methods.