Graphic Driver is one of the most crucial elements of our computers or PC graphics cards. But, if this driver is having some sort of problem inside it, it is worth it at any cost. If you do not do that, you are definitely going to face several issues on your computer. Most of these problems like no graphics driver installed or not detected will be related to the graphics software of your PC. Especially, when you play video games or run any kind of videos in your PC, you will find it tough to get everything done normally. The video might get damaged or you see issues like blurring or color problems.
If you search on the internet for graphics driver problem, you will see numerous solutions over there. But, we are going to give you the straightforward steps which you can easily perform in your PC.
Well, we have the solution to this problem. In this article, we are going to give you the best ways which you can choose to easily and effectively solve this error in your Windows 10 computer.
Graphic Driver is one of the most crucial elements of our computers. So, fixing this problem will include most of the steps related to the drivers because we all know this issue is happening just because of a problematic or faulty driver.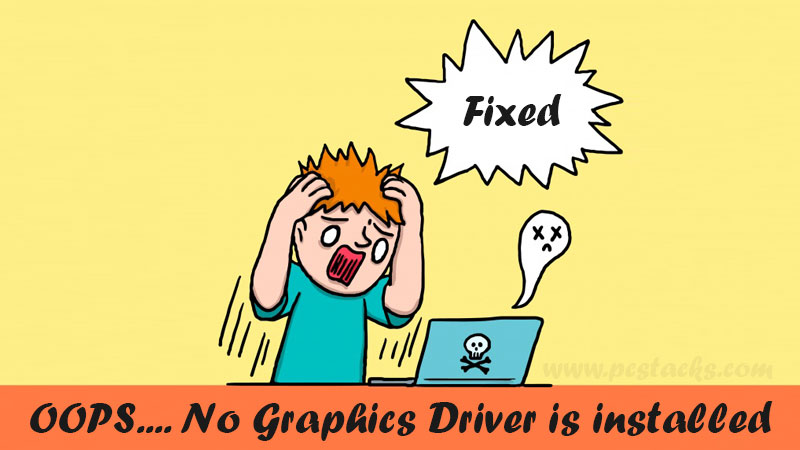 Doing this is pretty easy and we have discussed it several times on this website. The normal thing to do is to update and reinstall our drivers. Also, troubleshooting other files in your system can also help you in this case.
So, before you proceed further and take your computer to an expert, the first step will be to do the normal troubleshooting steps which we are going to know here.
This is not a critical issue if you can try to fix it on your own. However, if you do not know how to perform the steps we are going to discuss below, it will be good if you get in touch with an expert.
We will get back to that below but first of all, let's begin with the overview of this driver and other things which are important. So, without any further discussion, let's get started and know how to fix no graphics driver is installed in PC.
What is graphics driver in computer graphics?
If your computer has an Graphics Card installed in it to power up its graphic capabilities, having the graphic driver will be crucial in that case. Just like other drivers in Windows computer, the Graphic Driver helps your graphics hardware to connect with the computer's operating system.
If a driver is not present in your computer or having some issues, it is not going to transfer or receive any data to or from the hardware. The AMD Graphic Driver will be offered by the manufacturer itself and it is your responsibility to keep it up to date.
However, if there is an issue with the graphics output in your PC, your first step should be to check if the driver is working properly or not. In most of the cases, when you see this error "no AMD graphics driver is installed in Windows ", the problem mostly lies in your driver or driver files.
This issue is definitely going to solved if you are either updating your driver or the whole operating system. Some other fixes are also there which we will discuss below.
What are the uses of AMD Graphics Driver?
If your computer has a dedicated AMD Graphics Driver, it means your PC is good to handle the high-end graphical outputs. Your PC will be much more capable to run 3D visual elements along with 4K videos and video games.
In all cases, you must have a working device driver to have the proper outputs on your computer screen. The graphics cards do huge computations to render the visual elements on your computer and for that, a working driver is important.
However, the overall graphics performance of your PC will depend on various other things like RAM, CPU, and Storage space, etc. When you know how beneficial is your graphics driver, you should also keep in mind that having it properly update is your duty.
If your computer is showing errors like AMD Graphics Driver is not installed all of a sudden, this article is like perfect support for you. Let's reveal some more things below.
How to Fix No AMD Graphics Driver is Installed Issue in Windows 10?
There are several ways to do it as we have discussed earlier. You will find various software that will promise to solve this error without much effort. But, we will cover only the most reliable and effective methods here. So, let's start with the first one.
1. Update your AMD Graphics Driver
This is the first and most effective way to get your problem fixed in a couple of minutes. The idea is just to update your driver using the device manager. Most of the time, your computer has got an outdated driver that causes this issue.
Updating your drivers is pretty easy when you have the right method in your hands. You can either choose to update your driver online or offline if you have the driver files on your computer. Updating your driver is very easy using the manual method.
You can also choose third-party software to update driver like driver updating software which will work for sure. We will get to them further. But, for now, let's know how to update your AMD Graphics Driver using the Device Manager?
Press the Windows+X buttons together and choose the Device Manager option
Now, in the Device Manager menu, find the option Display Adapter
Double Click on Display Adapters option
Now, click on the Update Driver option and choose the online update method in the next tab.
Your computer will find the best driver online and try to install it on your PC. Once this process is done, make sure to restart your computer to see if the issue is fixed.
If you are still seeing graphics driver not installed error, just proceed to the next step.
2. Uninstall the AMD Graphics Driver in Safe Mode
The safe mode is an inbuilt feature of Windows computer which lets the computers run without using most of the external software installed by us. So, if this problem is caused by third-party software, the safe mode should fix this immediately. However, when you uninstall the driver in safe mode and then install the latest one, most of the driver issues get fixed.
This process could be a little bit difficult for people having little technical knowledge. But, we have tried to explain the concept as deep as possible. So, you can follow this procedure thoroughly and see your problem getting solved. Just follow the below-given procedure and see if it works for you.
Turn On the Safe Mode
The first step is to run your computer in safe mode. In Windows computers, it is pretty easy to do. Just follow this process carefully.
Press the Windows+X buttons together and click on Settings
Now, choose the Update and Security option
After that, click on the Recovery option and then Restart Now under the Advanced Startup option
Now, you will reach the Windows Advanced Troubleshooting platform.
Click on Troubleshoot>Advanced option>Startup Settings>Restart.
Now, press F5 or to choose the safe mode option
Now, your compute will boot in the safe mode.
This is the process that you can follow anytime to run your computer in a safe mode. This mode will help you to check if any external third-party software is causing some issues for you. Now when your computer is inside the safe mode, let's see what you have to do next.
Uninstall your Driver and then Reinstall it
You have to stay in the safe mode and do the process we are going to follow. This is going to help you make a clean reinstall of your AMD Graphics driver. So, let's see how you can do it.
Follow the above-given process to open the Device Manager
Now, instead of choosing update driver, choose the uninstall driver option.
Get your driver from the official website
Now, you have to install your driver from the official site and not from the Device manager itself. From the official website, you will get the latest and genuine driver which will not cause any issue to your computer. You can go to amd support link and download the suitable driver by picking your device and computer type. Just install them like normal software and you are good to go.
Once this whole process is done, make sure to restart your computer normally and see if the problem is fixed. The chances are, you are going to get rid of this issue. If not, just go to the next step.
3. Use a third-party driver updater
If you are not able to fix this problem using any of the methods given above. You can use third-party computer maintenance or driver updater software. This software is going to automate the whole update process for you in the easiest ways.
In fact, you just have to click on a couple of buttons and your computer will have all the drivers update automatically. Numerous software comes along with various other additional features which you will find very helpful in your computer troubleshooting.
Some of the best software to choose are as follows.
DriverEasy
Driver Reviver
Driver Genius 20 Platinum
DriverFinder
You can search for various other software and see which can work well for you. Most of them are available for free or you can also pick the pricing plans to have some advanced features. If this thing also doesn't work for you, just proceed to the next step.
4. Delete your AMD Folder
So, now when you have tried uninstalling and updating your AMD Graphics driver, it is the time to see if deleting all the AMD file data works for you. Yes, you can freely delete all those files and your computer will see no additional issues.
In fact, it is going to get that folder back just after a simple restart. This folder will be stored in the C folder but you may find it hard to locate this thing. So, when we are going to give you another solution to fix graphics Driver is installed in PC issue, we should also tell you how to find this folder. And this is what we will discuss below. Just follow the procedure given below.
Go to This Computer/PC>>Local Disk (C:)>>AMD
Now, delete this folder by right-clicking on it.
That's it.
Now, restart your computer and see if the issue is resolved after doing it. It should be gone now. If it isn't going till now, the time to connect with an expert has come.
5. Update your Windows
A simple Windows 10 update is another considerable thing you can do to fix this problem pretty easily. Doing Windows update is very easy and simple but you get numerous advantages when you do it. All the files get refreshed and the bugs get fixed.
Along with that, your computer gets all the updated drivers installed. So, if there are some issues with the files, settings, or software, a Windows update can effectively fix it up. The process of updating Windows 10 is very easy to follow.
Press the Windows+X buttons together and click on the Settings option
Now, choose the Update and Security option and then click on Windows update
Click on Check for update and your computer will start to update it.
Make sure to have a high-speed internet connection to get it done fast.
What if the problem is not getting solved even after these steps?
In that case, there is something else happening inside your computer. It is possible that your Graphics card got damaged or there is an issue with your motherboard itself. In that case, we do not suggest you do anything that can cause irreversible damage to your computer.
The only thing you can do and you should do is to get in touch with an expert. Make sure to take your computer or laptop to an authorized service station. Only the experts will see if any internal fault is letting your computer face this problem.
Also, it is the most definite by an expensive way to fix not installed driver error for computer graphics. But, you got no other option to choose from. So, make sure to find someone expert in this field.
---
Final Verdict
All these methods are fully tried and tested to fix this problem with your graphics driver. So, we hope we have answered your question "best ways to fix graphics driver is installed in Windows". However, we suggest you follow these instructions only if you know what you are going to do next. Any wrong setting done at any point can put you in trouble. So, we suggest you do them under and expert guidance.
We hope we have provided you with enough information to easily fix this issue in your Windows computer. So, it would be appreciated if you share your valuable feedback in the comment section.
Also, feel free to share this article with your friends. You are also free to give us suggestions for new articles and blog posts. We will make sure to satisfy all your needs. Keep publishing articles here on a regular basis. So, stay connected and stay informed.
Thanks for Reading.