WooCommerce is a customizable, open-source eCommerce platform built on WordPress. It makes creating and managing an online store simple, and it offers vital features such as tax and inventory management, shipping integration, and secure payments.
With over 27 million downloads to date, WooCommerce powers 99% of all WordPress stores. It's no wonder because it only takes a few minutes to set up a new store with this platform. Everything is very customizable and easy to use, perfect for new business owners.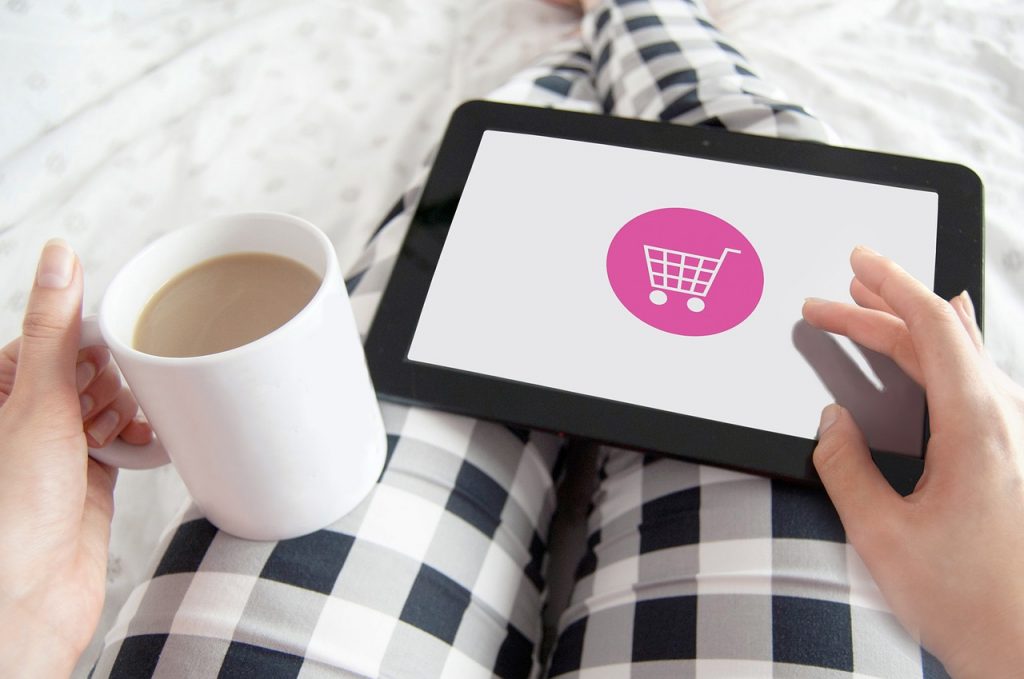 As a business owner, a person should keep track of everything. Keeping up with your business can be very stressful if your business reports aren't in order. However, there is a way to make that more manageable with a WooCommerce export orders plugin.
Before continuing with the article, it's important to note that you need a good hosting provider if you want your online store to work out. So, if you're looking for reliable and affordable WordPress hosting, look no further. WPMU DEV is fast becoming one of the best choices on the web. Get 20% off any of their fully-managed and dedicated plans.
How to Export WooCommerce Orders with Order Export for WooCommerce
Order Export for WooCommerce is an easy-to-use plugin that quickly exports data from your WooCommerce store into Excel or CSV formats. It's tested on Windows and Mac and is a perfect tool for quickly accessing your data. Tools for WooCommerce export orders have been designed to be incredibly easy to use and allow you to get the data you need without stress.
This WooCommerce export orders plugin offers an easy set-up, simple user interface, drag and drop sorting of the columns, and many more.
Date Ranges of Orders to Include in Export
The first step to export WooCommerce data is to select a date or a range of time you're interested in. For example, you can choose this week's WooCommerce export orders, or maybe this year's orders, and generate a document showing only the period you selected.
Report Format and Output
The next thing you can do is choose the time format, date format or sort the data by some factor you're interested in. After that, you write the file's name to save and file it where it belongs.
Export New Orders Only
The plugin remembers which orders you had already exported, so you can choose to only export new files to avoid stress and further confusion.
Filter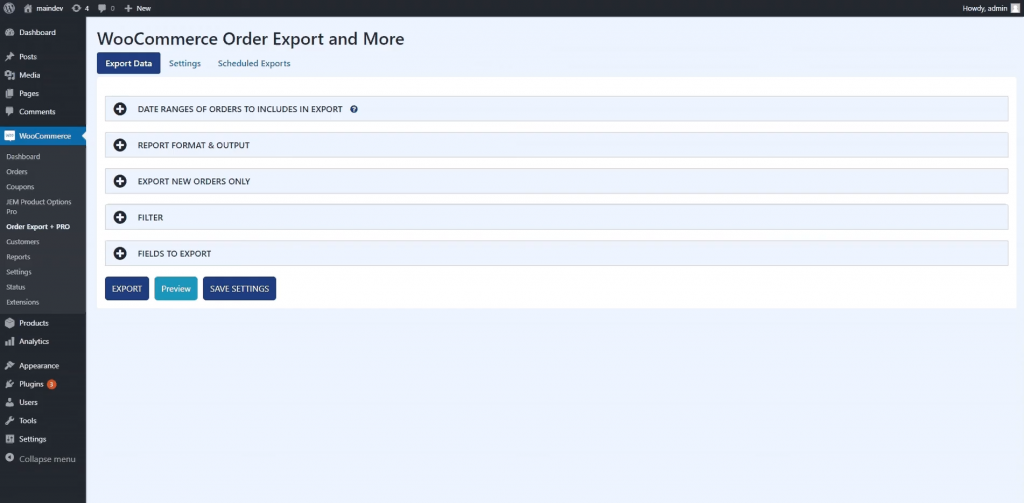 This plugin lets you filter your data even further to make running a business easier. For example, you can choose to only export WooCommerce orders paid by USD or by a particular credit card, check, and any other form of payment. Furthermore, you can filter the data by product, category, and so on.
Fields to Export
There are several fields you can choose from when exporting orders, and the best thing about this is that you can drag and drop them on the WooCommerce export orders list with ease.
Some of the fields you can choose from are basic check-out information, shipping details, billing details, line items, product information, and user information. All of these fields have plenty of categories, and with this drag-to-reorder feature, it's made to be very logical and easy to use. Generating a custom report has never been so easy.
Preview Button
The preview button is a handy feature on this plugin, especially for those in a hurry. This preview option is where you go running some instant exports.
It's a great time-saving technique because it shows the first 25 items that match the filter you chose when you run it. If you only have to see the data quickly to double-check some information regarding orders, it's a real-life saver.
Scheduled Exports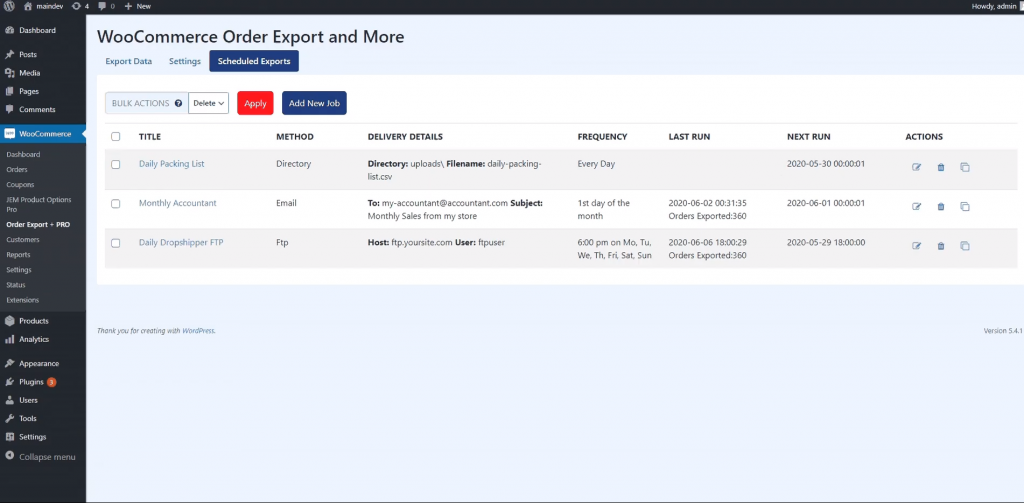 Scheduled exports are one of the most valuable features that help you export WooCommerce data on a schedule. You decide when you want them exported, which you choose in the settings. You can customize a schedule as you please and leave it to run as scheduled.
So, you can run it daily, monthly, or whenever you want and as many as you want. Also, you can decide which title you want, the frequency, delivery details, and the last time data were exported.
Settings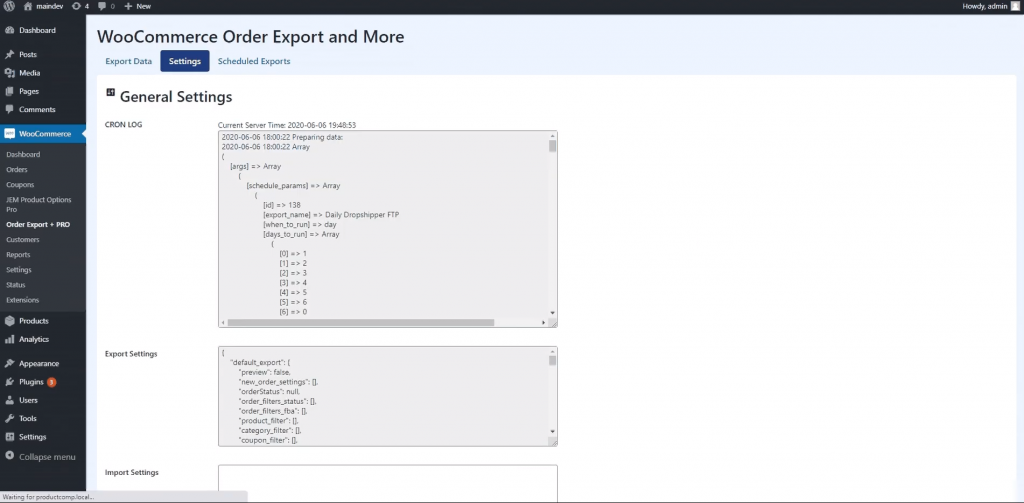 The settings page keeps a log of your scheduled exports and is a place to visit if you're having trouble running your exports.
After choosing the category, period, different kinds of filters, and so on, the last step is to decide where you want your data to be exported. You can choose from an e-mail, FTP, and directory.
The PRO Version

While Order Export for WooCommerce is free to use, there is also a PRO version with many additional features that will cost you a certain amount. As it's already been said, this PRO plugin comes packed with features unavailable on the Order Export for WooCommerce.
Some of those additional features are the ability to export all the data you want, automated exports delivered to your inbox, reordering columns the way you want to, and so on.
PRO Pricing
1 Site License– it's a single site license with one year of priority support and updates, which can be canceled any time, with a 7-day money-back guarantee if you decide it's not the right fit for you and your business. This version of the PRO plugin will cost you $49/year.
3 Sites License– it's a license for three personal or client sites, which also has one year of priority support and updates. The features are the same as the first version, except for the three sites' licenses and the price.
100 sites license– offers 100 personal or client sites, a lifetime of support and updates, personal manager, Whitelabel mode, and everything else the previous two plugins has to offer. This prime version of the PRO plugin will cost you $169 in a one-time payment, and after that, you're set for life.