Branding is quickly becoming a necessary tool for every marketing strategist, and it doesn't only apply to large companies but is also gaining traction among many small businesses. Brand identity consists of all the brand elements the company creates and invests in to build its identity and good image in the eyes of its clients.
The thing is, you can't just create the brand image and call it a day. It has to be built and adequately maintained. Then, it has to be reinforced through customer reviews, social media coverage, storytelling, mission statement, and vision, and it also has to show what makes one brand different from the rest.
There are lots of tools that you can use if you want your brand to stand out from the crowd. For example, some visual content creators are entirely free, and you can use them to create consistent and coherent graphic elements of your brand. Good typography can give your brand more personality, while an eye-catching logo can be designed with the help of free online logo makers.
When it comes to even more direct strategies, you should look at email and social media marketing. Setting up a functional and responsive website, creating visually exciting presentations, and even auditing your competition – the possibilities are endless.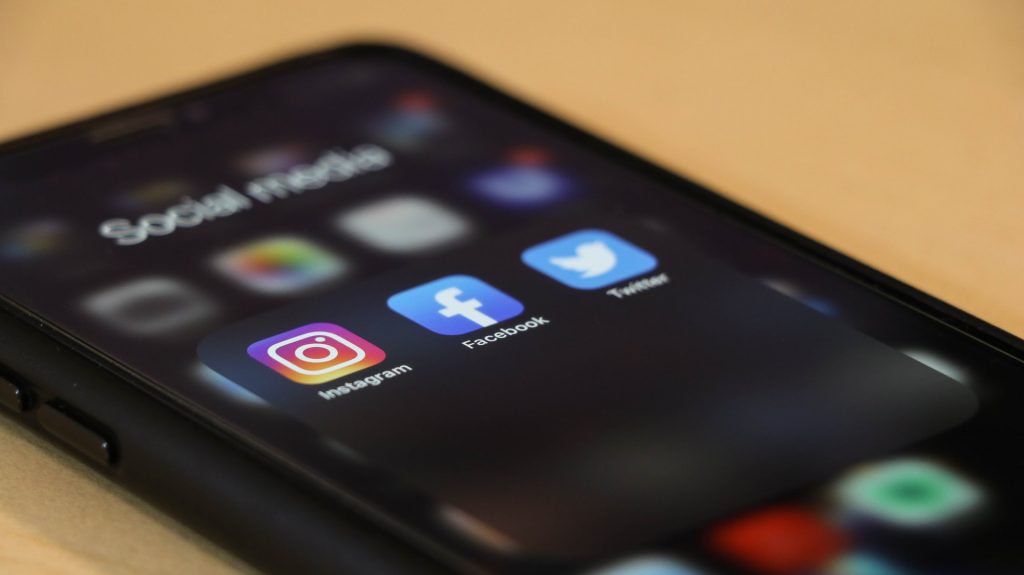 To find out more about creating a strong brand identity, read about the top five tools that you too can use.
1. Visme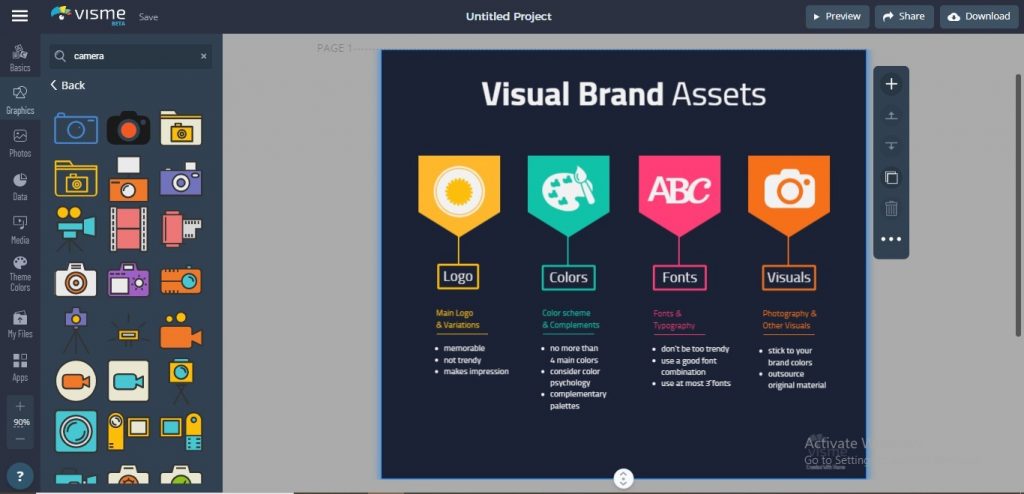 Visme is a nifty tool with a powerful presentation design tool, which allows you to create striking presentations and infographics. Its easy-to-use interface makes it simple to create professional visuals without the need for any technical skills.
You can choose from a variety of templates or build your own using the drag-and-drop function. There are lots of great tools that you can use to make your presentations stand out, such as highlighting charts, adding interactive elements, PowerPoint-like transitions, and more. The presentation creator comes with the ability to share your designs with others via Facebook, Twitter, LinkedIn, Evernote, Pinterest, and email.
2. Canva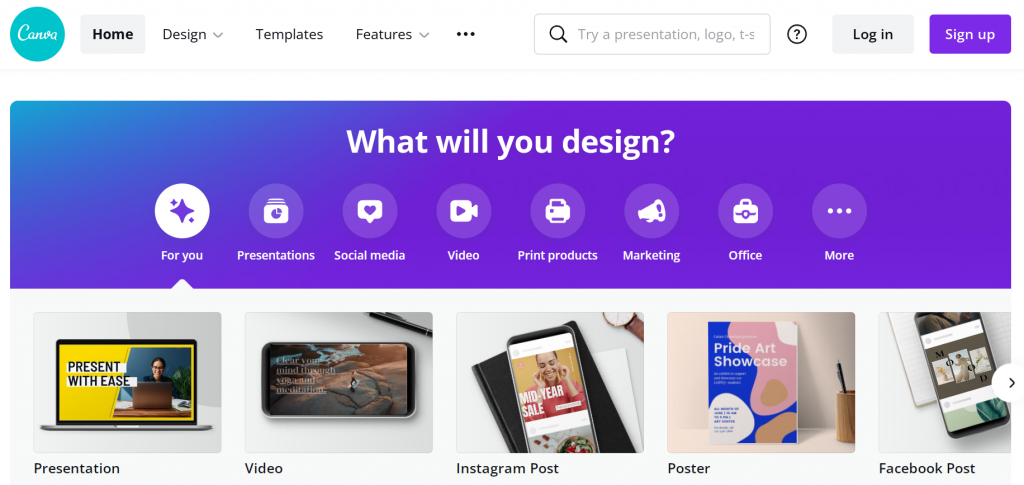 Canva is yet another excellent tool for creating and designing visuals and social media content to make your branding efforts more efficient. It offers users access to over 1 million free quality images and icons and lets you drag and drop them into place.
Also, it gives you the ability to add text and edit the fonts and colors. You can sign up for a free account and use the "Elements" option to add high-quality images or other visual elements to your designs. You can even add filters and borders to suit the theme of your design. This way, you can create beautiful and compelling designs and graphics for social media (such as Facebook and Instagram) and other marketing purposes.
3. Pablo by Buffer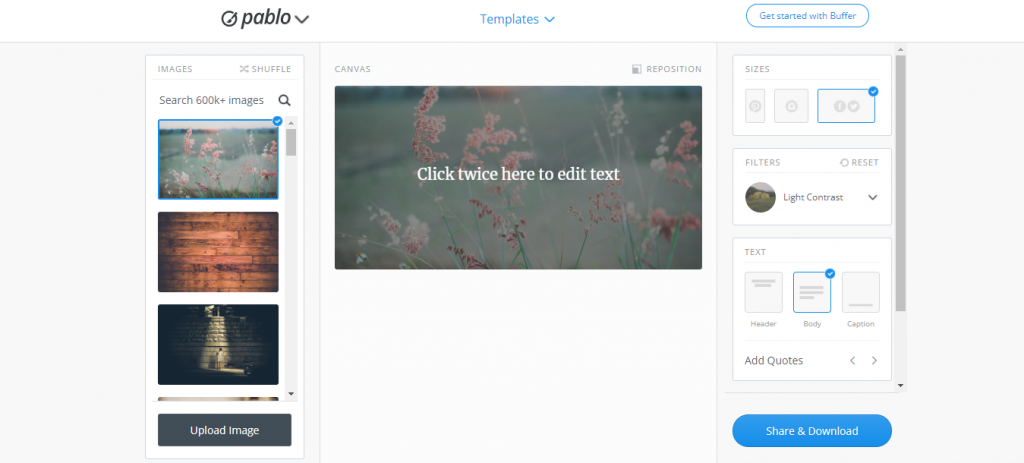 There is no denying that we live in a visual world and that visuals can be far more effective than text when engaging potential customers. That's why social media platforms like Instagram and Pinterest became so popular. However, creating visual content is not always easy. Pablo by Buffer is a great tool that can help you schedule posts for your social media accounts while also allowing you to quickly create images that highlight a specific call-to-action in a catchy way.
Pablo has a variety of templates that show different kinds of information, such as stats, quotes, videos, images, etc. Your only task is to fill in the blanks using the available images and text. Each post can be edited or updated multiple times before being shared on your social media channels. Pablo also works with other social media apps such as Trello, Google Analytics, or Zendesk.
4. Slidebean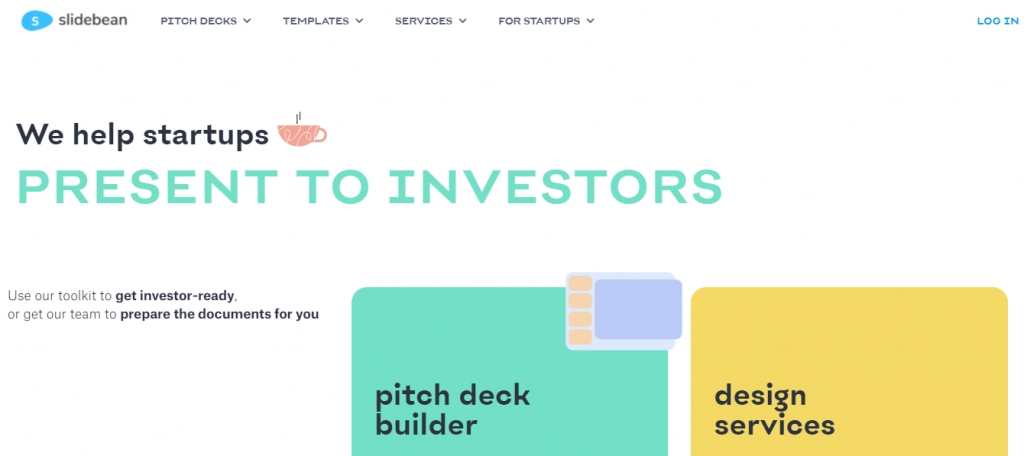 Slidebean is an analytics-driven presentation maker that lets you create effortless whiteboard-style presentations. It offers hundreds of templates that can be used for business presentations, sales pitches, webinars, product launch events, etc. With Slidebean, you can make them from scratch or use ones from the gallery.
The tool also gives you access to thousands of images and vector illustrations that you may add to your slides. As for slideshows themselves, they can be viewed on tablets or phones, while some of them can even be uploaded to YouTube or embedded in websites. Slidebean is one of the more versatile tools on our list.
5. Mailchimp
With Mailchimp, you can create professional newsletters that will help you establish your presence in the inboxes of your targeted audience. The app allows you to create newsletters for different purposes like product launches, discounts for your customers, company updates, etc. It gives you all the necessary tools for bulk email sending so you can reach as many people as possible at once.
Mailchimp also tracks your open rates so you can see which kinds of emails are more successful than others. It's effortless to use – all you have to do is create an account, set up lists of subscribers, select email templates, write your content, and hit send! The app also provides suggestions about how much content should go into each email message so you can keep your reader engaged without overwhelming them with information.
Conclusion
Branding is a process that should be taken seriously if you want your business to succeed in the long run. It's not just about having a pretty logo or a website – it's about creating a unique identity that will set you apart from the crowd and make you memorable to your target audience.
If you want to make things easier on yourself, you can use the tools mentioned above. They will help you build a solid and effective brand identity that will drive your business forward.