Being one of the most popular processor manufacturing companies all over the world, Intel has launched numerous processors in its three main series known as Atom, Celeron, and Pentium Series. Intel Core is another processor series, but these three are entry-level processors which are embedded with lots of computer models.
So, if you are looking to purchase a new computer or laptop for you, you should know the difference between Intel Atom, Celeron, and Pentium. Along with this, choosing a processor with good configurations much be the next step.
You should also make sure to pick the right processor generation for maximum benefits. However, all these things come after the primary processor series. So, if you are also one of those who wants to know the basic difference between these processor series, this article will surely help you.
Difference Between Pentium Series, Celeron, And Atom Processor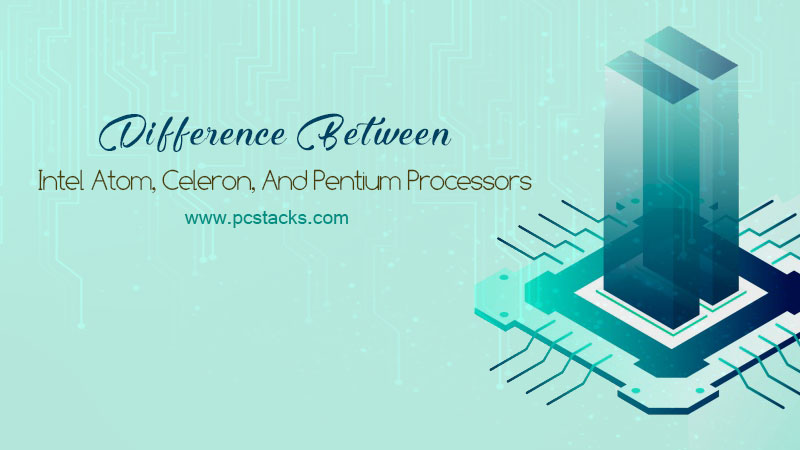 3 budget Processor Series for workstations/gaming rigs
We are going to discuss various important things about these three processors so that you can easily know the differences and make a wise decision for you. Knowing about the processors and their offerings is crucial before buying a computer for you. So, let's start revealing each processor type and the things that make each one different from others.
10 Dissimilarity Between Pentium Series, Celeron, And Atom Processor
Performance
Budget segment
Clock frequency
Dual-core
Quad-core
Braswell-based
Lake-based
Trial-based
TDP
Systems Support
Brief Guide: Intel Atom Processor Technology
Being a part of Intel's entry-level processors, Atom is considered as one of the weakest processor series. It was developed to offer low-end offerings to users, especially in mobile devices. But, when utilized in the laptops and computers, these processors are able to provide minimal outputs as compared to other processors.
Since its release, Atom processors are widely used in notebooks from all the popular PC brands. So, if you want to know the basic difference between intel atom, Celeron, and Pentium processors, let's know about different variants of Atom processors first of all.
The Intel Atom processor series is named X, and we can see lots of processors in its this range. So, let's know more about all its X series and their offerings.
Check out the 16+ Atom Quad Core Vs Celeron Dual Core Comparison [Unfailing details]
Atom X3
The series comprises of dual-core and quad-core processors with up to 1.4 GHz clock frequency. But, these processors are only found on Tablets and some other mobile devices such as Asus Zenpad 8.
The processors targeted the entry-level and low-end mobile devices in different ranges. However, for its 45 LTE 5-band modem version, this processors received a bit better reputation in the mobile market.
Atom X5
It is another low-power processor series inside Intel Atom which you will find on numerous notebooks and detachable laptops. You will find three different types of processors in this series. Braswell-based, Cherry Trial-based, and Apollo Lake-based processors. Total of eight different models are there, and all of them are quad-core processors.
Atom X7
Intel Atom X7 comes in the range of high-end processors having the capabilities to top-notch power devices too. You can see it inside the Microsoft Surface Pro 3. The processor is used only in mobile devices. It is a 64-bit processor range with 1600 Mhz of the clock frequency range. The processor works on CMOS technology and having different variants with different configurations.
You can find these processors mostly inside mobile devices. However, the main motto to develop and manufacture these processors is unclear. For convertible laptops and tablets, the Atom processor can work well. Besides these three main series, you can find some extremely powerful processors such as Intel Atom C2750 etc.
With that said, let's continue our comparison between Intel Atom, Celeron, and Pentium and reveal some interesting things about the Celeron processor below.
Exclusive Details About Intel Celeron processor series 
Intel Celeron is a quite popular and a powerful range of processors in the Intel family. Even though these processors come in the range of entry-level processors, but you can expect some great range if you are picking its top processor range.
You can easily find the Celeron processors in different notebooks and desktops. These processors are great for doing some basic and medium processing tasks such as video watching, word processing, and surfing etc. But, when it comes to advanced tasks, you cannot rely upon them.
The main thing that keeps these processors behind is their low TDP as compared to the others. But, they are budget-friendly too. So, if you can compromise with the clock speed and TDP, you can easily go for the Intel Celeron processors at easy budgets.
Let's know some more about this processors series by knowing specifically about its each processor series. This may help you to get more details in regard to the comparison between Atom, Celeron, and Pentium.
Intel Celeron N
All the Celeron N series processors are entry-level processor having very least performance capabilities although they are quite a power-efficient. So, when it comes to using them in the desktops and laptops, they perform worse. However, for mobile devices, these processors are good.
They are even used in various mobile devices, and they have performed excellently in most of the cases. If we take an example of Intel Celeron N4000, this processor is completely mobile-based with the maximum clock frequency of 1.1 GHz.
So, when this processor is tested, it performed medium for desktop usages, but the performance worsens when used in workstations. However, some processors such as N4100 and N4120 are quite impressive when it comes to low-end usages.
Intel Celeron J
It is a quite popular processor series that targets that desktop category. Most of the processors are having a clock frequency more than 2 GHz and the TDP above 10 W. This processor is most suitable for low-level processing tasks and simple usages. For corporate and professional uses, you cannot use it because of its limited capabilities.
Celeron J series processors are much more powerful than the N series. This might be the reason why these processors are capable of hitting the corporate markets a lot more. Even the dual-core processors work great because of more TDP and clock frequency ranges.
Intel Celeron G
Some of the processors in this range has the clock frequency more than 3 GHz. Because of this and numerous other reasons, this processor is good to use in desktop and laptops for simple and some sort of top-notch tasks.
These processors are way better than the above two series when it comes to the performance and processing capabilities.
You can easily pick any of its dual-core processors and start using it for doing normal tasks on your computers. With this, we can say, Intel has offers a great advantage to the users by taking care of their budgets too.
With this, you may have a good idea of how these two processor series competes with each other. So, to dive deeply by understanding the differences between Intel Atom, Celeron, and Pentium Processors, let's start knowing about the Pentium processors below.
How good is a Pentium Series processor compare to other processors?
Intel Pentium is one of the most used processors for powering up the laptops and desktop devices. Most of the processors in the Pentium series come inside the budget segment. But, when it comes to utilizing these processors for advanced tasks, they may lack.
But, when compared with the above two processors, we can expect a lot from the Pentium. In this processor range, Intel has developed lots of processors to offer lots of advanced features and great features than the earlier ones.
Intel Pentium Gold G
Gold G processor series has some high-level processors that come into the 10th Generation. In this range, you can easily find the microprocessors having a clock frequency more than 3 GHz. Only two core processors are there in this range, however, in the silver series, you get access to the quad-core processors too.
These processors are considered as the top-notch processors most suitable for gaming and editing PCs. So, when it comes to getting the most out of them, these processors are great to have lots of advantages for sure.
Intel Pentium Silver N
The Pentium silver N series also has lots of amazing processors having huge capabilities to perform high-end processing tasks. Most of these processors compete with the Core i3 range, which is a great advantage for the users.
However, these processors come in the range of mobile-based units. But, you can easily find a lot of desktop and laptop suitable processors to choose from.
Intel Pentium Gold Y
These processors are certainly the most powerful processors in the Pentium range. However, some variants may perform average because of their lower configurations.
But, being a top-level processor range, the company have put a lot of efforts to make these processors highly impressive. Some most popular processors in this range are 4410Y, 4425Y, and 4415Y.
Intel Pentium Silver J
Silver J5040 might be the most popular and effective processor in this range. Also, J5005 is another great example of the most suitable processors for Desktop systems. But, most of these processors are good for basic computation processes.
But, when we compare it with the Atom and Celeron J, the Pentium J processors perform well under tough conditions. So, you can pick this one if you have some good budget with you.
---
Final Words
We hope you have now understood the difference between Intel Atom, Celeron, and Pentium processors thoroughly. But, before choosing any of these processors, make sure to get detailed information on the official website of Intel. This will surely allow you to make a wise decision for you.
At last, if you liked this article, make sure to share it with others and help them too. Also, give your feedback in the comment sections. If you want to get regular updates on this type of topics, stay connected with us.