Want to move your computer's disk data to a new one? Well, it is pretty easy when you have the best disk cloning software installed on your computer.
Instead of deleting all the data from your computer and then install a new hard disk on your PC, it is always better to reuse and share your existing data on a new disk.
It will not only save your OS files but all other personal and important files too.
In this article, we are going to give you a list of the best software that you can use for disk cloning. Some of the software can also be used as disk imaging software.
Data movement is a critical thing. You may have very important or confidential information stored on your hard disk.
So, you can't take any risks while moving this data to any other hard disk.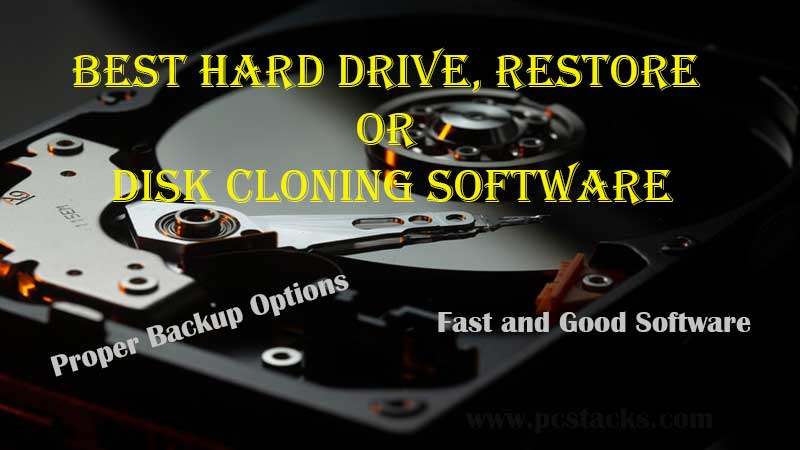 It is pretty important to use software that is capable to handle this task in a proper manner. Also, you should have a proper backup of your data stored in a separate and safe device.
This is going to be a proper plan for your fast and easy movement. Whether you want to clone your hard disk for any reason, it is always better to have proper arrangements to tackle the unfortunates.
So, using good software is like a basement to a successful cloning process.
We are going to reveal only the most tested and trusted software in this field. In this way, you will be able to get the best results for the same.
In fact, most of these software will provide you proper backup options to safeguard your computer and the data stored inside it.
Besides this, most of the software are available for free. However, you will have to opt for some pricing plans to use premium features inside the same programs.
Without any further discussions, let's know about the process itself and then see all the effective software you can use to do this thing properly.
What is Disk Cloning?
In the simple words, disk cloning is the process of creating a 1 to 1 copy of your existing hard disk on a new disk. The process many including copying from HDD to HDD or HDD to SSD and vice versa.
This cloning process, complete data from your disk will be copied to the new one along with the OS boot files. In other words, your computer will have the same operating system and every other thing once you have successfully done the cloning process.
Lots of people misunderstand the process of disk cloning with disk imaging. But, they both are completely different processes. In disk cloning, all your installed software data and the OS files are moved exactly to the new location.
However, in disk imaging, we create a restore image on the new device which will further get retrieved using computer software.
In this way, disk cloning becomes a much more safe and accurate way to copy or move your existing disk data to a new disk.
How to choose a proper Hard Drive software for disk cloning?
The first and most important thing to check in your disk cloning software is the developing firm. If the software is offered by a reputed firm, you can easily trust on it.
Next thing will be to check the overall feedback for that software on the internet. If the companies and individuals are using that software, you can definitely give it a try for sure.
We are going to cover most of the popular software here in this article including Clonezilla and Paragon etc.
So, you will have to read this article until the end to get the most out of it.
Best SSD And HDD Disk Cloning Software for Creating Disk Image
Below is a list of all those popular software which you can use for disk cloning tasks. We are going to know all their features including the pros and cons.
Let's get started.
Acronis Disk Director
This software is a fully functional and versatile piece of a computer program that you can definitely use for simple and fast disk cloning tasks. The software can easily be used for disk imaging, formatting, re-formatting, cloning, and various other tasks.
You can clone all types of disks including FAT16/32, NTFS, Exts, Ext3, Reiser, Linux, etc. The software is easy to use with a cool user interface.
However, the software is available just for the Windows operating system and now for Mac or Linux. Also, the software is not available for free. You have to pay 80 bucks for a license for 3 machines. You can use its free demo for sure.
Let's know some more about this software.
Pros:
Various tools to use for backup
UEFI Support
Free trial version available
Support multiple disks and disk formats
Cons:
Available only for Windows
A little bit expensive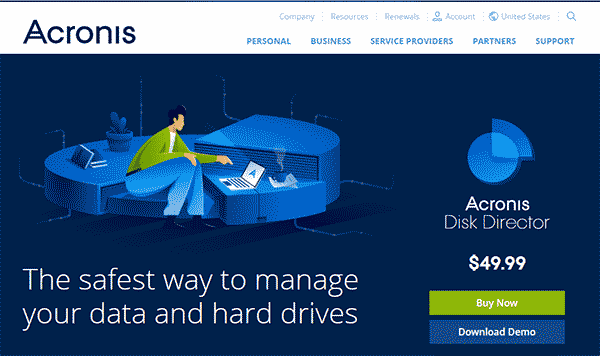 Clonezilla
Clonezilla is perhaps one of the best software you can use for disk cloning purposes. This software is full of amazing features you will definitely love to use for cloning tasks.
This software has all tools and services to help you easily move or copy files from one hard disk to another one.
Volume recovery and partition manager features also come along with this software. So, whether you want to use this software for personal or business purposes, this package is going to help you with everything.
The software supports most of the popular hard disk formats including FAT32/16, NTFS, Ext3, Ext2, Linux, SWAP, etc.
So, whether you have any kind of hard disk in your computer, you are going to move your data efficiently to the target disk.
There are various other amazing features you can surely use while having this software on your computer. Let's know some more about it.
Pros:
Completely free to use
Fast Restoration speed
Avaiable for both Windows and Linux OS
Suitable for disk imaging too
Cons: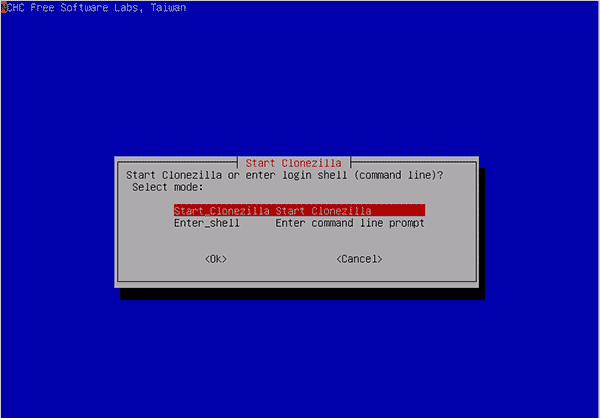 Paragon Drive Copy
Paragon Drive Copy is another amazing software you can use for disk cloning tasks. This software is going to help you with copy feature, data migration, disk imaging too along with its main function i.e. disk cloning.
In this way, this multipurpose software help you easily manage, format, copy, and backup your data in an effective way. Paragon Drive Software offers to copy a partition of hard disk or the complete disk too.
It's also create a virtual clone of your drive and then paste it on another computer too. You can either choose to clone your disk from a small disk to large or vice versa.
However, in order to use this software, you will have to pay an amount of 40 dollars for 1 system.
Pros:
Create Recovery media file to prevent data loss
Easy user-interface
Use data wiping and disk partition tools
Resize partitions
Cons:
Could be expensive for some users
Slow processing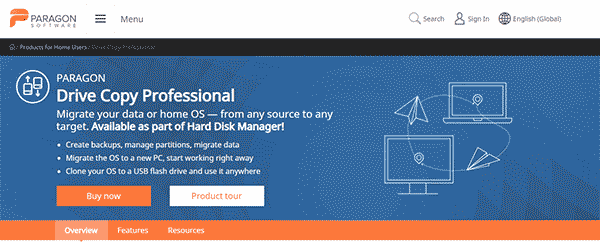 Minitool Partition Wizard Pro
This is another highly popular and advanced disk cloning software you should definitely consider while finding the right package for you. Also, it is definitely one the most professional disk clone software you will find on the internet.
The software is suitable for both personal and professional uses. So, whenever you want to clone your data by backing it up using a highly advanced software, Minitool has its amazing offerings always ready for you.
Minitool software is going to help you with everything including cloning, imaging, formatting, partition, and backups. However, the software comes with a big price tag of 129$.
You can also use its free version with limited features.
Pros:
Impressive partition tools and manager
Easy user-interface
Supports exFAT, NTFS, FAT, and EXT hard disk formats
Cons: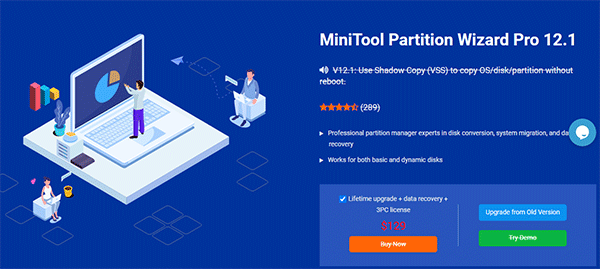 Macrium Reflect
This is another highly popular software to easily clone your hard disks from any format to same or another one. The software is widely used by the people and companies all over the world to perform fast and easy disk cloning tasks.
The software is pretty easy to use and available for numerous functions to easily clone, copy, format, partition, or backup your data. You can definitely have amazing offerings from it when it comes to an easy disk cloning task.
Let's know more about it.
Pros:
Lots of feature to use
Amazing help wizard
Malware protection feature
Available for Windows and Linux
Impressive free version for almost all the purposes
Cons: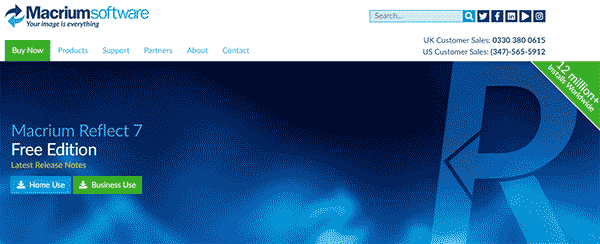 EaseUS Disk Copy Pro
This is another multipurpose tool you can easily use as your disk cloning software in 2020. This software is going to help you with almost everything including disk cloning, imaging, partition, formatting, and backups.
You can definitely use it for moving data from HDD and SSD both. The virtual HDD feature is very impressive to easily make virtual copies of your data and then reuse if anywhere and anytime you want.
In addition, you can easily move the OS files and every other important thing from your computer to another disk. Let's know some more about it.
The software is suitable for both personal and enterprise application. With the help of this package, you can definitely make your disk cloning tasks much easier and faster.
Just give it a try and test its free version first. The user-interface is pretty impressive and you will love it for sure.
Pros:
Full encryption features are there
Use multiple devices
Create image from disk and files
Suitable for Windows cross platform integration
Cons: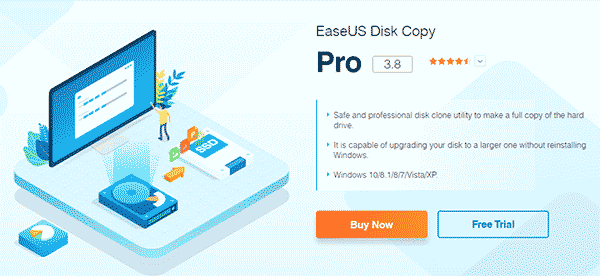 Active@ Disk Image
This is another impressive disk imaging and disk cloning software for Windows and Linux users. The software can easily be use used for cloning devices including SSD, HDD, CD, DVD, Blu-ray, USB, etc.
The software is very easy to use for all these things and you can make the most out of it with its pro version. However, the free version is also enough for doing most of the things you will need from it.
You can perform disk to image, image to disk, copy disk, clone disk, and all other popular operations using this software package. It is going to help you with partitions and backups too.
The software starts from 39$. However, you can use its trial version at start.
Pros:
Image compression
Rescue bootable media
RAID support
Scripting Support
Cons:
Costly
A little bit outdated UI

DAEMON Tools
Daemon tools lite is a very popular disk emulation software which you can easily use for disk cloning, imaging, and various other tasks.
The software will help you create a virtual image of your drive and then use it for any purpose you want. You can easily use it with your HDD, SSD, Disks, USB, and other popular storage device systems.
You can easily create a bootable USB drive and protect it using a password. The software has a very amazing user-interface which you can definitely use for your desire purposes without any hassles.
In other words, this software will make your disk imaging, disk cloning, formatting, partitions works simpler for you.
The software is great to use with all the popular hard drive systems including FAT, NTFS, etc. The trial version is available but in order to use all the features, you have to pay for you.
Pros:
Fast emulation support
File encryption is also there
Windows cross-platform integration
Create images from disks, folders, and files
Cons:

AOMEI Backupper
This software is developed specifically for backup purposes. However, you can definitely use it for various other tasks. Disk cloning and disk imaging are some of the other features you can definitely use in this software.
In other words, software package offers numerous features which you can surely use to do a safe and fast disk clone. The software is pretty easy to use along with a friendly UI.
Command line restore, universal restore, Bootable recovery environment, and selective file restore are some of the primary features of this software.
Pros:
Partition restore
System backup and disk restore
Volume/partition clone
System clone
Cons:
Expensive [Starting from 49.95$]

Symantec Ghost Solution Suite
This is another complete data management tool you can easily use on your system for disk cloning and imaging purposes. The software comes with its web-based interface which you will surely find easy to use.
It is available for Windows, macOS, and Linux operating systems. The software is available for professional, enterprise, and personal uses too. You can also use its impressive features to migrate and close the OS files from one drive to another.
The software supports cross-platform disk cloning and imaging. You should definitely test this software if you are searching for a professions solution for your disk cloning tasks.
Pros:
Windows 10 migration
Easy user-interface
Fast processing and backup features
Cons: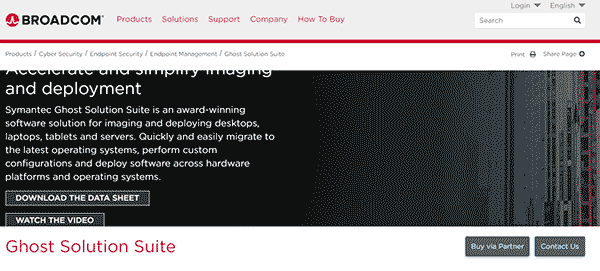 ---
Final Verdict
We hope choosing the best hard disk cloning software will now be easy for you. But, before picking anyone for you, make sure to research properly and get proper details from the official sites.
This will help you make a wise decision on the best software to use. Also, you will surely be able to know which software is the best for you.
So, whenever you want to choose any software, you should definitely do a detailed research. Especially when you want to purchase a paid software, this is going to be a decision where you should take each step properly.
We aspect you have found this article helpful in this regard. Make sure to share your valuable feedbacks in the comment section. Also, consider sharing this information with others too.
You can give us new suggestions for the new articles. We will definitely help you with everything we can.
Thanks for reading!