DISM stands for Deployment Image Servicing and Management. It basically is a command-line tool that helps with Windows image or in the preparation of Windows PE (Preinstallation Environment). It is one of the most helpful features or we can say tools inside the Windows computers. However, on various occasions, this DISM Host Servicing Process can start to consume lots of your computer resources and make it extremely slow.
The slowdown can occur at any time and at most of the time, you will have no option to restart your PC and check if the error is gone. But, in this article, we are going to discuss everything which you can do to get rid of the DISM problem. Most people might even not aware of what is going on.
If you know how to open and use the Task Manager, you can always see which software and other programs are consuming how much amount of your computer resources.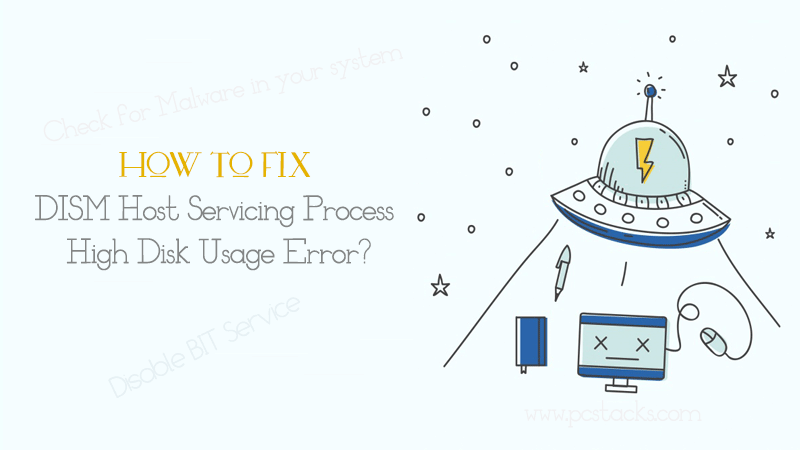 You are seeing the DismHost.exe High disk usage, it is a problem that is worth fixing to get your computer back on its normal state. You might find it hard to either disable or hide this process because it always runs in the background of your system.
But, if it is causing any issue to your computer, here you are going to get the best possible fixed for the same. In fact, we are going to reveal the best ways to fix DismHost.exe High Disk Usage issue. So, without any further discussion, let's start revealing everything below.
What is Dism Host Serving Process error?
As we discussed earlier, DismHost is a Windows feature used in various processes. But, since it works in the background, most of the Windows users may not be aware of this name. But, the main purpose of this tool or we can say the app is to prepare the Windows pre-installation environment for Windows image.
It also deals with enabling or disabling various Windows features and enumerating various other settings. However, the main problem with this feature is that it saves numerous temp files in your computer to keep working in a way it should be.
It can start to save hundreds and thousands of unwanted files in your system which may damage it in various ways.
Although it will not appear while working in the background, you still have to do something to fix DismHost.exe to stop working. In this article, we are going to discuss the same thing.
What is the reason for DismHost.exe High Disk Usage error?
The reason behind this issue is not easy to detect. However, a faulty system file or any other thing can cause this error to happen. In fact, you will get it in your system without doing anything. And, it will definitely work and start on its own without any of your interference.
Not only the disk usage, issue, but the DISM can also cause your system to crash and even get damaged if not done anything to fix it.
Some of the errors which you may see are as follows.
Error exe Application.
exe failed.
Most common is exe is not a valid Win32 application.
exe has encountered a problem and needs to close. We are sorry for the inconvenience.
Run time Error- exe is not running."
Error starting program: dismhost.exe.
exe not found.
Cannot find dismhost.exe.
Faulting Application Path: dismhost.exe.
This is not the end of the list. This error can become worse over time. So, when you detect this issue, you should be doing something to fix it.
So, now, let's see what are the things you can do to actually solve this problem.
How to Fix DismHost.exe High Disk Usage Issue?
So, as we discussed earlier, there are some effective ways to solve this problem whenever you see it on your computer. So, here, we are going to reveal all of them one by one.
Disable Superfetch Service
Superfetch is another feature of Windows OS that keeps your PC updated with all its internal components. The purpose of this tool is to reduce the opening time of your system apps and whenever you launch them.
It will basically help you to open files almost instantly which you use the most. But, in this case, the Superfetch process could be causing the dismhost.exe app to open over and over again and cause various issues to your computer too.
So, in order to solve this problem, one of the main methods is to try disabling this function and see if the error is coming back again.
If you do not know how to disable superfetch service to solve dismhost.exe issue, just follow the procedure given below.
Press Windows+R buttons together to open the Run command
Now, type in msc and hit Enter
After that, find the service named superfetch
Right click on that service and click on the Properties option
Now, click on Stop button to stop the process from running.
Now, in the Startup type drill-down, select the option Disabled.
Click on Apply and then Ok.
After following all these steps, just restart your computer and see if the problem is fixed. It should be gone now. If it is still there, just go to the next step which is given below.
Check for Malware in your system
This app or tool is a part of your Windows computer. But, you can end up using various deceptive software which may cause this issue in your system. It could be possible that the actual DISM is fine but there is malware working in the place of it.
Interestingly, lots of Windows users have admitted that there was malware that was causing this issue on their computers. So, you can try to use the Windows Defender scan first of all.
If the problem is still there, make sure to pick a premium malware scanner like hitman pro, malware bytes, Norton Security, or Avast Antivirus.
It is actually malware, you would see some specific issues like 100% disk usage, lags, or numerous copies of dismhost.exe working in the background. If you are also seeing these issues, it is definite that it is a virus causing this problem. So, make sure to pick a good antivirus software and remove the unwanted viruses from your computer instantly.
Disable BIT Service
Just like the superfetch, BIT (Background Intelligence Transfer) is another service that is used to handle all the apps and tasks working in the background of your computer.
Most interestingly, this service is used by dismhost.exe to send some files on the internet for some purposes. It can also end up consuming your internet resources. Also, the error you are seeing could be caused by this service.
So, just like the superfetch service, we are going to disable this service and see what happens when we do that. In most of the cases, users were able to get this issue fixed just by using this method. So, you should also be able to do the same. So, now, let's know how you can do it.
Follow the same procedure to open services.msc menu as we did in step 1.
Second, find Background Intelligence Transfer Service there and right-click on it.
Now, click on Properties option and then Stop the service.
From the same dropdown, select the disabled function and then apply the changes.
Now, restart your computer again and see if the problem is still persisting. You should be able to get it fixed with this method. If you are not, just go to the next method.
Uninstall DismHost.exe from your computer
If you are not able to fix dismhost.exe error from your Windows computer, you must have to remove it from your system. This is the only thing which you can do now.
You would definitely not find this software directly in your PC with all other software but it is possible that you have installed any third-party or malicious software which is causing this issue to you.
So, you will now have to remove all the programs which you think are unwanted. For that, you can follow the procedure given below.
Go to the Windows search bar and then search for Control Panel
Open the control panel app and uninstall all the unwanted apps.
Now, go to C:/Program Files folder of your computer and see if you have any file named DISM Host Servicing Process.
If it is not there, you have successfully removed it from your computer.
Now, restart your computer again and see if you were able to solve the dismhost.exe error from your computer.
 Update your Windows
This could be another effective way to solve this problem. Because a Windows update will refresh all your system files and update them with the latest versions, you can end up solving this problem just by doing a simple Windows update.
Not only this error, but Windows update can also help you to solve different other issues related to your drivers and stuff. Once the Windows update is done, it will come up with the latest settings and Windows components to run your computer in an effective manner.
Now, let's know how you can do a Windows update in an easier way.
Press Windows+X buttons together
Now, click on the Settings option
After that, choose the option Update and Security
Selection the option Windows update and click on Check for updated option
Wait for some time to let the Windows complete this update.
Make sure to have a good internet connection with a good speed. Also, it will be good if you leave your computer alone till the time the update is happening.
Once its done, just restart your computer and see if the problem is solved. It should be gone now.
---
Final Verdict
Most of the readers would now be able to solve DISM Host Servicing Process High Disk Usage problem. But, it is possible that your computer is still facing this problem (dismhost.exe error). If you are also one of those, you are advised to take your computer or laptop to an expert. They would be able to fix this problem for you.
We hope you have liked reading this article. If so, make sure to share your valuable feedback in the comment section. Also, you can share this information with others through any medium.
We would love if you suggest some other topics to write about and make sure to serve you with the most helpful information in the form of articles here. Happy to keep posting here on a regular basis.
So, make sure to stay connected with us to stay informed.