We all want to keep our data safe from threats. But, it is never easy to take care of everything when it comes to handling your data, backups, restores, and every other important thing related to your data safety. For that, we are free to use some free and paid software. Disk Drill is one of the best tools you can use in order to make these things easy for you. Lots of people may want to know how to install and use this tool but many of you will have a question on how to uninstall Disk drill because of its some limitations.
So, in this article, we are going to everything perfectly and help you know how to uninstall this software from either your macOS or Windows computer system. If you have any type of question regarding this useful software, we will help you to get all your questions answered.
When you have disk drill in your computer, you do not have to worry about loosing your important data when you have set up it for your data protection.
So, whether you have a personal or business computer, Disk Drill can help you to recover your data in an effective manner so that you do not have to face any hassle. There are numerous other features of Disk Drill software for both Windows and macOS computers.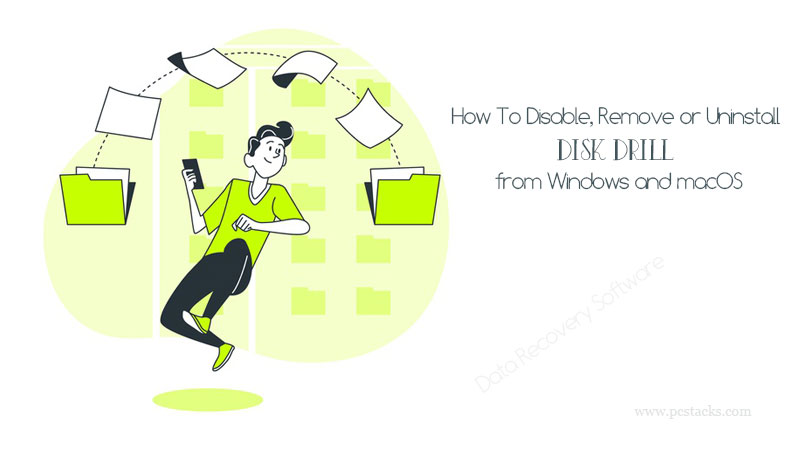 It will help you to recover all your disk data without requiring any sort of technical expertise in this field. Data protection, disk management, and numerous other features are there to help you manage your files effectively.
But, if you do not need this sort of protection and want to uninstall this software, this article is here to help you with that. Before, jumping into the same thing, let's uncover some important details about Disk Drill software first of all.
What is Disk Drill?
Disk Drill is available for both Windows and macOS operating systems as we discussed earlier. So, you can use it on your desired system to recover deleted files whether you have deleted them intentionally or unintentionally.
It will not only help you to recover data from your hard disk but from USB and other storage devices too. Using its advanced recovery technology, it can provide you with excellent offerings for an effective output.
The software is highly reliable in terms of recovery and security too. So, you can use it impressively to fulfill any of your purpose related to Windows or macOS file recovery.
In simple words, this software is perfect for the people who have faced any sort of data loss on their computer due to any reason.
Features of Disk Drill Software?
There are numerous features of this software when we consider it for data recovery. But, the developers have done a great job by giving it an impressive user-interface and other amazing features.
The software has a great UI and highest performance even on low-end computers. Also, you are free to customize numerous things to make it match with your needs.
Some of its main features are as follows.
Up to 500MB Free data recovery
Recovery vault feature
Preview the loaded files
Disk Health, Mac cleanup, and duplicate finder features
Data backup and data protection features
Scan lost data and recover in a little bit of time
Easy to use with straightforward functioning
So, these were the most effective and best features you will ever get inside any file and data recovery software.
Disk Drill has numerous other offerings that are great when it comes to recovering your files.
But, there are some drawbacks too for which you might be looking to uninstall Disk Drill from your computer.
What are the limitations of Disk Drill?
Along with its numerous advantages, you will surely see various cons of this software. The software has various advantages once you have opted for its paid version.
However, if you are looking to use it with the basic version, there is nothing special you can do once its 500MB free limit expires. This software is basically perfect for only those who can afford it.
So, instead of using it's specifically on your computer, you can choose various other free options available on the internet. You will surely be able to find various other alternatives to this software once you get rid of this one.
Some of the main drawbacks of Disk drill software are as follows.
Very less free recovery limit
No portable version is there
Not suitable for business uses without a paid plan
You may find various other reasons of not having this software in your computer but these are some of the main limitations of this software.
Why should you remove disk drill software from your computer?
So, as we discussed earlier, you will not be able to get the most out of this software once its free limit expires. So, if you do not want to use it further for any purpose, you should simply uninstall this software.
And this article is written to help you with the same. Here, we are going to know the process of uninstalling Disk Drill from both Windows and macOS systems.
But, before uninstalling, you should know about its pricing plans on the official site. It might be possible that you may need this software to fulfill your needs related to data management recovery.
So, for that, you can visit the official website.
How to uninstall Disk Drill Software in Windows?
When you have a Windows computer, uninstalling any software is pretty easy. So, for the disk drill software, you will be able to do this thing in a very easy manner.
There are various methods to remove this software from your computer in a Windows system. But, here we are going to use the most effective but conventional way of doing it.
You will be able to get rid of all the program files related to the disk drill.
So, if you are eager to know how to uninstall Disk Drill from your system, follow the process given below.
Go to Windows Search Bar and search for Control Panel
Click on Control Panel App to open it
Now, click on the option "Programs and features"
There you will see all the programs installed on your computer, find disk drill there.
Now, right-click on it and select Uninstall.
Give your system some time to remove the software.
After doing this, you can continue using your system or restart it to ensure everything went great. In Windows 10, you can easily search directly for Remove a Program and this will allow you to do the same thing more conveniently.
But, this method is best if you want to ensure a perfect uninstall.
There are various third-party software which can help you to remove any of your Windows programs effectively.
So, you can also use them. However, this one is the perfect way to do the same.
How to uninstall Disk Drill from macOS?
If you own a Mac, removing a program could be tough if you are not familiar with it. But, here we are going to do it using the simplest method.
You will surely, get an answer to how to remove disk drill from macOS in an easy manner. This method is pretty easy if you follow the guidelines thoroughly.
For use the same process on your computer to remove any other software without any hassle. But, for disk drill, we are going to give you a brief overview of how to do it in a very easy way.
Locate you dock and find the Finder icon there
Find your app and open the folder to find its Uninstaller.
Double click on its and the system will proceed further to remove your program
If the app isn't inside the folder, you can simply drag your app to the Trash which is available at the end of Dock.
Using this method, the apps will never be recovered from your computer. However, if you have installed your app from the App Store, you can use Launchpad to easily perform an uninstall online.
Also, just like Windows, there are various other third-party software you can easily use to remove your desired apps from your computer.
With that said, we hope we have answered the question.
Best Disk Drill Alternatives for free data recovery to use in 2020
So, once you get rid of Disk Drill, you might not be looking for any other software like this on your monitor. But, if you need an alternative to this platform, here you also going to get the same.
So, let's know about some of the best Disk Drill alternatives you can use on either your Windows or macOS computer.
RS Partition Recovery
RS Partition Recovery is another great alternative if you want to use paid but effective data recovery software at the place of Disk Drill.
Although, it is a little bit expensive to use you will surely receive impressive offerings when you understand how to use it perfectly for any task.
The software has a clean user interface which is pretty amazing as compared to the Disk Drill. You will surely be able to receive some additional and innovative results with this software which you may never get with Disk Drill.
So, make sure to check it out too.
Recoverbits Recovery
Recoverbits is another intuitive app which is suitable for any sort of data recovery work in an effective manner. This software is equipped with highly impressive features that you may not get with any other software including the Disk Drill.
Recoverbits have a pretty amazing user-interface which is perfect when it comes to using it for all types of data recovery tasks.
You will be able to get the most out of it because it has an impressive interface which makes it easy to use for any operating system.
Most impressively, its free plan comes along with additional benefits and the paid plan is much more affordable.
So, make sure to give it a try.
Diskdigger
Diskdigger is another great option to use once you uninstall the disk drill software from your computer. This software has highly innovative features that you will not get with the Disk drill.
As compared to all these software we discussed in this article, Diskdigger offers highly impressive features which are great to see with this type of software.
It will not only help you to undelete hard disks but also computer memory and USD flash drives. The software is pretty easy to use with impressive functions for the users.
So, we suggest trying this if you need a good Disk Drill alternative. Diskdigger also has paid plans but you get some additional features with this software that makes it good in this category.
---
Final Verdict
Before using any of these software and uninstalling Disk Drill, we suggest you to research a little bit more about these software and the recovery processes. Any third-party software can harm your data or the whole system in a negative way.
So, make sure to choose the one that is best in this field. Also, it will help you to stay away from any sort of potential threat. Experts also suggest you use your OS recovery systems such as Windows Recycle bin.
But, if you need a software which can help you with additional things, trust only on a good package.
We hope you have found this article helpful for the purpose it was written. We suggest you share your valuable feedback in the comment section.
Also, do not forget to let us know about any other topic you want to see on this blog. We will feel more than happy to know what you thought about this article.
Stay connected with us to get regular updates on different types of topics just like this one.