We know there are several types of data storage systems and drives available for us or used for computer memory. As per your requirements and the system you are using, you would definitely have numerous options to select a good data storage system. The list may be included SSD, pen drives, floppy, DVD, etc. However, there is a sort of memory card you might haven't heard about. The name is Compact Flash. So, if you want to know What is CompactFlash card and its various implementations.
So, whether you want to gather any sort of information through this article related to the compact flash, we are going to give you precise information about everything.
The compact flash is a type of storage device which can easily be used in different types of devices without any hassles. This device is much cheaper than other various types of storage chips.
There are various other things to know about Compact Flash memory cards. But, the first thing which you should know that this compact flash was launched by Sandisk back in 1994.
Because this flash was utilized a lot way back, you might be having some applications of it till now. So, whatever the reason is, there are still numerous devices where the compact flash could easily be used.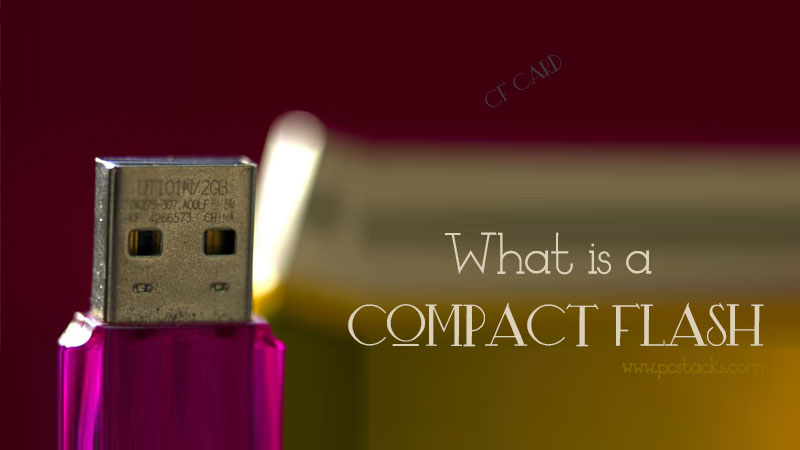 So, without discussing more anything else, let's start revealing various important things about What is compact flash and all its parameters.
Also, you will get to know some important information about this storage by the end of this video.
What basically is CompactFlash Memory Card(CF card)?
As we discussed earlier, Flash memory cards were introduced by Sandisk years ago. These cards were supposed to work just like the ordinary memory cards but with enhanced storage capacity. The flash memory cards are still widely utilized in cameras, computers, and some other devices.
At the time of its release, the company was offering a limited amount of storage space up to 12GB. However, today we can buy flashcards of up to 512 GB or over in TBs.
So, because of this large storage capability, these cards help us to keep capturing images and make videos in a very easy manner. However, the more storage space you want, the more expensive your card will be.
But, there are various advantages too which you should consider when you go out for buying these cards for any device.
The compact Flash cards are highly impressive when it comes to storing data. Since these cards come into the category of non-volatile memory, the data kept stored even if there is no power supply to it.
This thing makes these cards totally different from RAM. So, because of these reasons, a flashcard becomes a simple Plug-n-play storage device for you.
There are various other reasons why you should use this card for any purpose.
Where are these compact flash cards used?
Any device that has an input port to connect a flash memory card, you can easily connect and use a flash card to store anything you want.
But, mostly, these cards are used in mobile phones, laptops, desktops, cameras, video game consoles, tablets, and a lot more.
You can find numerous other applications of these cards in the video editing and photography fields. There are numerous other features and applications of these cards because they are actually compact.
Instead of handling hard disks or even multiple memory cards, you should definitely be using a flashcard with enough memory storage.
Why should you use a compact flash card?
Most of the photography cameras support flash cards as their primary memory storage location. So, if you click photos, edit videos, and shoot videos more often, you can try using a flash card for any purpose.
Again, it all depends on your requirements. Because these cards are much more expensive than ordinary memory cards, you should purchase them only if you really need much more storage.
Most impressively, these cards are highly portable. So, instead of using your device's own memory to save crucial data and then connect the whole system with your computer, you can have various benefits using these cards.
You just have to do your work, more the items to this card, and pull it out to take wherever you want.
This becomes easy and effective if you travel more often and own a camera. Also, if you are some sort of online creator who is into video making, you can also find some applications of these cards for you.
However, make sure to purchase a quality product to make the most out of it.
Some technical things to know about CF cards?
As we all know, these cards are compact. Most of the cards are similar in size. The size of a CF card is 42.8mm by 36.4mm. Also, these cards work on PATA (Parallel Advanced Technology Attachment) to record, share, and retrieve the data. These cards support 3.3 and 5 V inputs to work effectively for any purpose.
Generally, the CF cards come in two different types. The difference could be in its thickness depending on the total storage limit inside it.
So, when it comes to connecting these cards to your desired device, there will be no problem regardless of the card you are choosing for you.
There is nothing more to know about the technical specification because different vendors may use different technologies to power up these cards and let them do their jobs effectively.
What is a compact flash card adapters and why should you use it?
We are now aware of the fact that the flash memory cards are impressive when it comes to storing your data in a handy way. Also, we hope we have answered your question "What is a compact flash card?" Now, if you are into the field of photography or electronics either, you should probably have heard about the compact flash card adapters.
So, just like other sorts of adapters, this adapter will help your system to connect your flash cards in an effective manner. So, in case, if your laptop, computer, or tablet is without a flash card slot, you can easily use an adapter and connect the card through the same.
It will help you to create a connection using its USB cable at one end. However, at the second end, you may get options to connect not only a flash but various other types of storage devices.
It is all up to you that what you want to connect and which type of adapter you are going to purchase. Again, you will require a compact flash card adapter only if your system does not have a port for that.
So, keep this thing in your mind before making a purchase.
Why there is a limited space in the CF cards?
Because there is no moving part inside these cards and they are made for smaller devices, you can't expect a lot from these chips. But, it is normal to find a CF card with 512 GB storage which is enough amount of memory for any professional photographer too.
However, there is no such type of storage system in this size range that can store this much data in an effective manner.
So, you may not be able to get much more space because the size couldn't be increased because of the worldwide application specifications.
If the size is to be increased, the external adapter would be required to run them or the whole system will have to be changed. There is no specific reason why there is limited space in these CF cards but probably space is the major concern in this.
So to use the compact card adapter for SD cards?
Just like the USB adapters, you also have numerous options to choose a good SD card adapter too. This adapter will help you to use your SD in the port of flash card.
Again, if your PC, Tablet has a port to connect the compact flash card and not SD card, you can easily use this adapter to make things easier for you.
You will definitely be able to get the desired results once you have a good adapter to easily connect your memory card at the one end. The second end will directly be connected to the system itself.
The adapter will generally look like a flash card itself but do not have its own storage system.
It will only work to connect the SD card pins to your system using the flash car architecture. Because your system support the system and both SD and flash card works on the same principle, it becomes easy to connect the systems in the way that everything can work perfectly.
In the emergency situation when you do not have a flash card but have an adapter and an SD card, you are going to have the desired results that you want.
Different types of adapters are available in both online and offline markets. So, you can pick the desired one for you at very affordable prices.
Why use CF cards instead of SD cards?
Both of these storage cards are highly portable and compact. Carrying them with you is pretty easy and simple. However, the memory cards are more prone to damage and losses because of their small and brittle designs.
So, we would suggest you go for CF cards. Also, these cards have much more storage capacity along with easy prices. If you compare the prices, the CF cards will be more affordable for you if we look at their overall offerings.
Also, you should consider your requirements before choosing any of these card types. If your system supports only the CF card, you can consider buying an adapter. The same thing will apply to the USB adapters.
So, make sure to make a good decision after understanding your needs.
---
Final Words
We hope we have answered your question "What is a Compact memory card?". Also, we tried to solve some of your other queries related to this topic.
We suggest you research some more if you want them to use for professional tasks. Or, you may start with fewer storage capacities and then proceed for more storage if you liked the same.
In this way, you will be able to make the most out of these storage cards for any given task.
We hope you have liked this article. If you do so, make sure to share your valuable feedback in the comment section. We will feel more than happy to know what you think about this information.
Also, do not forget to share this article with others too. We keep publishing regular articles on various helpful topics for you and our audience.
So, stay connected with us and keep reading this type of other articles on a regular basis.