RAM is one of the most essential parts of our computers, Smartphones, gaming, consoles, and various other electronic components. RAM (Random Access Memory) is a type of temporary storage device that is combined with the processor running applications in real-time. So, if you want to know about it and how to overclock your RAM, we are going to cover everything in this article.
Because RAM is a crucial thing equipped in our computers, we specifically cover the important information to help you easily overclock it in any sort of computer. So, when it comes to enhancing your computer's performance, the RAM boost will be a good thing when you combine it with a CPU or graphics card overclocking.
You can't increase the RAM size because the internal hardware can't be changed in any way using an overclocking process. However, it is possible to enhance the RAM frequency on which it refreshes.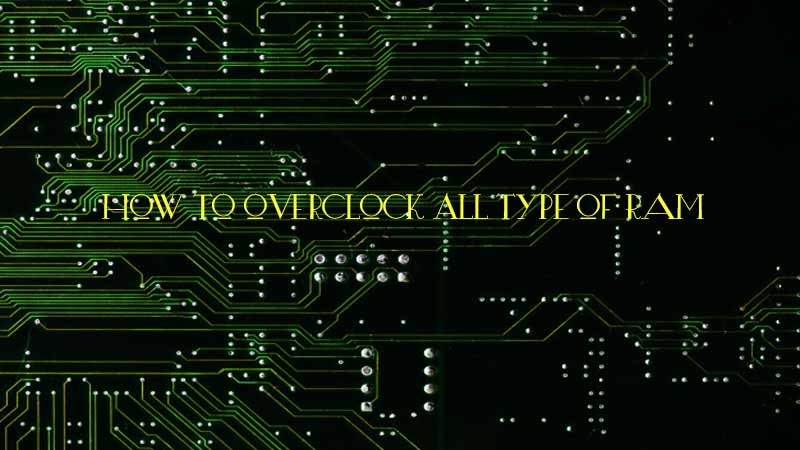 After the actual memory capacity of the RAM, another thing that makes a big impression is the clocking frequency on which your RAM is refreshed continuously. So, when it comes to overclocking your RAM, you are actually increasing the clock frequency which will make a change.
What (and Why) to Overclock RAM: A Definitive Guide
Keep a thing in mind that various RAMs are already overclocked if you have purchased them from a third-party vendor to build your PC. So, if it is already overclocked, you can see it using an overclocking software in the BIOS section.
Then, you can customize the values and check if it can handle more load. But, this thing is never recommended to anyone because it might be harmful to your system many times.
So, here in this article, we will discuss how to overclock your RAM in the simplest way.
What is RAM? | Random Access Memory Definition
RAM is a volatile memory that does its job to store the data for a limited period of time. It helps the apps to run effectively by processing their data in random memory locations. But, because it processes the data much faster and in a different way as compared to the ROM, we always have to keep a good amount of RAM when it comes to running any app or game on our PC. You will find two different types of RAM such as SRAM and DRAM.
Because it is a temporary memory, you will lose all the data stored inside it when the power supply is off. But, without a good amount of RAM in your PC, it can become tough to run various software that requires much more space to work.
However, for low-end software, your PC or mobile phones work great with a lesser amount of RAM too. Especially, when it comes to programming, gaming, video editing, and other top-notch computation tasks, we must have a good amount of RAM in our system.
Why should you overclock your RAM?
As we are now aware that having a significant amount of RAM in your computer will be a good thing for you if you want a PC that can perform excellently well with everything. However, if you have limited RAM in your PC and want to use it for top-notch tasks, even overclocking may not work well for you.
But, you will definitely be able to receive impeccable results when you need a little boost in your PC performance. People suggest doing it because they have seen the results and you should do it too if your RAM is capable of handling some more load on it.
But, along with that, make sure to consider the guidelines in your mind. Most of the RAM manufacturers will suggest not to do a RAM overclock.
Sometimes, if something went wrong, the whole system may get damaged or there could be irreversible damage that occurred to your RAM itself.
So, make sure to do everything properly as we are going to discuss below in this article.
How does RAM overclocking do its job?
Everything depends on the operating frequency and latency. So, if your RAM is taking longer time frames to revert to your PC's queries, your RAM is slow in simple terms.
So, a RAM with higher speed will be able to transfer data to your CPU faster and if your CPU overclock or CPU is capable enough to process, you are going to see an excellent processing speed on your computer.
A RAM overclocking process will eventually improve this timing by enhancing the operating frequency up to some percentage. However, it will also depend on the type of overclocking you want to do and the overall abilities of your RAM.
So, if everything goes well, you are going to see amazing results. Now, without further discussions, let's know How to overclock your RAM in an easy way.
How to overclock your Computer Memory (RAM) in 2020?
There are numerous ways and software you will find on the internet to overclock the RAM. But, we are going to use the best and most reliable way to do that.
We are going to use Intel's overclocking software and some other tools which will surely help you to get the desired results.
Now, let's get started.
Create a baseline
Before performing anything or you actually perform the overclocking process, it is crucial to understand the type of RAM and its overall capabilities.
This will include running some tests and creating benchmarks. You can use any of the available benchmark utilities such as:
MaxxMEM2
These software will not only help you with benchmarking but observe your outputs. Depending on your requirements, you can make use of these software to understand your requirements and then do the overclocking in the way you want.
Use Intel XMP for profiles
Without diving much deeper into the details and creating your own profiles by facing a lot of hassles, you can simply use Intel XMP profiles which are completely free. They are available on Intel's website and they are easy to load into your PC BIOS. You can get them from here is Intel XMP.
The Intel XMP (Extreme Memory Profile) is developed to overclock your RAM effectively by keeping certain guidelines in the considerations.
In this way, using these profiles becomes a great way to make your process much easier and less time consuming for you. You can get your profile in both Excel and PDF formats.
Just visit the page and get your profile. This is the main step that keeps all the hassles away from you.
Enter PC BIOS
To make it even easier for you, you can use UEFI BIOS on your computer. It will not only help you to enter your BIOS easily but also make changes in seconds without any issue.
To enter your PC BIOS, you can easily follow this procedure.
Go to Windows Settings
Then click on Update and Security
Click on the Recovery Option on the left
Now, find the Advanced Startup option and click on Restart Now.
Your computer will now restart in a special way
Click on Troubleshoot and then Advanced Options
Now, select UEFI Firmware Settings and Restart.
Now, you will enter the UEFI BIOS settings from where you will have to perform the processes further.
Select your XMP profile
In the final step, you will have to find the Extreme Tweaker tab and then the Overclock tuner. There, you will have to select the downloaded profiles.
You are free to reboot your desktop PC and close the utility once you have applied the profiles. You can also customize the settings as per your choice. This will help you to have a customized overclocking experience.
So, when you need your RAM to be much more efficient than what this profile will come along, you will have to customize some settings. Simply, you will have to tweak frequency, timing, and voltage respectively.
You can adjust these settings in the way as given below.
Set the memory frequency between 3000 – 3200 MHz.
Set Timings at 14-(14)-14-34.
Set the voltage (memory) to 1.35 V
You can try out other ranges and test if your RAM can handle that load with different configurations. In simple words, you will have to do everything by yourself when it comes to changing the RAM values on your system.
Once, you have changed these values, go to your benchmarking software again and check if everything is fine. Basically, you will have to check for latency.
As per different types of RAMs, you may get different latency values. So, make sure to run all the tests again and check if everything is fine after restarting your computer.
Things to take care of
The overclocking process may take time depending on the size of RAM, your computer configurations, and various other things. So, make sure to ensure a proper power-supply while you are performing the process.
While doing this, make sure to let the process complete and do not turn off your computer. There is no serious issue with the same but in some cases, you may face several problems, or there could be damage that occurred to your computer.
There is various third-party software that will help you to overclock your PC and its RAM easily. But, choosing the Intel XMP method is the best when it comes to the RAM specially.
However, if you want to use any other software package to make things easier for you, it is perfectly fine in every aspect. Make sure to do a proper research and find a reliable process to perform your overclocking process.
People may find various fake processes to overclock RAM using different ways. But, we suggest you only use the reliable tools offered by named brands along with precise processes.
---
Conclusion
Do everything in the way it is given in the process given above. This is the best way to know how to overclock your RAM? Doing anything in a wrong manner could cause several problems for you.
Along with that, if you have an expensive computer, we suggest you get in touch with a professional to perform an overclocking task for you. Because it is a bit of a risky process if you are a beginner, you should keep in mind all the downsides of it.
We hope you have found this article helpful for the topic you were searching for. It will now become easier for you to easily overclock your RAM. If you follow the process properly, it will take some minutes to get everything done.
If you found the information helpful, make sure to share your feedback in the comment section. We will love to hear from your side now. Along with that, share this article with others too.
Stay connected with us to read various articles like this one on a regular basis.