Category pages allow you to list all the different products or services you offer so people can see all their options. But it's not enough to create them — you also need to optimize them to improve the shopping experience for your customers and generate more sales for your business.
In this guide, we're going to look at six expert tips that can help you optimize your eCommerce category pages. Read on to learn more.
Ensure You're Targeting the Most Suitable Keywords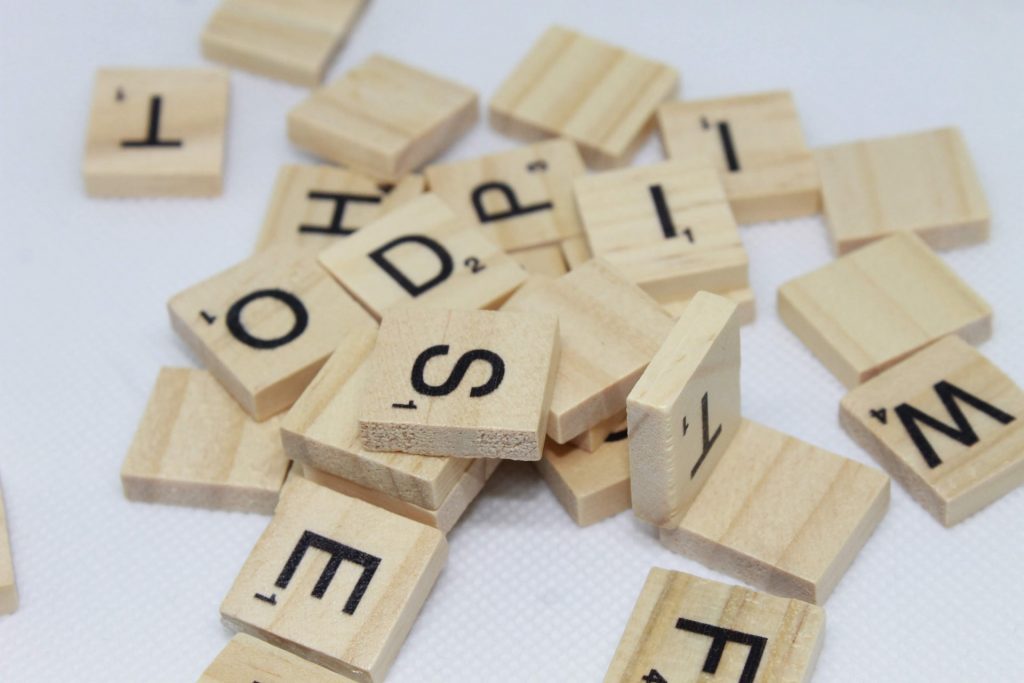 When creating your category page copy, you must target the right keywords, which ensures your eCommerce pages rank for the correct queries on search engines, so you reach the most suitable people. You'll want to target commercial keywords, as these show buyer intent.
To identify the most relevant keywords for your category pages, you can use a specialist tool to conduct keyword research. And, when you've done so, you should lean towards commercial keywords, which are words or phrases that indicate someone is ready to buy a product or service.
On the other hand, informational keywords are used by people who want to get more details on a topic, so it would not be the best idea to use them on your category pages. When you have chosen the keywords you intend to target, you'll need to naturally incorporate them into your copy.
You can include both short-tail and long-tail versions of these keywords into your category page's content and weave them into various parts of your webpage, like the body copy, headline, and URL. The important thing is to make sure you include these keywords that sound natural and not forced, which will help boost your category pages' SEO.
Add Customer Reviews to Prove You Will Deliver
Word-of-mouth recommendations are compelling, and you can replicate them by providing social proof on your website. You can do this with customer reviews and testimonials. For you to effectively incorporate reviews into your category pages, you'll have to make sure they can be seen by anybody who lands on the page.
So, you could display them in a section in the middle of your category page and have the reviews arranged in a sliding carousel so you can include as many as you want without taking up a lot of space. Or you could have the reviews placed on banners by the side of your category page so people can view them as they scroll.
Let's look at some examples of businesses that do an excellent job of using social proof on their eCommerce pages to build trust and make more sales. For instance, Aerial Wakeboarding is an eCommerce site that sells different products for water sport enthusiasts.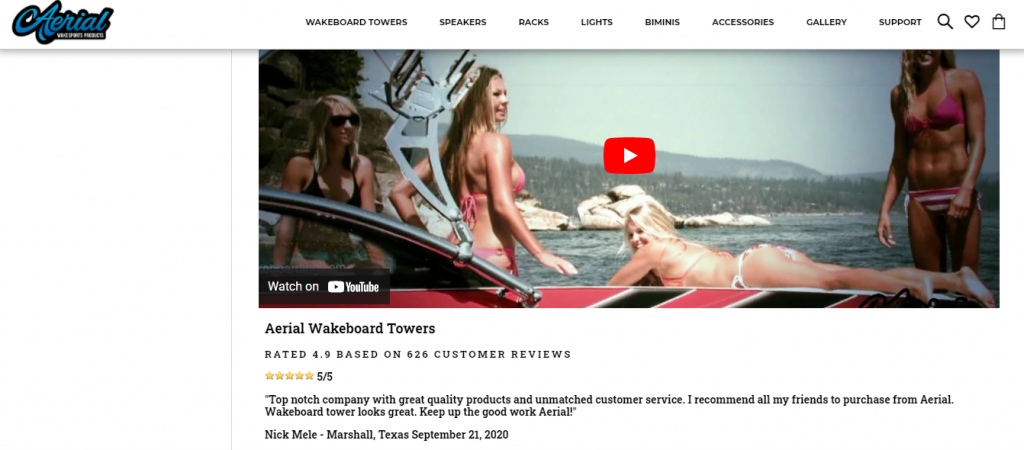 While scrolling through their category page for wakeboard towers, you'll see that they've included a customer's review and star rating right under one of their demonstration videos. The review is short but candid and sincere, especially combined with a 5/5 star rating. It does a fantastic job of optimizing its category page and providing social proof to show prospective buyers that the company delivers excellent experiences for its customers.
On the other hand, Dainty Jewells, a clothing retailer, takes a different approach on their women's swimwear category page. They have decided to add customers' star ratings under all of their products.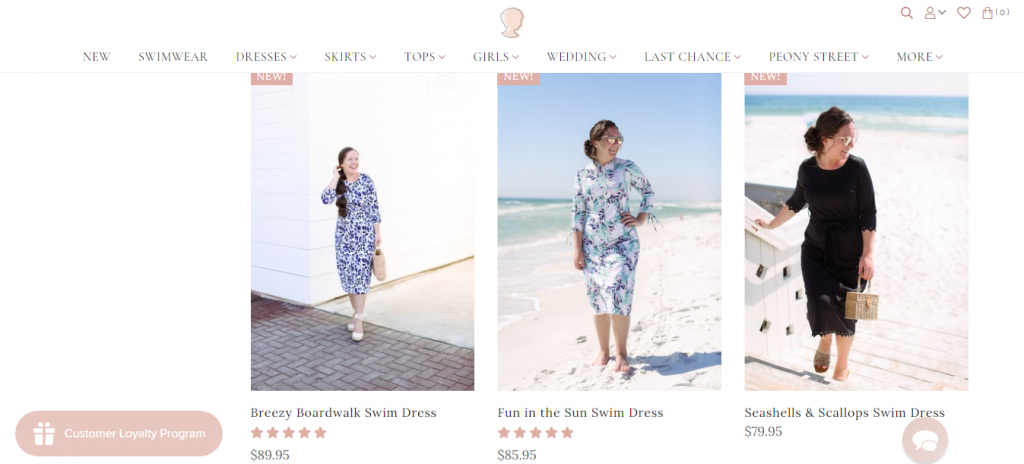 You can learn from their combined approach how to use multiple types of reviews to show future customers how satisfied your present customers are with your service. It makes it incredibly easy for potential customers to compare items while scrolling through their website. It's also a great way of seeing what products other customers liked best without opening each one.
Thus, if you own an eCommerce site, this is a technique you could take into consideration as it works well for providing social proof and acts as a sort of recommendation for buyers who might be having a hard time deciding what to buy.
Make Sure Customers Can Contact You Quickly and Easily
Prospective customers might arrive on your eCommerce category pages and then realize they have questions or concerns that need to be addressed before purchasing. You can help them to get over this problem by making it very easy to contact you.
To do that, you should give multiple communication channels and also allow people to contact you directly from your webpage, either with a contact form or a live messaging service. To provide you with some inspiration, here's an example from a business that makes it very easy for its customers to contact them.
Kasala sells all kinds of furniture for the home and office. And, on their category page for office furniture, they have a contact section that asks, "Have a question?".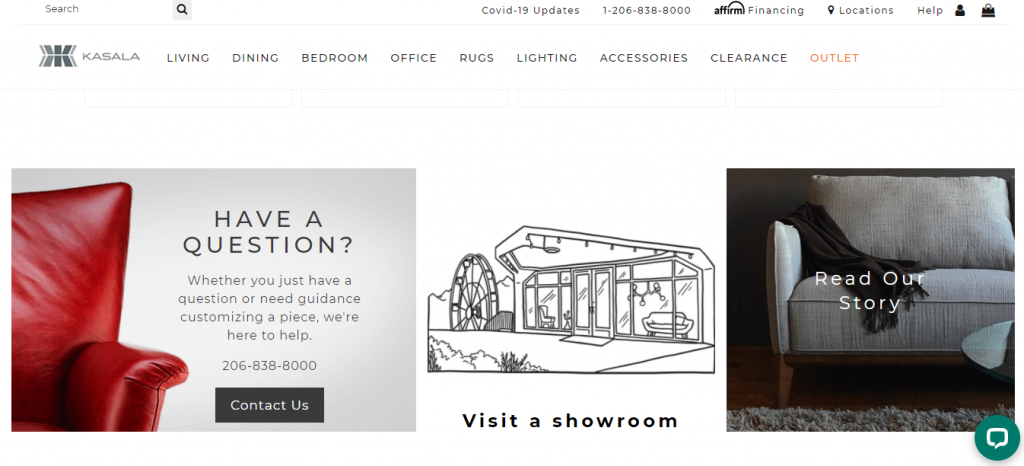 They let website visitors know that they can contact the company for guidance or questions with the displayed phone number. They also have a live chat feature on the page for people to leave a message or question for company representatives who will respond in real-time.
Contact on display makes it easy for people to ask questions while trying to make a purchase. It can help you reduce the number of uncompleted purchases that might've occurred without your company's assistance. To replicate the same for your business, try to ensure that you create different contact options so prospective customers can reach you should they hit a bump while trying to buy from your brand.
Optimize Your Images to Get the Most Out of Them
The images you use on your product category pages can make or break a sale, so you'll want to ensure you get the most out of them. When taking or choosing your images, make sure they have good lighting and show what your products can do. If you are using models, you should try to feature people who look like your target customers.
It's also essential to further optimize your images by including alternative descriptive text, appropriately naming your files with relevant keywords, and compressing the file sizes, so they display quickly. Lastly, you need to make sure your images are responsive to display correctly on any device. To help with that, Pony Foo has a great guide on using mobile-friendly images on your website.
Use Video Content to Explain Your Products Further
Internet users are becoming increasingly interested in video content, and you can use it to show people what to expect from your products. To use video effectively, you could create high-quality product demonstrations to offer the full range of what your product can do or even videos that let customers see how your company works behind the scenes.
Let's take a look at some examples to get some inspiration on how to use video content on your product category pages.
SchoolLockers.com provides lockers for education establishments, and they've made use of a very detailed video to explain further the kinds of products they sell. The video talks about their working process, the type of customers they work with, and even other services they offer.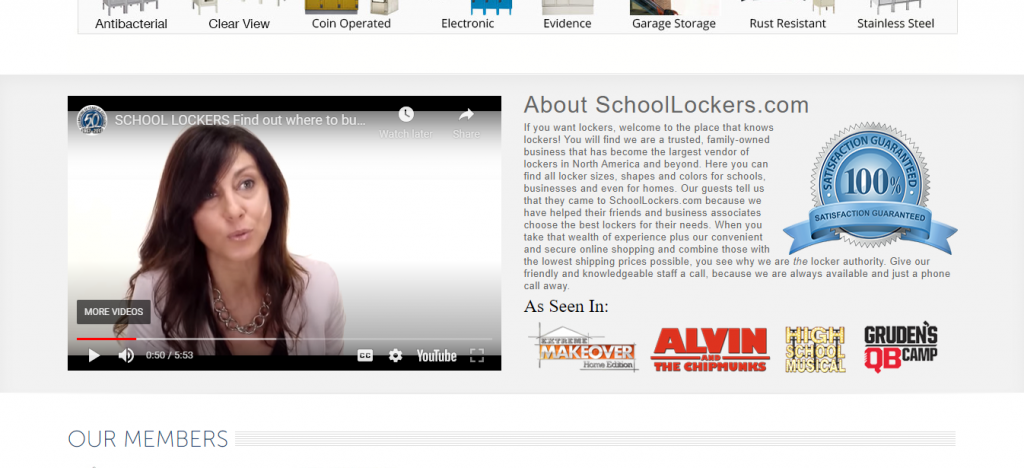 This example depicts how effective videos are in telling a story about your brand and the services you provide to customers. They also included reviews and testimonials from their past customers, and this works very well to show future clients the kind of service they can expect to get when they work with SchoolLockers.com.
The video also showcases all the different types of lockers created for customers in various colors and sizes. You can use this as inspiration to create a similar video that shows your brand's story to potential customers.
Another example comes from Purple, a comfort technology company that sells various products like mattresses, pillows, and other bedding items. Just like the first example, they have a video that tells a great story about their brand.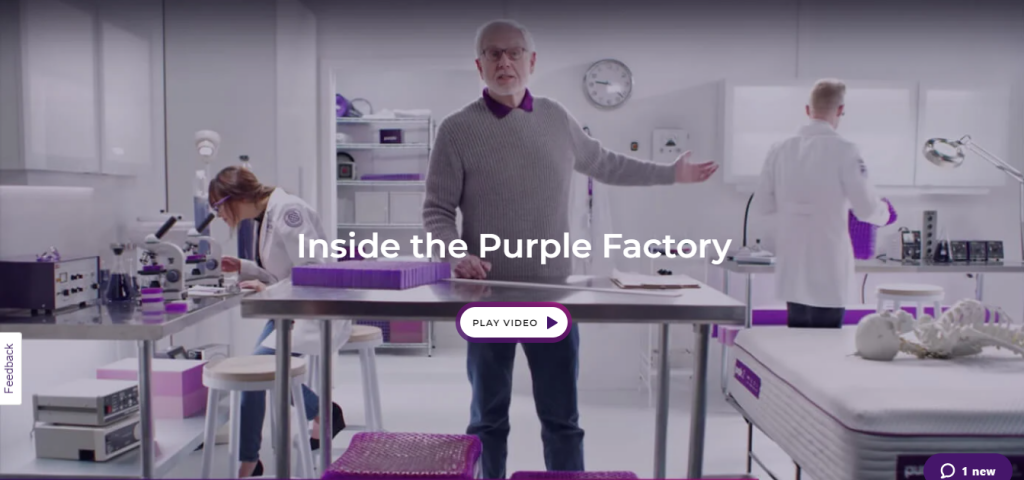 It's a behind-the-scenes video that explains how the company makes its products, and it's a great way to introduce new visitors to the brand. The video is very high-quality and engaging enough to capture and retain people's attention in their target audience.
If you want to take something away from this example, let it be that you can create quality videos in different formats, be it behind-the-scenes, documentaries, or something more casual. What matters is that you explain your brand's purpose and story to customers.
Always Include Internal Links to Related Categories
When writing the copy for your web pages, you should always include relevant internal links to related categories, which is good for SEO and could lead your customers to buy more products. If you want to include internal links effectively, try to do it so that it isn't too obvious or spammy.
For instance, you could use banners to display other related products by the side of the category page or have a section at the end of a category page named "related products" with short recommendations (with links attached) of other products you think customers would like.
To provide you with some inspiration, here's how Gifts.com incorporated internal links into their category pages.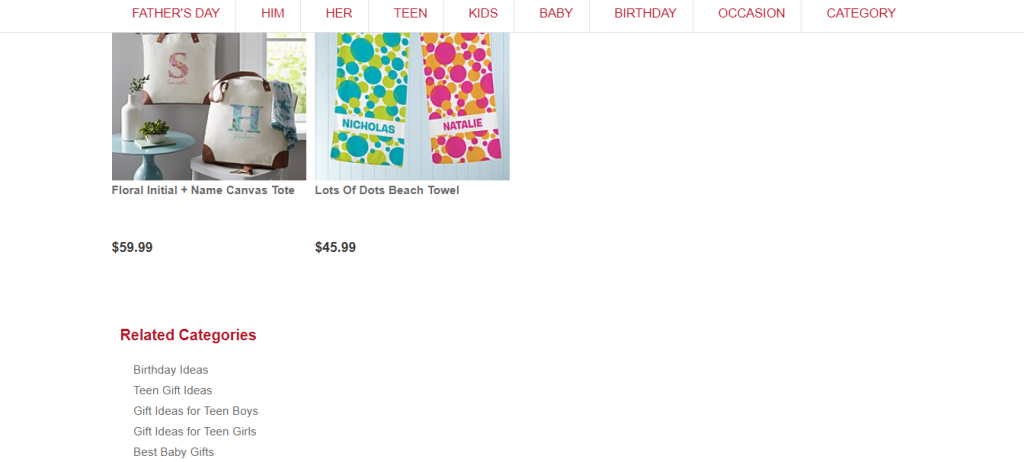 The store sells various gift items for babies, little children, and adults. Their category page for little kids highlights the different kinds of gifts that are perfect for male and female children of ages 3 to 9 years old.
And then, at the end of the page, they have a section titled "related products," where they list other gift items that people might be interested in. They include internal links to other category pages for teens and babies, which can be helpful for shoppers with children of different ages.
You can also do the same for your eCommerce website by creating a section to recommend products in related categories that you think customers would like to see. For instance, if you own a beauty store and have a category on face powders, you could add internal links to a category of concealers since you know those two go together.
Summary
If you own an eCommerce site, you should be using these techniques to optimize your category pages. You can start by adding customer reviews, targeting the right keywords, or using video content to explain your offerings further.
If done correctly, implementing these tips will put you on the right track towards converting even more prospects into customers for your business.
Author bio:
Aaron Haynes is CEO and co-founder of Loganix. The company is an SEO fulfillment partner for digital marketing agencies and professionals, which provides the services businesses need to improve their online visibility and grow. If you liked this article, check out the Loganix blog, where you'll find more SEO guides full of expert advice.