When someone lands on your website, they'll often come across the homepage first. So, to grab people's attention, earn their trust, and make plenty of sales, you need to ensure your homepage provides a positive first impression.
Thus, in this guide, we will look at five expert tips that can help you make the most of your website's homepage so you'll be able to convert visitors into customers, even if it's their first time on your site. Besides, if you want additional traffic to your site from Google, idx for wordpress is the right tool for you.
Make Sure Your Copy Includes the Best Keywords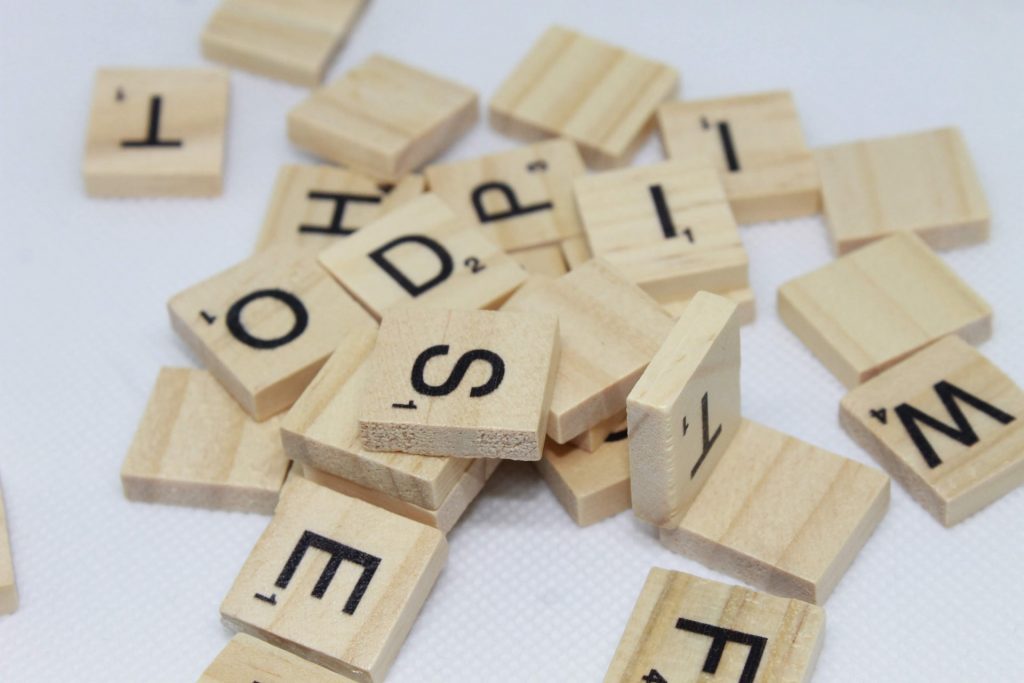 When writing copy for your website, you must target the right keywords to help with your search engine optimization (SEO). And, to find the right keywords, you'll need to conduct some keyword research. You can start by using research tools like the ones from Ahrefs or Ubersuggest and inputting words or phrases relevant to your business or niche.
When you do this, you'll get to see a list of keywords or search queries that have been entered into search engines by people in your target audience. If you don't want to go through this often time-consuming process, you can also outsource the task to a professional SEO keyword research service that will do all the hard work for you. Thrive Ovation, a WordPress plugin, may help you further with marketing activities – gather, sort, and present social proof on your website so that existing visitors can take the next step from a marketing viewpoint. Read this Thrive Ovation review and find out more!
As you include keywords in your homepage copy, make sure you do your best to avoid keyword cannibalization. Keyword cannibalization happens when you use the exact keywords on multiple web pages, and it causes search engines to get confused about which of your web pages to rank higher for specific queries.
To avoid it, you should make sure you're targeting only the most relevant keywords on your homepage and keep a list of all the keywords you include on each website page. Some of the keywords you could target on your homepage include your brand name, company slogan, the industry you work in, or taglines that highlight your company's unique selling point.
If you need more help selecting homepage keywords that won't compete with your other pages, Start it up has a great guide on finding keywords for your homepage.
Ensure It's Easy for People to Move Through Your Sales Funnel
When people land on your homepage, you want to make it as easy as possible for them to take the next step, as this will increase your chances of making a sale. To make it simple for visitors to find more information or move forward in their buying journey, you need to give clear calls-to-action (CTAs) or provide a sophisticated search feature that allows them to find specific information.
You should also ensure that you've made it easy for people to get in touch if they have any questions to ask. Let's study some examples of websites that are doing an excellent job of moving people through their sales funnel with their homepage.
Venngage is an online design tool for making infographics, reports, or other visual presentations. On their homepage, you'll see that they've made things very easy for people who want to take the next step on their site.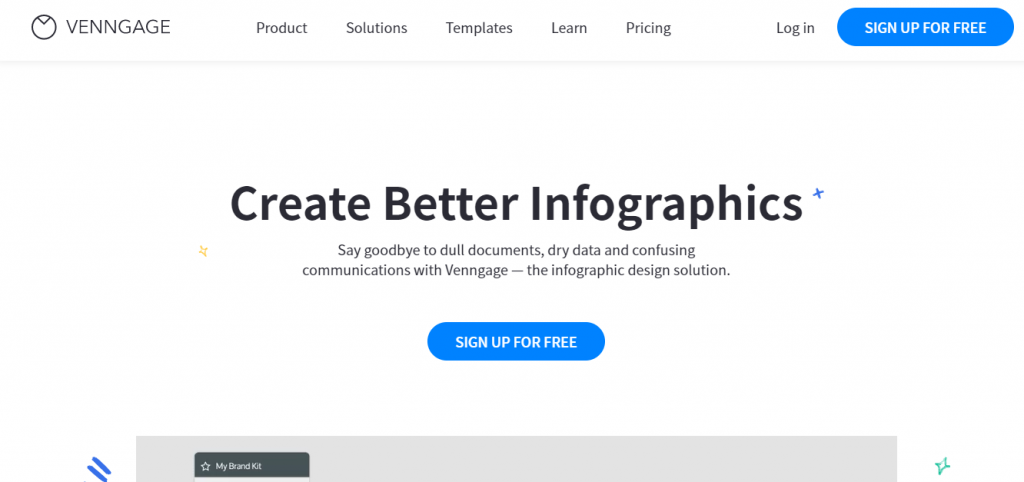 It's as simple as pressing one button to get started, and this specific CTA button tells people to "sign up for free". Once visitors click that, they'll immediately begin a journey that will take them through the brand's sales funnel.
The fact that the company has made things so simple for prospective visitors is one of the reasons why they'll be able to turn more leads to customers in a shorter amount of time. And this is something you can also emulate for your site if you want to reduce the stress that your prospects go through in the buying process.
American International University also does an excellent job of using its homepage to make things easy for prospective students. They do this by providing multiple options, which will cater to everyone who visits the website. These options help prospects to find a program, apply to one, or request more information.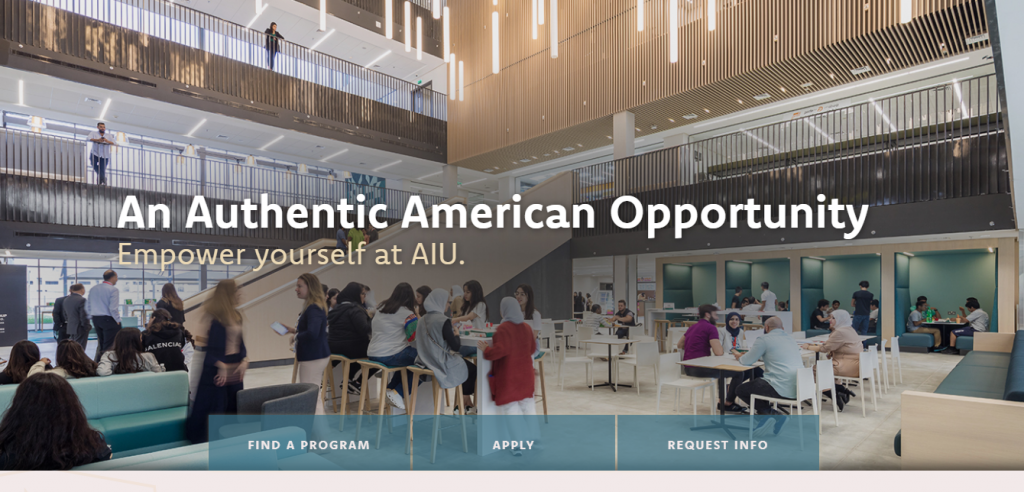 So, whether someone is a first-time visitor, a returning prospect who needs more information, or someone ready to apply for a program, the university has provided multiple options that will help them get what they want.
It's a great technique they've used to grab people who are at different stages of their buying journey. And it's something that you should also do if you want to convert more prospects, regardless of where they are in their customer journey.
Lastly, we have CondoBlackBook, a real estate website for people looking to buy apartments or properties. On their homepage, you'll see they've made things very simple by providing a search tool that visitors can use to find houses in different locations. And, after inputting the area, all they need to do is click on the buy or rent option to browse through available listings.
It's a great example that shows how you can move visitors through your sales funnel using a sophisticated search feature. It simplifies the process of looking for a house and will encourage more prospects to use the company's website when they need to buy or rent a property. You can also think of implementing this for your site if you have a similar business or one that would benefit from using this tactic.
Shine a Light on What Separates You From the Competition
You want website visitors to shop with you rather than your competitors. So, on your homepage, you should highlight what helps you stand out from the crowd. You could do this by showcasing your unique selling point or by highlighting a specific promotion that you're running at the time.
You can also try to showcase the kinds of results you've gotten for past customers, so your prospects will see what you're capable of doing. Another thing you could do is try to highlight the benefits that people will get when they do business with you. Highlighting so will help you tell prospects exactly how you can solve their pain points and allows you to stand out from your competitors who might list their product features and specifications on their homepages.
Now let's take a look at a business that uses its website's homepage to separate itself from other competitors in the industry.
Drift is a conversational AI platform that helps businesses to engage in personalized conversations with their customers. If you look at their homepage, you'll see that they've done a lot to make their brand stand out from the competition. They've outlined the benefits of their platform and even created a section to highlight the results they've been able to get for previous customers.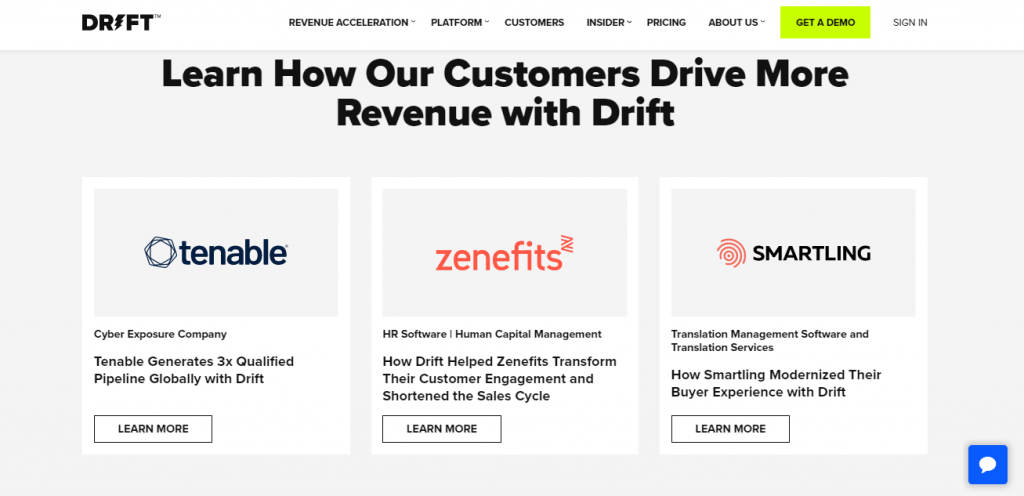 Doing this helps set their brand apart and shows future customers that the company can provide excellent results for them. If you also want to show potential clients that you are better than your competition, try to include proof on your homepage that delivers the kind of results you've been able to get for previous customers.
Provide Evidence That Shows You're Great at What You Do
Website visitors will only want to spend money with you if they're confident that you're great at what you do. So, you need to make this clear on your homepage since most people will land there first. You could display customer reviews or testimonials on your homepage to show that you're great at what you do.
Also, you can create a section to show your qualifications, awards, or even media mentions from reputable sources. To give you some inspiration, let's take a look at a company that's done a fantastic job of using its homepage to show it's excellent at what it does.
Adam S. Kutner Accident & Injury Attorneys is a company that does an excellent job of showing evidence that they are great at what they do. And they do this by showcasing the different awards and recognition they've received from prominent organizations on their homepage.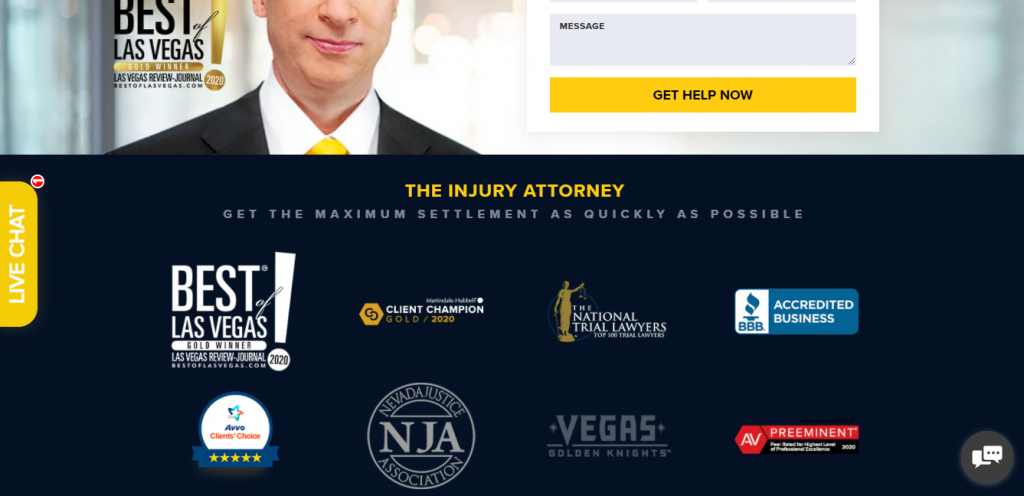 They mention Nevada Justice Association, Business Accredited, and other reputable associations, which helps show potential clients that the company is an expert in their industry and recognized by other credible organizations. If you also have awards or badges from credible sites and associations, it would be very beneficial to display them on your homepage.
Use Images That Humanize Your Business
One thing that can help you with this is your imagery. You want to use photos that humanize your business and help prospects feel closer to your brand. If people can put faces to your business, they'll feel far more connected to your brand. You could use images of people who look like your target audience on your homepage or show how friendly and relatable your staff members are.
Also, you can make behind-the-scenes videos of your team to give your audience an insight into what goes on at your company. To give you some inspiration, let's look at the homepage of a website that uses images to humanize its business.
Warby Parker is an online store that sells eyewear such as eyeglasses or contacts. On their homepage, you're immediately met with an image of two people wearing some of the eyeglasses that the store sells.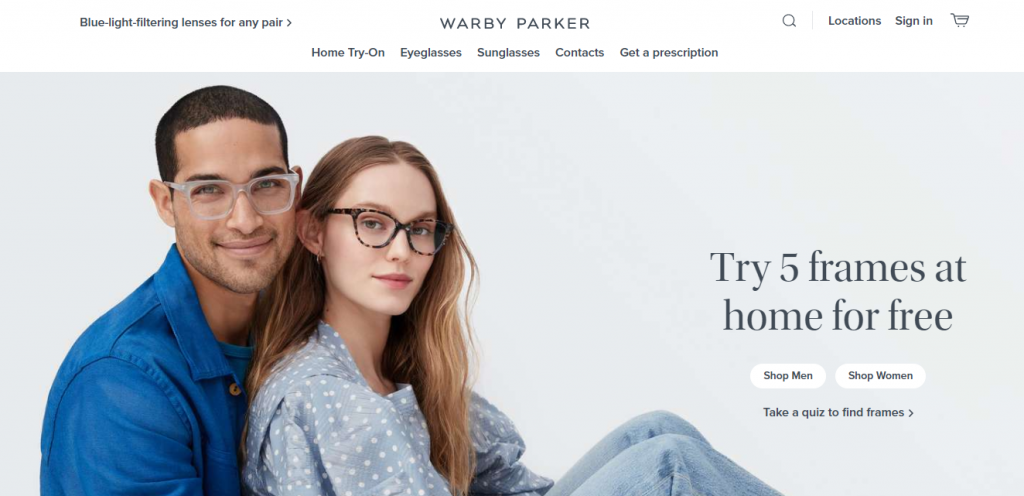 Using this image is a great way to humanize its brand and get prospective customers to see people who look just like them on the homepage, which can encourage more sales and help people to feel a connection with the brand. If you also have a product-based business, try to use models that look like your ideal customers to increase the chances of prospects relating to your brand and forming a connection.
Summary
Your homepage is one of the most critical pages on your website, and you need to optimize it if you want to get more leads and sales for your business.
To get started, try to ensure that your copy includes the best keywords, make it easy for people to move through your sales funnel, and start displaying evidence that shows you're great at what you do. When you start implementing all these tips, you'll be on your way to optimizing your homepage for even more conversions.
Author bio:
Aaron Haynes is the CEO of Loganix, an SEO fulfillment partner that supports marketing agencies and professionals. The company specializes in helping businesses to improve their online visibility and ultimately make more sales. The Loganix blog has a lot more information and advice, so make sure you check it out if you found this article helpful.