Checking your computer's hardware details is pretty easy. There are numerous things we connect to our computer systems. A monitor is one of the main output devices. In fact, it is the main output device used to see the outputs in visual form. The laptops have inbuild monitors or we can say screens. But, when it comes to the desktops, we have to connect external monitors. Regardless of the company or make of the monitor, we can easily check the monitor details in Windows using simple methods.
In simple words, Windows allows its users to easily check not only for the monitor but all other hardware details without any issue. So, in this article, we are going to help you know how to see what monitor I have or all computer specs.
The brand is obviously written on the main panel of your monitor but you might not aware of its model if you have purchased it from any other person. On its back of on the box, you can easily find details about its model and technical specifications.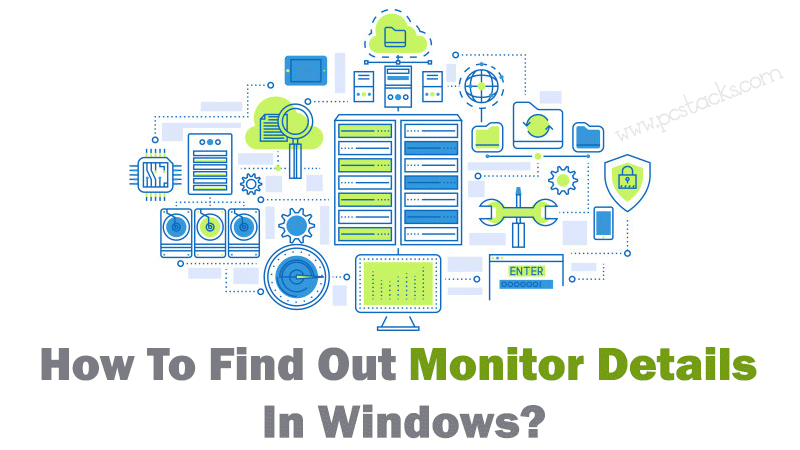 It is OK to know that we can find the basic details of our monitors from its box or on its back. But, when it comes to checking its specification like display size, pixel density, type (LCD/LED), monitor sharpness, you will have to see them on the computer itself.
So, in this article, you will know the exact process of checking your computer specification without any hassle. The process will be pretty simple and everyone can do them. So, without any more discussions, let's see how to do it easily.
Why you may need to know about monitor details [Inbuilt Specifications]? 
There are numerous situations where you have to find out your monitor's details. It might become important before building a PC or you might be looking for it for any general task. Sometimes, if you are into graphic designing, video editing, or any other visual creation field, you may need to know what kind of outputs your monitor can generate.
Most of the time, Windows users want to know their monitor specifications while gaming. It means, in order to get a specific color or graphical output from your monitor, it should have some minimum system configurations too.
The monitor specifications could be important when you want to sell your computer and it is impossible for you to find its details. So, whatever the reason is, if you want to know how to check monitor specs, this article is going to help you with the same.
Steps to Find Monitor Brand, Model, and Other Computer Specs
As we discussed earlier, finding your Monitor and other details on your Windows computer is pretty easy and simple. However, it will be important to know the process for every one of use. So, let's know what you have to do in order to find out your monitor specs and other details.
There are various ways to do it but we are going to use the basic and simplest method i.e. by going to the Display Settings of windows.
Let's get started now.
Right-click on Desktop and click on Display Settings Option
Now, Click on Advanced Display Settings (On laptops and some computers, you will see all the details on this screen itself)
Click on Display Adapter option given on that page
On the next screen click on Monitor and then

Properties options

Click on the

Driver section

to see the monitor manufacturer and model name.
This process is pretty useful either you want to do any sort of troubleshooting or take a reference. You can now write down the information or use it for any purpose you want. Perhaps this is the best way to find out display details in PC.
What are other methods to check PC Specs?
We have discussed it above too. You can either check your monitor's specifications on its back or bottom. Also, if you have its box or user manual, you will be able to find all of its details there.
But, if you do not have an access to any of these things, you always have another option to use third-party software for the same. You can make use of numerous software and some of those are as follows.
With that said, we hope we have covered all the methods and have answered your question on how to find my monitor specs. Using these methods is pretty simple and easy.
However, we suggest you use the manual methods first of all. If you do not find it helpful or if you want to get additional details of storage, RAM, and other things, you can go for these software too.
Is it important to check your monitor specs?
It depends on the situation and the type of needs. For example, if you are selling your monitor to any other person and you want to know the computer specs, it would be extremely important to add the monitor details.
And most of us are never aware of the monitor model and its specifications like refresh rate, pixel density, and even the size of the screen.
So, when it comes to checking your monitor's specifications, you must rely on the genuine and reliable methods. It means you should try to check your monitor specifications by using the system itself.
Because there could be numerous monitors from one brand with a similar appearance, you should try to find out the exact name of model and all its specs along.
What if you have a laptop instead of a desktop?
We all know that laptops have inbuild screens or we can say, monitors. But, they are also having some kind of configurations inside. So, checking your laptop screen specs could become important whenever you want to sell your laptop or want to repair it.
Again, checking the screen or monitor details on your laptop will be similar to the process we have done above.
But, when it comes to the configurations you would normally see a Generic PNP monitor in most of the laptops with some specifications given along with the name of its driver. It doesn't mean that every laptop screen is the same.
In fact, will see some specifications like size, refresh rate, and maximum resolutions whenever you go to the Advanced Display Settings of your device.
So, even if you have a laptop, you can check its screen's specs in an effective and easy manner. Also, using the software which we have discussed above could be another great thing to do.
Why everyone should know their monitor specs?
Wrong thing could happen at any time. It means, what if your computer screen or monitor get damaged one day and you do not know what is the model number. It could become tough even for the experts to repair it without having its details.
So, even if you think having your monitor specs along with you is a complete waste of time, you should give your time to do it.
Having the monitor specs with you can benefit you in various other ways. Like if you want to buy a new monitor for you, the comparisons become pretty simple for you. Also, being a primary part of your computer's hardware, you should have proper knowledge about your monitor.
If you are a tech enthusiast, doing it will be highly helpful for you. With that said, we would like to tell you that you have now got the whole information you should have related to monitor's configuration checking.
---
Final Verdict
Checking your monitor details is pretty easy as you have discovered already in this article. But, most people find it hard because they do not do it more often. So, this article was all about helping those people.
For the next time, if you have to check your monitor specs, you will have to follow this process thoroughly. No need to get in touch with the manufacturer or computer experts. But, we suggest you to only check the details and do not do anything with the settings or drivers because it might end up causing problems to your system.
All those functions might look tempting but make sure to just get your details and close the Windows after that. Once you did that, you are good to go.
We have researched a lot to make this article as helpful as possible for you. So, we hope you have liked it. If so, make sure to share it with others too. Also, we suggest you share your valuable feedbacks in the comment section.
We would love to hear from your side now and revert you as soon as possible. You can also provide us new topics and suggestions related to the existing ones. Make sure to stay connected with us because we keep publishing helpful articles for our users.