Monitor Sharpness is one of the significant elements when it comes to having an excellent visual experience on PC screens. A monitor, Television, Laptop, or even our mobile devices will be able to provide a great user experience in terms of visuals when they have appropriate levels of Screen sharpness. In other words, Sharpness is a crucial element of your screen to have the most effective results.
There are various other things concerned when it comes to screens such as brightness, contrast, etc. However, in today's modern world, we are here with highly impactful devices and screen types with immersive visuals and hence high levels of Sharpness.
So, whether you want to know how to adjust Sharpness on my monitor or anything else, we are going to cover everything in this article. We are going to discuss the latest technologies, such as UHD and HDR monitors.
The inappropriate levels of Sharpness can lead to an unsatisfactory experience regardless of the things you are going to watch. Having a monitor with the right level of Sharpness is crucial regardless of whether it is normal computer usage, video editing, or watching any video content.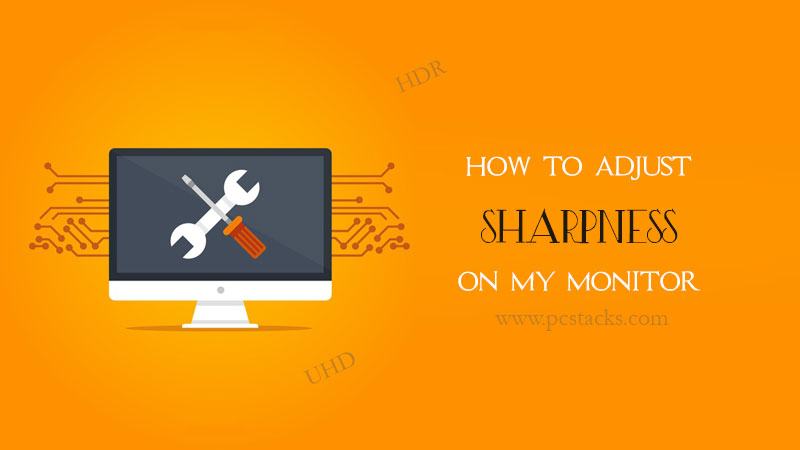 Also, you should make sure to use suitable settings that can help you to get the benefits you want.
So, without further discussions, let's reveal some other important points about the monitor sharpness and its related things. This article will surely help you to get the answers to your questions if you have anything in mind.
How do I adjust the Sharpness on my monitor?
There is no single answer to this question because each monitor manufacturer offers different user-interface to make the necessary adjustments for not only Sharpness but brightness and other elements too. However, the most appropriate way to find the user manual of your monitor and see how you can change those settings.
You can search for the user-manuals on the manufacturer websites too. But, to help you with this, we are giving you a basic overview of how you can adjust the monitor sharpness.
Locate the "Menu" button on your monitor. (It could be located at any side of your monitor along with other controls)
Click on the Menu button and then locate the Sharpness section using its up or down button
Now, you can increase or decrease the Sharpness using the "+" or "-" button.
Not every monitor will have these buttons available. Also, some others will have a separate button to adjust the Sharpness. So, make sure to find these settings and then try to change the sharpness levels.
What is the best setting for Sharpness?
Appropriate sharpness levels are always better. In other words, you should keep your brightness level at the center. However, things will depend on your requirements too.
For example, if you are playing games, you may require a much sharper video quality. However, for regular business uses, the things may work well with the lower values.
The sharpness levels also impact your eyesight and the overall stress on our retina while we are watching anything. When combined with high brightness, and increased Sharpness can make things tough to observe and look bad in quality.
Is high sharpness level good?
As we discussed earlier, the levels of Sharpness will depend on the thing you are watching on the screen. But, each monitor manufacturer has separate settings to adjust these levels.
So, you should keep in mind some things before increasing the Sharpness. Instead of putting them high, keeping them in mid or low settings is always a better option unless you want it for any suitable purpose.
For normal viewing experiences like browsing the internet, you should always take care to make the sharpness levels appropriate for you. So, if you are eagerly looking to know what is the best setting for Sharpness, these points would have helped you to know that.
What is better, UHD, or HDR?
With the growth of technology, our viewing experiences are also improving day by day. UHD and HDR screens are the best examples of this. So, if you are looking for a much more immersive experience in your monitors or TV screens, you can surely go for both HDR or UHD.
In fact, both of these types of screens are made for improvising the way we watch the visual elements in electronic screens.
But, when it comes to making a selection, you should know about both of these technologies. Let's know more about what is better, UHD, or HDR?
What is UHD?
In simple words, UHD is a Television technology where the number of pixels inside the smallest space is extremely reduced. Known as Ultra High Definition, these screens are much more capable when it comes to producing highly effective visual outputs.
You will surely be able to have a great watching experience if you have a UHD screen. These screens are widely utilized for Television purposes.
However, UHD is an effective thing when you want to convert your computers into full-fledged HD machines. It will make your photo editing, or movie watching experience much more mesmerizing for sure.
What is HDR?
HDR is also known for its immersive visual quality. However, both of them are not the same things. HDR is known as High Dynamic Range that highlights a new and unique standard of Ultra HD visual technology.
In simple words, with the HDR, we increase and improve the capabilities of our TV systems by optimizing our existing pixels to produce great outputs.
It comes handy when we want to see excellent color and great graphics. Not only for the Television but we will be able to have a much more soothing experience when we install these monitors with our computer systems.
How do I optimize my monitor for gaming?
Again, just like the Sharpness, you will have to understand your requirements first of all. Also, as per the type of game you want to play on your monitor, you will have to use different settings for a good experience.
But, there are some universal settings that you can also try with your monitor and see if they can work for you. You will surely be able to have a great gaming experience because these settings are fully tried and tested.
So, in order to optimize your monitor for gaming, try the settings given below.
Best monitor settings for gaming
In the gaming field, the effectiveness of visuals is recognized more than anything. As compared to the audio, people focus more on having a good visual experience in their gaming computers.
The professionals also purchase branded monitors to get the most out of their time and gaming computer. However, if you want, there are some monitor settings you can try on any computer.
These settings are preferred by lots of professionals, especially for the games. So, try them for sure.
Maximum Brightness: Approx. 416 cd/m2
Contrast: Approx. 1223:1
Brightness: Approx. 19 to 25
Contrast: 996:1
You can try these settings on your computer while you want to play your desired game in it. However, these settings will never work for every gamer.
So, take your time and go for the most suitable one for you. Also, you can use some screen calibration tools such as ColorMunki Smile or Datacolor Spyder5Elite.
Why is a 4K Picture so much darker than 1080p?
A 4K picture is considered as highly precise, colorful, and sharp as compared to the 1080p picture. However, you will surely see some darkness if you are habitual of the ordinary screens.
You will see lots of different opinions on why a 4K picture is dark as compared to a 1080p picture, but the main reason is that the 4K screen has a true black level, which means it will not be easy to identify the color difference between the visuals.
Also, due to this reason, the gradient between the two different colors is not easy to notice. So, for human eyes, this thing makes the screen look darker or even dull at times.
It is basically an advantage by which the 4K screens keep the fidelity of visuals. However, various TV and monitor brands are allowing users to change the brightness and other things as per their needs.
So, if you are also facing this dark screen issue, try changing the settings, and you will be able to get great results regarding this.
Is high sharpness level good for gaming?
For gaming purposes, users like to keep their sharpness levels up. Because of this, you are observing everything becomes easy. But, if you have a monitor with a lower pixel density, the increased Sharpness may not be able to help you.
In fact, with a low pixel monitor, you will get damaged pictures with high sharpness levels. So, you will have to experiment with which setting will work great for you. You can get suggestions in online forums where gamers from all over the world get together.
Sharpness has a big hand in improving or spoiling the overall gaming experience. In other words, there is no special term known as the best sharpness level for gaming.
The perfect levels are considered as suitable levels for everyone. So, it is crucial to change the Sharpness, but make sure to keep it moderate for yourself. This will surely help you to enhance your gaming experience too.
Read More:
---
Final Verdict
Before concerning the best sharpness levels for anything, consider purchasing a good monitor with great configurations. This will allow you to have a great visual experience regardless of the thing you want to use it.
Also, make sure to use proper settings as per your needs. It is not crucial to use any predefined level of any of the visual elements. Instead of that, try to use the settings that are best for you.
We hope you will find this article to help you with you in this regard. Make sure to share your valuable feedback in the comment section. Also, do not forget to share this article with others too.
You can share it with your friends and family members. We keep publishing regular articles on various other technology-related topics.
So, stay connected with us and get facilitated. We will surely provide you with valuable information.