Are you facing issues when you use your mouse to scroll anything on your screen horizontally or vertically? Well, this is a common problem various Windows or any other computer users can face. So, if you want to know how to fix mouse scroll wheel jumping when wireless connection made, this article is going to help you with the same.
In fact, we have created a big list of solutions you can definitely try and get your problem fixed pretty easily. So, let's discuss this and all other related details here in this article.
This problem will appear only when you move your center wheel up or down to scroll through your screen. At some points, you will see huge portions of your screen going upward or downwards. This is going to frustrate you a lot.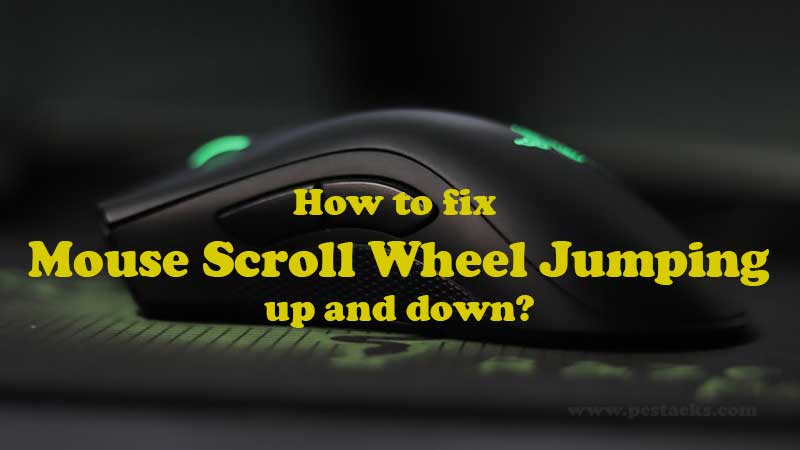 We use a mouse for our convenience but when they start to make things even worse for us, we can have serious problems in our systems. So, if you are facing this kind of issue, you might be thinking about changing your mouse.
But, do not do this just now. We think you should try the things which we are going to discuss here first. These are fully tried and tested techniques that will surely help you get this issue fixed without any issue.
However, if your mouse has got some serious issues that are related to its hardware, it could be difficult or impossible to fix. But, you should definitely try these fixed because some times, this issue is related to the drivers or your system itself.
In simple words, you should definitely try to do these things and see if they can fix this problem. If these solutions are not working for you, then you should think of replacing your mouse.
Now, let's dive deeper into this issue and see why it might be happening on your PC.
Why the Mouse Scroll jumping issue appear on PC?
The first and most prominent reason is when your mouse has some dust or other unwanted element stuck between the wheel. The second reason could be when the sensor is not able to detect the input.
Another reason could be the connection issues and also the driver's problems. Depending on the type of problem, certain fixing parameters will be required. But, unfortunately, it is not easy to point out the problem causing this issue on your PC.
Is Your Wireless Mouse Scroll Wheel Jumping? Here's How To Fix
It is pretty easy and good to directly apply these methods and then see which one works for you. Now, without any further discussions, let's reveal all those methods below one by one.
Clean your Mouse
This is perhaps the most common thing to do. You might have done it before. But, we would suggest doing it again in a proper way. If you have proper tools with you, try opening your mouse and then clean its wheel part in a proper manner. Or you can try to blow air into the gaps around the wheel.
Blowing air is an effective method because the dust particles keep building around and inside your mouse over time. So, when they are not cleaned properly from time to time, they can cause this and various other problems on the devices.
So, the first step is to properly clean your mouse and make sure to take out all the unwanted things away from your mouse. After doing the same, make sure to check if your mouse and all its features are working fine. If not, just go to the next procedure.
Change the Mouse battery and the USB Port
If you have a wireless mouse that runs using batteries, try to change them as soon as you see this issue. The problem could be caused if your mouse isn't having enough power to work properly.
If your mouse wheel is not able to send the required information to your computer, you will definitely see this issue on your PC. So, the first step here is to change your mouse batteries and ensure you have a new and charged set of batteries inside it.
The next thing to do is to try connecting your mouse to any other USB port on your PC. This is going to help you with certain issues if they are caused by any wrong connecting between your mouse and computer.
Doing this will be pretty easy for sure. Even if you are using a wireless mouse, make sure to follow this step. Any issue with your USB port can cause this issue most of the time. If you are not able to get the desired outputs from your second USB port too, just proceed to the next step.
Change Mouse Settings
If you are using Windows 10, you will have numerous options to change your mouse's functionalities. You can do the same using your macOS PC too.
In this step, we will try changing some mouse settings which are specifically related to your mouse wheel. These settings are definitely going to help you with this problem if you have some issues with your settings.
If you have recently changed your mouse settings, this could be the reason why you are facing this problem. So, without any delay, let's see how to change those settings and how.
Press the Windows key on your keyboard.
Search for Control Panel and then click on the app.
Find the Mouse option inside your Control Panel menu.
Inside the Mouse Properties option, go to the Wheel tab.
After that, set the wheel speed to something normal between 5 to 10.
Along with that, make sure to disable the option Hide pointer while typing.
Apply the settings and click OK.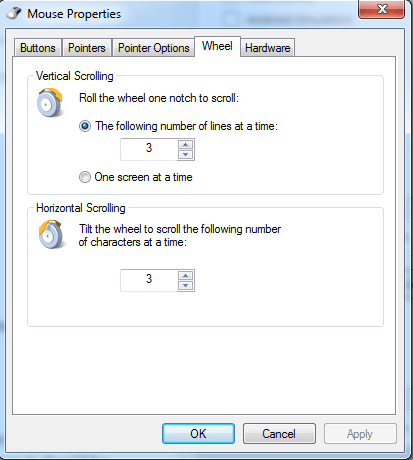 Now, you should be able to use your mouse properly for your desired purposes. If now, just proceed to the next step given below.
Update Mouse Drivers
As we have discussed earlier, outdated or corrupted mouse drivers can also cause this issue on your computer. If any of your mouse's driver is missing or not working fine, your mouse is not going to work in the way it should be.
So, one of the major things to do when you want to fix mouse scroll wheel jumps is to update your drivers. Now, you got various options to do this thing.
But, we will advise you to pick the manual update method where you will have complete freedom to this thing in an official way. Else, you can try a third-party software which will help you to do this same thing very easily without any issue.
But, the manual method is also easy to follow. Let's see how you can do it too.
Press the Windows+R button together to enter the Run Menu.
Now, type-in devmgmt.msc and hit Enter.
Inside the Device Manager menu, find the option Mice and other pointing devices.
Double click this option and right-click on the HID-Compliance Mouse or PS/2 compatible Mouse
Click Update Driver and proceed for the updating process.
Make sure to choose the online update method if you do not have the downloaded copy of the driver inside your computer.
Give your computer some time to do this process and then exit.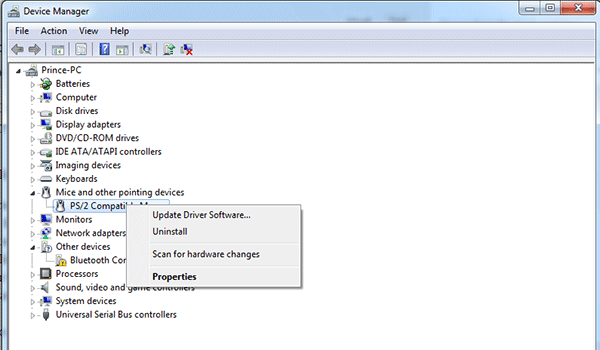 After doing this process, make sure to restart your computer to let it save the settings. Once everything is done, try using your mouse and see if the issue if fixed. If it isn't, just proceed to the next step further.
Turn Off Touchpad
If you have a laptop and facing this problem in it, the touch-pad could be another reason why you are facing this issue on your computer. When you have both the pointing devices running at the same time, some interference could be there.
Also, if your touch plus pad is set to a high sensitivity for scrolling, you could see not only this but various other issues too. To check this thing, it is always better to try disabling your touch + pad for some time.
You can turn it ON back again but it is important to try this thing once for sure. The process is given below. So, let's see how you can do it with a couple of clicks.
Press Windows+I key together on your keyboard
Now, click the Devices option
Click the Touchpad tab and then Additional Options
After that, click Disable and proceed further.
After doing the same, make sure to restart your computer once. See if your mouse wheel is working fine now. If it is still now working, go to the next step.
Update your OS
Even if you are using Windows or macOS, updating your operating system could be another great fix for this problem. Because a new OS update will come along with various bug fixes and patch updates.
So, if this problem is caused by an outdated OS problem, you can get it fixed through an update too. This is an impressive way to fix mouse scroll wheel jumps issues on your PC.
We hope you know how you can update your OS. For more, you can search the internet.
What if the problem is not fixed till now?
If you are still having this issue on your computer even after following all the steps, we suggest changing your mouse right away. With a new mouse, you will definitely get the best performance and hence this issue will not be there anymore.
Alternatively, you can find the nearest electronics or computer repair station and get your mouse checked and fixed by an expert. They will be able to see it more deeply and then fix it properly.
Otherwise, if they are not able to do so, you can easily buy a new one online or offline. Let's see some of the best mouse which you can buy online.
Best Wireless Mouse Without Interruption of Scroll Wheel
1. Logitech M337 Wireless Mouse
This mouse is highly durable so that you can use it for any purpose pretty easily. The mouse comes with wireless Bluetooth technology to make the connection process easy and effective for you.
It has a huge battery of 10-months. The mouse is suitable to be used on Windows, macOS, or any other operating system. Available in various color options, you can pick the right one for you.
But, the quality is amazing and that is the reason why we have listed it here.
 2. HP X1000 Wired Mouse
This is another highly impressive mouse you can use for your office or other computers. This is a wired mouse but having a pretty tough build quality. Also, being a product from a big computer brand, this mouse will definitely serve you with impressive offerings.
The mouse works on an optical sensor but has great preciseness. Check more details on Amazon and buy it right now. The mouse is available at a cheap price so you should consider buying it if you have limited budgets.
It is going to offer you all the desired features. Also, it is available in black and glossy colors which you will definitely love on your computer table.

3. HP 200 Wireless Mouse
HP 200 wireless is a pretty impressive and attractive mouse with great durability along. The mouse is having all the impressive features you will need inside your mouse. You can use it with five different settings i.e. text, gaming, internet, sport, and movies.
This mouse is easy to use and handle. You will definitely have a good drip because of its dimpled design at the side. You can easily adjust its settings using your computer and driver options.
Check it out on Amazon or buy it now.

4.   Dell MS116
This mouse is another good pick if you are in the search for a durable and best quality product. This mouse is pretty sleek and beautiful in looks. Also, Dell has taken full care of making this mouse suitable for all the purposes.
The mouse is good to use for gaming, surfing, editing, text, or any other purposes. The mouse has 1000 dpi resolution and it works on optical technology. It is a wired mouse with a total cable length of 1.8 meters.
The mouse is very comfortable to use even if you are using it for long periods. Check it out on Amazon or buy it now if you want.

---
Final Verdict
We hope you have found this article helpful to know how to fix the mouse scroll wheel jumps issue on any computer. But, we suggest you following some technical methods only if you are doing them on your own responsibility.
You can end up making some mistakes where you can cause some serious hassles for your computer. If you don't know how to do anything, it's better to leave it an then follow the next step in the list.
We also hope you have found this article helpful for the purpose we have written it. If so, make sure to give us feedback in the comment section. We also welcome you to give us any suggestions if you want.
We will definitely help you with anything we could. If you have liked this article, consider sharing it with others too. We keep publishing regular articles here on technology. So, stay updated with us.