Technology has made various things pretty easy for us. When it comes to convenience, we have everything which is required to spend our lives comfortably. Our computers are one of the best things in this domain. Especially when it comes to Windows computers, we can use them in various ways. Various people use their personal PC to cast their computer screens on bigger displays. This is all we are going to discuss here in this article. We will know how to setup miracast which is an inbuilt feature inside Windows computers for casting purposes.
Because Miracast comes along with your OS pre-installed, we can expect a good performance from it. In fact, it is a good way to easily project your computer's small screen on a bigger one.
This feature is mostly used to project screens on TV Screens, projectors, etc. Either in companies or for personal usage, Wireless Display is one of the most impressive features that come along with Windows computers.
Most of the Windows users are aware of how and why they should use Miracast. But, if you are one of those who do not know how to set up and use miracast in Windows 10, this article would definitely help you with everything. We are going to know how you set up your Wireless Display and get everything done in an effective manner.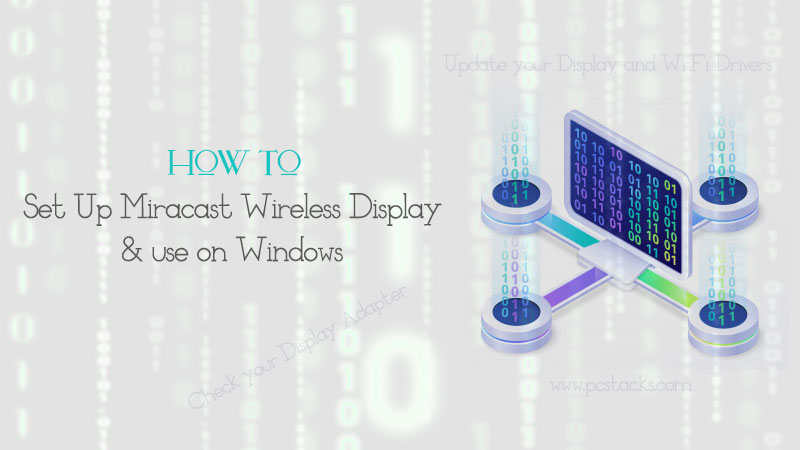 Whether you want to play your favorite game on a big screen or play a movie from your computer on a bigger screen, Miracast can help you with everything in an effective manner. There are various other applications on this amazing tool.
So, without any further discussion, let's start discussing important things about Miracast and its setup on Windows 10 PC.
What are the benefits of Miracast?
Miracast works as a wireless HDMI cable transfer. It means you can connect your computer screen to any screen or device having Wi-Fi support. You can do it in vice-versa and lots of people prefer to share their mobile screen's content on their PC in which Miracast is an expert. When you have an ability to convey your message or get access to a bigger screen, why don't you use Wireless Display for the same.
Miracast can share any sort of visuals on a bigger screen no matter what sort of format you want to convey as a message. You do not have to connect a USB, HDMI, or any other sort of wired connection to share your screen with other devices.
Miracast is now available in various other devices such as home theatres, TVs, etc. But, if your device does not has this feature, there is an alternative for that too. So, without further discussion, let's start revealing the key contents of this article.
How to know whether your computer has Miracast support?
It is pretty easy to check whether your computer is equipped with Miracast or not. You might not find any specific software named as Miracast on your computer, but the settings and interface could easily be found using a very simple process.
If you want to know if your computer has Miracast, you can follow this procedure we are going to discuss below.
Press the Windows+R button together to enter the Run menu.
Enter 'dxdiag' and click on Ok
In the System tab, click on Save All Information option
Now, open the downloaded text file and find the Miracast option.
If it is Available that means this feature is available on your computer.
Now, when you know your computer has Miracast support, it is the time to set up the whole system and see how you can cast your computer or laptop screen on a bigger one.
How to setup Miracast and use it on Windows 10?
In order to establish a Miracast connection, it is crucial to enable this feature on both devices. First of all, it should be turned-on on your device or screen and then on your computer itself.
The process is pretty simple to follow but you would not be able to get the desired output if you have skipped any of the steps we are going to discuss below.
So, follow this procedure thoroughly and you will be able to get suitable results in a couple of minutes.
Miracast has a great transmission speed over other devices or inbuilt features of the latest devices. But, if you do not have Miracast in any of your devices, it is important to have an external wireless adapter.
This is something that you would have to buy from any online or offline store. However, if you do not have this feature in your computer, you might have to set up this device on both ends.
So, without further discussions, let's discuss how to set up Miracast on Windows 10.
Turn on Miracast on your TV, Projector, or any other external device. If it hasn't the Miracast feature inbuilt, connect your external adapter and turn it on.
Note: You can easily buy the Microsoft Wireless Adapter on Amazon.
Now, on your computer end, go to Start>>Settings>>Devices>>Connected Devices.
Choose the option "Connect a Device" and wait for the device or adapter to appear on the screen.
Once you have discovered the device, click on it, and choose the Connect option.
Once you follow this process, you should be able to use Miracast to case your screen on a bigger screen. However, in some cases, you might end up facing numerous issues.
In that case, we are going to discuss the process of solving the problems you might face along the way. But, if you have successfully connected your device to your computer using Miracast, the article ends for you by here.
What if Miracast doesn't work on Windows 10?
As we discussed above, there could be numerous things you can face while running Miracast on your computer. The problem could be there at an end. Either your computer has become faulty or there is an issue with the main end of your external display device.
So, if you are not able to set up Miracast on Windows 10, below are some of the things you can find helpful. The first thing should be to restart your computer.
But, if you have done that already, you can proceed to the troubleshooting steps we are going to discuss below.
Check your Display Adapter
Most of the time, the problem lies at the secondary end of the connection. It means, the Miracast is working fine on your computer but there is a problem with your TV or Projector.
If you are using a display adapter, it is possible that it is not connected properly to your device. Or there could be an internal issue in your adapter. It could not be working in the way it should do.
So, first of all, make sure to read the user manual of the adapter properly and make all the connections in that manner.
You can try to use another adapter or by connecting your computer to another system with an enabled Miracast function.
Update your Display and Wi-Fi Drivers
An outdated, faulty, or corrupted device driver could also be the reason behind this issue. In fact, most of the time, there is no problem with either the adapter or your computer but the drivers are not in a working condition.
So, your next method is to check if there is an issue with the adapter. Make sure to follow the below-given process and confirm the status of your drivers properly.
Press the Windows+X button and click on Device Manager Option
Now, find the Driver named Display Adapters and double click on it.
Below this section, you will find your driver, right-click on it and select Update Driver
After that, find the Network Adapters option and do the same things with all the drivers below this section.
Once you have updated all your drivers, make sure to restart your computer.
After doing this thing, you should be able to fix this issue in your computer. Now, try to connect Miracast again and see if it is working fine or not.
Consult with an expert
If both of these methods are not working for you, there is any other serious issue with your system or device. In that case, you should try to consult with an expert of this field.
You can get in touch with your nearest computer care center or manufacturer support station. They might be able to help you more with the same.
---
Final Verdict
Miracast is an easy-to-use feature which you will find in all the Windows 10 users. So, if you have a big screen like a TV or projector in your house, you can use your computer or laptop to project any content like Movies, pictures onto a bigger screen.
This article was written to help you with the same. So, we hope you have found it helpful in this regard. We have researched a lot to find the simplest ways of connecting your second screen to a computer using Miracast.
So, if you have found this article helpful, make sure to share it with others too. Also, we suggest you to give your valuable feedback in the comment section.
We are also open for your genuine suggestion regarding other things on this website. We keep coming with various other interesting topics in tech niche. So, stay connected with us and stay reading.