Are you finding the best low profile computer graphics cards to build your new computer? Well, the reason could be anything. But, having a low-profile graphics card inside your computer will be much more affordable than buying a full-fledged GPUs.
Because these graphics cards are smaller in size with some specific offerings, you can get limited purposes. But, still, these cards are in a huge demand these days.
So, in this article, let's know some more about GPUs and get a list of some amazing products in the market.
These fastest class of cards generally have small form factors. So, they are not specifically made for gaming purposes. You can't use most of them for various hardcore graphical outputs like video editing and other related stuff.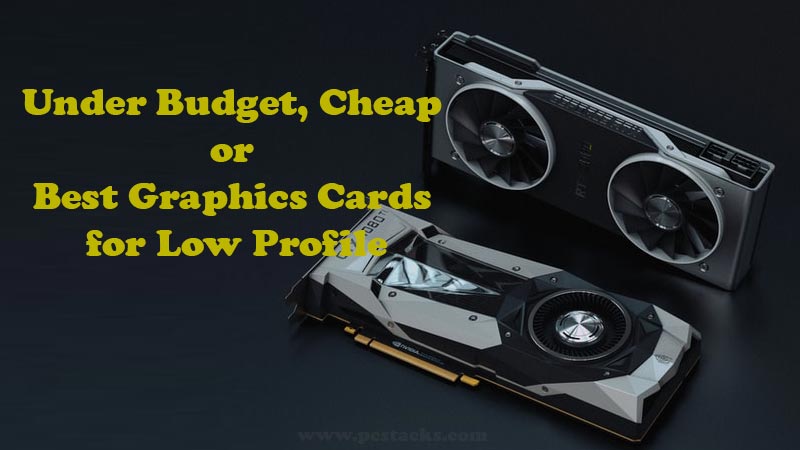 But, there are numerous people using them to fulfill their specific needs. This may include some basic computation, photo-editing, or low-quality video editing.
Another major thing to notice about the low profile graphics cards is that they are available in smaller sizes. As compared to the normal graphics cards, these come inside smaller cases with a lower number of ports.
However, you can find these cards in two categories. These categories are simple low profile graphics cards and low profile ready graphics cards. The difference between those two cards is that you get different bracket sizes.
The second one will have two options for installation. You can use either the normal or low profile bracket on the second one pretty easily.
So, because these GPUs are smaller in size with an inexpensive price tag, you can have numerous advantages from them. This is the reason why you are reading this article.
Keep reading until the end and we are going to help you in various ways. Now, let's discuss the advantages of using a low profile graphics card below.
Why choose Low Profile Graphics Cards?
Below are the best benefits of using low profile graphics cards in your computer.
Smaller Size
Having a smaller form factor means your graphics card is going to consume less space and hence make your computer more compact in size. Also, these cards will fit inside slimmer cases.
This will eventually make your cabinet less cluttered and hence the airflow and cooling will be enhanced. Although you will not get the best performance as you get with the normal graphics cards, these cards are designed for some specific tasks.
So, this is the first benefit and you should consider this when you have a limited cabinet space to work with.
Low Power consumption
Most of the low profile graphics cards will not need an external power connection from the PSU. That means they will work only by using the power supplied by the PCI Express x16 slot.
In a nutshell, their smaller size and fewer components will never need a huge wattage supply to run effectively. In most of the cases, the computer will run with just a 400W power supply.
So, this is another big advantage that wants to use their power supply in an adequate manner.
Very Low Noise
Most of the low profile G-cards will have only a single cooling fan and it will eventually make very less noise.
However, if you are going for some powerful PC gaming card, they are going to make a great noise when you use them for some high-intensity tasks.
If you are choosing the entry-level cards, they will make no noise because they are going to work without any fans by just using the heat-sinks for cooling purposes.
Cheaper in price
As we have discussed this thing above, the low profile graphic cards are pretty affordable as compared to the other standard ones. You can get a pretty good low profile graphic card under 100$.
Even if you need a powerful card with low profile capabilities, the cost will be affordable in that case too. So, this becomes a great advantage when you have limited budgets to build your computer.
Where you can use low profile graphics cards?
You can't just install a low profile graphics card and expect it to produce enough power for high-end games. In fact, they are made for light computations. We are not denying the fact that you can't play games using these cards.
But, it is possible to enjoy light gaming, photo editing, simple video editing. You should keep a thing in mind that having other powerful components like processor, RAM, and Storage will also be required to get the most out of it.
If you have limited budgets and limited system requirements, you should definitely go for the low profile card. This is going to help you save a lot.
So, don't get false hopes of playing those top-end video games on your computer using a low profile graphics card.
Best Under Budget Low Profile Graphics Cards or Gaming GPUs List
1. EVGA GeForce GT 730 2GB GDDR5 Low Profile
This card comes in three different variants where you have options to pick 1 GB, 2 GB, or 4 GB versions. The graphic card is enough to help you watch your desired videos and photos in HD resolution.
For a fast web browsing, video editing, and moderate gaming performance, you can give this graphics card a chance. This model has a base clock frequency of 902 MHz. The memory clock is 5000 MHz.
In simple terms, this fastest card is great to enjoy simple tasks where a limited graphic card can work. Again, for top-notch gaming, this card may not work in the way you will need.
Let's see some of the other features of this product.
Memory: 2048 MB GDDR5
CUDA Cores: 384
Memory Bandwidth: 40GB/s
PSU Required: 300 W or greater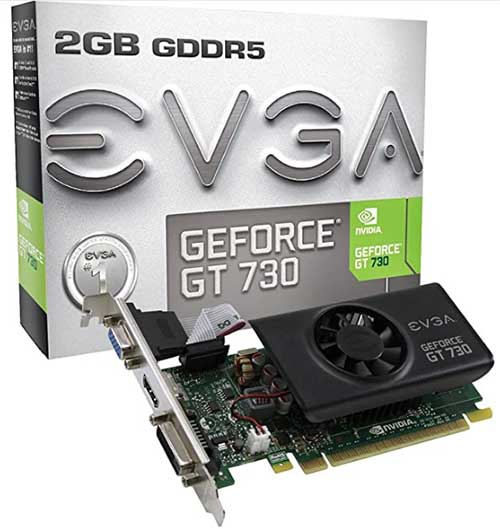 2. Zotac GeForce GT 710 2GB DDR3 Graphics Card
This is another pretty effective and cheap option to choose from. The specifications of this graphics card are somewhat similar to the above one. However, you can find some ups and downs for sure.
The one thing that is similar is that these both are not made for gaming purposes. So, this gaming graphic & computer card is the best option to enjoy watching HD or Full HD videos and photos.
You can do simple video editing, fast web-browsing, play some old games. Also, this product is good if you want to connect multiple monitors at the same time. Some other pretty amazing things can be done with this one.
Another major thing to mention here is that this card is completely silent because no fan is there for cooling. The graphics card is available in two different versions i.e. 1GB and 2GB.
Two different styles including PCI Express 2.0 and PCI Express x1 are also available. Let's see some other features of this amazing product.
Memory Clock: 1600 MHz
Power Consumption: 300 Watt or more
Engine Clock: 954 MHz
CUDA Cores: 192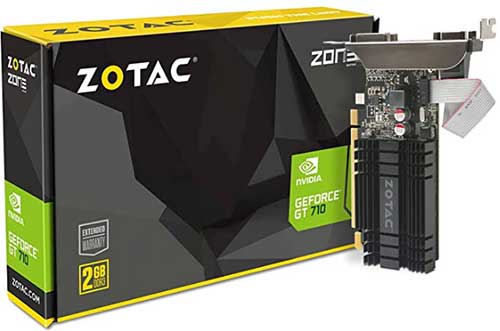 3. MSI Gaming Radeon RX 560
This is another highly impressive and best low profile gaming graphic & computer card you can consider buying in 2020. This is a VR Ready graphics card which is a pretty amazing thing in it.
There are four other related versions that you can definitely check out online. However, the RX 560 version is the best pick with the highest offerings for the users. If we talk about the video output interface, you will get DisplayPort, DVI, and HDMI Ports.
The brand is MSI and the chipset brand is AMD as we all know. This machine has a small form factor that means it is going to be pretty small in size.
It has a single cooling fan with a smaller size. So, it is going to make pretty less noise as compared to the other standard graphic cards.
For normal gaming, video editing, and video playback, this is another great option to choose from. Let's know some more about this product.
Video Memory: 2GB GDDR5
Memory Interface: 128-bit
Power Supply Requirement: 400W
Bus: PCI-Express x16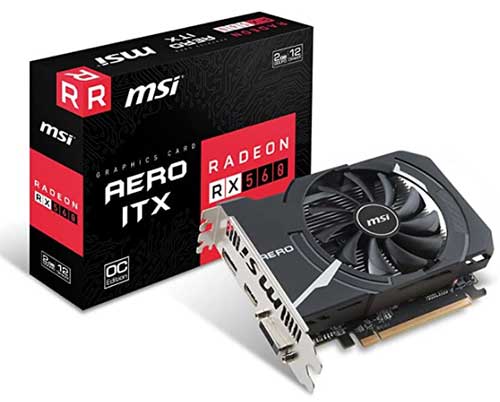 4. Gigabyte Geforce GTX 1050 Ti OC
This graphics card has a little bit higher price. It may cost you around 150$ which is much more than its competitors. But, since it is a 4GB variant with some other advanced features, you will have to pay this price for the same.
It has numerous other variants with less or more clock speeds. When you use this card in the gaming mode, it can offer you some great results. It has a GDDR5 RAM type which is pretty amazing.
You can also go for its 2GB variants which will cost you less. But, we will suggest you choosing this one because it has some great features ready for you.
The card can support 4 displays at the same time. If we talk about the output ports, this game graphics card has Dual-link DVI-D and HDMI outputs. DisplayPort will also be there with this one.
The card size is compact but it has got a single fan for cooling purposes. That means this element inside your computer is going to produce a little bit of noise for sure.
Let's see some other features of this thing.
167 mm Card Length
Required System power: 400W
RAM Type: GDDR5
Boost Core Clock: 1442 MHz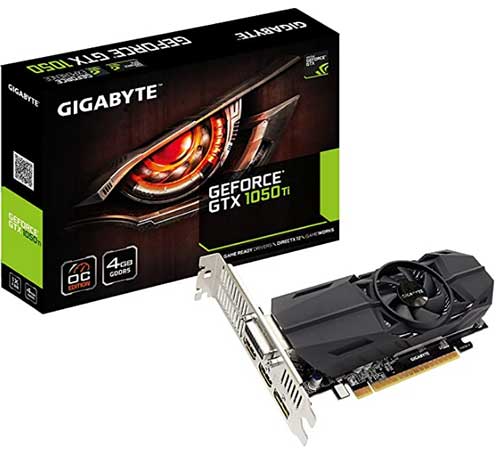 5. Gigabyte GeForce GT 1030 GV-N1030DG-2GL for Gaming
This is another great low profile graphics card you can definitely check out if you have limited budgets. This card has pretty much similar offerings like the above one but it will cost you much lesser than that.
In fact, it is available for around 85$ on Amazon. This gaming card also has a compact design with a single fan cooling system. So, you can expect some noise from it for sure.
If we talk about the performance, it will do its job normally when you watch HD videos, edit photos, and use the internet. But, it will never help you with anything when you want to play hardcore games using it.
This graphics card is going to help you save a lot of space and your budgets too. So, if you have limited requirements from your computer but you need to have a gpus in it, you should definitely give it a try.
Let's know some more features of this product.
Form Factor: Low Profile
Core Clock: 1506 in OC mode
Power Requirement: 300 Watts
Memory: 2 GB GDDR5 (64-bit)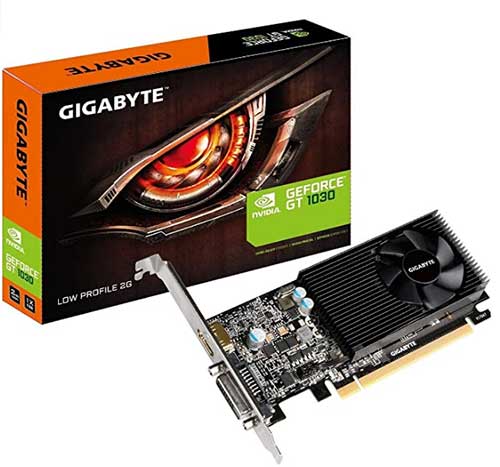 6. GIGABYTE GeForce GTX 1650 D6 OC Low Profile
If you have a budget around 150$, this is perhaps the best option to choose as your low profile graphics card. This produce from Gigabyte is going to give you a great performance for sure.
With 4 GB GDDR6 Memory and other high-performing components, this graphics card is going to serve you great for various purposes. You can definitely use this machine for photo editing, simple video editing, watching movies, surfing the internet, programming, and various other stuff.
However, it is not suitable for high-end gaming purposes. This gaming card has a pretty sleek architecture with a double-fan cooling system.
It is going to produce some noise for sure but you will definitely have amazing capabilities with this one.
In fact, it can compete with the standard GPUs in most of the cases. However, the price is a single thing to keep in mind. Let's see some more features of this graphics card.
Memory: 4GB GDDR6 (128-bit)
Core Clock: 1620 MHz
Size: 170 mm compact size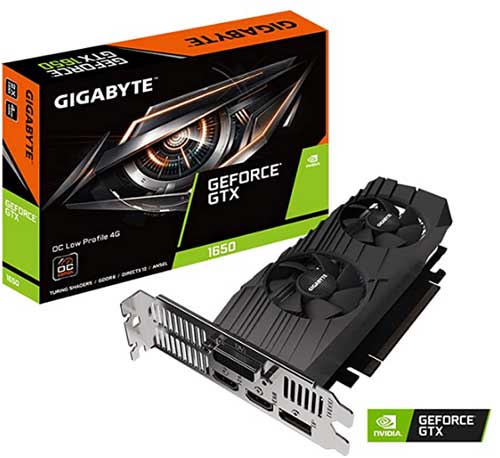 7. Asus GeForce GT 710
This is another budget-segment low profile graphics card to buy in 2020. It is going to help you with all sorts of web browsing and photo editing stuff. You can also use to watch your desired HD quality videos and photos.
Although, it is not suitable for video editing, watching any kind of video will be possible with this product. Because this graphics card is pretty cheap in price, you get only 2 GB of memory inside it.
So, you can see what kind of performance you are going to have with this machine. There are some other versions available on Amazon which you can definitely browse through.
If we talk about the cooling, it has no cooling fan whatsoever. It is going to cool with its heat-sink system. That means it will produce no extra sound inside your computer.
You can easily use various GPU tweak systems to enhance its performance. See all its features on Amazon by going to the link below.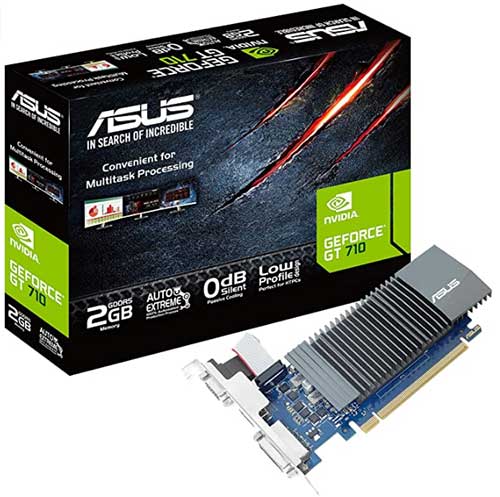 ---
Final Verdict
We hope you will now find it easier to pick your desired best low profile graphics card. However, we suggest you visit the official sites of these products before purchasing them.
You should do complete research on the internet before picking any one of these. We have done thorough research before adding any of the products here in our list.
But, we will advise you to get your computer gaming card purchase under the guidance of an expert. Also, when it comes to the installation, you should install it on your own if you know how to do it. Any physical damage done to your PC or even the graphics card could be irreversible.
We hope you have found this article helpful when it comes to choosing the right low profile graphics card for you. If so, make sure to share your valuable feedback in the comment section.
Also, consider sharing this article with others too. You can give us suggestions for new articles. We will definitely help you with everything we can. Along with that, we keep publishing regular articles here on this website.
So, stay connected with us for more.