Are you continuously seeing this error on your Windows computer "Reboot and select proper boot device"? If yes, then you have found the right article to get it fixed. We are going to discuss the reasons, fixes, and other important things about this error you should care about.
Getting this issue fixed is pretty easy and you will know everything below. So, make sure you read the article until the end. It is definitely going to help you with the same.
Since the error will appear before your computer or laptops boots up, it could be pretty scary for most of us. Sometimes, your computer will automatically reboot or sometimes, you may end up having no way to turn your computer On.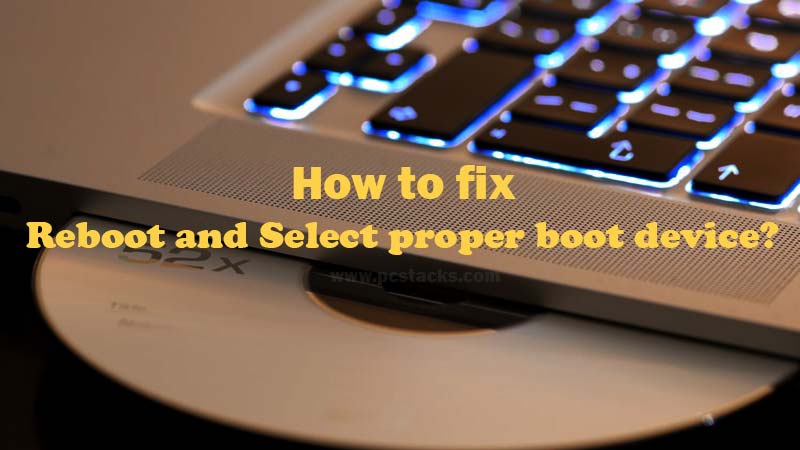 It will depend on various situations of your computer. But, there is no one and the specific reason behind this issue. The problem might be caused by various issues such as hard disk, BIOS, or other problems. But, getting this issue fixed it simple and straightforward.
This issue mostly happens when your computer's BIOS has no way to find the bootable driver or devices. This simply means, your BIOS is not able to detect the driver where your OS data and other important files are stored. This error causes your computer to freeze because your BIOS never know what to do next if it is not able to find the OS files on your computer. It is like disconnecting your OS driver from your computer.
Now, the causes of this problem could be numerous. This could happen when the cable connected between your hard disk and computer gets damaged or aged. However, in some cases, the BIOS itself starts misbehaving and this could also cause this issue.
So, the two most specific reasons could be the corrupted OS or the boot volume. However, the BIOS update and cause this problem in some cases. Let's know some more about this error and then the ways to fix it properly.
What does it mean to reboot and select proper boot device?
As you know, this error is caused by either a faulty hard drive or any other BIOS issue. There could be some other specific issues for the same. But, the primary thing which might be causing this problem is when the BIOS chip doesn't recognize your hard drive.
This will cause your computer to search for all the possible ways to fix it but when nothing happens, you see this error. These are the main things you have to consider while seeing this problem. But, there is another major factor behind this issue.
In some cases, both your BIOS and drive would be working fine. But, when your Operating system gets corrupted due to any reason, it can become the reason for this problem.
Another major thing is a corrupted boot volume. This is another one of the biggest problems behind this issue. In other words, there are various things lying behind this problem.
But, the error will appear on a black screen with a simple text which you will surely find daunting. So, without any delay, let's know some more about this thing and see the ways to fix it easily.
Why Proper Boot Device Error Show and Reboot PC?
You will not have a clear idea of the possible reasons behind this problem by reading the information above. But, you have to find the main things that may or may not cause this problem.
So, in simple terms, we can say that there are two may causes of this error on a Windows computer. The first one is Physical and the second one is a logical reason. Both these issues are caused by certain problems in your PC.
These problems could be automatic or manual. That means, either they are caused by your mistake or by an ongoing process on your PC. Viruses can also cause reboot and select proper boot device problem to happen.
So, let's see these two main reasons for this error in Windows.
Physical Causes
As the name suggests, the physical causes are those where your software has nothing to do with this issue. This will happen when there is a problem with the connections between your computer and hard drive or between other components.
The next situation is when the BIOS detects your boot disk but isn't properly connected to it. Another possible reason could be when your boot disk gets damaged due to any reason.
If it is an old disk, the chances of failure will increase for sure.
Logical Causes
The first logical cause is when you do not choose any active partition. The Windows boot files should be saved inside a very active partition. If you are not doing the same, there will be numerous issues with your boot.
The second reason is when Master Boot Record is damaged on your computer. Even if your Boot files get lost or damaged due to any reason, they can cause this problem to happen.
Another reason could be the wrong boot sequence set in your BIOS. At last, you should not neglect the fact that your Operating system can also get damaged and this could also be the reason for this problem.
Reboot and Select Proper Boot Device Error Fix: Here's Simple steps
There are some possible fixes you can try to solve this problem on any Windows computer. Regardless of the Windows OS and your computer/laptop brand, you can pick any of these methods to get this problem fixed without any hassles.
So, just try then one by one and see how you can fix this issue in some time.
Change Boot Order
If you want to how to select a boot drive, below is the process to do the same. In fact, before doing anything else, you should check by changing the boot order on your PC.
In this process, we choose the right hard disk and its partition to let the computer read everything from it only. It is suggested to follow all the steps properly. You should be doing all these methods on your own responsibility.
Let's see how to change the boot order on your Windows computer below.
Turn Off your computer
Boot it by pressing the power button.
As per your computer or laptop brand and model, press the appropriate button to enter the BIOS settings. The button could be F2, F12, Esc, or Delete.
Inside your BIOS settings, go to the Boot Options. Select the OS drive as your main boot drive. Use the arrow keys on your button to navigate.
Save the changes and restart your computer.
If your computer restarts normally, you have fixed this issue. If the error is appearing again, just go to the next step.
Check if the Hard Disk is connected to the computer
It is possible that your Hard Disk may get disconnected from the motherboard due to any reason. If this is the case, there are two ways to check it. The first is the manual by opening up your PC and then troubleshooting the whole computer.
However, another thing to do is to open BIOS settings and see there if the drive is connected or not. This is perhaps the best way to confirm this thing.
It is going to help you with all other important components but for this time, we will use this feature only to check the status of our hard disk. So, let's see how you can do it pretty simply.
Turn Off your computer.
Now, restart it by clicking the Power button,
While restarting, enter the BIOS button as per your computer or laptop. You can search for this button on the internet. It should either be F2, F12, or Delete.
In the BIOS menu, go to the Main Settings or Standard COMS features.
Check the page if your SSD or HDD is listed there.
If everything is fine, just do the next step to check for any errors in your hard drive. Also, there could be an issue with the connecting cable.
So, if there is an issue with that, we are going to discuss it below. Now, just jump to the next step below.
Check if your Hard Disk is working fine
In most of the cases, the users found that their Hard Disk was problematic whenever they see this error on their computer.
So, if your hard disk is failing or already failed, you will have to fix it as soon as possible. You can either get your hard disk checked manually from an expert or choose a software that can do this thing for you.
Using software for the same will be a much easier option to choose from. Let's see how you can confirm whether your hard disk is Ok or not.
Download  Neosmart software and install it on your computer.
Burn the ISO image. Read this article neosmart bootable CD if you don't know how to do it.
Boot into Easy Recovery Essential.
Choose the automatic repair option
Click Continue and let the software and computer finish this process.
The software will now check for the errors and highlight them. It can also fix most of the issues.
So, once the process is finished, restart your computer and see if the problem is fixed. If not, just go to the next step.
Use Diskpart to fix Reboot and Select proper boot device
If in any case, your computer's drive is not set to be its primary hard drive, you can see this error various times. There is a simple fix for the same. You just have to set your primary hard drive as the active one.
Doing it is pretty simple. We are going to use Diskpart. Now, you might be having a question about this phrase. Well, "diskpart" is a command which we normally run using Command Prompt menu in a Windows computer.
Diskpart is going to help you easily set your primary disk as your active drive.  This thing will definitely help you if the problem is related to the disk partition.
Insert your Windows installation disk or Recovery Media into your computer.
Now, restart your computer and boot it from the disk you have inserted.
In the System Recovery menu, choose the Troubleshoot option.
After that, click Advanced Options.
Now, choose Command Prompt from this Advanced option menu.
In the Command Prompt, enter this command diskpart and hit Enter
Now, enter list disk 0 or any number where your Windows is installed and then Enter.
After that, enter select partition 0 or the number of drives you want to choose.
At last, type active and then hit the Enter button.
You can do this using the software we have discussed above. This is only the case when you do not have the original Windows installation media with you. If this thing is not working for you, go to the next step.
Replace your CMOS battery
Along with your primary battery inside your laptop, you also have a CMOS battery. Not only the laptops, but this battery will also be there inside all the computers. So, if for any reason, this battery is damaged, you can see this error select proper boot drive and reboot.
Failure of this battery will cause numerous issues in your computers such as stopping computers from accessing the motherboard and a lot more.
But, before changing this battery, make sure you get rid of any residual charge stored inside your PC. You can do this by holding the power button for 10 seconds.
Also, we advise you to do this thing only under the guidance of an expert. It will be good if you get in touch with an expert to do the same.
What is the problem is not solved after doing these steps?
So, these were the most possible and mostly used fixed for this issue in Windows computer. But, if your problem isn't fixed even after doing all these things, you now have to connect with expert support.
That means you have to take your laptop or CPU to the nearest computer service station. It will be good if you find an authorized care station for your computer's manufacturer.
Now, if the solution is not related to these fixes, there could be something very deep that is behind this issue. So, only a professional will be able to check what is going behind all this.
So, make sure to use the internet and find the best computer or laptop repair station near you.
---
Final Verdict
We suggest you follow these steps as per your own responsibility. As we have discussed earlier, we will not be responsible if you do any damage to your computer in any case.
All these settings are highly critical so try to do the things as they are discussed above. If you are not able to find anything on your system, it is better to leave that thing there. This is the best way to make sure you got everything from this article.
We hope you have found this article helpful to fix "reboot and select proper boot device". Please let us know whether you were able to fix this issue or not.
Try to share your valuable feedback in the comment section. Also, you can give us new suggestions for the articles. Do not forget to follow us on social media too.
We keep publishing regular articles here on this website. So, stay connected with us.
Thanks for reading.