Lots of Windows users have admitted that they see a service named Boujour in their Task Manager. They find it pretty strange because they say they have never installed this software on their computer. So, if you are also one of those, we are going to help you know about this service. We will know what is Bonjour service and all its related questions will be answered.
In simple words, this article is going to help you with everything related to this service on Windows computers. You will know whether you should keep this service or remove it.
Lots of people have also stated that they think this is some kind of Malware or Virus. But, if we look at this app, this is not a kind of spam software in any way. In fact, it is offered by Apple Inc. And yes, it will get installed automatically inside your computer.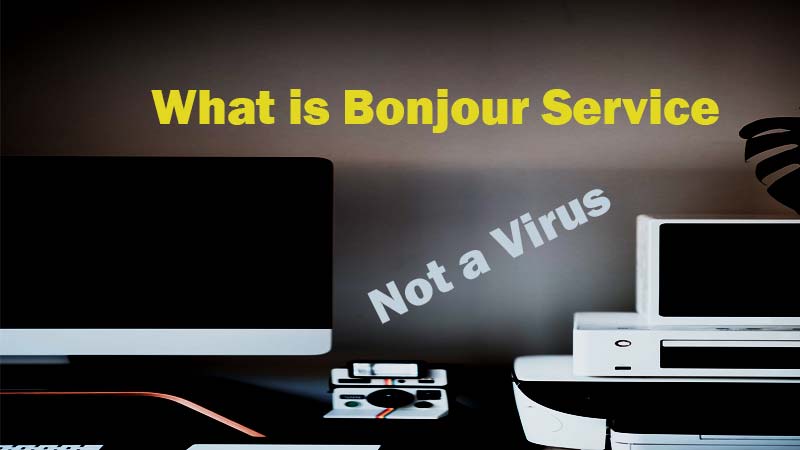 However, you have full freedom to uninstall this software anytime you want. But, it is important for you, there could be some issues too. So, we are going to know everything about this app and see what you should do with it.
This app has something to do with wireless connections like printers and external device connectivity. However, this app is completely for those who often connect Apple devices with their Windows computers.
It will get installed automatically because it is an important component for various Apple apps to work perfectly. Apple has its official page where you can download the Bonjour app's Windows version with a couple of clicks.
We are going to cover all these things below in this article. So, make sure to read it until the end.
What is Bonjour (software) and it's Service?
So, as we have discussed earlier, Bonjour is an app that will get installed on your Windows computer automatically, you would probably be thinking whether this app is legit or not.
Well, there is nothing to worry about. Bonjour Service will keep working in the background of your computer without causing any issue for you. This service will work actively only when you want to connect your Windows computer to any Apple service or application.
Like, when you use iTunes or iCloud, this app can get installed inside your computer. The service will also work when you connect your iPad or iPhone to your Windows computer.
Also, it will get installed in your PC automatically without your concern. It may not consume much of your resources most of the time but when you want to connect an Apple device with your Windows PC, this app will be there to make this fast and easy.
Another reason why this service is working on your Windows 10 computer is that you are using network printers over Wi-Fi connection. Also, the connections could be ethernet.
USB Printers can also make use of this service. So, if you are doing any of these things on your Windows computer, there is nothing to worry about this service.
Of course, this app or service has a weird name but your PC is completely safe even if working with it all the time.
What is Bonjour service used for?
Bonjour Service is primarily used while you are using Bonjour Print Services. Whenever you configure your system to Bonjour-enabled printers, this app is going to work all the time in the background. Also, as we have discussed earlier, this service is going to work every time you connect your Windows PC to any Apple device.
There is no direct use of Bonjour in Windows. But, you will need it all the time when you are stuck in the situations we have discussed above. This service can help you out whenever you want to connect to a Bonjour Printing Wizard.
Whenever your device wants to connect with another device on a local network, this app is going to work for your system. Also, if you want to set up an external network of systems or devices, you can use service for this.
Safari or iTunes can install this application inside your computer as we have discussed earlier. This directly means whenever you are connecting to any external network with Bonjour-enabled devices on services, this service will be used all those times.
Do I need the Bonjour program on my computer?
The answer to this question may be Yes and No both. Because this service is required if you are connecting your Windows computer to an Apple's service or device, you are going to use it whenever you do the same next time.
So, if you do not have the Bonjour app installed on your Windows computer, that service will not work properly. Those devices or services can try to install this service again but if you do not have a working internet connection at the same time, you can cause huge issues for you.
It is always advised to have this program installed on your computer whether you are using it or not.
If you often configure Apple devices or services with your Windows PC, Bonjour is one of the main programs you are going to use. So, if you are directly or indirectly uninstalling this app from your computer, you can sometimes cause issues for you.
However, we are going to give you the official link to download this program for any Windows computer. So, keep reading further.
How to Enable Bonjour for Windows?
Apple has given access to Windows users to easily download this program anytime they want. That means you can remove it and then download it like any other software any time you want.
You just have to go to the Bonjour print services link and download the installed package. Then install this program and it will start working in the way it should be.
It is advised to restart your computer once you have installed this program on your PC. If you are facing any issue with the wireless or ethernet connectivity in your computer with the external devices, using this software could help you a lot in various situations.
We hope you have now got your answer on how to download the Bonjour on Windows PC.
Check if Bonjour Service is Running on your computer
On Windows computers, we have an impressive in-built tool that you can use to check if the app is working on our PC. This program is called the Task Manager. In this app, you can not only check the details for Bonjour but for all other running apps on your computer.
Getting into the Task Manager is pretty easy and every Windows user should know about the same. You can get to know how much resources this process has consumed on your PC.
We are going to discuss the same below. So, let's see how you can do it.
Right-click on your Empty Task Bar Area.
Now, click the Task Manager option.
Under the Processes Tab, find the service named Bonjour.
See how much CPU, Memory, and Disk Space this app has consumed on your PC.
This is perhaps the best way to see which app is running on your computer along with the Bonjour Process. We hope you will find this thing good to make things clear whenever you have any confusion.
Is Bonjour Print Service a Virus?
We have discussed this thing above too. We are saying it again. This service is completely legit if it is the same Bonjour developed by Apple. Also, it is a helpful app even if you are not aware of its importance in most of the cases.
But, in simple words, it is not a virus at all. So, instead of continuously scanning your computer for viruses and malware, you can just use your Windows to uninstall it if you want. The complete procedure for the same is given below.
But, as you are aware now, this app is there for important work, you should not delete it if you are not aware of its functions and the overall importance. We will advise you to keep it in the way it is there on your PC.
Do not delete or do any other kind of stuff with it. This program will not consume a lot of your computer resources in any case. It will work only when required.
How do I use Bonjour on Windows?
There is no direct use of this app if we talk about Windows computers. However, there are some uses when you have this app in your macOS. But, there are numerous apps or software which will definitely use this program to run effectively on a Windows computer.
That means when this process is not working on your PC, certain Windows software may not work adequately. This is going to impact your computer's performance a lot.
Sometimes, those apps may misbehave or even do not get launched properly. Let's see what are those apps which may or may not use Bonjour on your Windows computer.
iTunes for finding shared music
Apple iPhotos
Gizmo5 for finding other devices in the local networks
Adobe Creative Cloud, iChat, Pidgin, Fire, Vine Server, Skype, Eye TV, and a lot more.
All these and various other software will definitely require a working and the latest version of Bonjour print service on your computer.
So, if you are not having this service working, get ready to see some serious issues while using any of these software given above.
Is it safe to uninstall Bonjour?
It is not safe to uninstall Bonjour if you often connect your Apple devices to your Windows computer. Also, if you connect your computer to the local networks and to discover other devices inside a network, you will definitely need this app on your computer.
We have discussed this thing above and we are saying it again. Uninstall Bonjour only if you think you will never use Apple devices or the local networks to do your important tasks.
If you are agreeing to this, you can go for uninstalling this process from your computer. We are going to help you with the same too.
Let's discuss below the whole process of uninstalling the Bonjour program from your Windows PC.
How to disable Bonjour services in a Windows PC?
Instead of completely uninstalling this program from your PC, you can just disable it and then enable it whenever you want. Windows computers offer this feature to use for any software we want.
So, we can simply use this thing for your Bonjour too. This service will keep disabled until you manually turn it On again.
This is the best way to keep yourself away from the hassles of downloading this app again when you need it for the next time.
So, without further discussions, let's see how you can do it.
Press the Windows+R button together to enter the Run Menu in Windows.
Now, enter services.msc and hit Enter.
In the Services menu, find the service named Bonjour Service.
Double click it and click the Dropdown given with Startup Type.
Select Disabled and then press Apply and then OK.
The service is disabled now until you follow the same process to enable it again.
Efficient way to uninstall Bonjour in PC which Connected to Printer
We hope you have got your answer to what's Bonjour and it's print service. Now, let's see if you do not want this service anymore in your computer, how to delete is complete.
We are saying this by confirming that you have read everything given above and you are deleting it after fully understanding its importance. Uninstalling this will be helpful if you are not using any kind of Apple device and connecting it to your Windows computer.
Deleting this program from your Windows computer is pretty easy just like any other software. Just follow the procedure given below and you are good to go.
Again, if you want it again on your computer, you can just go to the link given above.
Press the Windows button and then search for the Control Panel in the search bar.
Enter the Control panel and click on the Program and Features option.
Find Bonjour service and right-click it.
Click the Uninstall option and then proceed further for the uninstall.
Make sure to restart your computer and then see your Task Manager. You will not see this service working anymore in the background.
Bonjour Print Service and its Harm on Windows PC?
Now, we have made everything clear with this article. You have definitely got the answer to "what is Bonjour service in Windows"? With that said, we also want to say that there are no harms this program is going to do to your computer.
So, you can keep it on your PC even if you are not using it. However, we have given you the processes to disable or delete this program from your computer.
But, if we talk about the harms, there is nothing to worry about this program on a Windows computer. This is basically a pretty helpful app you should always have installed on your PC.
You can research more on the internet and see what others are saying about it. You will get all the positive reviews for sure.
---
Final Verdict
We hope you have got your answer about Bonjour service on Windows computers with this article. However, we suggest you research some more before you think about keeping or deleting this software on/from your computer.
This is going to help you make wise decisions for sure. We have covered all the questions we could to make this article as helpful as possible for you.
If you have liked this article, consider sharing it with others too. You can use social media or any other method to do the same. Consider spreading it with others who may help it.
Also, give your valuable feedback in the comment section. It will definitely help us to improve more in the future. Also, you can give us suggestions to post more helpful stuff for you.
We will love to help you with anything and everything we can. We keep publishing regular articles here. So, stay connected with us.
Thanks for reading.