Are you looking to know about the best driver updating software to keep your Windows or Mac computer always up to date? Well, it is pretty easy to update our drivers using the manual methods, but the driver updater tool makes things pretty easy for us. They automate the updating process and let us do these updates using a couple of clicks.
Sometimes, you can permit these software to do automatic updates. Because of these and various other reasons, the demands of these software are huge. So, if you are also looking for the best software to choose from, this article is here to help you with this.
Drivers are crucial to let our Windows and Mac systems run in an effective and organized manner. In fact, the hardware of your computer is totally dependent upon the drivers because they do the job of connecting the hardware to software.
So, it is crucial to get them always updated using suitable methods. But, when it comes to choosing the best software, it could be tough in some cases.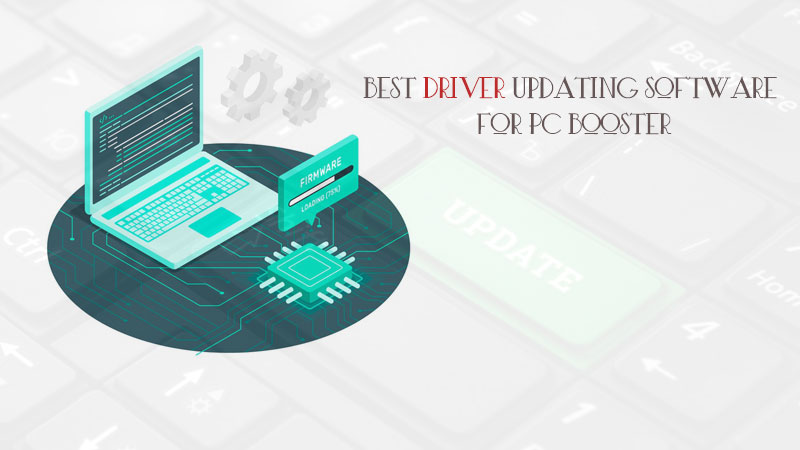 You always have a lot of software to choose, and picking the right one for you will be tough without proper guidance.
So, below in this article, we are going to discuss the best software which you can try using in your computer and update all of its drivers anytime.
Most of these software are free; however, in some packages, you can also pick the paid plans too.
So, here in this article about the best driver updater, you are going to have the list of top-rated software in this category. Now, without further discussions, let's get started.
Is it good to update drivers using Driver Updating Software?
Yes, these software are great to make these updating works easy, fast, and effective for you. But, still, the most reliable way to update your drivers is with manual updating.
If we talk about the Windows driver update, it comes along with its inbuilt online updating method. Also, Mac's drivers get updated with the latest system updates.
But, when you have separate software to do this work for you, you never have to worry about anything related to these updates.
So, it is all up to you that how you are going to use your software. It will surely help you to get amazing results if you are utilizing it for good purposes.
Exclusive: Top 6 Best Driver Updater Tool for PC
So, below are the top-rated and highly advanced driver updater software which you can try using in your computer. Using these software will surely help your system to have increase stability, performance, and overall efficiency.
So, let's start revealing all of them one by one.
Smart Driver Car
The software comes along with its powerful system, which enables you to easily find the outdated software and install the latest versions without interruptions.
Its handy user-interface and advanced features make the software great for any sort of updating task. You can use its regular or automated scans and keep your computer always checked for any sort of outdated driver.
The software also has backup and restore options to save your crucial driver data when needed. This driver updating software also checks for the corrupted driver files on your computer.
With a single click, you will be able to update your desired drivers, and the software will do its job in seconds.
Along with the driver updates, Smart driver care software offers software update services too. The performance of this software is excellent.
Pricing Plan
The software has its free version available for Windows. However, you can also opt for a paid version, which will provide some extra advantages. Unfortunately, its Mac version is not available.

Advanced Driver Updated by Systweak
It's another full-fledged driver updater software for Windows. You can start using it right away by downloading it from the official site. Just like the Smart Driver care software, it will offer you a one-click scan and update solutions by making your updating tasks easy for you.
You will be able to enhance your PC's performance effectively. The software will give you suggestions about the incompatible and corrupt driver files available on your system.
There are several other reasons why this software is known as the best tool for driver update out there.
The software has a large driver database that can be used to update your drivers on the go. Also, you can restore your driver if the new one is incompatible with your device.
The automatic updates will take care to keep your drivers always up to date without causing any hassle for you.
The software helps you to receive optimal performance from your computer effectively. Also, when it comes to fixing the hardware errors, you can use it to fix gaming, video, and audio errors.
Pricing: The software is well-suited with all the versions of Windows. Firstly, you can opt for its free plan and test its capabilities. But, if you want, they also have a paid plan to help you receive more effective features.

WinZip Driver Updater
WinZip Driver Updater is a fully functional computer maintenance program with some decent offerings for users. The software will help you to easily find and replace corrupted or outdated drivers.
You will be able to get real-time updates from the original sources. In other words, WinZip is another highly impressive software which you should use in order to keep your computer always in good condition.
Managing your audio, video, graphics, printer, and other types of drivers will become easy for you because this software has great offerings to make updating works fast.
You will be able to have the maximum performance on your computers when everything is up to date. This best driver updater will make your updating works much easier by allowing you to use its automated update features.
Pricing Plan: Just like the previous software, WinZip also has a free plan to help you make your driver update works easy. However, if you want, you can opt for its paid plan too.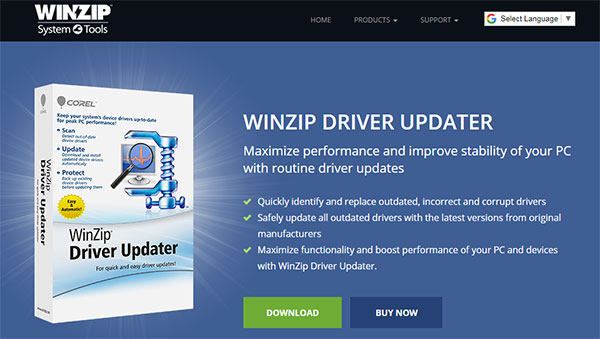 Driver Reviver by ReviverSoft
Driver Reviver is another great option to choose from. This package comes along with numerous features to easily find your outdated and corrupted drivers.
The software is pretty easy to use, and you are free to use its one-click update features to make things easy for you. The software is capable of scanning your computer anytime completely and give you details about any other technical problem which is lying on your system.
But, for the driver updates, it has a large database that will allow you to easily get the latest versions of your driver installed on your computer.
The software can also help you to fix bugs and keep an effective performance of your device.
Whenever any updated driver is faulty, this software will allow you to roll back to its previous version if it is crucial to do so. So, if you are looking for a user-friendly and best driver updater, the Driver reviver is a great option to pick.
Pricing Plan: Just like the earlier discussed software, Driver Reviver also has a free plan to help you update your driver without any cost. But, it also has a paid plan which you can easily choose if you have advanced needs.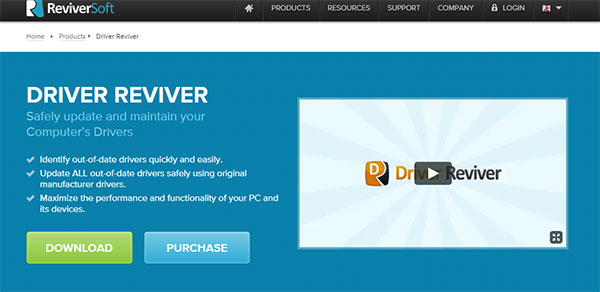 Driver Easy
If you know a little bit about the driver updating software, you might have been heard about the Driver easy. It is another simple and easy to use software which you can use perfectly to update your drivers on the go.
This software has unique features like a single click update and an automated scan. Also, you can pick customized selections to update only the drivers, which are important.
The scan will take a couple of minutes, and this software will give you suggestions on whether you have any update to do or not.
The software has an extensive database of more than 8 million drivers. Also, if you have chosen its pricing plan and you are not satisfied, they have a 100% money-back guarantee for you.
Finding and fixing all the outdated files and drivers will be easy for you when you start to use this software. Driver Easy is recognized as one of the most effective and popular driver updater software for Windows. So, make sure to give it a try.
Pricing Plans: As we discussed earlier, Driver Easy has a free plan available for its users. However, the paid plan would definitely come with numerous advanced features for you.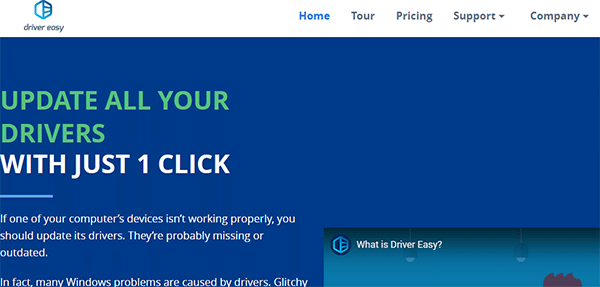 AVG Driver Updater
AVG Driver updater has a highly impressive user-interface backed by its rich database of more than 500000 drivers. This software is fully equipped with impressive features to provide you with a lot of advantages.
Fast scanning and easy updating works make this software well suited for any sort of task for you. In other words, after installing AVG Driver updated on your computer, you can easily update any of your outdated drivers with just a couple of clicks.
So, whether it is a sound, graphics, gaming, or any other sort of driver, you can expect great results from this software.
This best driver updater will help you to keep your computer in its optimal working state by keeping each of its drivers in an updated condition.
It creates backups of your drivers so that no hassles may cause if there is an error with the installation of updates. The software searches for official drivers and gives you options to choose the most suitable one for you.
It's easy to use updating, and scanning features make it must more popular. Also, being a product from a named company, you can expect a great performance from this software.
Pricing Plans: Although the software has a free version available for the users, you can also opt for its paid plan with just 39.99$/year.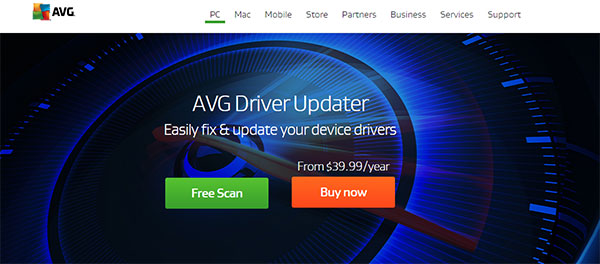 ---
Conclusion
Choosing these software is good to keep your computer in a good state internally and externally. Since the drivers are the backbones of our computers, it is crucial to keep them always updated.
So, you can pick any of these software and start using them to receive amazing benefits. But, before downloading any of these software, make sure to get brief details on their official websites.
Also, while going for a paid plan, choose the most suitable software that can suit your budgets too.
I hope this article will help you to keep your computer in good condition by updating its driver regularly. If you liked it, make sure to share it with others too. Also, it will be good if you share your feedback in the comment section.
Stay updated with us to get regular updates on various other technology-related topics.