If you use 7-zip software in your Windows computer, you are most likely to see CRC-SHA in your context menu. Lots of users find this option worthless or irritating. So, you might also be one of those who want to get rid of this option. Most of the time, this option in your context menu appears on its own. So, if you want to remove CRC-SHA from Context Menu in Windows 10, we are going to help you with the same in this article.
This option may appear as SHA-256, CRC-64, CRC-32, SHA-1, or in various other forms. It may also depend on the windows system or OS you are using. Some people may have no issue with the same. However, if you want to remove it, you can do it.
Because this issue is concerned with third-party software, you can also try to uninstall or replace that software. But, if that is not possible for you, this article would definitely help you.
This option may appear in your context menu because of numerous reasons.
It could happen because the developers wanted to help you make some options easily accessible to you. Or some default settings might be overwriting your Windows preferences.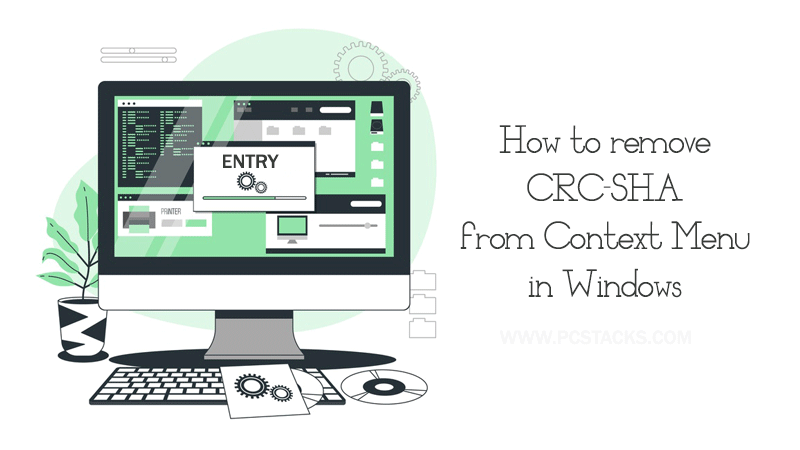 Whatever the reasons are, we are going to give you a fool-proof solution to remove CRC-SHA from Context Menu in Windows 10 without any hassle. So, now you are aware of the reason for this error. It is happening just because of 7-zip software because this is some kind of feature from the software provider.
So, before proceeding to the fix, let's discuss some important things about this feature, or we can say settings. It might be possible that this feature is helpful for you and you are disabling it for no reason.
What are CRC and its importance?
CRC stands for Cyclic Redundancy Check. It is a networking feature that is especially utilized to check accidental changes to the data. Because you can't use these features without the knowledge of digital networks, it is definite that you would like to get it removed from your context menu.
To use this feature, you must be able to understand the complex algorithms used to implement the digital networks.
What is SHA?
SHA stands for Security Hash Algorithm. As the name suggests, this algorithm is specially developed to enhance security of your system. In this case, this algorithm is employed to check each and every file you download from the internet.
If it is corrupted or problematic in any manner, it would try to fix or notify you about it.
We hope, now you have a clear idea of what these both algorithms are along with their uses. Also, you can make a decision that whether or not you need this feature in your context menu.
What is the purpose of CRC-SHA in your context menu?
Basically, with the help of this command or we can say algorithm, 7-zip is trying to create a security layer by which you can have a more straightforward and secure interface.
If in any case, the file or its format is changed, this hash security feature scan the changes and detect it as a security threat. This tool is helpful only when you have stored highly confidential files on your computer.
But, if it for general usage, you should not worry about anything and freely remove this option from the menu.
Because this tool is helpful in the system security enhancement, it is pretty safe to use if you want.  So, you do not have to worry about anything while using it.
However, if you are still looking to remove it from your context menu, we are going to discuss the same below.
So, without any further discussion, let's get started.
How to remove CRC-SHA entry from context Menu in Windows 10?
So, now are probably aware of all the pros and cons of CRC-SHA feature from 7-zip. On the basis of its helpfulness for you, you can freely choose to use it or just remove it from your context menu.
If you have made your decision to remove it from the menu, just follow the procedure given below.
Open 7-zip file manager by any method. You can search for it using the Windows search bar.
On its primary menu, click on the Tools tab and then click on Options.
In the options menu, select the 7-zip tab.
Now, at the last, make sure you uncheck the option CRC-SHA.
Now, click on Apply and then OK to save the changes.
With this method, the CRC-SHA option would not be there in your context menu. You can then re-enable it using the same method. From this page, you can disable or enable various other features of 7-zip.
So, make sure to research for some more helpful methods. With this step, we hope you are now aware of how to remove CRC-SHA from the Context menu in the easiest manner.
How to restrict 7-zip from launching at start-up?
With the methods, discussed above, you would surely be able to remove that option from your menu. However, some users may also be looking for a method to stop 7-zip and all of its components to run whenever you boot up your computer.
Normally, this software would run automatically because it handles the tasks related to the storage. So, if you want it to run only when you need it, you can make necessary changes to do it.
There are various methods to perform this action on Windows 10. But, here in this process, we are going to pick the most easiest and effective one.
So, let's get started.
Go to Windows Search Bar and search for Task Manager.
Open task manager and go to the startup tab.
Now, click on 7-zip software and click on the disable button at the bottom.
With that done, this software would never run on each startup without your manual action. However, if you want to change your decision anytime, you can reach your task manager again and perform the action to enable the same option.
Is it good to remove CRC-SHA from the context menu?
It totally depends on your preferences. If you do not have any need related to data protection or security, it would be good to make your computer free from this unnecessary option. However, for some people, it would be good to use this option to keep their important data safe from various threats.
Lots of people are searching on the internet to find the best ways to remove it from their context menu. It simply means that this option is not making them happy in any possible way.
It could be because of the navigation issue or they find it hard to pick other options. It certainly makes your context menu big enough to cover the important content. So, unless you do not have any serious needs for these features, it is good to keep it away from your computer.
Along with that, most of the people never realize that they have this 7-zip software installed inside their computer. So, they could simply uninstall the software from their computer.
How to remove 7-zip software from your computer?
Because this option is coming up just because of this software, it is possible that you do not need it. As we discussed earlier, most of the Windows users do not realize that this software is even installed on their computers. So, if you want to get rid of it, the detailed process is given below.
Go to Windows Search Bar and search for Control Panel.
Now, click on the options Program and Features.
After that, find the 7-zip software.
Right-click on it and choose the options
It would take some time to remove all its data from your system.
Once the uninstall is finished, make sure to restart your PC to make the changes take their effects. By completely removing this software from your computer, you would definitely be able to make your computer free from some extra unwanted stuff. Also, you may get the most storage inside your hard disk.
So, instead of removing that option from your context menu, you can directly remove the root cause using this method.
---
Final Verdict
Finally, we hope we have helped you to effectively remove CRC-SHA from your context menu in Windows 10. Also, you are now aware of how to completely remove this program from your computer. Make sure to do the changes and perform settings properly to ensure fast and best results for you.
Also, while removing the software from your computer, we suggest you have checked whether it has stored some of your important files because they might also get deleted while the uninstall process.
We hope you have found this article helpful in this regard. If so, make sure to share your valuable feedback in the comment section. Also, do not forget to give us new suggestions for the articles for the future.
Share this article with your friends to help them too with the same. We keep posting regular articles on various other topics, so stay connected with us.