Are you seeing YourPhone app continuously running in your task manager? Most people would think that this is a virus and it should be removed from their computer. But, it is actually a tool in Windows computers that allows us to connect our smartphones to our PC and get all the notification right away on our PC. So, if you want to know what is yourphone.exe process is in Windows and how to get rid of it, this article is to help you with the same.
Although this software or we can say the background process gives no harm to your PC, it doesn't mean that you can't remove it from your computer. And, this might be the reason why you are here reading this article. So, we are going to reveal everything about this article and you will get complete details about the removal of this feature too.
This app basically does the job of synchronization so the system might keep it active all the time. It directly means you are going to see it whenever you open your Windows Task Manager. This app is going to consume some of your computer resources of course.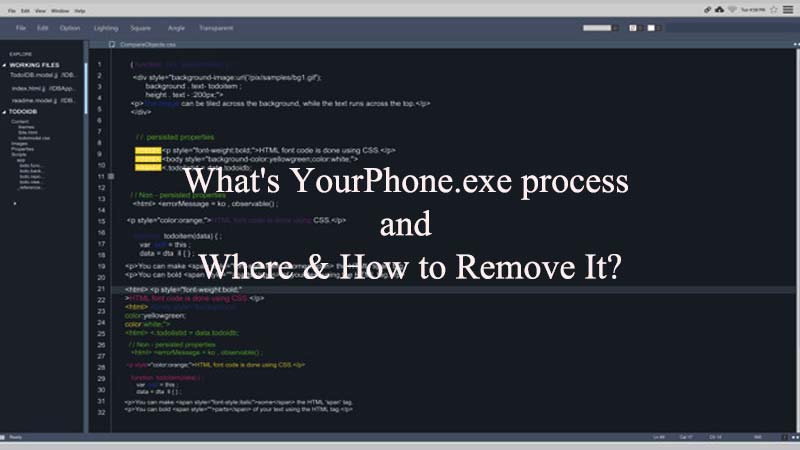 But, when it comes to the features, this app could be very helpful for you. Also, users can use this app to sync photos, send, and receive messages. However, if you have already made your decision to remove this app from your system, you will get all the required information here from this article.
So, without discussing more about the introduction, let's dive directly into the topic and get detailed information about the YouPhone.exe process in Windows.
What is YourPhone.exe?
YourPhone is a Microsoft app that does its job of synchronizing the iPhone or Android data from your smartphone to your computer. You can utilize it in vice versa. So, when it comes to getting cross-device experiences, this app can help you a lot with the same. In fact, you will be able to use most of the features of your smartphone on your computer.
Syncing is the first and foremost important feature of this app. It is mostly used by developers, photographers, and other professionals who want to share their data from phone to computer more frequently. So, this app can help them to create a seamless connection between both of the devices.
As we discussed earlier because this app is developed to sync the information on a regular basis, it will keep running on your computer on a continuous basis. And, this is the thing why people want to get rid of it.
Is YourPhone.exe a Malware or virus?
People often ask this question "is YourPhone a virus?". The answer is No. And we have already discussed the fact that YourPhone is a totally legitimate app offered by Microsoft. However, when you see it in the Task Manager, it may look like a virus or malware running in the background of your computer. But, you have to keep in mind that there could be another malware with the same name running in your PC.
That is the reason why we always suggest you always have a good antivirus program installed on your PC.
To answer your question in simple words, we want to say that this program is not a virus and you can trust it only if it is the real Your Phone app from Microsoft.
You can see yourphone Wikipedia page discussing this app in detail along with its features and history.
We hope you have got your answer now. So, if you are still looking to know how to remove yourphone.exe from your computer, just proceed further.
Is Your Phone app really harmful for your PC?
If you are curious to know whether this app is really putting your device in harm, we have an answer for you. Well, this thing totally depends on the type of vulnerability. Because of various reasons, your computer can behave in various ways while running this app in the background.
It means, some PCs can start spending a lot of resources like RAM, CPU, and even battery while keeping this app alive in the background. This is going to impact your primary functions very badly.
So, if you are seeing this sort of issue, this app can become worse and it will be a wise decision to simply remove it from your computer.
In another case, if this app is just running in the background without consuming much resources, you are good with it. In that case, there is no need to remove yourphone.exe from your Windows PC in our opinion.
So, you should keep everything in mind before starting the removal process.
Can yourphone.exe be on macOS?
Now, this app is officially developed by Microsoft and available only for Windows OS. So, you might see any other version of this app from another developer for macOS, but when we talk about the official release, this app is only available for Windows OS.
So, if you have a Windows computer, you are more vulnerable to see this error in your PC.
Disable YourPhone as a background process?
In this part of our article, we will know how you can stop this app from running in the background without removing it from your PC. It might be the case when you use this app less often and want it to run only when you require it.
The reason could be anything but disabling this app will be a wise decision instead of removing it because it is a pretty helpful app when we look at its features.
If you did this process properly, you will never see this app running in your background until you enable it again.
So, let's see how you can do this thing using the simplest method possible.
Press Windows+X buttons together and click on Settings option
Now, choose the Privacy option
After that, click on Background apps.
Find the Your Phone app and disable it using the button given along with it.
If you have done this process, you have successfully disabled Your Phone app from running in the background of your Windows computer.
 How to Remove YourPhone.exe Process From Windows PC?
There are numerous ways to remove not only this but all other apps from a Windows PC. The most common are through the Control Panel or Powershell. We are going to use both these methods in this article to help you remove Yourphone.exe from the Windows computer.
So, without any further delay, let's know how you can do it without any issue.
Remove YourPhone using PowerShell
This is perhaps the easiest and simplest way to remove Your Phone app from a Windows computer. You just have to input a single command and let your computer do its job. Let's see how you can do it.
Click on the Windows+X button together
Now, click on the option PowerShell (Admin).
Once the PowerShell is opened, enter this command and hit Enter
Get-AppxPackage Microsoft.YourPhone -AllUsers | Remove-AppxPackage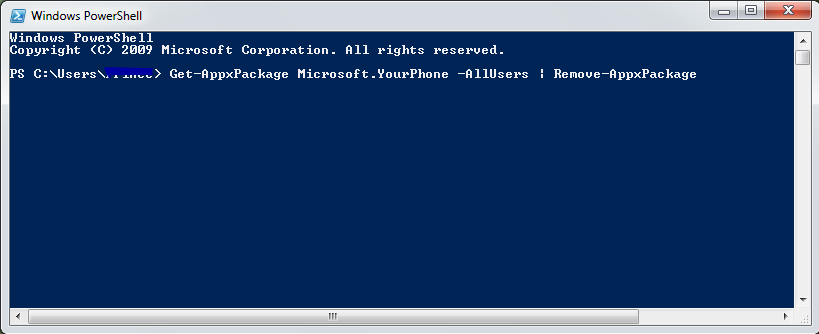 Once this command is initiated, you are finished with the removal process of yourphone app. Now, if you want to do it in another way, just proceed further.
Remove Your Phone app using Control Panel
We often use the Control Panel to remove our Windows apps or do any other sort of task in an effective manner. So, removing this app using this same feature is pretty easy. We have discussed this process already in numerous articles, and today we will know the basic process of doing the same.
Let's see how you can remove yourphone.exe in Windows using the Control Panel.
Go to Windows Search Bar and type Control Panel
Click on Control Panel app to open it up
Now, click on the option Programs and Features.
Find YourPhone.exe or YourPhone app.
Right-click on this app and click on the Uninstall or Remove option.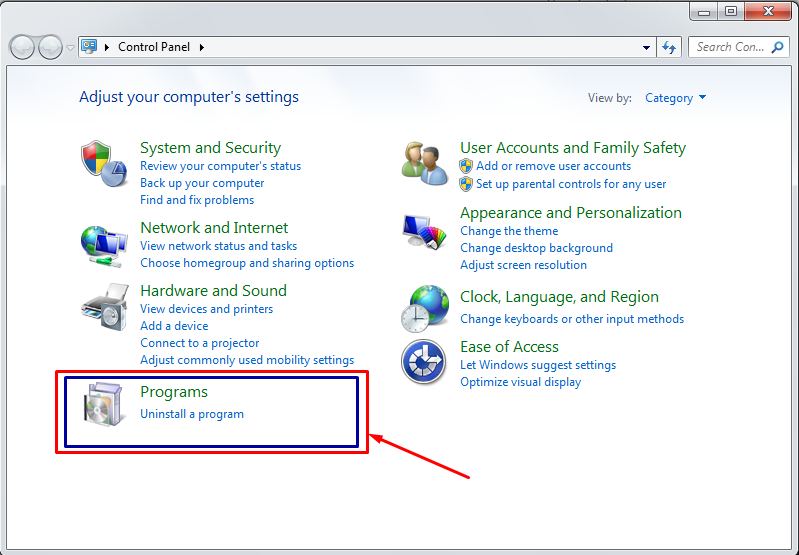 Let your computer do its job and it will completely remove the app along with its data. You can simply use this method to remove not only this but any other app on your Windows computer.
Delete YourPhone app using a third-party Software
We are fully assured that you will be able to get rid of this program just by using any of the methods given above. But, if you are not able to do the same, it is time to use another effective process for this.
There is numerous software available on the internet that will help you to remove any of the programs installed on your PC.
Some of the software are as follows.
Using any other software would help you to get numerous benefits along with the software removal. You are free to utilize various other features of these apps on your PC. So, make sure to use any of these if you are not able to get it done using the above given manual steps.
---
Frequently Asked Questions
How to Use YourPhone app on Windows PC? Now, you are aware of the removal process of this app from your computer. But, if you are wondering how you can use this app for your good, there are numerous ways you can do that. In order to use this app, you just have to find it in the Start Menu of your computer. Now, toggle the Your Phone to the On position where it would start to do its job in the way you want.
How to connect my mobile to PC using this app?
You can easily use it by connecting your device using Bluetooth. Once you did that, you are ready to use it for seeing your messages on your PC. Also, it will allow you to cast your mobile screen to your computer. Numerous other features are there for you. So, if you want to use it anytime, the process is pretty simple. You will know more about it once you have configured it properly.
How to download Your Phone app?
This app is officially available on the Microsoft website. Also, numerous Windows computers will have this app pre-installed on them. The official page of this app is this.
How to find Your Phone app in Task Manager?
The simplest way to do it is to open the Task Manager, and scroll the Background processes section. There you will see this app running in the background. You can disable this app from there too. But, it will be done temporarily.
---
Final Verdict
That was everything about the Your Phone or yourphone.exe and its removal process. We hope you have got the information you were looking for. The app is quite impressive if we look at its features.
But, if you do not want to use it, it's all up to you. You are aware of how to remove yourphone.exe from PC. So, you can follow this process or share this information with others to help them too.
Note: Doing these methods will be easy but we suggest you to perform them in a proper manner. Any wrong step in the settings could cause other harms to your system or its settings. Some problems could be irreversible too. We suggest you connect with an expert if you are not aware of what you are going to do further with these steps.
We hope you have found this article helpful. If so, make sure to share it with others. Also, it would be great if you share your valuable feedback in the comment section.
We would like to hear from your side now. You can also suggest new topics or suggestions. We keep publishing regular articles on various interesting topics for you. So, stay connected with us and keep reading.
Have a great day!