Recording Screen can be an important task if you work remotely or as an online creator. There could be various other circumstances when you will feel the need for screen recording on your PC. Recording screen could become tough when you have a PC. With a computer monitor, you can find it tough to record your screen if your computer does not have XBOX Game Bar, you have to install third-party software. This article is to share information regarding this along with a list of best screen recording software for PC. So, without any further delay, let's start revealing everything.
Recording screen means you want to capture all the details you want to show to your viewers. It could be a tutorial video or any other content you want to promote. But, having a suitable piece of software is required to get the best results possible.
Also, your computer should also be able to run that software effectively so that you can get the desired outputs. Whether you are a professional gamer, content creator, or a YouTuber, you must have a good screen recording software with you.
Picking the right software could be tough because numerous options are available on the internet for the users. So, you should always try to make a wise decision when it comes to picking the right tool for the same.
This will also impact the quality of your videos or whatever you want to make out of it. Your selection will depend on various things.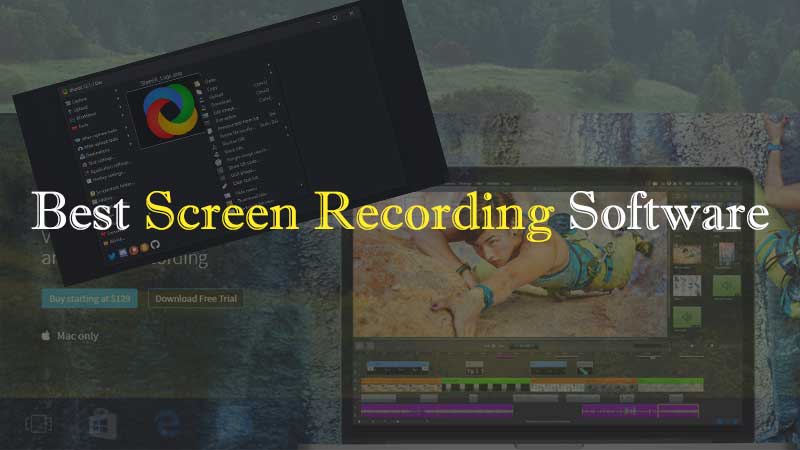 On the internet, you can find various screen recording software for PC on both free and paid pricing structures. That means you can effectively have the desired results even if you pay for your software or not.
Screen recording has made simpler by these software and you can effectively record any element on you screen. These software are highly demanded by the people who work remotely.
Sharing some specific types of information becomes easy when you create videos instead of taking screenshots. The list may include Social Media, Coding, Analytics, and various other business tasks.
So, without any further delay, let's know some more about the top screen recording software you can use in 2020. We will be giving you the links to reach the official sites.
So, read this article till the end and you will definitely get the information you are looking for.
What is the Screen Recording in PC?
As the name suggests, Screen Recording is a process of capturing the elements on our screen in the form of a video. This process is normally done using a third-party program which does the job of converting those visual elements into the form of a video.
The quality of the video can be varied and it will directly impact the size of that video file. Also, you can customize the resolution and pixel density of your video as per your choice.
Screen recording can easily be done not only on Windows but also in various other systems such as Android, iOS, etc. However, in the Mobile devices, we mostly get inbuilt apps to do this job. But, for Windows, you have to pick the right software.
As we discussed earlier, these software are good to have your screen captured in the form of HD or Full HD videos. But, you get various other premium features if you are opting for the top competitors of this field.
Why Screen Recording is Necessary?
You might be having a clear idea of what Screen recording is from the article above. But, when it comes to the importance of this process, you should keep some important things in mind. Screen recording is not a simple task of recording your screen in the form of a video.
For some people, it is a way to earn their living. I mean to say that if you see some online content creators, they are relying completely on screen recording to run their channels and build an audience.
So, to get the best results, they must ensure to pick the best tactics along with the right screen recording software. Screen recording becomes important when it comes to business purposes.
You might have to create a presentation where you need to add some videos from your screen. In that case, you should be using good software to get that work done in an effective manner.
With that said, we can say that screen recording should never be ignored when you are relying on it to have some important results. That is the reason why we are here to provide you with a list of best screen recording software.
Now, let's jump right into the matter and start revealing all those software one by one.
Top 10 Best Screen Recording Software for High and Low-end PC
Below is the list of best screen recording software. All these software are fully tested and trusted by millions of users worldwide. We are going to know about them one by one so that you can get the information about each software in a clear way.
1. Free Cam
Free Cam is the first software listed here in our article. We are doing this because this software is equipped with all the required features for screen recording. Most importantly, this program is available free of cost with numerous advanced options too. Selecting a custom recording area, and voice recording are some of the primary features of this software.
The software has a cool user-interface by which it becomes one of the leading software for screen recording. You can also use it as a game screen recorder. The software will offer you some other features to edit your videos and make them up to the mark.
Most impressively, you get the options to share your videos directly to social media or YouTube. The free version will offer you all the required features by the Pro Version will come along with various offerings that you will not get with numerous other software in its competition.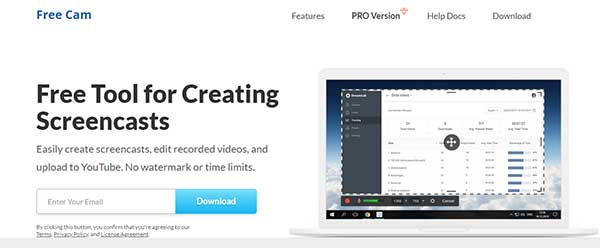 Key Features
Remove Background noise and remove unwanted parts of videos
Mouse Highlighting option
Record system sounds
Available for Windows For Free
Record Webcam with Pro Version
2. OBS Studio
Known as one of the widely used streaming platforms, OBS Studio can effectively be used for screen recording purposes too. OBS Studio is a completely free screen recording and streaming software you can use to easily record your screen in your desired formats.
Just like the other programs, it will help you to record your desired section of the screen. There is no limit of length of size when you record your videos using OBS Studio.
The software is used as a game recording software by numerous YouTubers and Twitch Streamers. You can also expect great results from this package because it is highly refined when it comes to its core tasks which are streaming and recording. The audio can also be captured in high quality.
You can easily customize the resolution in which you want your videos to be exported. HD quality videos can easily be created with this software. We suggest you test this software for sure if you want to have the most impressive outputs as an online creator.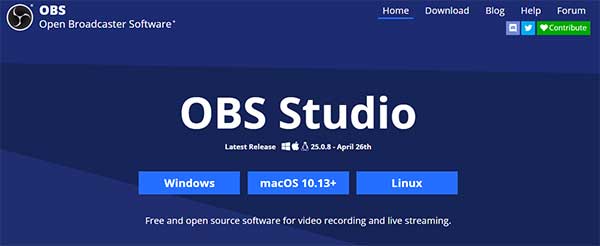 Key Features:
Great Performance and Easy to use
Easily select numerous sources and scenes
Assign hotkeys to start and stop recording on the go
Customize volume and other controls
3. EaseUS RecExperts

EaseUS RecExperts is one of the best screen recording software that helps users to capture video, audio and webcam. It covers nearly all features you need for screen recording. With a super simple and straightforward interface, it enables everyone to easily use it with no skills needed.
When it comes to the screen recording, you can choose to record either a full screen or a custom recording area according to your needs. Of course you can record screen with internal audio and or sound from microphone. In addition, you can record audio only. This screen recorder allows you to record screen and your face as an overlay at the same time.
Thus, this screen recording software is ideal for game recording, online tutorial recording, streaming video recording, etc. If you are wondering how to record zoom meeting, EaseUS screen recorder is also the most recommended tool for you. You can still use it as a screenshot capture tool.
Key Features:
Easy-to-use interface
Record screen with system or/and microphone sound
Record screen with webcam
Available for both Windows and Mac
Support 10+ common formats including MP4, MMW, AVI, MOV, MP3, GIF, etc
4. DVDVideoSoft's Free Screen Video Recorder
DVDVideoSoft Free Screen Video Recorder is another impressive software you should definitely use if you are looking for the best screen recording software for PC. This package is suitable for recording any type of video from your computer screens.
You can easily capture the onscreen changes along with the mouse movements. Not only that, but this software is also best to use as a game screen recorder. You can also capture multiple windows using this software package.
The software is completely free to use and you get no watermarks on your videos. Also, you can export them in mp4 formats whenever you want.
The software has an amazing capability to record your voice clearly. Also, you can use the mouse highlighter if you want. There are various other features you are going to have with this software. So, make sure to give it a try because it is free to use.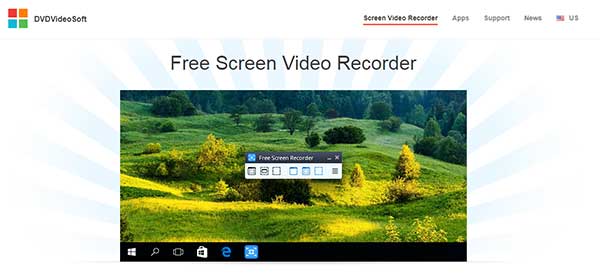 Key Features:
Run With Windows Start
Assign and use hotkeys
Take Screenshots in BMP, JPEG, and PNG formats
Available for all Windows versions
Small in size and easy to use
5. ShareX
ShareX is another great screen recording tool that is available completely for free. The software is suitable for screen capturing and file sharing. It offers numerous capturing options including full screen, monitor menu, last region, scroll, and a lot more.
In other words, you can perfectly customize the mode and views of your videos. The software is available for free but you do not get any sort of watermark in your videos. Not only that, but it will also help you to manage your workflows, assign hotkeys, and use various other advanced features for free.
You can use various regions controls like annotation, light, transparent, and windows. You can also pick polygon and freehand regions to record the region you want.
Some special features for webpage capturing are also given along. We suggest you test this software for sure if you haven't found the best one for you.
This software has all the features you will find helpful in recording your screen.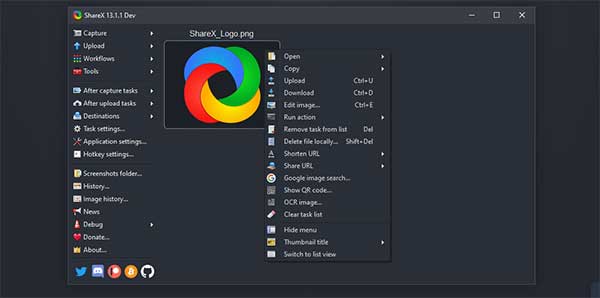 Key Features:
Numerous Screenshot features
Show file in explorer
Add watermark and effects
Scan QR code
Custom Region and Text capture
6. CamStudio
CamStudio is another highly impressive and free software to use. The software can also be used for streaming purposes along with recording tasks. CamStudio is suitable to create tutorial videos and various other sorts of online content for your social media handles and YouTube channels as well.
Whether you want to make tutorial videos for schools and colleges, this software will allow you to do that in an effective manner. The software can also be utilized for recording gameplay. There are various other features you should expect while using this amazing tool.
Make sure to download it from the official site and then get to know about all its offerings. This software has highly effective voice recording capabilities too. In other words, this is the best free screen recording software for all your needs.

Key Features:
Use Screen in screen mode
Customized cursor with a highlighter
Various options to change output video quality
Easy use interface
Technical support
7. TinyTake
TinyTake is another highly popular screen recording software brought to you by Mango Apps. This software is available for free for any purpose. You can use it effectively to capture your screen, record videos, and do various other things like video recording and simple editing.
The software will help you with annotations and internet sharing. Taking screenshots and recording videos with a couple of clicks is pretty easy to do.
This software will offer you various other features like custom region, zoom in/out, short-cut keys, and a lot more. You can also capture videos from webcams.
All these features are packed in a single software along with an impressive UI. So, make sure to give it a try for sure.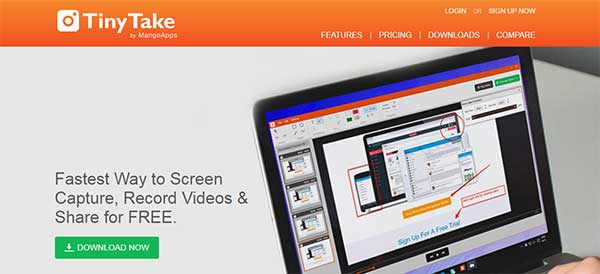 Key Features:
Copy to Clipboard and save locally
Store images and videos to cloud
Record up to 120 minutes continuously
Use custom shortcut keys
8. Camtasia
Camtasia is a highly popular and advanced video editing software which you can also use for screen recording purpose. The software will offer some advanced editing features only with its premium version but the screen recording function can easily be used to start capturing any content from your screen right away.
Also, you can edit your videos once they are captured with your PC. However, the videos edited with the free version will come with limited features. Also, you will have a watermark of Camtasia with its free version.
The video editor cum screen recording software is not suitable for the PC with limited or very few configurations. It will be good if you are using its paid version on a good computer.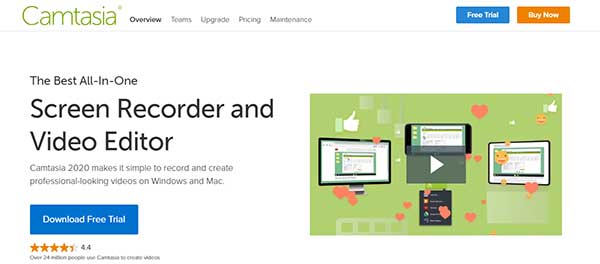 Key Features:
Webcam recording is supported
Effective audio recording functions
Easily add captions, quizzes, and callouts
Easy to use frame by frame editing
Cursor tracking and highlighting features
9. Screenflow
Screenflow is another video editor and screen recorder software you should definitely try using on your PC. This software is equipped with highly impressive features to allow you easily record your screen and then edit the output video file.
The software is suitable for teachers, content creators, educators, and online trainers. You can also use it as your game screen recording software.
However, the biggest limitation of this software is its price. You can download its free trial with some limited features. But, to use it with all its features, you have to opt for the paid plan. Also, it is available only for the mac operating system.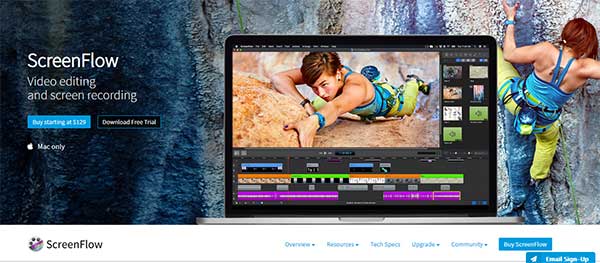 Key Features:
High-Quality video output
Revise your recorded videos
Best for online tutoring
Mouse highlighting and a lot more.
10. Screencastify
This is basically a Google Chrome extension that can effectively help you to record your videos on the go. This extension provides you with the best ways to record not only your screen but separate tabs and webcam. You can also enable the microphone audio recording feature to make it more helpful for your viewers.
This tool is pretty simple to use along with its free pricing plan. However, there are some limitations when you use it for free. You can opt for the paid version if you require additional offerings.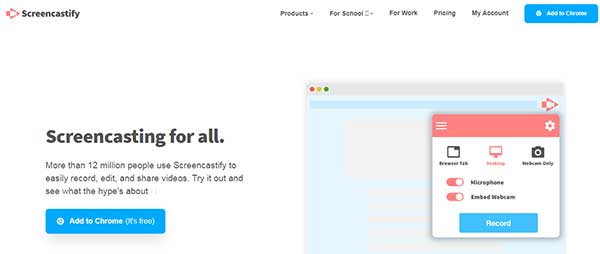 Key Features:
The free version is available
Easy to use
Share videos on YouTube and Google Drive.
11. Bandicam
This is a highly popular and used screen recording software with an ability to record everything from your PC screen. You can effectively use all its amazing features to record an educational, tutorial, and other types of videos.
The software can also be used for game screen recording. Recorded files can be saved in MP4 and AVI formats. You can also record external devices such as IPTV, Smartphone, Xbox, and Playstation.
The software has inbuilt features of real-time drawing, scheduled recording, mouse effect, chroma keys, and a lot more.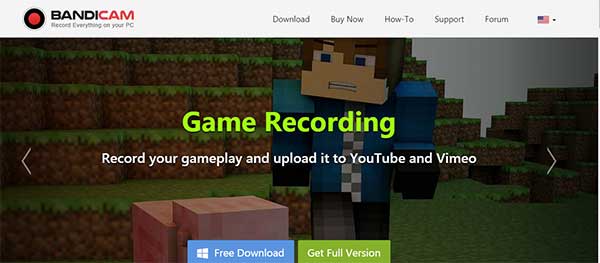 Key Features:
Device and audio recording
Game recording function
Hotkey customization
Webcam overlay feature
---
Final Verdict
We hope you will find this article helpful to find the best screen recording software or game recording software. This list of software is most suitable for those who are looking for free software to use. However, we suggest you research some more about these software.
This will allow you to make a wise decision. Alternatively, most of the software listed here is free and you can try them easily on your computers.
If you have found this article helpful in this regard, make sure to share your valuable feedback in the comment section. Also, you can provide us with suggestions for new articles.
We would definitely help you with the same. We keep posting regular articles here. So, make sure to stay connected with us.