Are you looking for the best remote access software for any kind of remote task? Well, in this article, you are going to know about everything in detail. We are going to reveal the best software which you should definitely try.
During these days of the pandemic, these software are highly utilized by most of the people. In fact, they are great to enhance our productivity when everyone is supposed to do work from home.
Desktop Sharing software are great to operate other's computers remotely. Also, you can use them to let others use your computer from a different place.
Because of this freedom of use, we can effectively have a great experience to do our works in the way we want.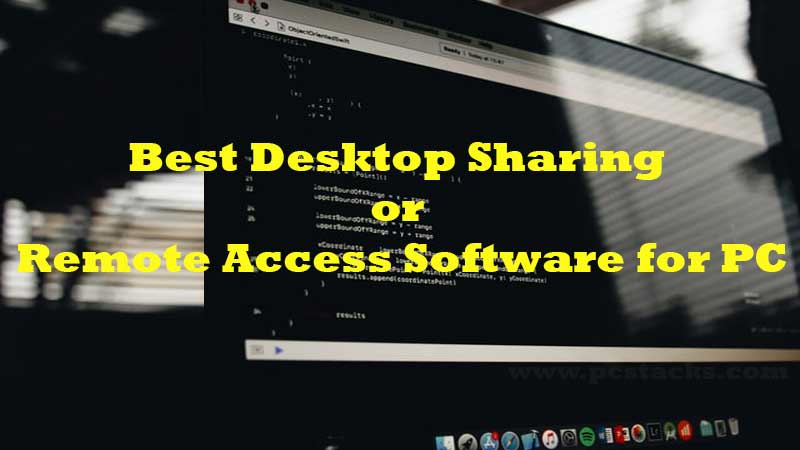 On the internet, you can easily find various software actively helping people to have remote access to various computers. We can use them across different devices and operating systems.
So, when it comes to picking the right software, you should take proper steps for the same. Choosing the right software will help you to get the desired tool to enhance your experience.
Only by seeing other's screens, you will not be able to get the results you are looking for. So, you should pick software that comes along with all the controlling and operational features.
This will help you use these software as a great resource for any kind of remote work from any place.
Even if you are an employer, employee, or freelancer, you may feel the need for remote access software anytime. Anyone may want to use these software including web developers, programmers, writers, or other kinds of technical and non-technical staff members in a company.
If you are also finding software that can facilitate you with the best offering, you should definitely read this article till the end.
We are going to add most of the highly popular and well-rated software in this article below.
So, without any further discussions, let's get started.
Why you need remote access software?
As the name suggests, the remote access software does a job of allowing people to access the computer systems remotely from anywhere.
Suppose, if you are working in the USA for a client in Germany.
Now, if you want to do some live changes to your client's computer, you can't do it just by saying by your mouth.
It is possible that the second person is not having enough technical knowledge to do the things you want them to do.
In that case, the remote access software comes into play. Once connected successfully on both the systems, this software will not only transmit the display to your computer but it will allow you to control things like your own system.
These software are great to do almost anything on the second monitor. However, the quality of outputs and transmission will depend on various factors such as the speed or internet, etc.
There are various fields where we can use these software. This is the reason why we are here to provide you with a list of the best software in this field.
What are the benefits of using desktop sharing software?
Remote Access Software are very beneficial when it comes to accessing the computer in different locations all over the world.
You can easily use these software to do any changes to any system which is properly connected to your system.
Below are some of the best benefits you are going to receive by these software.
Control and maintain devices in a network
Access the files on the targeted device
Create new files and delete the existing ones
Troubleshoot systems
Record screens and share files
There are various other things you can easily do by using these remote access software. Also, you will get some additional features with some software.
Picking a premium software will give you some additional features which you may not get with free software. We are going to uncover all the popular software in this field.
So, you will be able to know about the benefits of all of them.
Best Remote Access Software to Download in 2020
Below is the list of best Remote Access Software which you can easily download by going to the official websites. Let's see all of them one by one.
RemotePC
RemotePC is one of the best remote access software you can use to connect, control, and collaborate inside any network. Whether you are using it for personal or corporate applications, this software will give you amazing benefits for sure.
The software is equipped with all the necessary features you will require in any good remote access software. You can use this package 24×7 for any kind of remote access task.
The software also has a feature called AlwaysON. With this feature, you will be able to take full control over your created networks anytime you want.
You just need to share your Access ID and key with the targeted user and you are good to go.
You can easily download this software if you want. However, RemotePC also has a web version which will help you to get the same features without any software installation.
Along with that, you can download it on Windows, Mac, Android, iOS, and Linux systems as well. Let's see some of its other features.
Key Features:
Secured with TLS v 1.2/AES-256 encryption
Easily add new remote computers to your network
File transfer and chat support
Remote printing and remote reboot features
Play sounds remotely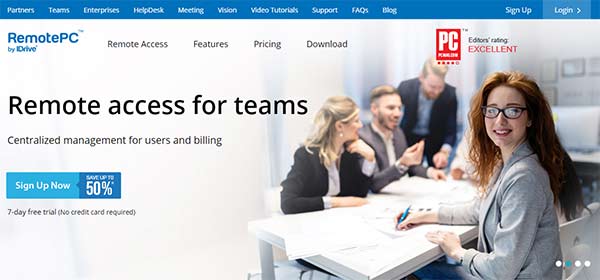 LogMeIn
LogMeIn is another highly popular remote access software on the internet. The software is used by millions of users all over the world. It has some amazing features to offer at pretty low pricing plans.
Remote access allows you to use file transfer, multi-monitor, and remote printing features with its basic plan. However, with the Pro Plan, you can receive various other amazing features that no other software can provide you.
The software also offers you cloud storage and Last-pass Premium with its pro plan which is another great advantage to have.
Password management and full remote control are some other features you get with this amazing software.
You can easily extend your network by adding unlimited users to it. Instant sharing and collaborations are also allowed with this software.
LogMeIn is like a leader in the field of remote access software. So, you should definitely give it a try.
Let's see some of its other main features.
Key Features:
1TB File storage to access your files from anywhere
Multi-monitor display
Highly precise remote control features
Remote Printing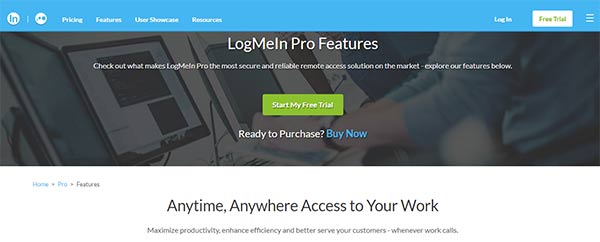 Zoho Assist
Zoho Assist is the perfect pick if you are looking for software that is oriented towards the commercial side. This software has some amazing features that make it ahead of the competitors.
Along with all these features, the price of its packages is pretty competitive. Various diagnostic tools, voice, and video chat features make this software a special package for everyone.
In simple words, you can use this software for any kind of remote access task you want to do with your computer. It uses 2FA, 256-bit AES, and SSL encryption to secure all kinds of processes.
Mobile SDK is also supported by Android and iOS devices. The software is used by large corporate as well as individual users.
So, if you are looking for a premium but affordable solution to choose from, this one is perhaps the best one for you.
Let's see some of its other amazing features.
Key Features:
MSP and IT support
File Transfer
Multi-monitor display
Video and Voice chat features
Connect and online reboot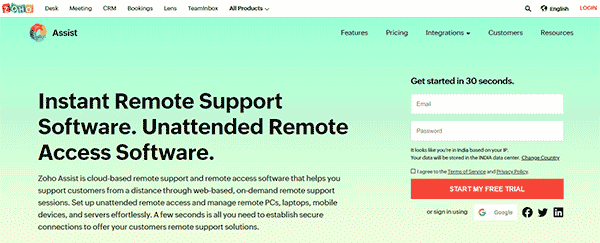 TeamViewer (Remote Access Software)
This software is the best option if you are looking for something with cross-platform compatibility. TeamViewer is easy to use and trusted by millions of people all over the world.
The software will not only help you to share and request your screen, it will also let you use various other amazing features. Some of the main features are Wake on LAN, Remote installation, and mass deployment.
Along with this, the software is pretty secure and trusted by various people. The screen sharing quality is just amazing with an easy process of configuration.
Software is also supporting the Augmented Reality these days. Along with that, you get support for IoT as well.
Remote support, Mobile device support, monitoring, and collaboration features are also there in this software. Most impressively, TeamViewer has a completely free version for non-commercial applications that no other software company is providing.
Let's see some other amazing features of this software.
Key Features:
Real-time Website monitoring
Control and collaboration tools
Highly secured connections
Easily affordable.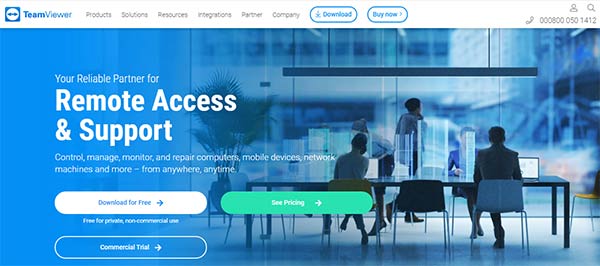 Parallels Access
Parallels Access is a tough competitor to TeamViewer and all other popular remote desktop software. This software has all the required features you will ever need in your remote access software.
The software comes along with more than 30 features to offer you amazing capabilities. The software comes along with a load balancer, advanced security options, and various other advanced features.
You will also get peripheral redirection and remote printing features with this software. It has all the advanced controlling features you will need to make your remote accessing process easy and effective.
In other words, you should definitely try this software regardless of your needs. Whether you want to use it for personal or professional uses, this software is best for each task.
Key Features:
Use the full power of Chromebook Enterprise
Parallels Mac management
Easy to use keyboard shortcuts
Drag and drop tools
Easily affordable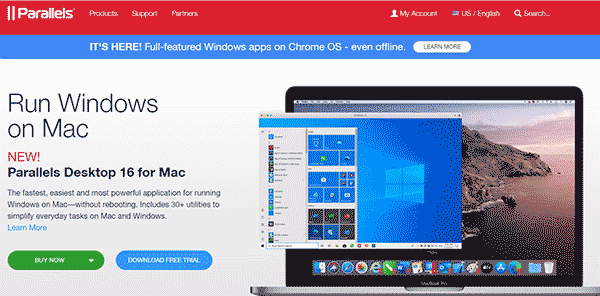 Chrome Remote Desktop
If you are finding a reliable but completely free software to use, Chrome Remote Desktop is perhaps the best option to choose from. You can use this program on Windows, Mac, Linux, Android, and iOS devices.
It is basically a browser extension. But, you can easily set it up on various kinds of mobile devices as well. The key thing to notice is the quality of the services you are receiving.
The screens are shared in an adequate manner with proper details of everything. However, when it comes to controlling, this program has some limitations as well.
But, because this package is completely free to use, you can't expect premium features from it.
Chrome Remote Desktop program is developed by Google Chrome. So, trusting on this program will be easier for you. This program can easily be used to have remote access from a place to another.
UltraVNC
UltraVNC is a pretty powerful remote desktop software with some amazing feature and tool. The software will help you to easily connect any kind of Windows computer.
You can use them for any kind of remote access task. It will help you to easily do anything you want to on the targeted computer.
But, keep a thing in mind that you should have a deep knowledge of computers if you want to make the most out of it. In order to use this software, you should do dual installation.
Means, you should have this software installed on both the systems. You can easily access the content from other computers and share your screen as well.
Along with that, the software offers features like remote printing and online file sharing.
Key Features:
Cross platform compatibility
Highly encrypted connected for enhanced security
Easy file transfer and chat features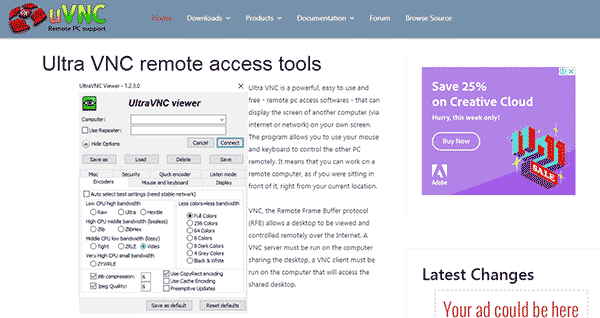 AnyDesk
AnyDesk is known for its user-friendly interface and various advanced features along. Along with that, it is a lightweight program which you can use easily for any purpose you want.
Whether you want to use it for personal or commercial purposes, this software is best to choose for any task. You will find it easy to use along with numerous advanced features.
Live sessions and record them in the way you want and easily trust on this software because the connections are fully secured using the latest technologies.
Also, AnyDesk is available for all Linux, macOS, and Windows systems so that you do not have compatibility issues. You can use its amazing built-in features like online collaboration and file transfer.
Along with that, this software allows you to customize your user-interface in the way you want. Some of the other features of AnyDesk are as follows.
Key Features:
Record your sessions
Create your own networks and have full control over your data
Lightweight and easy to use
Highly secure and fast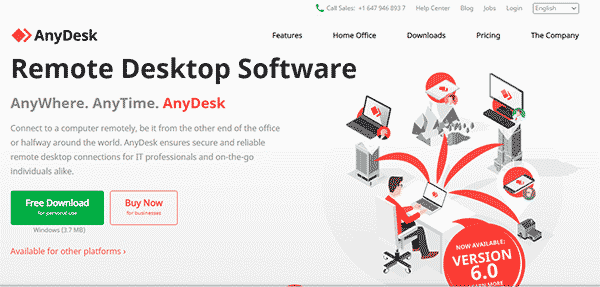 ---
Final Verdict
This article about the best Remote Access software was written with a proper care and after a full research work. So, you can trust on any of these software without any hassle.
However, before making a decision, consider visiting the official websites of these software and then pick the right one for you. The internet is full of other options to choose from.
So, you can find some other software that suit best for you needs. But, we hope you will be able to pick the right one for you from this article itself.
If you have found this article helpful, consider sharing it with others too. Along with that, feel free to give us your valuable feedback. You are free to give us latest ideas and suggestions for the articles.
We will definitely try to write on those topics. If you want, you can use social media to spread this article around your networks. We keep publishing regular articles on various tech and software articles.
So, stay connected with us for more.