Virtual Machine Software are pretty popular in the field of computers and software. These software are great to use for various purposes. Because they give you the freedom to run your desired operating system on a single hardware, you can make use of them in different circumstances.
VM Software can specifically be called Virtual Machines. They make various operations cost-effective and flexible for users.
So, if you want to know about the best virtual machine software, this article is going to help you with the same. We are going to uncover some of the best software in this domain which you can start using right away.
For the businesses and personal uses as well, it could become tough to handle the expenses of different systems and hardware to run different apps.
Because most of the software will not run on all the operating systems, you can sometimes find it hard to deploy some important applications.
So, instead of arranging new hardware for this task, you can simply make use of a virtual machine. If you want to run Windows software on a Linux computer or vice versa, it is very easy to do with VM software.
There are no special benefits of these software but you get the freedom to run various operating systems across different hardware.
A virtual machine will basically help you in different situations. Not only will it help you work across devices, but you can also easily use them to fulfill different business needs.
In fact, any business can make use of these software and reduce their overall business expenses if this thing works for them. Below in this article, we will not only discuss the best virtual machines to use but also all the major benefits you can get from them.
So, without any further discussion, let's get started. We will definitely help you to get a list that you can trust.
What is a Virtual Machine?
A VM is pretty easy to use and anyone can easily understand its functionality. Basically, a virtual machine works like simple software but it gives you a completely new environment to work in.
So, if you have software that supports only a specific operating system, you should be fine with virtual machine software. This software will provide you with a lot of freedom.
In fact, you can use them to run more than one or two operating systems inside single hardware. You can imagine a virtual machine as a computer program that is written to allow users to run any kind of software or game on an OS that doesn't support it.
So, now when you have a brief idea of what is virtual machine software, let's know some of its main benefits below.
What are the benefits of a Virtual machine?
There are various benefits of using a virtual machine. But, below are some of the main benefits you can have with these software.
Operational Flexibility
As we discussed earlier, a VM will help you easily run your desired software on different operating systems you want. So, if you want to run a Mac app on your Windows computer, you can easily do the same with them.
In fact, you can run multiple instances of a single app of a different OS. This allows you to get numerous advantages when you require different systems for testing purposes.
However, it is important to have good quality hardware with enough capabilities to run multiple apps at a single time. VM software is going to consume good storage space and memory, so keep all these in mind before using any of them.
Better Availability
Another benefit of using a VM is that you do not have to rely on a single OS to run any application. This can help a lot for business purposes.
So, if you are running a business and not able to get the most out of software on the first OS, you can try another one and it may solve your problem.
Cost-Saving 
Because, you can use different OS and applications on single computer hardware, this will help you to save your budget a lot. This is going to impact your overall business revenues impressively.
When you have the freedom to use your systems for different kinds of applications, you are going to see numerous benefits to enhance your productivity and make the most out of your business.
Centralized Management
Once you setup your computer with a different OS for various kinds of operations, you can easily a single computer to handle multiple tasks. This is going to save a lot of time, effort, and budgets as well.
The main motto is to reduce the usage of resources to handle different systems and give all those tasks to a single system.
There are numerous other benefits you can have with the help of virtual machines. When it comes to business tasks, companies can have various amazing results by using these programs in an easy manner.
Now, without any further discussions, let's know about the best virtual machine software which you can use in 2020.
Best Virtualization, Virtual Machine Software for PC [Run Multiple OS]
Below are some of the best virtual machine software you can ever find on the internet. Some of these software will be free. However, you may have to pay some amounts for some.
Let's start with the first one first.
Virtual Box
Virtual Box is perhaps one of the most popular and effective VM software to use. This hypervisor is open-source and available for free for any x86 computer.
This software can easily be installed on multiple systems including Windows, macOS, Linux, Solaris, OpenSolaris, etc.
VB software is known for its cross-platform capabilities and this is why you can use it to run multiple virtual machines at the same time.
So, if you have one desktop and you want to use multiple systems at the same time, this software is going to help you with this. Some of the other major features of this software are as follows.
Key Features:
Multi-screen Resolution
3D virtualization
Laudable Hardware support
Windows resize feature
Drag and Drop functionality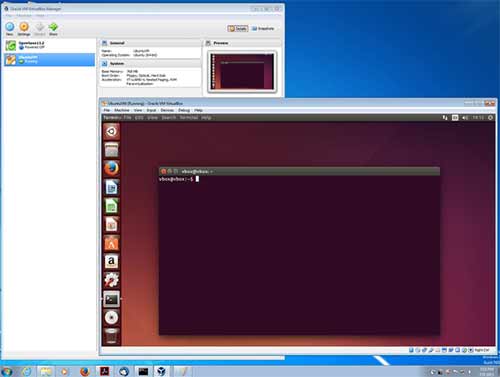 VMWare Workstation Player
This is another amazing virtual machine software that suits best specifically for people working in the IT industry. The software is suitable for testing, debugging, and research purposes.
Workstation Player supports different network and hardware configurations by allowing you to easily manage different systems at the same time.
The software is developed for Linux and Windows computers running on x64 machines.
VMWare software is also free of cost just like the above one. So, if you want to create unlimited virtual machines on your single computer, you can also make use of this one.
Whether you want to use it for personal or professional uses, it can easily be implemented anywhere you want. Also, it can easily run multiple applications even on guest operating systems.
Some of the key features of this software are as follows.
Key Features:
Choose from hundreds of host OS and guest systems
Transform data from host OS and supported guests
If you want to use it for commercial purposes, it is easy to purchase a license.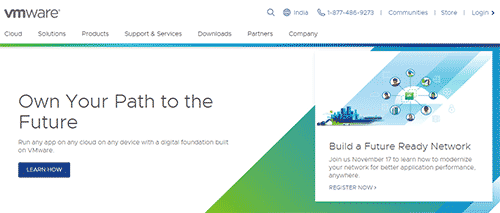 Parallels
This is another amazing software you can easily use for virtualization tasks in Windows and Mac devices. This software comes along with various features such as real-time licensing and advanced UI.
Parallels will help you to easily deploy various kinds of environments on single hardware in real-time. The software is equipped with various other features to facilitate the requirements of both individual and corporate users.
Along with its numerous virtual desktop usages, it is pretty fast and easy to utilize for any purpose. Once you set it up on your computer, you do not need to do a reboot to switch to a new system.
Also, adding new apps and deploying them on your desired operating systems is easy with this package. You can easily get real-time statistics and other insights into your important data with this software.
Let's see some of its other major features.
Key Features:
Usage statistics
Add new users and generate emails using a couple of clicks
Easy to switch between operating systems.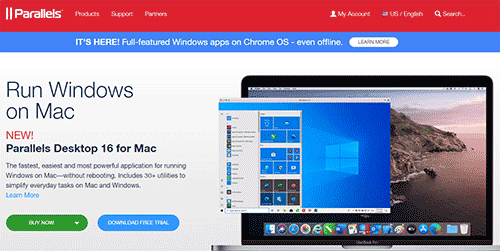 Windows Hyper-V
Hyper-V is offered by Windows only for the Windows computer. This is basically a hypervisor designed to virtualize machines on x86-64 systems.
This amazing tool will help you to easily run multiple virtual machines on single hardware without any complications.
You can easily create virtual switches, hard-drives, and numerous other devices using Windows networks. It can easily be used to run any software that requires an older version of Windows to work with.
Also, if you have a non-Windows OS, this platform can easily be used to test and run any kind of software.
It is very easy to create new operating systems and delete existing ones. So, whether you have a laptop or a computer, Hyper-V is another perfect option to choose from.
Key Features:
Fully cloud-based platform
Easy to do hardware virtualization tasks
Supports various versions of Linux
Easy to tun multiple virtual machines at the same time.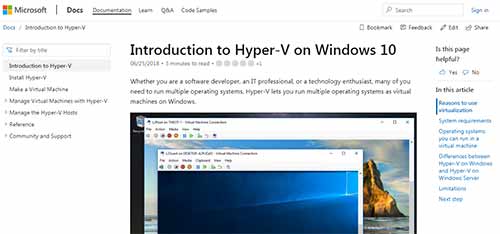 QEMU
QEMU is used worldwide as a popular emulator and virtualization software. This program is written in C programming language and the developers have done a great job to make it pretty functional in all manners.
It can easily be used as a quick emulator or a full-fledged virtualization software on various devices.
Also, if you want, you can easily run multiple operating systems on your desired systems without any hassles.
It gives you various options to choose from. You can either make it your full-system emulator, user-mode emulator, or a virtualizer. Most impressively, this software is also free and open-source.
Let's see some of its other main features.
Key Features:
Use on any system and host any OS
Run software of any machine on a single hardware
Run KVM with near virtual performance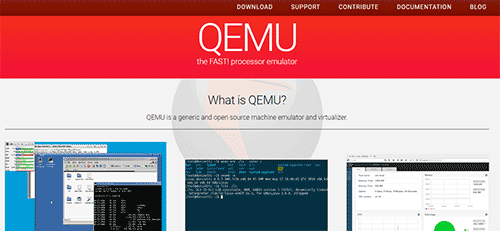 VMWare Fusion (Mac only)
VMWare fusion is known for its decent offerings as a cloud computing and virtualization tool. You can easily use this package to run any kind of OS on your desired hardware and make the most out of it.
Along with Windows, Mac, and Linux, it supports all other popular operating systems. The software will allow you to switch between operating systems without doing reboots.
Fusion software is perfect for personal usages, IT professionals, and any other commercial purposes. The company has taken full care to make this software as helpful as possible for the users.
Key Features:
Run easily on any system including Mac
Easy to testing and development tasks
Use VMWare vSphere
Easy for simple and complex development projects

Bootcamp
If you own a Mac device and just want to switch between Mac and Windows, this one is perhaps the perfect pick for you. In fact, Bootcamp comes with most of your latest Mac devices.
The program is pretty easy to install and start with. This feature inside your Mac allows you to use most of the Mac features on your PC operating system.
You can use your Apple keyboard on Windows and install AMD graphics drivers. This will become your secondary computer if you want to use it for any task. Along with that, you can a proper Bootcamp assistant and Control Panel for better help.
However, you will have to keep your Mac up to date for the best benefits. There are no other additional benefits with this package which you are getting with the other ones. But, it is definitely a great option if you have a Mac computer.
Key Features:
No need to download any external software
Install Windows 7/8/8.1/10
Easy to use the same keyboard setups on both devices.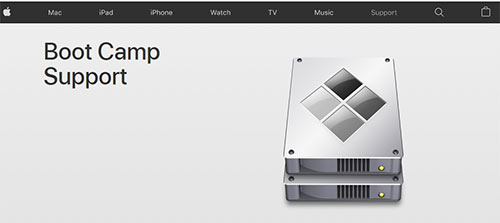 Proxmox VE
 This one is not so much popular as the ones we have discussed earlier. But, you can use this software as your virtual machine software if you do not have any other option to use.
This software is equipped with similar features but you get KVM hypervisor, LXC container, and other amazing network functionalities on single hardware you want to use. Most impressively, this software is also open-source and fully free to use.
The computation, networking, and storage applications, you can easily use this software just like any other popular virtualization package.
For software training and enterprise applications, this could become a good option for you. Most of the features are designed by taking care of the interests of commercial projects.
Key Features:
Minimal Expenses even for commercial usages
Most suitable for IT infrastructures
Great for Windows, Linux, and other environments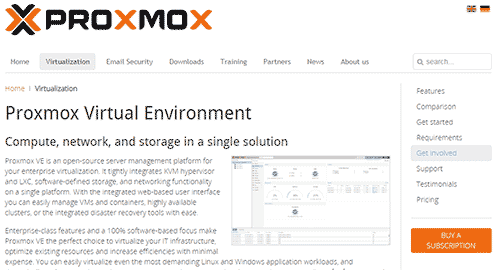 ---
Final Verdict
This was a complete list of 8 best virtual machine software that you can easily download in 2020. All the software is fully tested and researched by us. So, you can start using anyone and get amazing benefits.
However, as per your requirements, some software may not fit your needs well. So. we suggest you go through their official websites properly and only then make a free or paid purchase.
This will help you to save your time, efforts, and other precious resources.
We hope you will find this article helpful in this context. If so, consider sharing it with the others too. You can use social media for the same. Also, make sure to give us your valuable feedback in the comment section.
We would appreciate it if you give us new suggestions and ideas for new articles and love to write on those queries as well. We keep coming with regular articles here on this website.
So, stay connected with us and stay facilitated.