System monitoring software are great to keep an eye on your system and all its available and used resources. These software can help you a lot to check your computer networks or it's mapping and other online resources.
Getting this information using traditional tools is easy. If you want something extensive, you should definitely need a system monitoring software for the same.
Good software will be able to provide you with various details about your whole business ecosystem and its resources.
The resources may include system graphics, networking, and all the other important elements.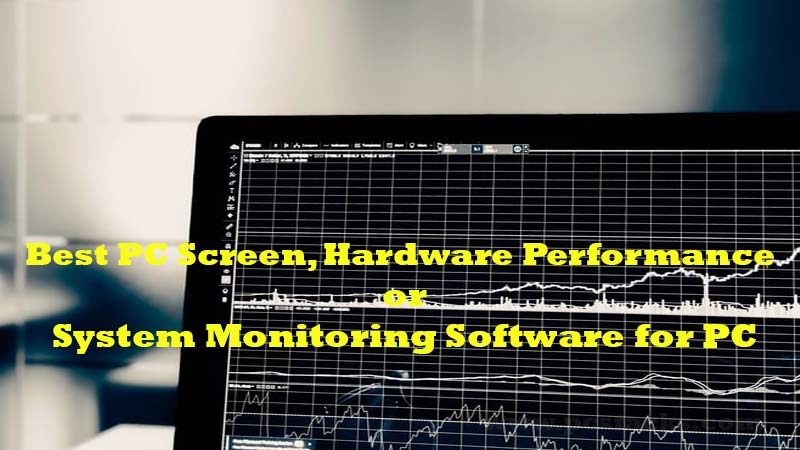 A system monitoring tool is great to keep your systems up to date as per the available system resource in your hand. These software may be useful for you as an individual user.
But, you can also use them for various commercial purposes. PC monitoring software are great to use when you have a high-end computer to handle extensive tasks.
These tasks may be personal or organizational. When it comes to the business's uses, these software can be used for various professional tasks.
Most of the time, businesses use them for business software monitoring and network detection's.
Not only for monitoring, but these software can also be used for other things such as security and management.
Some advanced software will offer you other features like manipulation of information and its uses on other platforms.
Multi-device monitoring and server monitoring are some of the other features of these software. You can find numerous other uses for sure.
And that's the reason why you are here with us.
You might need a system monitoring software for various other tasks as well. Whatever the reason is, this article is going to help you pick the right software for you.
In fact, we have developed a list of the best software in this domain you can use for any kind of work.
So, without any further discussions, let's get started.
What is Screen or System monitoring software?
You can visualize a screen monitoring software as Windows Task Manager. This tool gives you a detailed overview of your total computer resources and how much you are using.
When you have dedicated software developed for this task, you get various other advanced features with the latest software.
PC monitoring software helps you to get data-driven insights into your desired information very easily.
You can create business reports if you want using these software.
All this information can help you a lot to grow your business effectively and prevent any upcoming disaster.
These tools will eventually help you to plan and organize your business assets effectively and make the most out of your resources. As a business entity, you can use these software for various other tasks.
What are the benefits of System monitoring software?
These system monitors can offer you numerous benefits which you will not get with other software.
There are different kinds of things you can do using these software.
This will include creating reports and generating the desired type of views of your business resources including servers and networks.
Some other benefits of the system monitoring software are as follows.
Get detailed insights and reports of an organization
Detect problems before they persist using the data.
Let users prepare and plan IT upgrades and determine the budgets.
Remotely monitor the resources and minimize service disruptions
Lower down business downtime and increase efficiency
All these benefits comes along with the advanced supports services from all these popular service providers we are going to cover here.
You can easily pick any of the given software and get all the things you are looking for.
What features to make a best computer monitoring software (Identify Performance)?
The system monitoring software are great to get most of your business monitoring tasks done without any hassle.
So, if you are picking any software in this domain, you should check whether it is going to give you all these benefits or not.
In this section, We are going to know the features of these software below and if you are getting all of them in any software, you should definitely choose it for your desired works.
1. Monitoring
Whether it comes to multi-device monitoring, server monitoring, remote monitoring, network monitoring, or notifications and alerts, good system monitoring software should be able to cover all these benefits.
This is the basic task of any software. However, some specific software will be developed for specific tasks.
If you want to pick the best software, make sure to find the one which is good in its field.
2. Reporting
When it comes to reporting, it is a pretty important aspect of any software you want to use in the corporate sector.
In general, a good system monitoring software should be able to do effective data visualization and create custom reports of your desired content.
Risk analysis and performance data reports should also be there in your software.
3. Security
Along with all the visualization and system monitoring features, your software should be able to provide you good security features as well.
This will include administrative access control, malware management, antivirus, data backups, and recovery etc.
4. Management
A good system monitoring software can also offer you effective data and system management services.
Whether you want service configuration management, policy-based automation, patch management, or hardware inventory, a good service provider will help you with everything with its software.
Best Hardware or System Monitoring Software for PC
1. eG Innovations
This software is going to provide you with great performance visibility with its great support services. The software will work with more than 200 application technologies and 20+ storage devices.
Moreover, you can use it on 10+ operating systems and virtualization platforms. Along with that, you can also utilize its common cloud environments pretty easily.
Because of its advanced features, it can be used by large businesses, managed service providers, and government agencies.
Along with that, you can see its numerous uses if you are looking for features like cloud deployments, SaaS solutions, etc.
The software comes with a free trial and you can also request a quote and choose a subscription plan as per your requirements.
Key Features:
Easy Evaluation of data
Performance auditing services
360-degree view of VM performance
Agent and agent less monitoring
Simple layer model views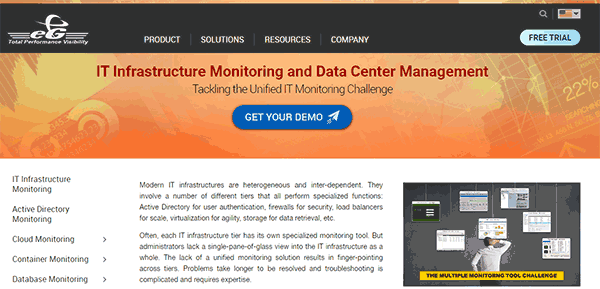 2. SolarWinds Server and Application Monitor Tool
SolarWinds is perhaps one of the most popular and advanced system monitoring tools you can ever use from any platform. It is lightweight and has a simple user interface.
But, along with its easy usability, it is pretty powerful to make every monitoring and analysis task easy and fast.
It has various kinds of solutions including IT security, IT operations, Database management, Office 365 solutions, etc. You can also utilize its CISCO solutions and various other advanced offerings at pretty easy prices.
For networking solutions, this software is a great deal for any kind of business.
You can easily start using it within minutes and get various features that you may not get in any other software in this domain.
The software is good to visualize app dependencies. Some of the main features are as follows.
Key Features:
Active Directory monitoring
AWS Monitoring tools
Azure laaS monitoring, PaaS monitoring
CISCO UCS Monitoring
CentOS server management
DNS Server performance monitoring etc.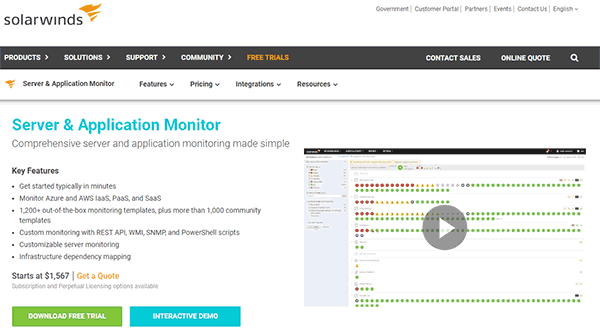 3. Datadog Infrastructure System monitoring software
The software is great to use for various kinds of monitoring tasks. It can easily be used as a centralized monitoring system for any kind of business task.
Datadog is equipped with various impressive monitoring, analytics, and security features for IT ops teams. Developers, security engineers, and business users can use this software and use its various features for the good.
Its SaaS platform integrates effective infrastructure monitoring, APM, log management, and security monitoring. All these features are come along with this great software.
But, you can get various others and use it for both large and small scale business pretty easily.
The real-time observability is something that gives this software a great advantage over other solutions.
Key Features:
Monitor system-level metrics including CPU and storage
Reduced resolution time
Collect more data points with 400+ built-in integrations
Track custom metrics and create reports.

4. Atera
Atera is equipped with various advanced remote monitoring and system management solutions along with the monitoring methods.
The system is designed in a way that it can easily be used by managed service providers. But, you can use it not only for system administrators but also for patch management and numerous other things.
Services included in this software provide you with advanced solutions with easy usability. The software is designed to offer various backup options as well.
Dashboard is pretty user-friendly and comes with some primary features on the main screen. Some of the options include tickets, alerts, devices, customers, knowledge base, etc.
The prices are affordable but the software lacks some features which you will get with SolarWinds.
So, make sure to keep all those things in mind before choosing it.
Key Features:
Network supervision
Server and application monitoring
Local monitoring
Cloud-based service
No need to install software to use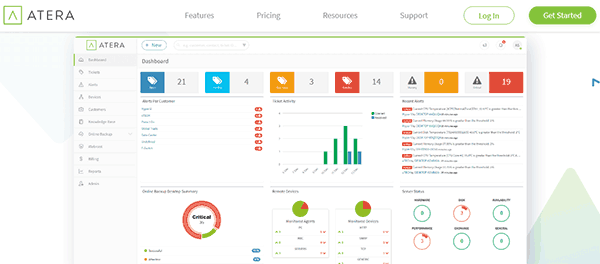 5. NinjaRMM
NinjaRMM comes with its per-device pricing plan based on the required features. It offers great endpoint management that can be used by any managed service provider.
IT professionals can also use it to check and find the IT networking issues pretty easily. The software comes with a large set of tools for advanced system monitoring, security, analysis, and reporting as well.
For security, it has various effective features to make things easy to secure for you. For business uses, this software has numerous reporting tools ready for you.
You can easily use it to check the health of your Windows or macOS workstations. Also, the same concept will apply to the servers too.
If you want to get full detail of software and hardware inventories, this software can be used for the same too.
Key Features:
Remotely manage your devices without interrupting end-users
Automate third-party apps and operating systems
Standardize configuration, management, and deployment
Take control of devices using remote access
6. PRTG Network or System monitoring software
If you are looking for a good tool specifically for network monitoring, you should definitely try PRTG network monitor software.
The software allows you to easily monitor devices, traffic, systems, and applications inside your desired IT networks.
It is an easy-to-use solution for all your network monitoring needs and user-friendly interface backed by the advanced software you will need inside any business industry.
PRTG network monitor has various plans with different sensors to fulfill your custom requirements easily. It has a flexible alerting system which offers features like push notifications, and text messages.
In this way, you can always stay updated with all your system works and activities.
Key Features:
Multiple user-interfaces based on AJAX
Cluster fail over solutions
Easy to use maps and dashboards
Distributed monitoring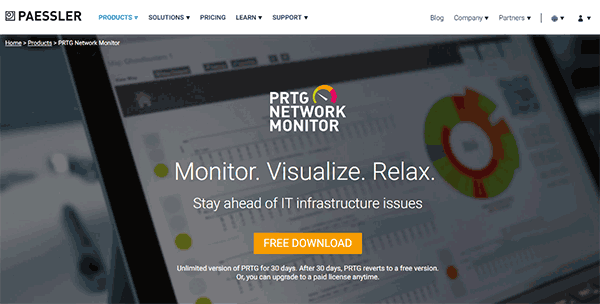 7. Spicework Network Monitor
Spicework is another great software to use if you are really looking for an easy-to-use system monitoring system. In addition, the software comes along with real-time alerts and status to alert you for critical system issues.
Along with that, they have a free customer support service to help you with everything you need to know about its features and problems.
The most amazing thing about it is that it is completely free to use for any purpose you want.
But, they haven't compromised with any features even after being a free platform. The software is designed to be used for companies having less than 25 devices.
If you need something for more than this number of devices, you should find any other software for sure.
Key Features:
100% Free
Dynamic Dashboard
Ping-check of IP devices
Easy to adjust alerts
Real-time server updates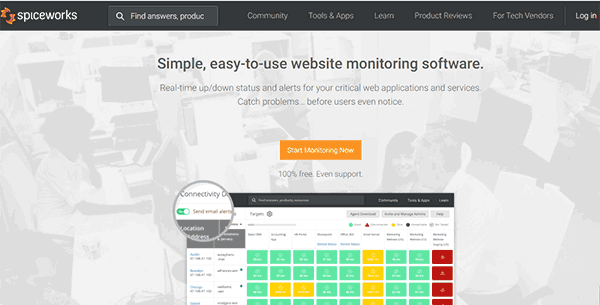 8. Nagios
Nagios is an open-source platform to help businesses and individuals fulfill all their network monitoring requirements easily.
However, you can choose its paid plans to get numerous advanced benefits for your company and its business tasks.
The software can be used for Windows/Linux monitoring, server monitoring, application monitoring, Log monitoring, and SNMP monitoring.
It has different versions known as Nagios X1, Log Server, and Nagios Fusion. You can choose anyone and get the desired results in the way you want.
The main purpose of the company is to provide you with a good solution for all your needs under one roof.
The system is designed in a way to give you all the features with an easy-to-use interface.
Key Features:
Application and web application monitoring
Server monitoring
Network traffic monitoring and analyzation
Use 5000+ addons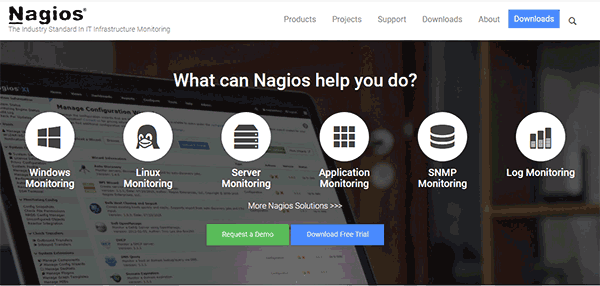 ---
Final Verdict
All these System monitoring software is great if you are looking for any kind of support as a small or large business group.
However, as per your needs, you can pick a different software and get your different requirements fulfilled. For that, we suggest you do brief research about them and visit their official websites.
Before picking any service for your business, it will be good if you are reading customer reviews and getting proper feedback.
Make a decision after proper planning and understanding your requirements properly.
We hope you will find this article helpful. If yes, consider sharing it with others as well. You can give us your feedback in the comment section.
Also, try to give us new ideas for the articles. We will make sure to help you in any way we can. We keep coming with regular articles in the software and technology niche.
So, stay connected with us for the same.
Thanks for reading!