Are you seeing an error "Windows could not find a driver for your network adapter"? Well, this is one of the most discussed errors which may ever appear on any Windows PC at any time.
You might not be able to use the internet or other wireless functions because of this problem. There could be various other issues related to this problem.
But, here in this article, we are going to know how you can easily fix this thing up and get your computer back into its normal condition.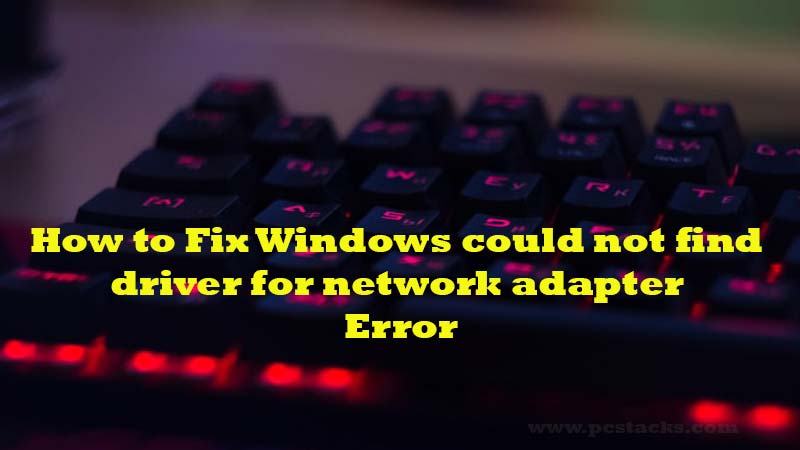 This issue can be caused by various things. But, most of the time, it is caused whenever your driver gets corrupted or outdated.
As we all know drivers do their jobs to create a connection between the OS and hardware, you can't expect your desired results if any of your computer's drivers are faulty.
So, if there are some issues with your network driver, you are surely going to see some issues with your internet connectivity.
This error reflects various types of internal issues in your computer which you should definitely fix as soon as possible. And this article is all about helping you with the same.
We all know it could be a tough job to solve these problems if you do not have good computer knowledge in your hands.
But, by following some basic procedures, you can easily fix up almost any issue on your computer.
In fact, it is a good thing if you know how to fix your problems and especially these serious Windows errors.
You will be able to use them for numerous other things. The things we will discuss here in this article are fully for informational purposes.
So, you can easily try them if you are seeing this error continuously on your computer.
Now, without any further discussions, let's get started.
Why drivers for network adapter not found in Windows?
As we have discussed earlier, the most probable reason for this error is any problem with your device driver.
Either your driver has got corrupted or it is completely broker.
Some compatibility issues could also be there if you have an outdated driver installed on your computer. Any third-party software can also cause this problem.
Or another potential reason could be a recent Windows update or your anti-virus software.
All these reasons might be causing this problem on your PC. They can either cause your hardware to lose its processes and results in some issues.
But, it is not easy to identify the issues because everything is going to happen inside your computer and you can't observe it directly.
Let's see some of the main causes of this issue.
Outdated, faulty, incompatible, or corrupted device driver
A third-party software
A recent Windows update
Virus or Malware
There are various other things which may work behind this problem. We are not going to talk more about them.
Instead of that, let's actually start the process and see how you can fix it up.
How to confirm "could not find a driver for your network adapter" Error in Windows?
The best way to check if the error is still present is by using your Windows troubleshooter. In various cases, you might not see any kind of problem, on your computer even if there are some driver issues.
Because the device may also work if your driver is partially working. So, before you proceed with any of the steps given below, it will be very important if you confirm the error again.
Sometimes, various issues get solved on their own just after you restart your computer.
So, if that is the case, you just have to run the Windows troubleshooter and see if you are seeing this error again.
We hope all of us know how to run Windows troubleshoot to detect and fix various types of problems.
Still, below is the complete process you can easily follow to check for this issue.
Press Windows+I keys together on your computer
Now, click Update and Security
After that, choose the Troubleshoot option and click the Network Adapter option
The troubleshooter will start to run after doing this.
When the troubleshooting process is finished, you can simply check the error it will throw at the end.
If there is no error, you are good to go. If the error is appearing in the red color, just follow the procedure we are going to discuss here.
5 Efficient ways to Fix Windows Could not find a driver for network adapter error
Below are the steps to fix this issue. We are going to do various steps so make sure to do them one by one systematically.
Let's start with the first one first.
Reinstall your Network Adapter
Because an outdated network adapter is one of the most possible reasons for this issue, you should definitely try to update your network adapter.
Most of the time, this thing works for most of the computers. In fact, various Windows users have suggested doing this process before anything else because they were able to get rid of this error after updating their network adapter.
There are several ways to update your Windows drivers. But, we are going to use the manual method here.
Alternatively, you can also use a third-party driver updating software to make things easier for you.
But, let's see how you can simply reinstall your Network adapter using the Windows Device Manager.
Press Windows+R keys together on your computer
Enter msc in Run menu and hit Enter
In the Device Manager, find the Network Adapter option and double-click it
Find the Ethernet Hardware and right-click it
Choose the option Uninstall device
Once this is done, right-click on an empty space and click Scan for hardware changes
Windows will not detect the changes and install your driver back.
Make sure to reboot your computer once this process is done. You can run your Windows troubleshooter again and see if the error is appearing again.
Update the Network Driver
Reinstalling a driver is a different thing. Whereas, updating your driver means you are loading it from the official resources and updating all its core files.
This will eventually give your driver its newer version by which it can perform any task much more smoothly and effectively.
Again, updating your drivers is something which you should know by yourself.
But, if you do not know, you can take the help of third-party software. Again, we are going to use the manual method as we have done earlier.
This is a pretty similar process to the previous one. You just have to choose some different options on the same menu.
So, let's see how we can do it.
Follow the same procedure to open the Device Manager and locate your network adapter.
Now, instead of click Uninstall, click on the Update Driver option.
Choose the automatic or online update method to let your computer do its job on its own.
Give your computer some time to find the latest version of your driver and then install it.
Once this process is done, make sure to restart your computer to apply the effects. Check if the error is appearing again. If it is still there, you can go to the next step.
Check if your computer is not allowed to turn off your device automatically
This option will be available on the same menu. But, this method is going to do something else. We have to check if you are a computer is allowed to turn off your network driver on its own.
If this feature is On, this might be the possible reason why you are seeing this error. And, we will turn it off. Generally, this option is Off.
But, due to any reason or human interference, it can get turned On and result in this error.
Doing this thing could be a potential way to fix this problem permanently and that the thing we are going to do in this step.
We will see how you will have to reach there and do the stuff.
Now, let's get started.
Go to the Device Manager again and locate your Network driver as we did in the first step.
Now, click Properties option
In the Properties menu, head over to the Power Management
Make sure the option Allow the computer to turn off this device to save power is turned off.
After doing this, just restart your computer and run your Troubleshooter again. You should not see this error if the option was on earlier.
If you are still observing the same problem, just go to the next method.
Reset the Network
Not only your system, the connection, or the network can also be the issue behind this problem. So, resetting the network could also help you get rid of this problem.
Again, this will do nothing with your drivers or its issues. But, resetting your network means you are resetting your system's network configurations by which it does all its internet-related tasks.
This can result in forgotten system network passwords which you will have to enter again.
But, there are a lot of chances you can easily fix your problem by following this method.
Doing this is pretty easy but not everyone is aware of the process. In fact, we all should know how to do this thing because we may feel the need for any circumstance.
Let's see how to reset your network.
Press Windows+I buttons together to enter Windows settings
Now, press the Network and Internet button
Keep the Status option selected and scroll down to reach the end of that page
Click the Network Reset option and then confirm the prompt.
Your PC will restart automatically after this. Now, run your troubleshooter again and see if you getting the same error.
If yes, just proceed to the next step.
Do a System Restore
System Restore is another great way to get your computer back into its normal condition.
So, if you have a system restore point which is created before you start to get this issue on your computer, you can easily use it to fix your problem.
It will basically change all the settings and set them back into their normal condition as they were before.
Doing a system restore is pretty easy and it will not do any changes to your files.
It's just change the settings and other OS-related things. So, you can easily try this method if you have a system restore point.
Let's see how to check it and how to do a system restore.
This could be a pretty helpful way to fix Windows could not find a driver for your network adapter error.
So, let's start.
Go to Windows control panel by searching it on the Windows search bar
Now, find the Recovery option and click it
Click Open System Restore and Next
Now, choose the Restore point, check the box that says "Show more restore points".
Once you have found your restore point, select it and click Next
Click Finish and then wait for some time until the process is done.
Once your computer is restarted, check if you are seeing this error. You should not see it once all these methods are performed properly.
What if I am seeing this error even after doing these methods?
In that case, only a Windows or any other computer expert can help you with this. It might be possible that your OS has gone corrupted.
You can also try to do a Windows update if any pending update is there. Even after that, if you are still facing this problem, just take your computer to an expert who can look deeply into the matter.
It will be good if you find an authorized computer store for your brand. Also, you can find a Windows service station for better help.
If your computer is within the warranty period, you may get everything fixed without any costs. Otherwise, they will guide you better.
---
Final Verdict
We hope this article helped you to fix the error "Windows could not find a driver for your network adapter". Well, you can follow all these procedures without any hassle and any of them will surely work for you.
They all are tried and trusted methods and comes with zero risks. So, just make sure you follow the properly and see what results you are getting.
If you have liked this article, make sure to share it with others as well. We welcome you to share your valuable feedback in the comment section if you want.
You can give us new ideas for articles. We will definitely help you to get the best information possible here.
We keep coming with regular articles in technology and software niche, so stay connected with us.