In today's complex world of the internet, it is not easy to understand the networks. Especially, when it comes to the corporate level networks, finding errors and observing outputs can become tough when it comes to networking. For that, it is crucial to use proper resources and make things easier for you. This article is written only to help you with that. You will not only know What is Network Mapping but we are going to give you a list of best networking mapping tools and software. So, keep reading this information blog till the end and it will surely help you in different manners.
In order to find which system, device, or server is connected to which network, network mapping comes into the play and helps you with the same. Network mapping is an effective and easy way to understand the networks without hassles.
In the IT industries or Telecommunication field, it is crucial to have a good amount of network mapping resources in order to make troubleshooting and understanding easier for the professionals.
With impressive network mapping tools, you get access to visual elements which makes it easier to understand the things you need to know about a network. So, if you have to detect a network with a problem which is located in another country, you can't afford to go there to correct a simple issue.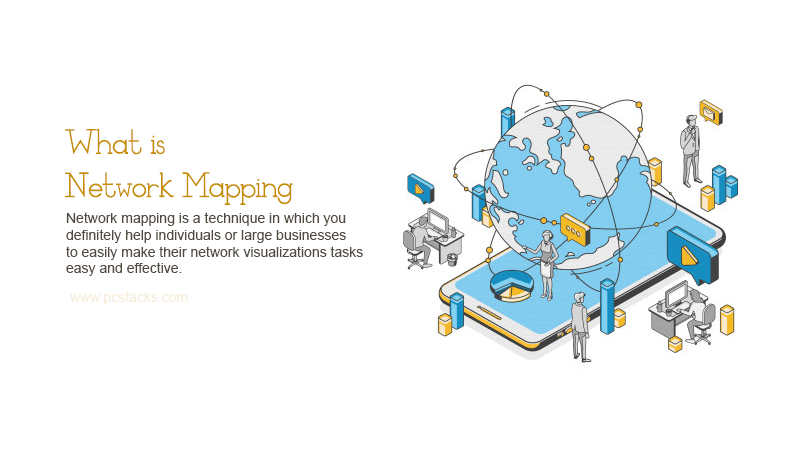 For that purpose, you can simply use a networking mapping software and easily detect the problems. This will help you to take effective troubleshooting measures and get the desired outputs in very fewer efforts.
So, before starting to know about those networking mapping software, let's discuss some more about the basics of network mapping and its utilizations in different tasks.
What are the uses of Network Mapping?
As we discussed earlier, networking mapping is an impressive technique to easily understand networks in visual forms. Network mapping is a technique in which you definitely help individuals or large businesses to easily make their network visualizations tasks easy and effective.
However, there are various other applications of these tactics and popular mapping software you can start getting right away.
Let's discuss some more about them.
Visualization
With the help of network mapping and good software for mapping purposes, it becomes easy to visualize the networks in an impressive manner. We can effectively handle any sort of tasks for very complex networks very easily.
The ability to create excellent visuals makes this process so much demanded in various fields.
Monitoring
If you are able to find a good network mapping software or tool, you will not be able to map the networks but also to monitor the devices connected to those networks. This all becomes possible with the help of NPM that detects the changes and errors inside the networks or their ends.
Not only the IP addresses, you can see other information about the devices like serial numbers and mac addresses. In order to check bandwidth usage, these software can help us a lot to receive impressive benefits for us.
Troubleshooting
As we discussed earlier, it is pretty simple to detect the issues in our networks. So, if your network is unstable because of any issue, a good network mapping tool will allow you to find out the possible problems and then do the needful to solve them too.
For network engineers and IT experts, these tools can help a lot to easily make their networks free from any type of errors. This is the major thing in strengthening your business when you are in a competitive field.
5 Best network mapping tools or software
There are various tools and software to choose from. But, as per your requirements and business processes, you may require different software to get the desired outputs. So, below are some of the best network mapping tools and software which will be helpful for you if you need to make your network easily understandable.
Solarwinds Network Mapper
This is one of the most popular and effective network topology and mapper software for any sort of network. This software helps to automatically identify and discover your networks and create detailed maps to understand everything briefly.
It has numerous discover methods including ICMP, CDP, Hyper V, and a lot more. You are free to create lots of maps using this software without any hassle. Also, it will help you to automatically detect new devices and identify the recent changes inside any network.
This platform is used by numerous industries and people who are active in this domain. So, you should try it too for sure.
This product is offered by a named brand. But, while going to for its paid plan, make sure to consider your needs first of all. Also, using it as a beginner could be tough because of its complex user-interface.
PRTG Network Monitor
This is another impressive way to monitor and visualize any sort of IT infrastructure and extensive networks without causing any problem to anyone. You do not have to add additional plugins to have additional offerings for visualization or troubleshooting.
Also, it will help you to detect any sort of device, traffic, and check network parameters in seconds. The software is pretty easy to use and suitable for any sort of small or large-scaled business. It supports the determination of bandwidth, database, Cloud networks, applications, LAN, server, and a lot more.
The software is suitable for beginners and expert-level network engineers. But, you may have to understand its complex utilizations under the guidance of an expert. PRTG is highly suitable to use for any sort of network mapping task you may need inside a large scale industry too.
Intermapper
Intermapper is another highly popular platform to easily map your networks and then utilize its visualization capabilities for your benefits. The Intermapper software is avaiable for Windows, Mac, and Linux computers. It makes your visualization tasks professionally visible for people with any level of experience.
For effective monitoring and error detection, this software is best to have the maximized results for you. You do not need any refreshing in order to check what's going on with your networks. Because everything is always up to date, the chances of undetected outages are very less with this tool.
It has an impressive dashboard that is suitable for browser-based tasks too. But, when you have a software version on your computer, you will surely receive advanced benefits.
Visio
Visio is another highly effective and powerful network visualization and mapping software. Because it is offered by Microsoft, you will definitely be able to have the results which most of the other software will never have in this industry.
Ranging from professional diagram creation, the group works, and real-world insights, you can access various other features with Visio in an impressive manner. You can either pick its software version or the web-based platform as per your needs.
It will definitely help you to receive impeccable results whether you have very few or top-notch requirements. So, this software worths a try if you are looking for a highly refined network mapping software to use.
This platform is good to get real-time information about the networks and connected devices. However, the configuration can be tough for the people using it for the first time.
Network Performance Monitor
This is another amazing product in this field offered by SolarWinds. The network Performance Monitor is equipped with great features like multi-vendor network monitoring, Intelligent maps, alerting options, and a lot more.
So, when it comes to having the most out of this software, you can effectively use it's separate troubleshooting methods. Also, you have some special alerting features like NetPath and PerfStack. The software is able to create intelligent maps without any hassles for the users.
With these features, it becomes another worth trying network mapping software in 2020.
The user-interface is pretty simple but there could be some issues with the performance if you have a low-end computer.
However, as per the overall user-ratings, this software is good for basic network topology and mapping tasks.
What is the difference between network mapping vs. network diagram?
Network mapping and network mapping sound similar when you heard about them for the first time. But, there are serious differences between both these things. Network topology or we can say network mapping is a process of arranging various network elements such as nodes and links.
However, a network diagram is a schematic illustration of nodes that connects with other nodes inside a computer network.
Both of these tactics are used to visualize the networks in an impressive manner. However, network mapping can also be used to detect the issues inside a network.
But, both the process have their own benefits and drawbacks. So, when it comes to using them inside the industries, you may use them as per your preferences.
Difference between network discovery or network enumerating
Network discovery is a little bit different terms from the network topology. It is a process used to let the devices to be detected inside a network. With the process of network discovery, a system can easily be found over a network to let the administrators know about its presence and other physical and network parameters.
Network discovery is basically used to share network resources and parameter information between different systems.
On the other hand, Network enumerating is used to discover the hosts and devices in a network. The network mapping will be able to get details about the servers connected to a network and also about its hardware information.
However, the network enumerating becomes handy when you have to receive information about the hosts. It uses different protocols for the network detection including SNMP and ICMP.
---
Final Verdict
We hope this article has helped you to get detailed information about the network topology along with its related terms. Also, you are free to pick any of your desired mapping software from this list. However, make sure to visit the official sites thoroughly before opting for any software.
Also, keep in mind your requirements before making a decision. This will help you to make a wise decision for precise output. When it comes to a business decision, you can connect with their support services too.
We hope you have found the information you were looking for after reading this article. If you loved reading it, make sure to share it with others too. Also, do not forget to share your valuable feedback in the comment section. You are free to give us new ideas and suggestions too.
We will make sure to help you in every possible way. We keep posting regular articles on various topics. So, stay connected with us to read informative articles on your fingertips.