Are you looking for the best SSD Management Software to manage your SSD or to enhance its performance? Well, there is various software to choose from for the same.
But, it is always important to select the one which is good in all aspects. So, in this article, we are going to provide you with a list of the best software you can possibly find anywhere.
SSDs are known for fast data reading and writing processes. But, when you use them more often, you can start seeing various issues in these devices.
Even an SSD can start to become slow and this will be very frustrating because the whole system will become slow just because of this.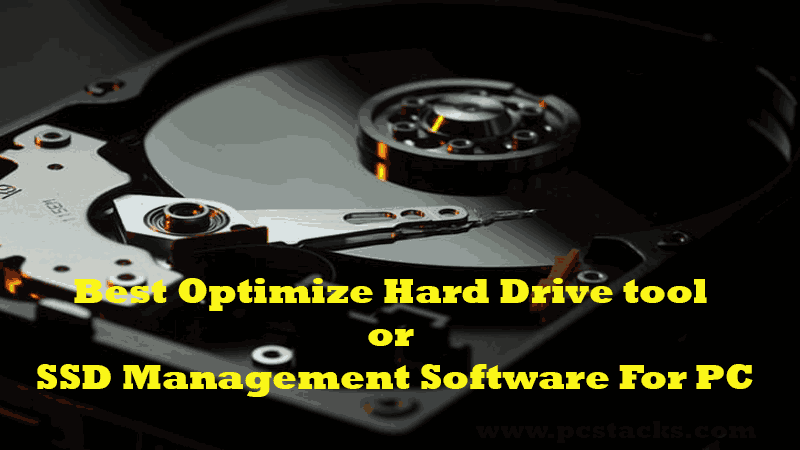 The SSD Management software is great to optimize your SSD for any task you want. You can easily free up some space or even format it from the start. These software will help in various things such as junk file removal and stuff like that.
In simple words, good software is going to provide you with enough resources to make your SSD work just like a new one.
On the internet, you can find various software actively serving in this domain. But, there are some popular software which you should definitely use if you are looking for the most impressive solutions.
Some of the software is not specifically designed for drive management but you can use some of their features for the same. Like if you are using any disk management software on your PC, you will definitely get some features specifically made for the SSDs.
So, when it comes to selection, you have the freedom to go for any software. But, this article is all about helping you pick the right one.
So, without any further discussions, let's get started.
Why you need SSD Management Software?
An SSD Management software is a good choice to keep your SSD in a good condition. As the time passes by, these drives can start to become slow.
When the things becomes worse, you can even experience serious issues in these drives and it could become tough to solve them. The reasons could be a virus or a heavy load on your SSD.
So, a software which is designed for SSD or hard drive management can help you make things easier by handling most of the optimization tasks.
This will also provide you a great way to enhance your computers's processing speed. Good software will clear all the unwanted stuff from your Solid State Drive.
How to find a good SSD Optimizer or Management Software for Windows?
Finding a good SSD Management software is not a tough task. In fact, you have very few options available.
But, all of them are good enough to provide you with whatever you are looking for.
So, below are some of the things you should find whenever you search for a good SSD Monitoring software.
1. Optimization
A good management software must be able to optimize your PC effectively without causing any hassled for it.
When you optimize your drive properly, it starts to do its job in a much effective way. Only good software will be able to do the same.
Most of these software will provide you with various kinds of optimization features. But, in order to find the best one, make sure to research properly.
2. Performance Enhancement
When you properly optimize your SSD, it will automatically see improvement in its performance. But, you can't do it using the normal optimization features.
So, you should try to find software with enough resources to improve its performance. The performance and the processing of your computer will improve only if your drive is free from unwanted materials.
It will work to its full potential when you give your best to keep it up to date.
3. Overprovisioning
All the SSD drivers are overprovisioned. But, when using good software to set and change this space, you can easily use your drive in the way you want.
So, if your SSD is advertising some amount of space for over provisioning, it will have much more space than that limit for sure. And, over provisioning tools inside your hard drive management tool will allow you to use it or do anything else you want.
4. SSD Health Tools
SSD Health tools are the most important thing you should find inside any SSD management software out there. These tools offer various features to erase or reuse your data on the SSD drive for any purpose.
These health tools make sure to do a thing called "wear leveling". This thing helps the drive to keep its data storage locations updated and monitor any wear coming up on the drive.
Various software will provide you with various health tools which you should try to research before you are picking any software for you.
Best HDD drives and SSD Management Software (Increase Performance And Lifespan)
Below is a list of the best SSD management software you can easily download from the internet. Let's start revealing them one by one.
1. CCleaner
CCleaner is one of the most popular utility software available on the internet. This software has some amazing features to enhance your computer's speed and performance.
It can help you make your computer free from junk files and keep your disk space adequate. But, if we talk about SSD management, you can easily use CCleaner and have various amazing features pretty easily.
It is great to keep your computer space free from unwanted files and that't the reason you can use it for SSD and HDD drives as well.
Whether you want to use it for wiping the data or formatting it, this software will give you all the effective solutions properly.
Some of the key features are as follows.
Key Features:
Privacy Protection
Delete junk files
Quicken PC startup
Good for fixing errors and crashes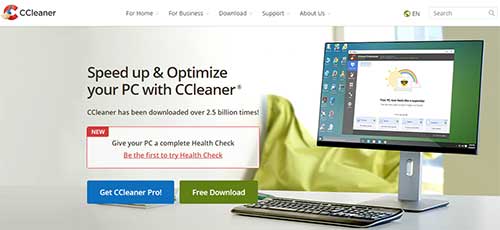 2. Samsung Magician
Samsung Magician is one of the best SSD management tools which you can use to properly manage your SSD in a proper manner.
The software will take proper care of your SSD's health and status. SSD Authenticity, TBW check, and various drive health checking features are present in this software.
Also, the S.M.A.R.T. health check feature will give you enough details about any possible issues which may appear in these software in the future.
Performance benchmarking, diagnostic scan, and some other advanced features can also be used inside this software.
It is offered by a named brand and that is the reason why we are discussing it here.
But, the main thing is that it will work only with Samsung's SSDs. It will work perfectly for Samsung 950, 850, 840, 830, and 470 series SSDs.
Key Features:
Firmware Update notifications
Performance Benchmarking
OverProvisioning
Performance optimization
Secure erase
Rapid mode for 2x speed boost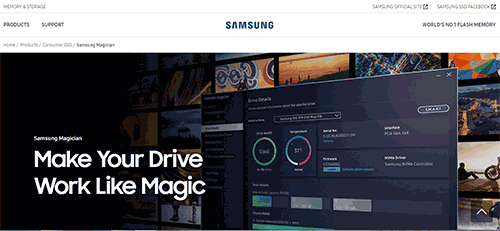 3. SSD Boost Manager
This software can only be used for Symbolic link management. So, with a single click, you can move your SSD files to a new drive and help you save some space inside your computer.
You can do it from HDD to SSD as well. So, whether you are moving your general files or software files, this software is going to help in everything. You do not have to reinstall any of your software or games before moving them.
This software will help you to do everything non-destructively. However, you can't use it for any kind of performance enhancement or optimizations.
It comes with a GUI to manage your directory symbolic links.
Because of that, it becomes a good way to transfer your SSD files to a new drive without reinstalling anything. The software comes in the public domain so you are free to use it anytime for any purpose.
Key Features:
Easy User-Interface
Good to speed up your computer
Free to use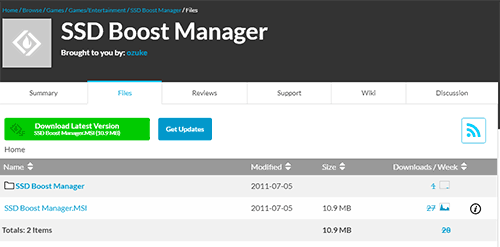 4. OCZ SSD Tweaker
If you are having an OCZ SSD inside your computer, you can use this software to do any kind of adjustment to it. The software will help you with tuning, performance, and utilities.
Also, you can use its various features to adjust the SSD capacity and various other things very easily. The operating system tuner is another great feature that you get with some of the software in this domain.
You can use its overprovisioning control tools for effective storage management. Along with that, you are going to have numerous health optimization features with it and that's a good thing about it.
Health monitoring of your SSD also becomes easy with this tool.
Various maintenance tools are also there along with a Direct Attached Storage (DAS) control and advanced support systems. Some of the other features are as follows.
Key features:
Namespace Management
SSD Tuner
Device Activity Signal Control
Advanced Health Monitoring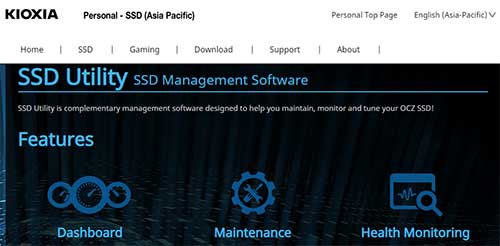 5. SSD Life
SSD Life is another great drive management tool that you can use to check how much data is written or read through your SSD in its lifetime.
Along with this, the software will also provide you with information about the total space left. Also, various health optimization features are also there to make your SSD from errors anytime they appear.
The only limitation of this software is that it can't tweak or adjust settings on your computer but can only show them on the screen. You can perform various health checks and see if your drive is working properly.
It is good to check the limits of your disk and see how much work you can do with the remaining space.
These are the reason why it becomes one of the best solutions to SSD Monitoring.
Key Features:
Get detailed information about SSD and remaining space
M.A.R.T. Health checks
Total Data write and read information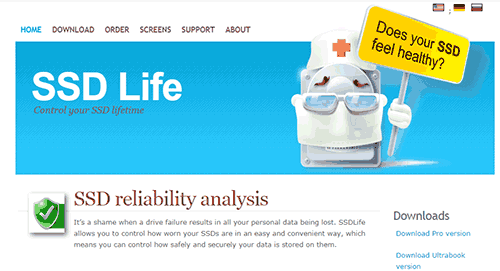 6. Intel SSD Toolbox
This is one of the best software in this domain because it works with most kinds of SSDs. The software comes along with various optimization, and health enhancement features to offer you great benefits.
It can easily be used to get detailed information about your SSD first of all.
Secondly, if you are looking to check your overall SSD health, this software is perhaps the best solution for the same too.
You can get information on the total time remaining on your disk. Also, you can do various types of adjustments using this software. This will include things like SMART and device optimization.
In fact, for enhancing the performance of your computer and the drive, this is one of the best solutions available for you.
Some of the other main features are as follows.
Key Features:
Get detailed device information
Performance optimization in RAID0
Run quick and full diagnostic scans
Turn on and off password protection
Secure erase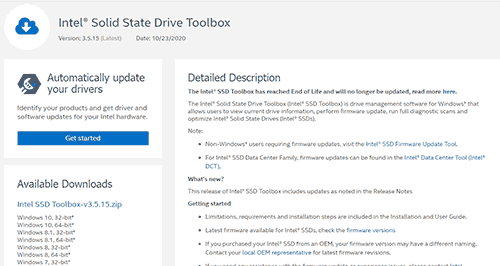 7. Crucial Storage Executive
For crucial MX, BX-series, M550, and M500 SSDs, this software can offer a lot of performance enhancement and optimization features.
Starting from the firmware update, you can use it for several other things such as passwords, usage monitoring, etc.
This drive is a good option to choose if you are having the Crucial drives on your computer and want to make them good enough to handle tough computation and regular tasks.
It will give you various offerings and enhance your user experience for sure. Also, it will be good if you are using both the software and drivers from the same manufacturers.
The software is easy to use and equipped with various features to improve your SSD's speed and performance. All these features are enough to keep your computer's status good as well.
Some of the other main features are as follows.
Key Features:
Reset drive encryption passwords
Clear stored data
Monitor drive usage
Easily detect SSD temperature and overall health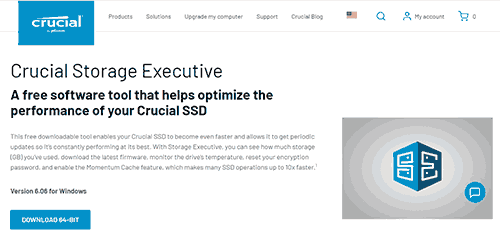 ---
Final Verdict
Before choosing any of the best SSD management software given above, we advise you to visit the official websites and check if it is made for your drive. Also, make sure you always have an SSD Recovery tool ready, just in case.
This will help you to use only the software which is suitable for your computer and its SSD. However, most of them are free.
So, if you are using any of them, you can easily get the most out of it without any issue.
If it is not working for you, you can just download the next one and test it further. Doing this will help you to use only the software which is suitable for your drive.
We hope you will like this article and get the information you are looking for. If so, consider sharing this article with others as well.
Also, give us your valuable feedback in the comment section.
You are free to give us any idea about the new topics. We will try to cover all of your desired topics in the next articles. We keep coming with regular articles in technology and software niches.
So, stay connected with us for more.