Ultrawide monitors are great to make our daily computer tasks easy and efficient. These monitors allow us to add more apps to our computer screens and run them all together. The concept is simple, these monitors do not follow the normal 16:9 aspect ratio. Instead, they work on a 21:9 aspect ratio. This ratio allows the monitors to cover more screen content inside its wide area. This is the reason why these monitors have increased size horizontally.
Are you looking to buy a good ultrawide monitor but worried about the prices? Well, we are here to give you a brief list of the cheapest ultrawide monitors which you can purchase in 2020.
The article will cover most of the popular brands yet the most affordable ultrawide monitors you can ever find on the internet.
We will know some of the main benefits of these monitors in this article. So, let's get started.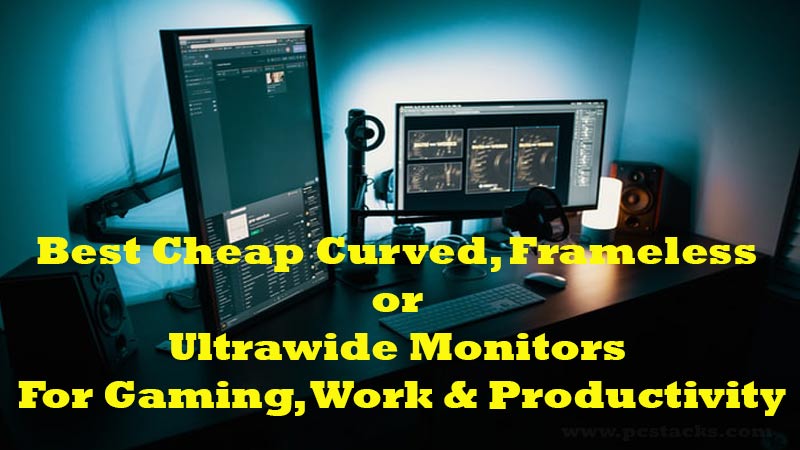 For some special purposes like coding, video editing, and writing, people prefer using these monitors because they give a whole lot of space to add our desired elements on the screen.
This could be a reference or other additional working files. There are various other reasons why people prefer using these monitors and even dual curved monitors.
Especially for gaming purposes, these monitors are the first choice of various gamer all over the world. However, if you also like to have one on your table, you will also get numerous benefits for sure. You are much better off saving money for the best 144hz 1080p monitor as once you lay your eyes on that full HD 144hz, you won't go back to 60hz or 75hz, and it is definitely worth the money considering all the benefits you get.
If you search on the internet for the best ultrawide monitors, you will see numerous models from different popular brands.
But, it is never easy to find the right one for you without good research. We are here to provide you with the right and effective information on the same.
We are going to give you a list of the best monitors you can easily purchase online or offline.
After detailed research on the concept, we are going to give you the 8 best and cheapest ultrawide monitors below.
What are the benefits of Ultrawide Monitors?
There are various benefits you will receive from these monitors as we have discussed above. Let's uncover some of them here.
More Screen Space
Obviously, an ultrawide monitor will offer you more screen space to work with. This can enhance your productivity and make things even easier for you.
Suppose if you want to correct any document and write it on a new file.
You can easily set up your screen and add both the side of the document by side while working on your desired one at any time.
Best for multitasking
Computers are made for multitasking. But, the ultrawide monitors allow us to make this thing must easier for use.
Because of a whole lot of screen space, you can open different applications at the same time and work on anyone you want.
This helps you to save your time on opening different apps over and over again.
Great for Gaming
Ultrawide monitors are widely used by gamer to play various games.
Some of the best games to play on an frameless monitor are Red Dead Redemption 2, Age of Empire, and Bioshock Infinite.
You can try various other and making your gaming experience much more immersive.
Movies and Videos
When it comes to media consumption, larger screens are always considered to be the best.
But, the ultrawide monitors will enhance your experience more. If you are purchasing a good one for you, you will definitely have some great watching experience.
Along with all these benefits, you should always keep the price of these monitors in the mind.
The ultrawide monitors are costly because of their complex designs and larger screen spaces. However, below are some of the most affordable options available for you.
Best and Cheapest Ultrawide Monitors (Budget, Gaming, Work & Productivity)
Now, without any further discussions about these monitors, let's actually see various options available for you.
1.
LG 29WK600-W UltraWide IPS Monitor with HDR10 and FreeSync (
21:9
)
The LG 29WN600-W comes with a 29 inches ultrawide Full HD IPS screen which has a size of 2560×1080.
The monitor has an excellent 3-side virtually borderless design to offer a great visual experience to the users. Also, the monitor is HDR 10 compatible.
It has an LED screen with a great finish and numerous customization options. The monitor comes with a pre-built and re-adjustable hub so that you do not have to use any external hub for the same.
For home and office usages, this ultrawide monitor is a great option to choose from. However, if you are looking for a very big and wide design, this is not the one for you.
But, if we look at its price, it has great offerings that you should consider while picking any monitor for you.
Features:
DisplayPort with two HDMI Ports
SRGB 99% Color Gamut
Equipped with MAXXAUDIO feature
Onscreen controls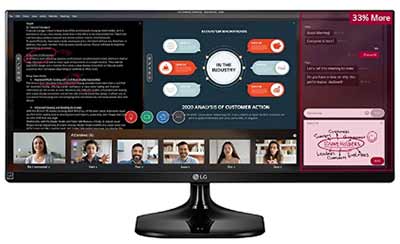 2. 
Sceptre 35 Inch Curved UltraWide LED Creative Monitor (Frameless AMD Freesync HDMI DisplayPort)
This monitor has an amazing outlook which makes it best for gaming and other professional works. But, the main thing to notice is its amazing display quality.
The monitor has a 1440p resolution. The 35-inches screen makes it easier for you to easily set up it for multiple things at the same time.
It comes with a refresh rate of 100Hz. The response time is fast and you will experience it while playing games or doing anything else on it.
The monitor also supports the AMD Free Sync function. Resolution is 3440×1440 which makes it a great match with its huge refresh rate.
Bezels and pretty thing and it is also pretty lightweight. You can set up two monitors altogether to make an extensive work area for you.
Let's see some of its other features below.
Key Features:
Multiple Ports [DisplayPort, HDMI, Audio Ports]
Various custom settings including FPS and RTS modes
1800R Curved Display
Anti-Flicker
Blue-light Shift
VESA Wall Mountable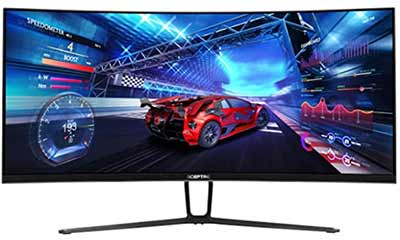 3. 
LG 34WN80C-B Curved UltraWide Monitor with USB Type-C Connectivity
This monitor comes in two different versions i.e. 29-inch and 34-inch. You can buy any of them on Amazon as per your needs.
But, we are going to know about the 29-inch versions because it is pretty affordable to buy for every one of us. This monitor has a 1080p resolution and it supports Full HD visuals with its LED screen.
The dimension of the screen is 2560×1080. Along with its IPS Display, it supports professional color grading options.
You will be able to use its on-screen control 2.0 with numerous customization features. If we talk about the inputs, it supports 2 HDMI ports along with a USB Type-C Alt mode.
All these features are great for all types of users. However, the refresh rate is less i.e. 60Hz. But, as per its price, it is offering good features.
Key Features:
Screen Split
Eye-comfort/protection, Reader mode, and Flicker safe
1-year warranty period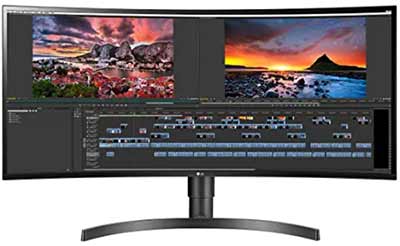 4.   LG 34WN80C-B Curved Monitor
This monitor is a little bit pricey but if you are really looking to have some amazing and premium features, you can definitely go for this one.
It comes with a 1440p ultrawide screen that supports QHD visuals. The most amazing thing about this monitor is that it has a curved display. The dimensions are 3440×1440 so you can imagine how extensive this monitor is.
Additionally, the monitor supports HDR 10. You can easily customize the visuals using its on-screen controls. It will allow you to adjust brightness, sharpness, and all other important visual aspects very easily.
Along with that, its stand is height and tilt adjustable which you may not get in any other monitor in this category.
Because of its great aesthetics and amazing visual quality, it can easily be used for gaming, video editing, and various other things. Let's see some of its other features.
Key Features:
eRGB 99% Color gamut
Curved display
Screen split and on-screen monitor settings
Dedicated gaming mode
Ergonomic Design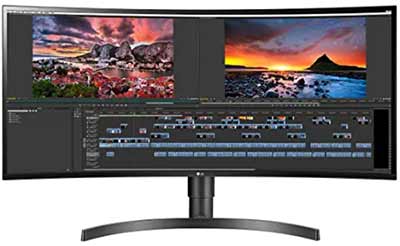 5. 
SAMSUNG Ultrawide Curved Gaming Monitor (QLED White)
This one is not a curved monitor but an amazing monitor for sure. The monitor comes with a 75Hz refresh rate and 3440x1440p resolution.
The screen size is 34-inch and it is very wide if we look at its price tag. The monitor supports split-screen and numerous other on-screen controls.
If we talk about the input, it supports only HDMI and DisplayPort inputs. AMD Freesync is supported by this model. If you want to use it for a dual monitor setup, you can definitely give it a try.
It has an easy to use settings interface along with embedded split-screen software. The panel is extremely slim and the bezels are very thin.
Also, it has an easily adjustable stand for your desired visual experience. Let's see some of its other features.
Key Features:
WQHD Image Quality
Suitable for multitasking
PIP and PBP
Best suited for high-end gaming
Suitable for personal and office uses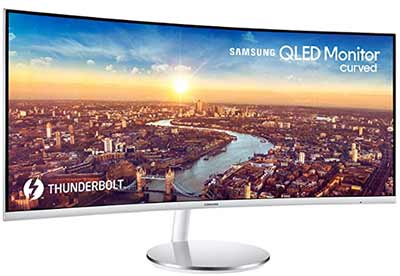 6. 
Dell UltraSharp Curved LED-Lit Monitor
This is another amazing monitor but at a little bit higher price tag. The monitor has highly impressive features that will impress any gamer or normal computer user for sure.
It supports plug-n-play features along with RoHS and TCO Displays. If we talk about the input, it supports DisplayPort, USB, and HDMI inputs.
The size of this monitor is 34 inches and it has a 21:9 curved display. It also supports WQHD resolution with an amazing sound experience.
Picture in picture feature and various multitasking features are already given along with this monitor. For panoramic displays, this monitor suits best for every kind of use.
It has a response time of 3ms along with a brightness up to 300cd/meter square.
The monitor has thin bezels and it is a great option for dual monitor setups. The dimension of the monitor is 32.47×3.00×14.65 inches without a stand.
So, it is worth picking if you are looking for a big screen.
Key Features:
Cinematic WQHD resolution with an amazing sound quality
Great for multitasking
EPEAT Gold Rated and TCO certified display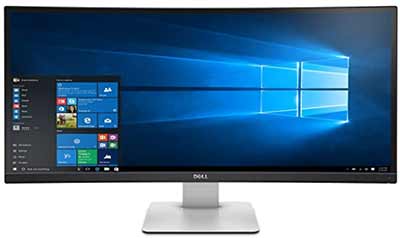 7.
VIOTEK Frameless Gaming Monitor 
This monitor works on the VA Display technology. It comes with a 32 inches QHD Wide 1440p screen. However, two other versions i.e. 24 inches and 27 inches are also available in this range.
Whether you want it to use for watching videos, doing business tasks, or gaming stuff, this monitor is one of the greatest options for most of these things.
The detailed graphics, vibrant colors, and amazing visual outputs make this monitor best for any kind of task including video editing, graphic designing, etc.
You will surely be able to experience a Flicker-Free video quality on this monitor. For maximum pixel performance, you should definitely consider using this one.
Also, the price is pretty affordable.
You can easily set it up with another monitor and make a dual-monitor setup for an effective gaming experience.
Let's see some of its other features.
Key Features:
4ms Response time
44-144Hz Refresh rate
HDMI and DisplayPort supported
On-Scree Display Options
5-Years Guarantee Period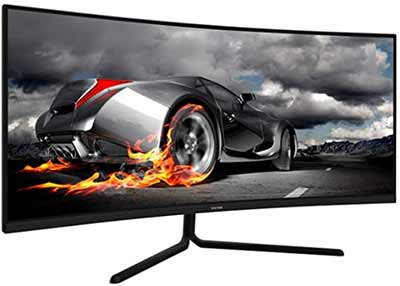 8. 
Acer UltraWide IPS Zero Frame Monitor 
This is another amazing product offered by Acer to everyone who is looking for a quality display along with a trust in the brand. This monitor suits the best gamers and other professionals.
It has a Full HD, 1080p, ultrawide display to let you enjoy any kind of content without any issue. Like most of the other frameless monitors, it also works on the 21:9 aspect ratio.
That means you are going to have much more space to do anything you want. It has a contrast ratio of 3000:1 which is another great thing about this product.
The monitor also has 2x4W speakers which you may not get with any other monitor in this range.
If we talk about the input ports, this monitor has HDMI, DVI, USB 3.0, DisplayPort, along with an audio output port.
Also, the stand is pretty easy to be adjusted for tilt, swivel, and various height levels. The 60Hz refresh is something that will bother you if you are a gamer.
Key Features:
Viewing angle up to 178 degree
7 Million colors supported
Great for both horizontal and vertical alignments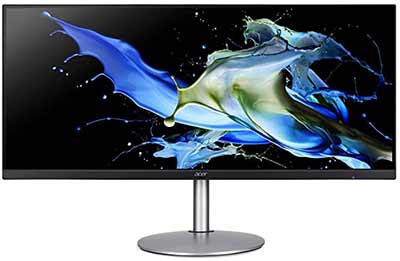 ---
Final Verdict
We hope this article will help you to pick the best and cheapest ultrawide monitor in 2020. We have added all the products here after full research.
So, you can easily go for anyone and expect great results for sure. Any of these monitors can easily be purchased on Amazon and they are available in most of the regions.
However, we would suggest you doing a little bit more research and visit their official websites once. This will help you to make a wise decision.
If you liked this article, consider sharing it with others as well. Also, give us your valuable feedback in the comment section and let us know which monitor do you like the most.
You are free to give us any suggestion or ideas of your interest. We will definitely try to help you and improve more in the future.
We keep coming with regular articles in technology and software niche.
So, stay connected with us.