With the evolution of this new connection type called HDMI DisplayPort, we can see a lot of people searching about it on the internet. So, if you are also one of those who want to connect your displayport to HDMI monitor with the help of a cable, it is very possible to do. In this article, we are going to discuss the same. So, keep reading until the end and you will definitely know how you can do it.
Because the trends of DisplayPort are increasing, we are seeing various computers and laptops coming with these ports. In various computers, you will see no HDMI ports but only these ports.
In that case, it becomes important to have a solution to use your HDMI Monitors and TV using that port only. With that said, we should not forget about the external devices which are pretty helpful for that.
We are going to cover everything here to give you the help you are looking for.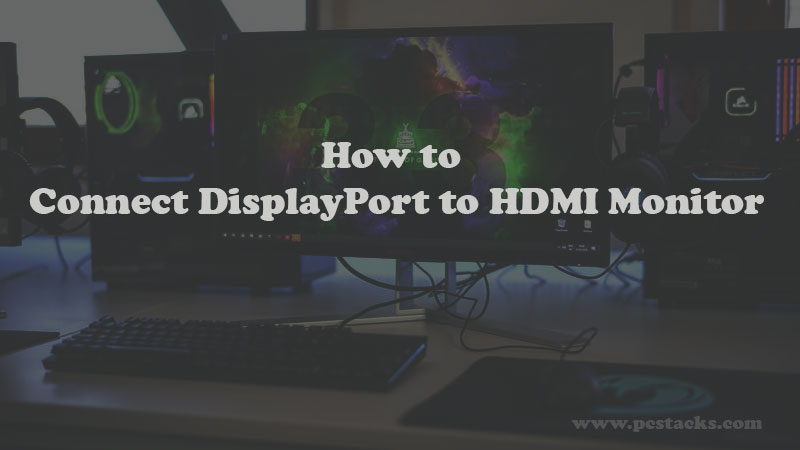 DVI ports technology is going to fade away very soon but these two are going to be there for long. So, if you have a monitor with an HDMI monitor and a CPU with the DisplayPort, it is possible to use a combination of both.
However, it is important to know the process of doing the same effectively. You should be ready to purchase that external device that will do the job of signal conversion. In any case, you will be able to get this thing done. And, if you are paying close attention to this article, your work will become much easier.
So, without any further discussion, let's start to know the basic things first and then we will proceed further.
DisplayPort vs HDMI: What's The Best Gaming Port?
Without going further, let's start with a basic introduction and difference between the DisplayPort and HDMI ports. Both of these technologies are pretty popular but you should know the basic difference between both before starting to know the process of conversion.
How would you describe an HDMI port?
HDMI stands for High-Definition Multimedia Interface. This technology was introduced back in 2003. You can see 19 different pin configurations in HDMI ports.
But, the three main HDMI connector types are Type A, C, and D HDMI ports. Type A is used mostly on computers, projectors, and Televisions. Whereas, you can see Type C on laptops and tablets.
Type D is also found on tablets and smartphones as well. HDMI has the ARC (Audio Return Channel) features which are pretty useful to send the sound signals from the source to the destination.
The HDMI 1.4 can support the video resolution up to 4K. Whereas, the HDMI 2.1 will be able to transfer up to 10 video resolution at a frame rate of 120Hz. Sending HDR signals is also possible with this and the HDMI 2.0 version.
But, in order to make the most out of the features, you must use an HDMI cable with the correct bandwidth. If you have a low-specs cable, you will definitely have some issues when it comes to transferring the signals properly without any damages.
What is digital display interface or DisplayPort?
The DisplayPort is another highly popular technology used in various devices to transfer video signals. But, this is mostly seen on the computers rather than the Televisions. The connector can effectively be used to transfer High-Definition video signals.
Also, in many situations, it can transmit the audio signals too. The version 1.2 has a support of the video signals up to 4K at 60 Hz frequency. However, the top version i.e. 2.0 can send 16K video signals with HDR videos.
The main thing that makes the DisplayPort different from the HDMI is its innovative support for the gamers. Because it supports FreeSync and Nvidia G-Sync, you can have an amazing gaming experience on your computer.
Another feature is that you can easily connect multiple monitors to one DisplayPort connection. These ports come with the clips to connect the wires securely.
Bandwidth and Resolution in HDMI and DP
The most common version of DisplayPort is 1.2 and as we have discussed earlier, it only supports the video signals up to 3840 x 2160. The maximum refresh rate is 60 Hz. If we talk about the Bandwidth, the Display 1.2 cable can transmit the signals up to 17.28 Gbps. However, the DisplayPort 1.4 can do it at a speed of 25.90 Gbps.
In the HDMI ports, the version 1.4 cables can send a video resolution similar to the DP. However, the frequency is just up to 30 Hz. If we talk about the HDMI 1.4, it can send the data with the bandwidth up to 10.2 Gbps.
So, whether you are choosing a device with the DP or HDMI ports, it is best to look at the versions first of all. With the launch of HDMI 2.1, the signal parameters have been enhanced and we can see some great results from this.
But, if we talk about the high-end video and audio signals, you should focus on the version and the type of cable.
Audio Capabilities
Both the HDMI and DisplayPort connections support up to 8 digital audio channels. The data can be transferred up to 24 bit and 192 kHz. But, if we look at the HDMI, it has a return channel that means we can not only transfer the audio from the source to the signal but in the opposite direction too.
The voice quality is exceptional in both the port types and you can have an amazing experience regardless of the purpose you are choosing from.
The cable length is another major thing to consider when you want to have the best signals possible. Having a quality wire will be a considerable thing to make your connection efficient.
Is it possible to connect a DisplayPort to HDMI Monitor?
Yes, it is pretty simple to do the same. Because we can change the parameters of the outgoing signals using a simple circuitry, you can easily connect your HDMI monitor to your computer even if it doesn't have any HDMI port. But, there are some things to be considered.
First, it is not possible to feed directly the HDMI cord into the DP port because the pin configuration and the whole structure of these cords are different. Secondly, you should use an active adapter that will regularly do its job of converting the DP signal into the HDMI signals. This is exceptional if you have a dual-channel DP port. But, in most cases, you will have to buy an active converter.
If you are fulfilling all these requirements, you are good to use an HDMI monitor using a DisplayPort. In fact, lots of people all over the world are doing the same. And, there is nothing wrong with that.
Technology is allowing us to do it so that we should make the most out of it. But, make sure to properly follow the manuals before proceeding further.
How to Connect DisplayPort to HDMI Monitor?
There is nothing very technical you can do to do this thing. However, you should have an interface to convert those DisplayPort signals into HDMI.
Because your TV or monitor is going to receive and interpret only the HDMI monitors, you can't directly plug the DP cord into that device.
For that, you should also know how to convert DisplayPort to HDMI. This is what we are going to discuss below.
So, without any further discussion, let's get started.
Buy a good quality DisplayPort to HDMI converter cable.
Connect its DP connection side to the computer's DP port.
After that, turn On your monitor and connect the HDMI cable to the other end of the cable.
Your monitor is now connected to your computer and it is ready to use.
What about the DP to HDMI Adapters?
You can do it from DisplayPort to HDMI and vice versa. But, it is not that simple as we are saying. The device must have some computation system to convert those signals into another format. This is why those adapters become much more complicated as compared to the others.
But, you have to keep a thing in mind that using an active converter or adapter is important when you have a DP Graphics Card with a single mode DisplayPort. In order to check if you have a single or dual mode port, just do this thing.
See beside your DP port. If there is DP++ or DisplayPort++ written, you have a dual channel DP port. If not, you have a single channel configuration.
Best DisplayPort to HDMI Adapters and Cables
It is pretty easy to buy the best DP to HDMI ports online. You can just go to Amazon and purchase anyone you want. But, We have a list of the best items which you should consider buying.
We will reveal all of those adapters one by one so that you can pick the right one for you. This is going to be pretty easy. Also, most of the adapters are pretty affordable to buy.
So, just check out their specifications and then proceed for buying.
1.   Posh DisplayPort DP Male to HDMI Female Adapter Cable
This is one of the best and most rated products you should buy if you want the best DisplayPort to HDMI converter online. It is available for a little price on Amazon.
But, this wire is pretty high in quality and easy to use. It has numerous positive feedbacks so that you can observe its effectiveness. The wire is 1.3a version specified.

Also, it can support a signal up to 2.25 Gbps. Consider buying it if you are looking for an active DP to HDMI converter or adapter.
2.   Oraima DisplayPort Male to HDMI Female Converter Adapter
This is another amazing product which you can buy to make this connection easy and effective for you. This display adapter does its job of converting male to female in an effective manner.
Because of its amazing functionality, it can easily be used for 4K Ultra HD Monitors. The adapter is also suitable for HDTVs.

In other words, this is an amazing adapter which will be enough to help you connect the HDMI monitor with the DisplayPort. Consider purchasing it now because it is available at a very easy price.
3.   AmazonBasics DisplayPort (not USB) to HDMI Adapter
You can buy this product too if you are looking for a reliable deal. However, this adapter is a little bit expensive if we look at the other ones. But, it is an AmazonBasics device, so you can exert a great amount of work from this one.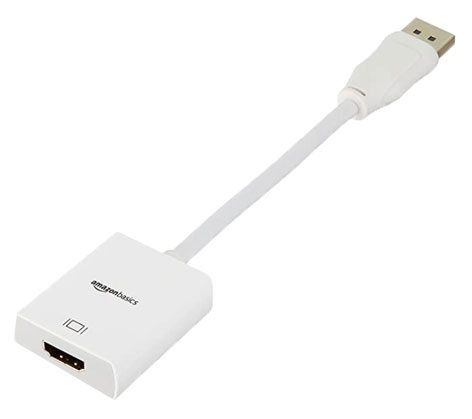 This adapter has gold-plated connectors for a smooth and fast connection. It is not a bi-directional adapter, but for the job of converting DP to HDMI signals, it will definitely offer you numerous advantages. In this way, it becomes another great product to do this thing pretty easily.
4. Cluspex DP to HDMI Converter
This is another worth buying DisplayPort to HDMI converter on Amazon. This product is available for an easy price. However, you can expect some amazing features from this one.
This adapter is going to give you great outputs whether you are using it for TV or monitor connections. It can easily be utilized to transmit HD and Full HD video signals along with the audio signals.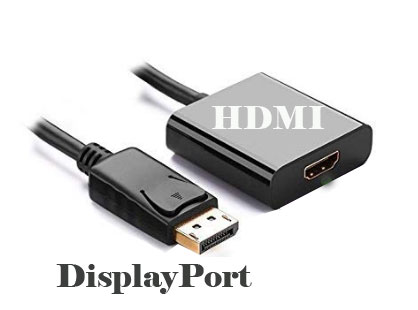 For gaming purposes, you can expect great quality graphics from this product. No software or driver is required to use this device for anything. So, consider buying it now if you want.
Can I use a passive adapter or cable for this job?
Yes you can do it in some cases. However, in most of the cases, you will not be able to do that. A passive adapter will do the job of converting the incoming signals to the HDMI without adjusting anything.
So, if your computer has a single channel DisplayPort, you can have some problems while using a passive adapter. However, when you use an active adapter, it can give you amazing results even if you are having any kind of DisplayPort adapter.
So, as we have discussed earlier, whether you have any kind of port installed on your computer, it is always best to use an active adapter instead of a passive one.
---
Final Verdict
We hope you have found your answer to how to connect a DisplayPort to HDMI monitor?. This article was all about helping you understand the concept and then pick the right product to do the same. However, we suggest you purchasing any of the recommended product after fully verifying their details on Amazon.
We have developed this article after doing a fully research on this topic. So, we thing you will find it helpful in all the manners.
If you have found this article helpful in this regard, consider sharing it with others. Also, we will be looking for your valuable feedbacks.
It will be good if you share some topics on which you want us to help you. We will definitely give our best for that. We keep publishing regular articles here on this website. So, stay connected and stay reading.