Are you seeing some issues with Steam? Well, as a popular game platform, Steam is equipped with numerous features for gamer. But, you may see different issues while running it on any kind of computer. Most of these errors are related to the network. So, if you want to know how to fix could not connect to steam network error, this article is going to help you with everything.
Steam is used world-wide for managing games, game plays, chats, and numerous other things from a single place. And that's the reason why professionals, as well as beginner players, prefer using Steam.
For streaming purposes, Steam can help you to perfectly organize everything you need. Steam is very useful because it can help you organize all the games you can play on your computer and gaming consoles.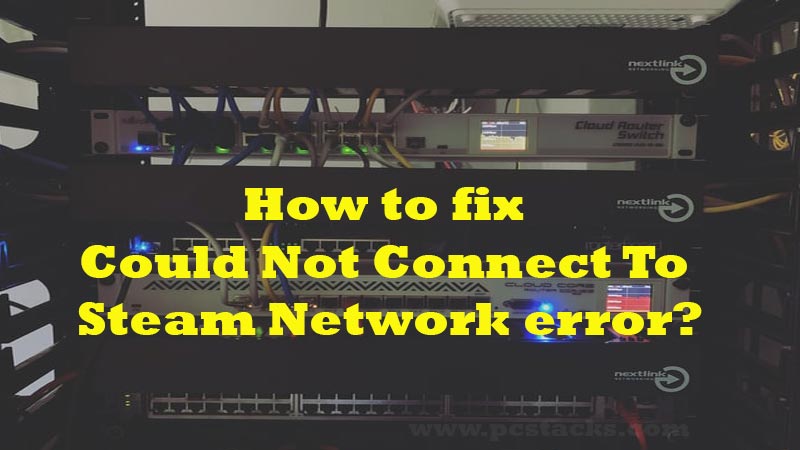 But, when there is some issue with this platform, it can become tough to start playing your desired games on the go.
The error called "Could not connect to steam network" will come mostly when you try to log in to your account and start playing your games.
But, this error is not going to let you do the same.
In fact, you can't access your game data and even open this platform to do anything else. And, that's the reason why this error can frustrate you.
You may try to uninstall Steam and install it back, but in various cases, this will not work for you.
However, in some cases, a simple computer restart can do this thing for you. But, if you are not able to do so, you should follow what we are going to discuss in this article below.
So, without any further discussions, let's get started.
What's the Reason of Steam Network Connection Errors?
As its name suggests, this error is related to network issues. So, first of all, a faulty network connection could be the reason behind this problem. So, before proceeding further, you should make sure to check if the internet is working fine on your machine and you are able to use it elsewhere.
Another reason for this problem could be driver issues. While running Steam, various device drivers will come into play and help it to run properly in the way it should be.
However, any outdated or faulty driver can cause this issue for you. Other simple computer settings issues can cause this issue.
So, another good thing to do first of all is to simply restart your computer. Even if it is not working in your case, it is time to do something else.
Is it similar to the failed to load Steamui.dll error?
Steamui.dll error is related to the issues with your files and software problems. But, here in your case, this issue is caused by a faulty network driver or an internet connection.
Steam network error can easily be solved however the other one is a little bit tough to fix. Because Steam is not able to use the internet properly, you should do something to let it do that again.
Instead of searching for some other solutions, you should do whatever we are going to discuss here.
With this article, you will surely be able to get your Steam back in the condition it was earlier.
So, instead of comparing it with other errors and finding indirect solutions, let's actually do the things that actually work in this case.
Steps to fix Could not connect to steam network error?
Below are the things you should do in order to fix this thing properly. Let's reveal all the methods one by one.
1. Restart your system and check internet connection
We have discussed it earlier, but you should ensure that you have restarted your computer and checked if the internet connection is working fine everywhere else.
Along with that, make sure to check if your network is managed by any third-party software like Antivirus or VPN.
You can simply boot your computer in safe mode and then try to run Steam. All these things will make things clear that there are no external factors contributing to this problem.
Now, you just have to focus on the technical stuff and follow the things we are going to discuss below. So, just jump to the next method for more.
2. Change Steam Internet Protocol
This is one of the main fixes that could work in various cases. In fact, most of the people who were facing this error were able to fix it just by using this method. That's the reason why we are discussing it in the first place.
Steam uses the UDP Protocol to transmit the data. But, if you change it to TCP, you can get this issue fixed within seconds. If this was the problem and you fix it using this method, you are actually done with this problem.
But, doing this thing could be tough for most people because we do not play with all these settings more often. Don't worry, we are going to help you with the same.
Let's see how you can change the internet protocol used by Steam.
Right-click the Steam shortcut and click on the Properties option
In the property menu, choose the Shortcut tab
Go to the target option and add -tcp at the end of your program file location
Click Ok and close that menu
Now, launch Steam
If the internet protocols were causing issues, you should be able to fix it up using this method. If you did that, that's great. Otherwise, just proceed to the next step.
3. Run Steam as Admin
This might sound unrelated to this thing but actually, it could be a good fix to this problem and help you to get rid of this issue pretty effectively. Sometimes, Steam has to use some files which are privileged only to the administrators.
So, if you allow this app to run as an Administrator, it can simply use those apps and run in a proper manner. Again, doing this is pretty easy and everyone should know that.
Let's see how you can do it.
Right-click the Steam shortcut
Click the option that says "Run as Administrator"
Confirm the prompt which will appear after that
See if Steam is working fine and not showing this error again. If the error appears again, you can proceed to the next step.
4. Reinstall Steam Client
Steam Client is one of the major elements which contributes to a healthy operation of any kind of work while you run anything using Steam. If there are some problems with any of these steam client files, you can face issues while running this application.
In fact, this error is mostly caused by this thing. Various people were able to fix this error by using the following method.
But, without proper knowledge about the process, you may not be able to do it. So, let's see how you can easily reinstall your steam client and delete all its files.
Right-click the Steam shortcut and click the option Open file location
You will reach the root directory of your Steam software
Delete all the files you see in that folder except the files and folders given below:
Steamapps
Userdata
Skins
exe
Ssfn files
Once all the files are deleted, run Steam again by double-clicking Steam.exe
It will download all the files back and run normally.
Check if the error appeared again. If so, consider following the next step.
5. Update Network Driver
This is perhaps the most potential and effective method to solve this issue. Steam is a well-refined software and it doesn't give this kind of errors unless there are some issues with your device or hardware itself.
If Steam is not able to utilize your network components properly, it will surely come up with this error. And, that is the main thing we are going to fix in this step. We will update your network driver and see if it works for us.
Because your network driver is going to help your computer run the internet properly and all the related software, it is necessary that it is working in a proper manner.
Updating a network driver is pretty easy and there are several ways to do the same. You can either pick a third-party driver updated software or do it manually.
We are going to use the manual method because it is faster and safer.
Press Windows+X keys together on your Windows keyboard
Now, choose the option Device Manager
Inside Device manager, click Network Adapters
Below this menu, you will find various network adapters, just right-click the first one from that list
Click Update Driver and proceed further
Choose the automatic update option and wait for sometime till the time your computer is updating the driver.
Once the driver is updated, make sure to restart your computer. Once it's restarted, launch Steam again and see if it is working fine. If not, proceed to the next step.
6. Reinstall Steam
In this last step, we are going to completely reinstall the Steam app. This is going to help you get rid of this problem for sure. If everything is working fine along with your internet connection and you have done all the steps we have done above, this is perhaps the only option you are left with.
We will completely uninstall the software first of all and then install it back from the official website. Most of us will be aware of the process of removing any app from Windows systems.
But, if you do not know how to do that, we are going to do help you with the same as well. You just have to delete this software along with all its files and install the latest version.
Let's see how to do the same in a simple way.
Go to Cortana and search for Control Panel
Click Control Panel and you will enter a new menu
From all the available option, find and click Programs and Features
Inside a new menu which will open after you click this option, find your Steam app
Right-click Steam and click Uninstall.
Wait for some times while the app gets removed
Now, go to the official Steam website and download the setup file again.
Install Steam and launch it to see if it starts to work.
This step is definitely going to help you get rid of this issue. Make sure to install the software only from the official website. The link is given here – SteamPowered.
What if the error is still appearing?
In some rare cases, some users may see this error again even after doing all these things. There could be some compatibility issues or some problems with the Steam servers.
So, in that case, we want you to connect with Steam Customer Support services and let them know about this thing. They will help you to fix this issue for sure. You will have to sign in to your account and then you will be able to access the support features.
You can also pick some given topics and suggestions and get some kind of help online.
However, you can connect with the professionals who will be ready to help you with everything you want.
---
Final Verdict
We hope we have given you enough information to fix could not connect to Steam network error. Make sure to follow all these steps properly in the way they are given. You will definitely be able to see all your game data and Steam in normal condition after following this procedure.
All the methods are completely safe to use. So, you can follow it for some network related issues in your Steam software.
We hope we have helped you to get your problem solved. If this article helped you, consider sharing it with others as well. Also, give us your valuable feedback in the comment section.
You can tell us about new topics and suggestions. We will try to help you with everything we can. We keep coming with various articles on technology and software.
So, stay connected with us and stay reading.