Windows 10 can come up with various errors and windows issues along with a blue screen of death. One of the most common issues you may see on your computer is Critical structure corruption. Well, if you also see it and want to know how to fix the critical structure error in Windows 10, this article will help you with everything. We are going to reveal all the possible solutions to fix this issue and get your computer back in normal condition.
Unlike other popular errors on Windows computers, finding the root cause of this issue is not easy by its name. But, there could either be hardware or software issues behind this problem.
However, finding the exact issue could be tough. But, most of the time, hardware issues could result in this kind of errors. And that's why you are advised to check your hardware first of all.
Sometimes, it can be tough to get your computer started because of this error.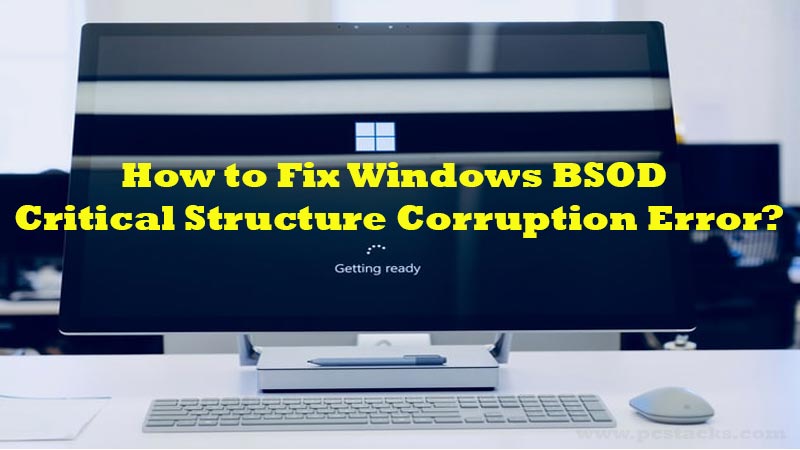 It may result in continuous errors and then result in some serious issues later on. So, it is better to do some basic troubleshooting and fixing on your own and then seek professional help if you want.
Whenever you see this error on your computer, you may find numerous people saying different things about it. But, here we are going to reveal the most effective concepts or we can say tips which you can follow right away.
Also, knowing the reasons for this issue is also important. We will cover that thing as well inside this article.
In a nutshell, you will surely be able to get rid of this problem by the end of this article.
So, without any further delay, let's get started and see how you can fix this issue by getting your computer back into its normal condition.
What is a Critical structure corruption error in Windows 10?
There are lots of things you will hear about this error and, we are not going to confuse a lot. So, in simple words, this error appears whenever there is a complete hardware failure inside your computer.
The next reason could be a faulty device driver which is trying to overwrite the kernel code. This issue can do various other damages to the system but this error is enough to haunt any Windows user.
If you are not aware of this error before, you can think that the whole system has broken down.
But, that's not the case all the time. Windows will keep showing this error to your without doing anything else after that.
That's the reason, you are not able to log into your computer mostly whenever you get this error. The reason for these failures can vary depending on various things.
Reasons of Critical Structure corruption error
There are many reasons related to this error but three punch issue as given below with brief summary.
Hardware Failure issues
These issues are much more complex and dangerous. The whole system can break down just because of these failures. Mostly, the users are required to replace their hardware completely to get this thing fixed.
Hard Disk, PSU, and RAM are the most common things which get damaged whenever you get this error. If it is a hardware problem, you should do everything to either fix it or replace it.
However, you can't identify the reason for the first look. So, the other reason could be some driver issues.
Driver issues
Most of the drivers, when gets faulty, can result in this issue. So, if that is the case, it will be much easier to fix.
You can mostly fix it on your own. You just have to either replace or reinstall your drivers. However, identifying the main drivers causing this issue can be a complex thing.
So, you are advised to update most of the important drivers used by your machine.
Third-Party Software
If you have installed any problematic third-party software inside your computer, it can also cause this issue. We can't say that any software is doing that thing.
But, it is another most common reason why you might be getting this problem. Later on in this article, we will see how you can check for it and uninstall your software.
Exclusive Steps to fix the Critical Structure Corruption Error in Windows 10 (BSOD Stop Code Error)
Now, without any further discussions, let's actually dive into the article and see how you can fix it.
Follow all the steps systematically and you will be able to fix everything up.
1. Uninstall any problematic software from your computer
Now, this can be a tough thing to do. You can't say that any software is causing issues for your computer. But, you can simply uninstall software which is easy to reinstall back.
Also, if you are seeing any outdated software, make sure to update it. If you think any software is developed by an unknown developer, try to delete it.
We hope you are aware of the process. But, you can also use Daemon tools and other software to make this thing easier for you.
Let's see the process of uninstalling any unwanted software from your computer below.
Go to the Windows Search bar and search for Control Panel
Enter the Control Panel menu
Search for the Programs and Features option in the menu
Find any software you want to uninstall and right-click it.
Choose the uninstall option and proceed further for the uninstall.
Once all the unwanted programs are removed from your computer. Restart your computer and see if it restarts normally.
If not, just proceed to the next step.
2. Check the Hardware of your computer
As we have discussed earlier, hardware issues are most common behind this type of issue. So, now, you should do a basic check for all the problematic hardware devices.
You will have to check your PSU, RAM, and Hard Drive normally. And that's all we are going to do here. If you are not confident whether you can do it or not, just leave it right here.
But, if you are ready, you might see some positive results after doing it. This process may take time because we are going to check three different hardware.
So, let's start with the first one first.
2.1 Check PSU
The first thing to check is whether any piece of hardware is exceeding the limit of the power supply allowed by the PSU. Another thing to check is the physical connections.
Most of the time, the devices may need more power supply but your PSU is not able to do so. Also, loose connections can result in this issue as well.
So, make sure to do deep checks and ensure that everything is fine at that stage.
2.2 Run Windows Memory Diagnostic Tool
The best check and fix you can do about your system RAM is running Windows' inbuilt Memory Diagnostic tool. This tool can check for some internal and basic issues occurring inside your computer's memory.
It can troubleshoot almost all the fixes you can do with your computer.
Any hardware issue may not get fixed by you can expect some great results if your memory is affected by any internal system issues.
The process of doing it is very simple. So, let's get started.
Press the Windows + R key to open the Run command
Enter exe and hit Enter
Choose this option "Restart now and check for problems (recommended)"
This will instantly start the memory scan.
When your system reboots, it will come up with certain information. Make sure to read that and follow the guidelines
If this tool has identified some issues, it will show all of them when your computer is started.
If these were the issues behind the error, you should be able to fix them now. Otherwise, you can go to the further step.
2.3 Check Hard Disk
Hard Disk error can be checked using various third party system file checker software. But, we are going to use another inbuilt feature from Windows systems.
It is known as CHKDSK. It is basically a scan that you can run on your system and check if there is some issue with your hard disk. Running this scan is pretty easy.
But, it may take some time depending on the type and size of files stored on your computer.
It can find out some major issues causing problems to your hard disk and then your PC.
So, let's see how to run it properly.
Press Cortana
Type cmd and search for it
Right-click Command Prompt and choose Run as administrator option
Enter chkdsk *: /r in Command prompt and hit Enter. * stands for your system drive.
Now, give your computer some time to check for the problems and then fix them. Once done, restart your computer.
3. Run Blue Screen Troubleshooter
For any kind of Blue screen errors, Windows has its separate troubleshooting features available for every one of us. Because, you can also see this error because of some issues with your Windows update and installations, this feature can help you find and fix your problem.
In fact, a lot of Windows users were able to do it just by running this function. Running this troubleshooter is pretty easy but it is pretty effective to resolve most of your computer problems related to the Blue screen errors.
Let's see how to run it on your Windows 10 computer.
Press Windows + I keys together to open Windows settings
Inside the Settings menu, click the Update and Security option
Then, click the Troubleshoot option
Go to the end of that page and choose Find and Fix other problems option
Click the Blue Screen option and then click Run the Troubleshooter.
Let this scan run and your computer fix this issue. Once everything is done, you will see all the possible things you can do. If there is something you can do, just do it. Otherwise, go to the next step.
4. Run System File Checker
This scan is just like the CHKDSK scan but it checks only the system files stored on your computer. So, if there are some issues with your Windows files, you can find them using this scan.
In fact, this scan can help you delete or fix those files. So, it can become a great way to know how to fix the critical structure corruption error on Windows 10? This step is going to fix various other issues your computer might be having with your Windows files.
We are going to use the Command Prompt again to do this thing. Let's see how to run it properly.
Go to Windows Search Bar
Enter cmd and right-click Command Prompt option
Choose Run as Administrator option
Enter this command sfc/scannow and hit Enter
Let your computer run this command and complete it. It will take some time for your computer to finish it. Depending on the size of files stored on your computer, it can take a long time. So, keep your computer turned on and wait for it to complete.
Once the scan is completed, restart your device.
5. Update Graphics Card Driver
It is advised to update all the drivers if you are seeing this error in Windows 10. But, make sure to update your graphics card driver to see if it can solve the issue.
Updating this driver can effectively allow your computer to run properly without seeing this error. Various times, this method was enough to fix the computer's various issues.
This error can also be fixed by that. You can either choose a third-party driver updating software like Driver Easy or MiniTool but here we are going to use the manual method.
Press Windows+X keys together and click the Device Manager option
Find your graphics card device and double click it
Right-click your device driver and choose the Update Driver option
Choose the manual or automatic method as per your preferences
Let your system update the driver and then restart your computer. You should be able to fix this issue. Otherwise, go to the next step.
6. Update Windows
Updating your Windows operating system is also a great method to fix this issue. In fact, various users have admitted that they were able to fix this problem just by updating their Windows.
We hope you are aware of the process of updating Windows.  If there is any pending Windows update available, completing it will give you numerous other benefits along with a fix.
We are going to reveal the process of doing the same. So, if you are not aware, just follow the procedure given below.
Press the Windows + I button to enter the settings
Click Update and Security option and then Windows Update
Click the "Check for Updates" option and let your computer find the pending updates.
If there is any, click Install and wait for your system to complete it.
Note: Make sure to have a fast internet connection
---
Final Verdict
We hope you are now aware of how to fix the Critical Structure Corruption error on Windows 10? But, if none of these methods works for you, you are advised to get in touch with a professional who can look deeply into it.
Also, consider doing all these things if you are fully confident about what you are going to do next.
If you found this article helpful, consider sharing it with others as well. Also, give us your valuable feedback in the comment section.
Let us know if you want us to cover any other topic of your interest. We keep coming with regular articles on Technology and software niches.
So, stay connected with us and stay reading.