Autotune is basically a software Plug-In that was developed by Antares but now it has become a synonym with all other vocal curing or autotune software. Now It is quite understood that you can use Auto-tune plugins to fix any mishap in your record.
Whether it is a pitch correction or something else you can do it perfectly. You can also record various instruments sounds and then give them a fine gliding touch.
So the fact cannot be denied that there are tons of uses of auto-tune plugins or Software's. And yes this article on best autotune software and plugins that you can prefer to use.
We will also be telling you some tips on how to choose the best autotune plugin for you. So, let not waste our time and move further.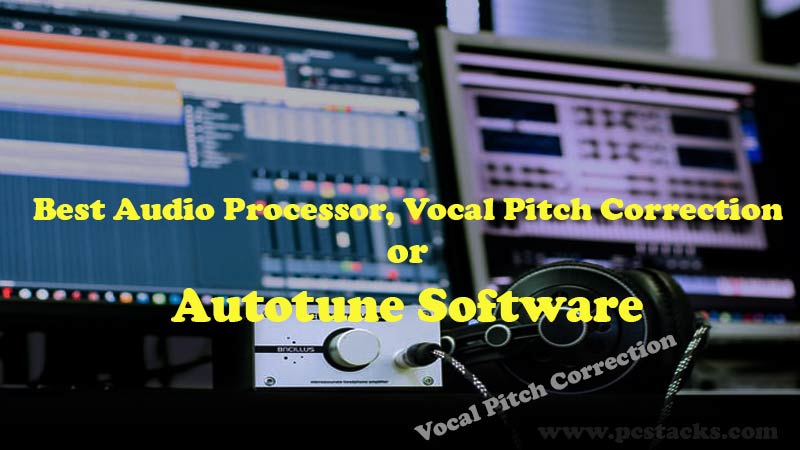 Do you want to improve your singing or music production skills? Well, we have created this resource to help you get the most amazing results.
In this article, we are going to reveal the 8 best, most refined, and free autotune software and plugins. So, if you are in search of some amazing products in this field, this article is definitely worth reading for you.
We have created a list of award-winning software that are going to help you with everything ranging from voice pitching, audio engineering, and various other applications.
The software can easily be used by both professionals and beginners in this industry.
Everyone wants to sing well and especially if you are a music producer, you will definitely need good software to make your sound speak their own voice in an effective manner.
Well not everyone has got that flawless voice and Autotunes have done tremendous work in covering up the flaws.
Even professional singers take the help of the autotune tools to sound more soothing. These practices have also been accepted by industry and the audiences. So we should never consider them wrong.
Most of the software would be free but for some packages, you may have to go for a premium plan to have the most out of your software.
So, without any further discussions, let's get started.
What is Autotune Software?
Autotune is basically a synonym that came from software developed by Antares. These are the software packages or plugins which you can definitely use while setting up your studios or just while editing your voice.
You can change audio pitches, correct tones, change levels, and do a whole lot of other things using this software. The industry is using this software.
Most of the songs we hear these days are processed using these software. So, when it comes to the applications, you will find numerous advantages of these software.
In fact, you are into the music or singing industry, auto-tune software is one of the most important skills you should have to enhance your skills.
On the internet, you can find various autotune software. They are easy to download, install, and use. But, most of us never know all the applications of these software.
So, in order to become an expert in any software, you should definitely learn it from the start, Well, without getting much deeper into the definition of Auto-tuning software, let's reveal some other related stuff about them below.
How To Choose The Best Auto-Tune Software Or Plugin In 2020?
Back in times, there were only 2-3 softwares that you could use for autotune purposes but as of now, the internet market is flooded with software and plugins.
So you need to check various factors before choosing the best one for you. Here are such factors that you need to search in a software or a plugin. Let's start:-
If you are into Hip-Hop, Rap, Trap, or other electronic genres then you need to check if the desired plugin has effects that allow you to customize voice format.
E.g MIDI controls etc. You also need to check the particular notes for the instrument and the vocalist.
And if you are into natural voices and not into EDM then you should choose a plugin that is designed for more smooth vocals and allows extensive Pitch correction.
Indirectly, you need to look for Pitch correction plugins as they will not add excess colors to your sound and make it feel natural.
Best Autotune Software and Plugins for Vocal Pitch Correction
Here is the detailed list of the best autotune plugins and Softwares that you can use. These software & Plugins are trusted by professionals too. Let's start:-
1. Antares Auto-Tune
Auto-Tune By Antares has really set up the standards in pitch corrections and processing vocals.  You can set up world-class pitch and vocals with the help of this application.
The recent launch of its premium segment Auto-Tune pro has got praise from many professionals. The main focus of this software is vocals balancing. the editing done by this tool looks more natural and organic.
However, you can make use of various other tasks. In fact, the software is full of amazing features that you may not get with most of the other software in the market. This is the reason why we have put this one in the first place in this article.
The auto mode works very well when you have already set up the filters and you need to click and autotune will do the rest for you. You can even edit each vocal line by using the graphic mode.
Format modeling, Flex tuning, and throat correction can also be done efficiently. Currently, there are three different versions:
EFX Auto-Tune
Live Auto-Tune
Pro  Auto-Tune
Features Of Auto-Tune By Antares
Supports Auto Random Access
Low-Latency Mode
Efficient Hands-off Vocal Correction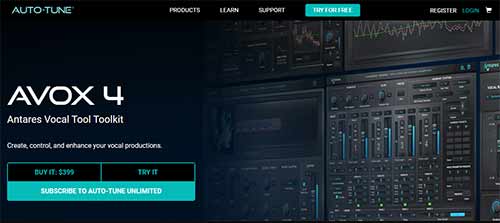 2. Izotope Nectar 3 Production Suite
Izotope Nectar 3 is easy to use autotuner as well as a pitch editor. It is also best recommended for beginners. You can work with scales, format controls, and speed corrections for the autotune effect.
All the corrections done are natural-sounding and look completely organic. The editing tools you get with this application are Select, Split, and Merge. Note detection is also quite good.
You can also enhance or reduce the vibration control using this application. Effective formant controls come with +/- 12 semitones.
The software is pretty effective to use when you need great control over your audios. Whether you are using it for music production or personal uses, this software will offer you numerous advantages to grow your skills or present yourself in a better way.
The software is available on the internet to download. However, you will have to spend a good time in order to learn it properly.
Features Of Izotope Nectar 3
Correction strength control
Formant Preservation
Snap To Note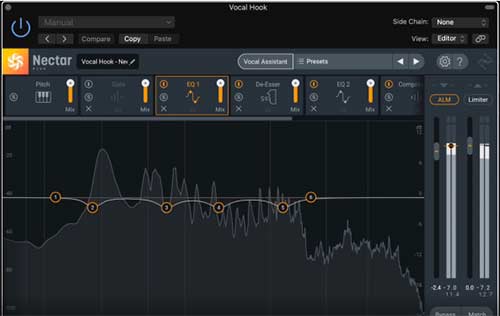 3. MAuto Pitch Autotune Software  [Plugin]
MAuto Pitch is developed by MeldaProduction. this autotune plugin is totally free and fully functional. You can give a magical touch to the voice notes using this plug-in.
You can use various features with this plug-in such as Depth, Detune, and speed. Pitch can also be sharply adjusted with the help of detuning.
There is an effect Rack from where you can control any heavy effects of the voice note. High functionality and easy to use interface attracts professionals towards this plug-in.
Using a low-speed value on this plugin will help you avoid fake-sounding.
This plugin is perhaps the best pick if you are looking for something that can improve your voice pitch. Also, it offers various other additional features for professionals and beginners as well.
The software also has a pretty amazing user-interface to help you get the most out of it. Let's see some of its advanced features below.
Features Of MAuto
Free and fully-functional
Good Depth controls
Out-Of-Tune Notes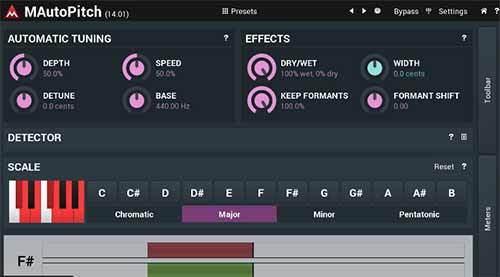 4. Auto-Tune Access [Plugin]
Auto-Tune access is a plugin from Antares and is very pocket friendly too. It is the best option for you if you wish to enter Antares Autotune world.
This plugin uses Knob style features to humanize the vocals in order to look more organic and various filters of control. You won't feel any pitch issues after the use of this plugin.
The Interface is also quite simplified. One thing that is worth mentioning about this plugin is that it has limited control options. You need to think about it.
The plugin is great to have professional quality results and enhance your audio and the way you present it. The software offers some amazing features such as Three-position Re-tune Speed and Low latency processing.
So, if you are looking for professional autotune software, this one is the best option for you.
Features Of Auto-Tune Access
Affordable vocal enhancement.
Perfect for live performance.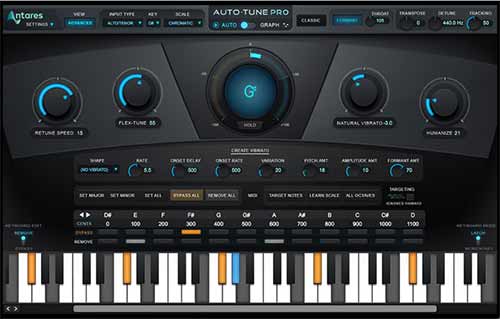 5. Grallion 2 Autotune Software
This one is another great option to use the best Vocal Live changing features inside an autotune software. Its pitch tracking modulation feature is great to improve the voice pitch and set its levels on your desired points.
The pitch shiftier feature can easily be used for transposing your voice up or down in your desired manners. The software is best for your voice enhancements.
Some features like chorus creation, octave sounds are the main highlights of this software. In a nutshell, this software is one of the best solutions if you are looking for software that is more into the vocal side.
You get numerous options to use for making your voice much more refined and good to hear. Along with that, a clean UI makes this software best for everyone including professionals and beginners.
Key Features:
Easy to use as a beginners
Pitch Shiftier tools
Pitch correction features
6. Gsnap
Gsnap is available only for Windows users. This is basically a VST plugin that can easily be used for getting your vocals on the track.
If you are looking for an effective voice enhancer or optimizer, this one is the best one for you. If you use it with subtle settings, this package is going to give you various amazing features you will never believe.
However, once you become an expert in it and learn its extreme settings, you can create sounds like the chorus effects and T-Pain. So, all these settings are great if you want professional software to help you with professional or personal autotune works.
Key Features:
MIDI control mode
VST Pitch-correction
Easy to use
Free to use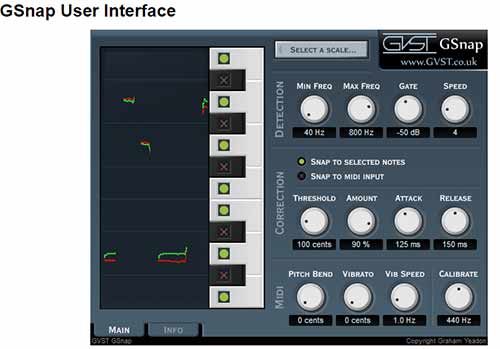 7. Multiply 
You can also use Multiply as your best and free autotune software. This package helps you make your voice sound much more professional and smoother.
The software is great to add chorus effects into your audio with amazing twists. You can add various filters and additional voices pretty easily.
Also, doing all these things and creating your own audio effects is pretty simple with Multiply. The effect signals and randomizing features are just great
You can simulate up to 6 voices at the same time using this software. Along with this, you get various features for voice modulation and stuff like that. Make sure to try this package for sure.
It is available completely for free. The software has quite an impressive UI so you will never find it hard to explore all its features. Just make sure to spend a good amount of time understanding all its offerings.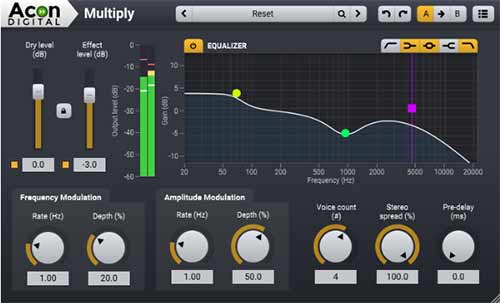 8. DSP 2 Vocal (VST plugin)
This is another great VST plugin you should definitely use for vocal precision and filtration tasks. This plugin has numerous features you can enjoy while adding your desired effects on our audios.
The software offers highly precise outputs along with a user-friendly interface. You get various vocal key frequencies and room emulations as per your needs.
It also has an Intelligent Dynamic Processor to process your audios much more impressively. You can use its four different operative modes without any hassles as per your needs.
Along with everything else, this plugin will allow you to use its selectable compression ratio. You are going to use its inbuilt settings if you want and have some great results for sure.
The plugin is widely preferred by professionals. However, you can start using it also as a beginner. Let's see some of its key features below.
Key Features:
Saturate with various operation modes
Precise input/output VU-meter
Very low CPU usage while processing
EQ fix feature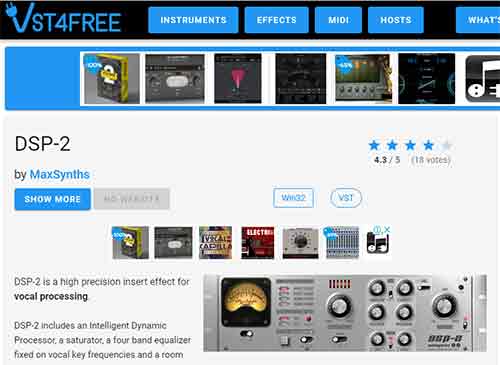 Final Verdict
This was a complete list of best and free autotune software which you can definitely try for any kind of audio production process in 2020.
We hope you will now find it easier to pick your desired plugin or software and enhance your skills as a music producer, editor, However, you can start using them as an individual artist too.
We have collected this information after doing complete research on the internet and the music industry. So, we are fully promised that you will find this information helpful.
If you have liked this article, consider sharing it with others who may also need it. Along with that, do not forget to give your valuable feedbacks in the comment section.
You can give us new ideas for articles in the future. We will definitely help you with everything we can. We keep coming with various other articles in the technology and software field.
So, stay connected with us for more.