We can never talk enough about links' importance and their role in search engines. There are two fundamental ways in which search engines use links. Firstly, its task is to find new pages that will be used in search results. Secondary, to examine them and decide about their rank in results. The search engines don't go for the content of the page only.
It also checks how many external sites lead to yours, paying special attention to the quality of those sites. The better sites link with yours, the greater your ranking in search results.
To understand the way SEO works, one must differentiate internal and external links and the role they play in the process of building a strong SEO. Your site's visibility will heavily depend on the use of internal and external links on your site, especially in the context of relevance. That is the ultimate way of improving the search rank of your web.
The hyperlinks that navigate your visitors from one page to another on your site are called internal links. Unlike that, external links refer to hyperlinks that take your visitor from the page on your site to a page on a different website.
If you link credible and well-ranked sites to your site, you can make yourself a more credible Google user and optimize the search results. Additionally, if you create good quality marketing or blog content, some companies will "link you back" with the stuff they publish.
Nonetheless, the benefits of internal links are different. They motivate a visitor to stay on your site longer, have fun, and enjoy the content. Some argue that this is one of the best ways to transform a visitor into a customer or follower. Smart use of internal links and connecting the content on a certain topic within your site will contribute to the increased authority of your site. Now let's talk about a trend-setter and game-changer when the links are the topic.
WP Links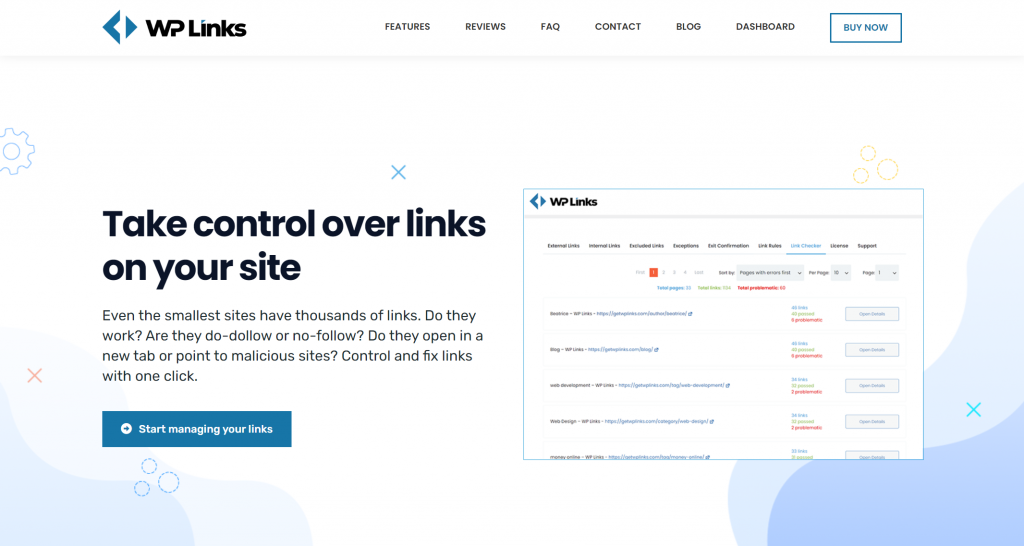 WP Links is our solution to your link management issues. It welcomes you with nine tabs: External Links, Internal Links, Excluded Links, Exceptions, Exit Confirmation, Link Rules, Link Checker, License, and Support. Each one does exactly what it says, and we will focus on some features that will step up your game with links.
Especially if you have 3rd party links placed on your site, this plugin will let you create a custom popup window with ease. If a user clicks on a 3rd party link that will take them out of your site, it is a great pleasure to see a notifying message that informs the visitors that they are about to leave the site. The amazing part is that now you can fully customize that notification box and the content inside.
Exit Confirmation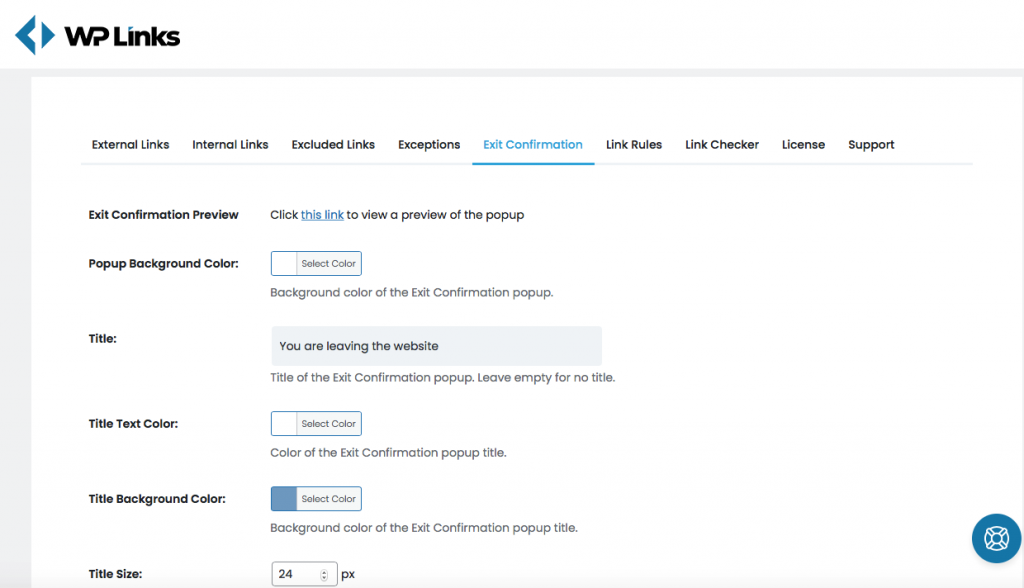 Under the Exit Confirmation tab, you will find anything you need to style your popup window to the fullest. You will find a lot of adjustable elements such as popup background color, the title, the title text color, the background color and size in pixels, the message text, and attributes.
The box size is also a matter of your choice, so you can make it fit your site perfectly! Under the Exit Confirmation tab, just set any of these elements as you wish. Moreover, you can set the height and width of the notification box and choose whether you want a transparent overlay behind it.
Unlike the first three tabs that deal with link groups, the fourth one, titled Exceptions, is the place to look for different behavior. In this one, you can configure the control of exceptions and when and how to happen.
Link Rules

Link Rules is the tab next to Exit Confirmation. Once you set your Exit Confirmation box and content, you can create the rules that will apply to the links.
Link Checker is a feature that goes after the broken or malfunctioning links on your site and fixes them. Once it grabs the sitemap, it will run through all the pages and fix them quickly. So far, it is probably the best way to check if your settings are working properly. If you do not believe all the links can get checked in a few seconds, then it's time to start.
That is not all. If you wish to make this plugin your own, there is a legit possibility. Unlike White Labeling, Branding features let users completely modify the plugin, including the name, logo, and style of appearance. In that manner, our respectable WP Links become yours, representing your brand and style.
Summary
In the end, it is important to say that this plugin gains more and more trust among those who understand the importance of SEO and rankings.
It is effortless and highly efficient, ensuring the handling of links is easier than ever before. Additionally, the plugin is compatible with all themes and plugins you might have applied, and it will not slow down your site, not for a bit.