Each Windows 10 machine after the Windows April 2018 update is equipped with a function called Ultimate Performance. This feature is available in Windows 10 Pro systems and is created for high-end users. However, it can easily be activated on any device whenever you need it.
If you want to know how to enable ultimate performance mode in Windows 10, this article is going to help you with the same. We are going to cover a step by step method to help you enable this feature pretty easily.
This feature is suitable for any kind of high-end Windows 10 machines. So, if you want to enhance your performance much more than its original capabilities, this function can definitely help you with the same.
In fact, you will see a huge boost in your system performance and will be able to do your tasks more efficiently.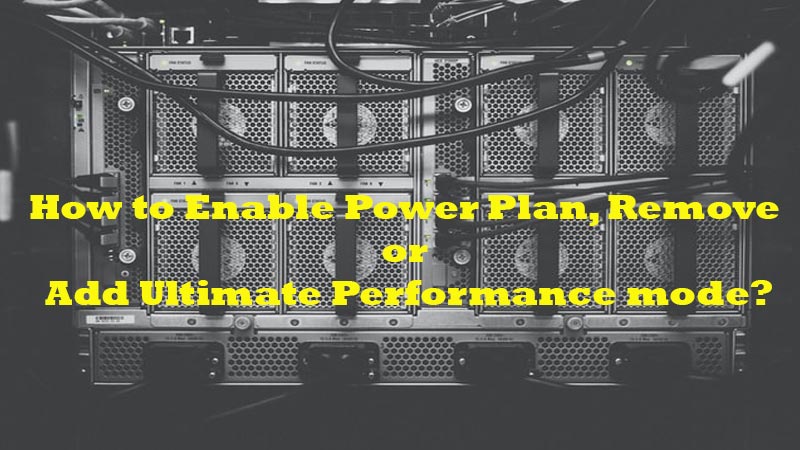 The reason behind this thing is really normal. This feature is going to reduce the polling of your hardware. So, if your system is set for some latency to connect to the hardware, this function will reduce or even eliminate it.
This will result in an enhanced speed and performance in some special use cases.
Although you can't find great results whenever you are playing games, you can experience some boost in performance while editing videos and doing other normal but high-demanding stuff.
However, you will have to keep some important things in mind before turning on this plan. The first one is that you are going to see huge power usages. And the next one could be the heating issues. Your system can end up in various other troubles.
So, if you want to enable this feature, you should do it completely on your own responsibility.
Now, let's start discussing it briefly below in this article.
What is the Ultimate Performance Power Plan?
As the name suggests, this plan is going to help your computer enhance its capabilities and reach the limits it may not reach when the basic settings are on. You can simply turn it on by going to your battery optimization settings.
However, some machines may not see this option ready to be turned on because all the Windows systems with batteries can't use this function directly.
There is a way out which we are going to discuss later on.
But, now if you want to know more about this ultimate performance plan, you should understand that this plan is going to eliminate the micro-latency which will come along with fine-grained power management techniques.
You can understand micro-latency as the time fraction which your OS will take to recognize any hardware on your system. So, the lesser this duration, the better your system is going to behave and perform. This may not impose very high effects on performance but you can expect some good things in some tasks.
Just think that when your hardware starts to get the power it will need for any specific task, it will surely come up with a great performance in any situation.
By reducing or eliminating the polling rate of your hardware, the hardware is going to get more juice and will give you better results in all the terms.
The changes might be of some seconds but you should never underestimate the overall boost you are getting when it comes to the machine level. And that's the reason why all the battery-powered machines will never have this function directly to be turned On or Off.
Because your system is going to demand more and more power when you demand performance from it, the battery may die within an hour.
Surely, this will negatively impact your system in various ways. But, if you need some more power to do some specific tasks, you will have to take risks.
What will be the impact of turning this feature on?
According to Windows, there is no direct negative effect of this feature whenever you turn it on. But, there are some things which you are going to experience on your computer. And, they can indirectly out your system in some risks for sure.
You can't neglect the fact that most of your hardware pieces are going to be turned on all the time which should go idle whenever you are in the normal performance modes.
Let's see some of the information given by the official sources and observe which are the things which will see effects whenever you turn this feature on your Windows computer.
Hard Disk will always keep running
Wireless Adapter settings will be set to the maximum performance
Java Timer Frequency will be set to the maximum performance
It will turn off the Hard Disk sleep mode
Hibernation feature will be turned off
The display will get turned off after 15 minutes of non-usage
Video playback quality will be optimized
There are various other changes you will see whenever you will keep this option turned Off.
They might not put you in any hassles but their indirect effects may bother you. So, keep all these things in mind.
What are the risks included in it?
As we discussed earlier, there are no direct risks included in this feature. In fact, Windows is offering this thing to you and you should use it whenever you need it. However, it may give some risks for sure if you are not taking care of everything in a proper manner.
Overheating and low performance in background apps are some of the things you should consider for sure. Lots of Windows users are using this function and they are getting some great results.
So, you can turn it On and see if it works for you. But, when turned On all the time, some hardware becomes under threat. Your hard disk, for example. It will be running all the time even if you are doing nothing related to it.
It is advised to keep this thing On only if your computer is having enough resources to handle the effects.
Now, without any further discussions about this topic, let's actually dive into the actual process and see how you can turn this feature On.
Why should I enable Ultimate Performance mode in Windows 10?
As we have discussed earlier, there could be various things you want to improve using this feature on your Windows 10 computer. This could be to enhance your computer's processing speed or gaming performance.
You might be looking to use your computer for video editing, programming, development, or any other stuff.
This feature may help you with various other top-notch computation tasks. You will surely see some amazing results if your computer has enough resources to do some things which it is not doing at this time.
In simple words, your computer is going to perform better than it was doing before turning it On. It is better to actually see the results with your eyes.
Let's see how to enable Ultimate Performance mode in Windows 10 easily.
Steps to turn on, Enable or Activate Ultimate Performance Power plan mode in Windows 10
Below are two primary steps you can follow in order to turn this feature On on your PC. Let's uncover everything in detail.
Enable Ultimate Performance Mode using Windows Settings
As you are aware of the fact that this feature is available with all the latest Windows 10 Pro devices which do not run primarily on batteries, you can easily turn it On or Off anytime you want. And that's the best and perfect way to do so.
You should use this thing even if you know how to do it using other things. Command Prompt is another way of getting that done.
But, without diving much into the technical stuff, make sure to use this basic method of doing the same and you will be able to get the most out of it.
Even if you have very little or no technical knowledge about Windows, you can easily use this function anytime you want.
Let's see how you can do that.
Press Windows+I keys together to open Windows Settings
After that, click System tile
Now, choose the option Power and Sleep on the left
Press the Additional Power Settings option on the right side
Now, click Related Settings
In the next window, click Show Additional Plans and check the option that says Ultimate Performance.
You can restart your system if you want. Otherwise, the settings will take their effects just after you choose that option.
Now, let's go further to the next step if you do not saw that option anywhere inside that menu.
Enable Ultimate Performance Power Plan using Command Prompt
Now, as you know, if you are not having this option, especially if you have a laptop, you can always turn it On using some sort of method. Windows will give you complete freedom to do the same on your own responsibility.
This can be done either by using Command Prompt or Powershell with Administrator privileges. And that's what we are going to do here in this step.
We will help you to see this power plan inside your battery management menu and turn it On or Off anytime you want. Even if you do not know how to turn your Command Prompts On, we are going to help you with everything.
You should know it if you want to use that function more often on your computer.
So, without any further discussions, let's see how to do that.
Go to Windows Search Bar (Cortana) and type cmd
On the Command Prompt option, right-click and choose the Run as Administrator option
Now enter this command and hit Enter
powercfg -duplicatescheme e9a42b02-d5df-448d-aa00-03f14749eb61
That's it.
Now, turn off the Command Prompt and follow the same process as you did in the earlier step.
Turn the Ultimate Performance plan On and you are good to go.
In various cases, you may run into errors when you do something wrong. Or you may want to delete that plan later. So, let's see how you can do that as well.
How to Turn Off or delete the Ultimate Performance mode in Windows 10?
So, now when you are aware of the process of turning this function On even if your system is not supporting it, you should also know how to turn it off or delete it permanently anytime you want.
We are going to give you details about that as well. You might know how to do that. In that case, you can now go away and do your work.
But, if you do not know, you should know that because you may feel the need of doing so at any step.
You should always know how to revert any settings you perform on your computer. Let's see the process of doing it too.
Go to Windows settings and reach the same menu as you did in step 1
Now, in front of the Ultimate Performance plan, you will see the option that says Delete this plan
Now, confirm the prompt and you will get rid of this function anytime you want
You can follow the same procedure as we did above and get this option back inside this menu.
---
Final Verdict
We hope you will now be able to enable ultimate performance mode in Windows 10 and make the most out of your machine. Make sure to follow the procedure carefully as we have discussed here in this article.
You will see some great things happening on your computer after this. This feature is offered by Windows to get some more power from your computer and use it for anything you want.
For some intense computation tasks, this feature is going to work great for sure.
If you liked this article, consider sharing it with others as well. Also, share your valuable feedback in the comment section.
You can give us new ideas and suggestions and we will make sure to provide you with all the desired information here.
We keep coming with various articles on technology, software, etc. So, stay connected with us for more.