In the field of networking, there are various things you will have to keep in mind in order to get the most out of your internet and networks. But, even if you are not a technical person, you should know some of the basic and most important terms in this domain. Port forwarding is one of those things. If you want to know more about this and how to troubleshooter port forwarding not working problem, this article is going to help you with the same.
We are going to know everything about port forwarding and all its related terms. So, by the end of this article, you will have proper knowledge of this concept for sure.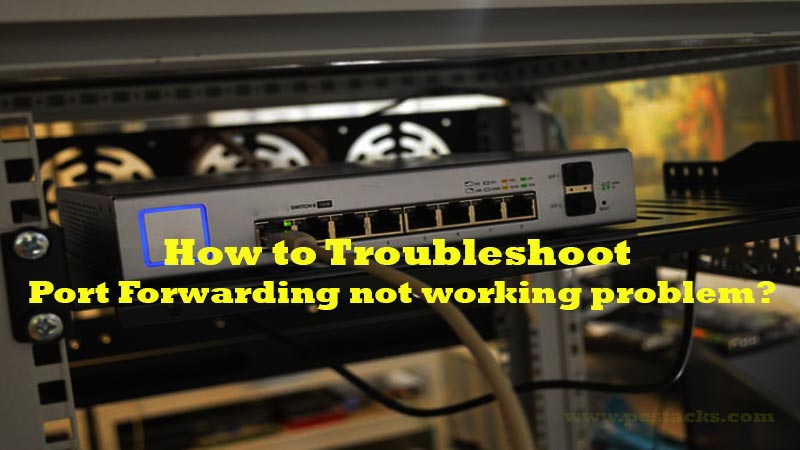 In summary words, forwarding ports can become a crucial element when you want to set up your own server. Also, whenever you want to give access to your local networks to external networks, port forwarding is used at that place as well.
You can handle most of the network redirection works using this thing. So, when it comes to the preservation of Public IP addresses, this can become an important element for you. If you want to keep your servers and clients from unauthorized access, this can become a good way to use it.
To add some extra security to your networks, port forwarding can become handy and provide you with all the desired solutions.
However, it is possible to setup port forwarding only if you are a network administration because it is a behind the scene process.
Port forwarding can not only be used inside the home networks but inside corporate as well. It is a pretty useful way to ensure secured connections when you want to operate some systems or devices remotely. It is a secure way of doing the same.
You do not have to worry about security when you use port forwarding instead of any other process. We are going to know everything about it and the ways to fix various issues you might see while the setup.
This article is filled with a lot of information about this topic so you will get everything you need.
Now, without any further discussion, let's get started.
What are the benefits of Port Forwarding in Networking?
The main use of port forwarding is that you can use it to use any system remotely from any location regardless of its LAN. You do not have to connect to a router physically.
Instead, you send a request to that router and the router changes the request address to give you access to your destination. It means you will have to assign a properly inside your router that whenever you get a request from that port, you will give it only the destination you want.
For example, if there is a CCTV inside your home network and you want to give its access to any other computer in another corner of the world, port forwarding can help you with this.
The client will send a request to your router and it will give the access. The main applications of port forwarding are:
Running a public HTTP server inside a LAN

Permitting FTP Access to a host on LAN

Running an open game server within a LAN
By utilizing these applications, you can easily utilize the port forwarding methods for various things.
Some of them could be to set up your game servers or to share your computer's access without using any third-party software.
Types of Port Forwarding
There are three main types of port forwarding. These forwarding methods have their uses but you might feel the need of anyone at any step.
So, let's discuss them one by one here.
1. Local Port Forwarding
As the name suggests, local port forwarding is the process of connecting a user from a local computer to another server. This is the most commonly used port forwarding method.
It allows us to bypass the firewalls which may block access to some web pages. In this methodology, we forward the connections from SSH clients to the intended servers.
The SSH server is configured to modify the data from a specified port.
If you want to check it on the command line, you will have to specify -L for this. Some of the most popular uses of local port forwarding are:
Mail receiving

Connecting to a website with the help of 

SSD tunneling
 2. Remote Port Forwarding
With the help of this port forwarding method, you can have access to the applications on the SSH's server-side to the client-side. You can also use the propriety tunneling schemes which are used for various ordinary uses.
This process of port forwarding is great to connect from the server-side of the tunnel to the remote network service at the client-side.
So, if you have hosted some applications on a remote server, remote port forwarding will allow you to give access to other computer's pretty easily.
Some other applications of this forwarding technique are as follows.
Opening remote desktop sessions

Give access to the FTP services to other people
 3. Dynamic Port Forwarding
We can understand dynamic port forwarding as an on-demand way of bypassing a firewall with the help of firewall pinholes. With this, you can easily connect with the trusted servers and use them to send and receive data from other destination services.
This is one of the most commonly used ways of port forwarding because it has various advantages over other methods.
Once everything is set up, you can easily use Dynamic port forwarding to provide additional security to your users whenever they want to connect to some untrusted servers. So, if you are using it to access the internet through a public network, you can use Dynamic port forwarding to secure your connection.
Also, you can bypass the firewalls to have access to a restricted site. There are various other benefits of this method and that's why it is growing its popularity day by day.
Is there an alternative to port mapping or forwarding?
There are various benefits of port forwarding or network mapping. That is the reason why it is commonly used for setting up different kinds of remote connections.
However, there are some limitations to this method. So, people keep searching for the best alternatives to port forwarding. We are going to uncover all those things here and see what are some of the best alternatives you can choose instead of port forwarding.
But, before that, let's talk about some issues with port forwarding.
Problems with port mapping
Multiple nodes inside your network want to use the same ports

You can's receive connections because of ISP controller firewalls

Your access to port forwarding is blocked by your ISP

Some ISPs may not allow their users to use port forwarding
So, because of these and various other reasons, you may feel the need for an alternative to this method. Let's discuss those things and see how you can easily choose them over this traditional way.
1. Bridge Mode
You can easily set up your router in bridge mode and then locate various ports inside this network. It is very easy to use the bridge mode using your wireless routers or regular modems pretty easily.
Bridge mode is pretty fast and effective to use inside the local and server networks.
So, make sure to try it if you are looking for a good alternative.
2. UPnP
UPnP is a short term used at the place of Universal Plug and Play. This is one of the most utilized methods at the place of port forwarding.
It allows the network devices to find other devices on the same network. You will get notified about the same with the help of a router.
So, it could be a good way if you want to share network access and things like that.
3. AirVPN
This is an external solution if you want an alternate way of connection instead of port forwarding. AirVPN can be utilized not only for port forwarding but also for VPN and tunneling.
You just have to sign up for an account on their website and you can add the information about which ports you want to use forward to your computer.
Then, you will have a new IP that you can use as a port forwarding alternative.
What ports are available for forwarding?
You might not need to know what ports are available for port forwarding unless you manually have to set some port forwarding parameters. However, whenever you need it, you will have to add specific values to make sure your request is being sent to the desired server from the client.
For various external services and service providers, you may need different ports depending on your needs.
But, the primary ports are required to be configured properly. For that, you will have to understand which port number should be assigned to which place.
Some popular ports required for any port forwarding method are HTTP, FTP, NTP, etc. So, we are going to know about all those ports and their numbers here.
Let's see all of them
HTTP – 80

FTP – 21

TELNET- 23 

POP3 – 110

SMTP – 25

mIRC – None

NTP – 123

PPTP – 1723
For other applications such as AOL, CITRIX, Direct Connect, Laplink, IPTV, you will need different numbers specified by them.
However, whenever you need it, you can search for them and enter the values properly.
How do I enable port forwarding (
Set-Up Guide
)?
You might have heard that port forwarding has a very complex procedure to be followed. However, it is not very tough to set everything up when you know the basics.
Keep a thing in mind that you should have admin access to your router dashboard. Also, your ISP should have allowed you to do port forwarding.
There are some other things you have to consider.
But, if you are doing it for legit purposes and for the first time, you are good to go. Here, we are going to help you set up everything.
So, make sure to do it properly for the best results.
Find your router's default gateway address and enter it on your web browser. (If you want to know your default gateway address, enter 

ipconfig 

in the command prompt and you will know).

Enter the router admin credentials to log in to the dashboard. (Most of the time, your router admin name will be admin and the password will be admin/password.)

Once you are logged in, find the port forwarding settings. Mostly, these settings are found in the 

Advanced tab>>Port Forwarding>>Virtual Server

In the port forwarding settings page, enter the device name first of all.

Inside the port field, enter the port you want too forward

Under the Protocol section, select TCP/UDP or Both if you don't have any specific need

In the next section, enter the internal IP of the device which you want to forward.

After this, make sure to save the settings and then exit

To check if the port is open, you can go to this website and enter your port number.
Make sure to confirm the connection by checking the port using the web browser. You can simply add your hostname with the port number in the web browser's address bar.
Whether you are using Netgear, Linksys, or any other popular router brand, you should be able to use these settings and save the settings without any issue.
So, make sure to try these settings if you want to configure your own port forwarding method.
How do I reset port forwarding?
Resetting your port forwarding settings is pretty easy. Even if you have set up various port forwarding ports, you can reset or delete them without any hassle.
But, before deleting, make sure that you want to do that. The deleted port may not get restore if you want to do it later on.
You will be lost the connections to whatever device you have configured on any port.
Resetting your port forwarding is easy. Depending on your router dashboard and manufacturer, the settings may vary.
But, if you have done this by yourself, you will be able to reset it without any hassle. You will have to follow the same procedure but this time, you need to delete the ports instead of adding a new one.
Let's see how you can do that.
Log in to your router's admin dashboard using your credentials.

Go to the Port forwarding option

You can now choose to disable the port forwarding if you want to do it temporarily. However, if you want, it is easy to delete your port forwarding settings.
Resetting port forwarding is as simple as that. But, adding them could be a hassle. We have discussed that as well in this article.
Now, let's discuss some other popular questions related to that below.
Does port mapping increase or slow Internet speed?
There are very low effects of port forwarding on your internet speed. Neither the speed is going to decrease nor it will increase just because you have forwarded your ports.
However, you have to keep a thing in mind that when there is a huge external load on your device externally, it may slow down a little bit. But there are no impacts of port forwarding on your internet speed.
With port forwarding, you are redirecting some specific requests from some users to special paths inside your system.
So, it is not a thing that will come along with a huge traffic load. So, you do not have to worry about anything even if you are using port forwarding with numerous port settings.
That is why people from all over the world prefer using port forwarding for game server setups.
Can you port forwarder without a router?
If we talk about the traditional port forwarding, just like the one we discussed earlier, it is required to have a router and also admin access to its dashboard.
Because, the ports can be configured only from inside the hub of the network, It is important to get inside your router settings and add all the port parameters from within.
You will have to add the addresses and configure the protocols. However, in this advanced technology, there is a way out to everything.
Just like we have discussed the alternatives to port forwarding, they can be used to configure ports without a router. Various VPN service providers are allowing us to do the same without the need for a router.
Some of the most popular VPNs that allow port forwarding are as follows:
PrivateVPN

TorGuard

Perfect Privacy

Private Internet Access
Using these or various other VPN services, you can easily set up port forwarding virtually without the need for a router configuration. This is just like an alternate.
But, it is the only solution for you. Various routers may not support port forwarding.
So, this could be a great solution for all those users.
Why is my port forwarding not working When Open Port?
Port forwarding can easily be set up within minutes and the clients can have access to our desired ports instantly. But, while doing this, you may have some issues which may not let you use these services in the way you want.
There are several issues from either your or your ISP's side. However, it is very tough to detect the issue if you think you have entered the details properly while configuring the ports. Because, everything is dependent upon third-party services like servers, ISP's, and client systems, there could be various issues within the network as well.
Even a single wrong digit within your configuration settings may result in various errors. However, we are going to uncover the best methods to troubleshoot and fix these problems.
Without any discussions, let's get to the point.
Efficient steps to Troubleshoot Port Forwarding not working problem
Depending on your router's brand, ISP, system, and LAN, the problem and hence the troubleshooting methods may vary.
But, we are going to follow a detailed guide which will help you to get rid of any problem while doing port forwarding.
The first step is to check whether your router's WAN has its public IP address. It might be possible that your connection is NAT and the address you are seeing with any service is not actually your IP. It happens most of the times when your connection is LTE or 3G. So, make sure to confirm that you have a publicly routable IP address.

The next step is to check if your client-side has the correct TCP/IP information. The client will need a valid IP address inside the range of the network of your Cradle point. Also, its gateway should be set to your Cradle point's LAN interface. If the default gateway is not set on the endpoint device, the port forwarding may not work properly.

The next step is to check if the desired ports are open on the client. You will have to check the connection from your LAN. Also, you can try to do it remotely if you are using a Remote connection. Along with that, another major thing to check is if the Windows firewall is blocking that access. So, try disabling the firewall for some time and check your connection again.

Check if the remote connection is reaching the cradle point's WAN

Swap the working ports you know
If you have confirmed all these things are your connection is not working, you can either try an alternative to port forwarding or try to get in touch with your network service provider.
If they are not helping you with this, you can find some online support services from popular companies like Keenetic, etc.
All these things will help you achieve the desired results effectively.
Final Verdict
We aspect you are now aware of everything related to port forwarding. In case of any issue, you should be able to troubleshoot port forwarding not working problem without any hassles.
However, the problems may vary depending on various things. It might be possible that your ISP is blocking all these things from happening.
So, you should keep all these things in mind before doing any of the fixing steps we have discussed.
We hope you are now aware of everything related to port forwarding. If so, consider sharing this information with others as well.
Also, give us your valuable feedback in the comment section. You can give us new suggestions and things we should keep in mind in the future. Also, we will try to cover any topic of your interest.
We keep coming with regular articles on technology and software niche. So, stay connected with us to stay informed.
Thanks for reading!